Highlights from SCI-Arc's Spring 2018 Lecture Series
Throughout the spring 2018 semester, SCI-Arc welcomed a broad cross-section of speakers, including architects, artists, and theorists such as Michael Fried, Petra Blaisse, Byron Merritt, and Jing Liu. The lecture series was complemented by several exhibitions.
Kicking off the series in January was a public talk by Mark Foster Gage, an architect, principal, and founder of New York–based Mark Foster Gage Architects, as well as the Assistant Dean of the Yale School of Architecture. The lecture marked the opening of the exhibition "Geothermal Futures Lab," for which Foster Gage served as the lead researcher.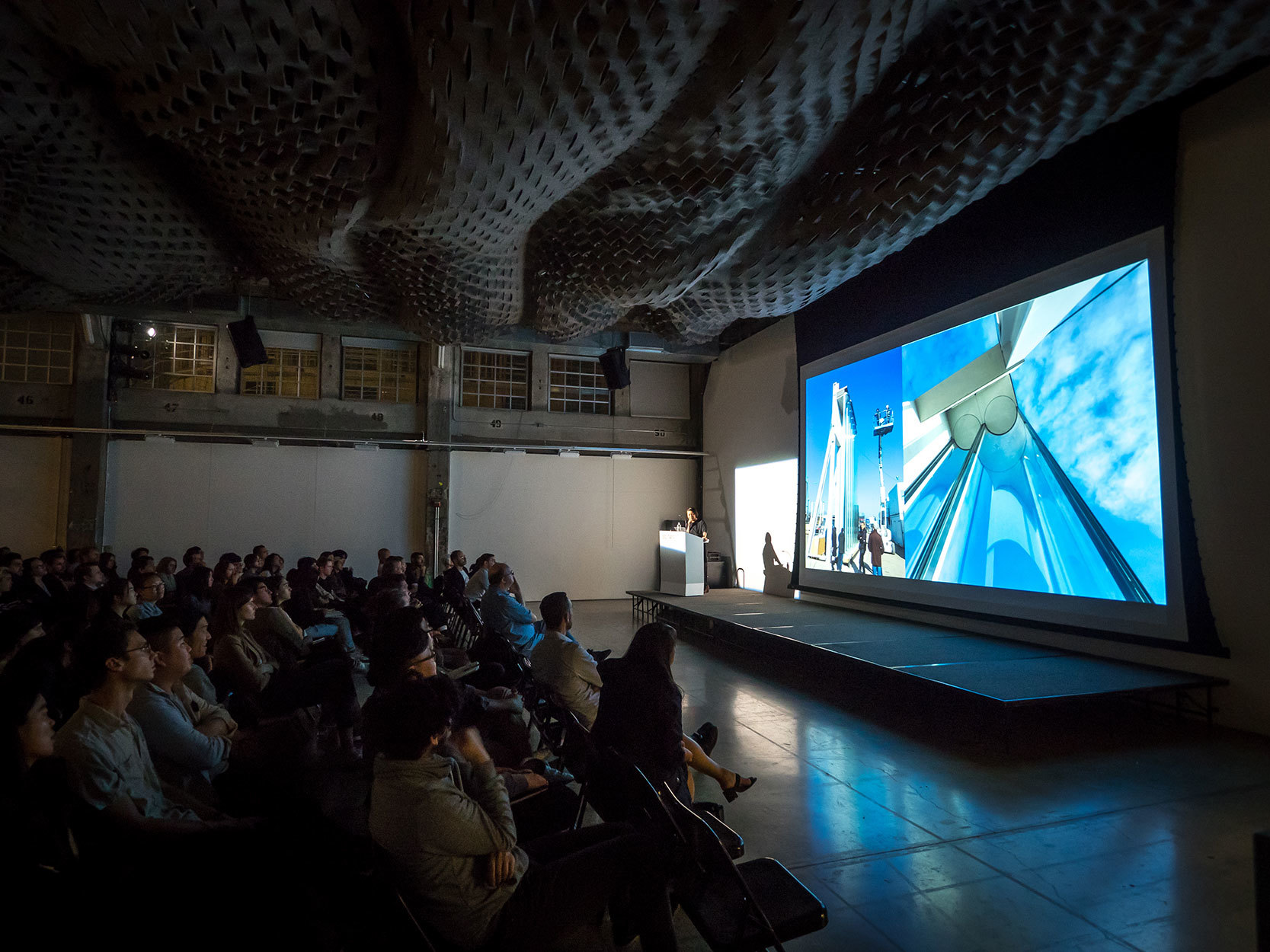 Jing Liu, who co-founded Brooklyn, New York–based SO – IL with Florian Idenburg, presented work by the firm. Liu has led SO – IL in the exploration of new fabrication methods and confronted socio-political issues of urban space through mediums outside the conventional architectural platform. She presented projects including the Manetti Shrem Museum of Art at UC Davis and Kukje Gallery in Seoul. Watch a video of her lecture .
Michael Fried delivered the lecture "Struth Channels Kant: The Technology Photographs."
He is a poet, art critic, literary critic, and historian, as well as the J. R. Herbert Boone Professor of Humanities Emeritus at Johns Hopkins University. Later this spring his new book, What Was Literary Impressionism?, will be published by Harvard University Press. In his lecture, Fried offered a surprising reading of photographs by Thomas Struth, which capture technological installations of various kinds, in relation to Immanuel Kant's text on aesthetics, The Critique of Judgment. Watch a video of his lecture.
"The Neo-Vitruvians" was a lecture presented by Alberto Kalach, an architect from Mexico City. His concerns about the emerging problems created by the rapid expansion of his city are often reflected in his work, from his $5,000 USD "minimal house" to larger housing developments and ultimately the largest project ever conceived for Mexico City, México Ciudad Futura (Return to the City of Lakes). Watch a video of his lecture.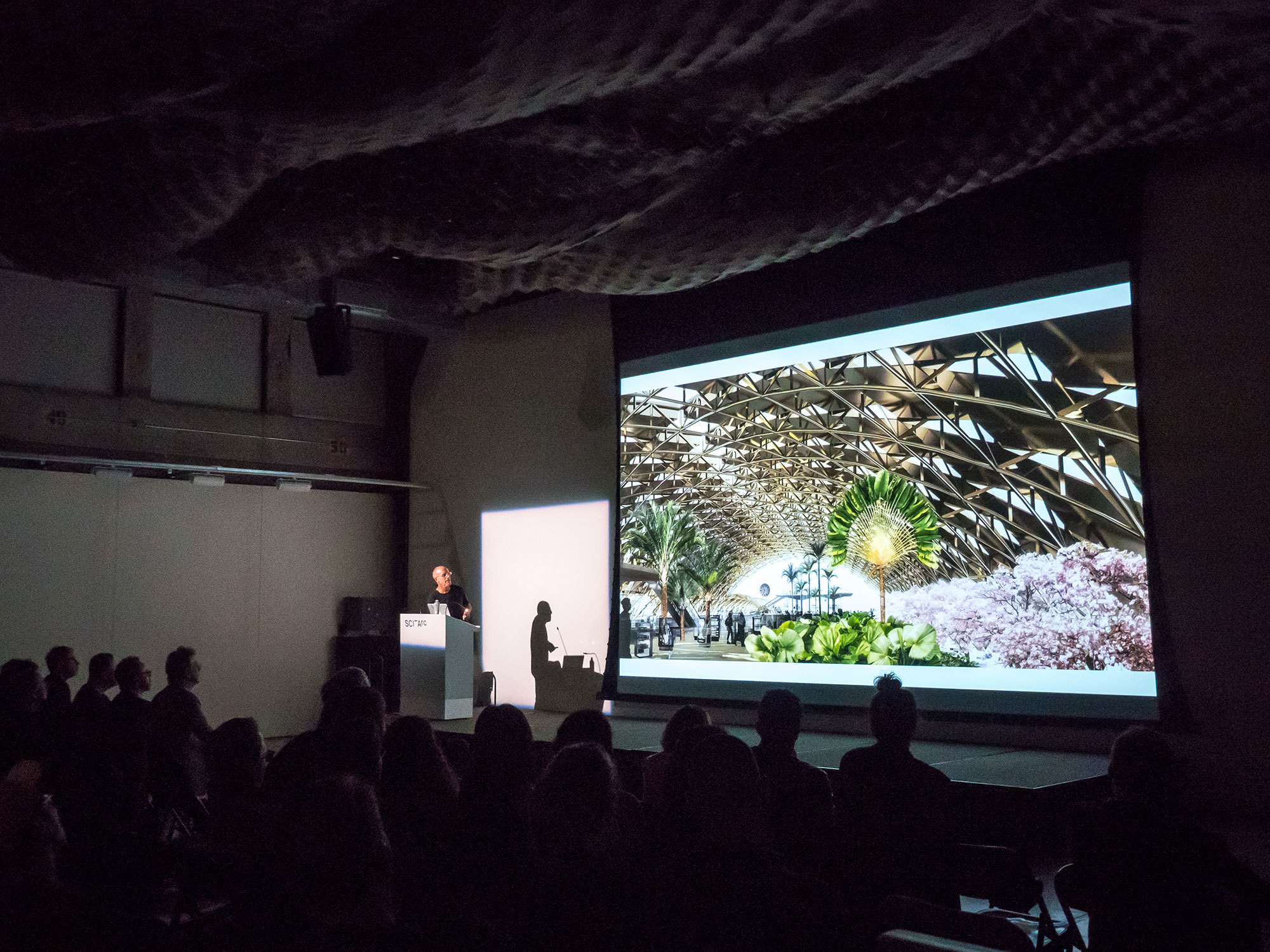 Andrew Zago is a faculty member at SCI-Arc and principal of Zago Architecture. Notable projects by his firm include the downtown Los Angeles offices of Arup, the Museum of Contemporary Art Detroit, and a design studio facility for Cornell University's Sibley School of Mechanical and Aerospace Engineering. His talk focused on recent research and projects conducted during his sabbatical from SCI-Arc. Watch a video of his lecture.
A partner at OMA, Shohei Shigematsu joined the firm in 1998 and has led the OMA office in New York since 2006. His designs for cultural venues include the Quebec National Beaux Arts Museum and the Faena Arts Center in Miami Beach, as well as direct collaborations with artists such as Cai Guo Qiang, Marina Abramovic, and Kanye West. Shigematsu is currently designing a number of luxury high-rise towers in San Francisco, New York, and Miami, as well as a mixed-use complex in Santa Monica. Watch a video of his lecture.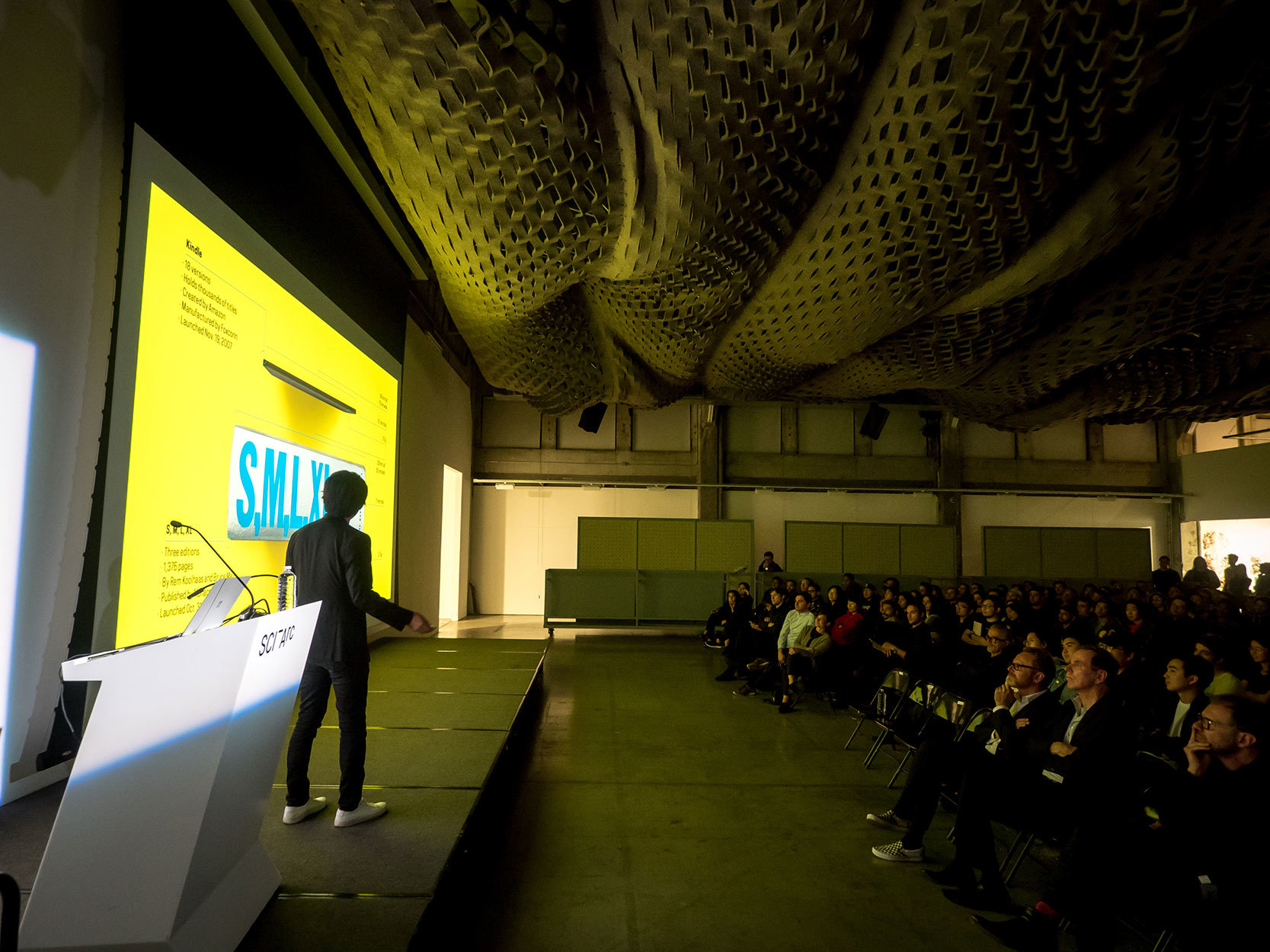 SCI-Arc alumnus Byron Merritt [M.Arch 1, 1999] is the Vice President of Retail Innovation at Nike and is based in the company's headquarters in Beaverton, Oregon. In this role, Merritt's work fuses marketing, design, and innovation. Merritt and his team led the launch of Nike+ Kinect Training and the Nike+ Fuelband activity tracker, and they have curated several pop-ups for other product launches and introduced onsite options for instant customization at retail locaitons. In the SoHo flagship, Nike by You includes an interactive wall and live project mapping technology, and a maker cell produces finished products in under an hour. As part of travel week, a select group of SCI-Arc students participated in a workshop with Nike designers at the company's headquarters. Watch a video of Merritt's lecture.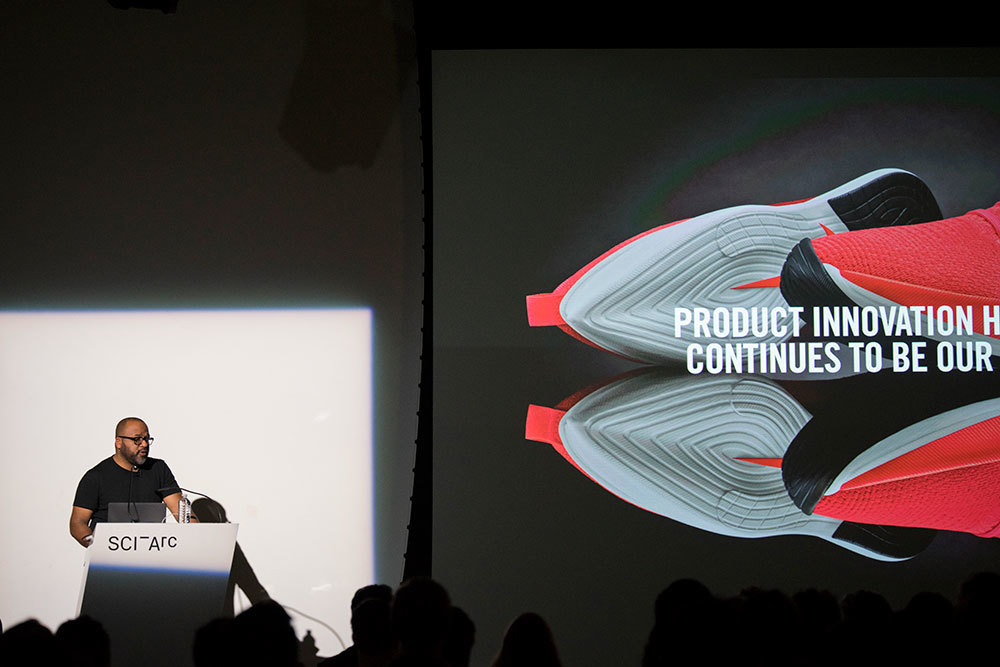 Ferda Kolatan delivered the lecture, "In Pursuit of the Allusive Object." He co-founded SU11 Architecture+Design in New York with Erich Schoenenberger in 1999. They have participated in exhibitions at MoMA, Walker Art Center, Vitra Design Museum, the Beijing and Istanbul Biennales, Archilab, Artists Space, and the SCI-Arc Gallery, among others, and Kolatan has previously taught at several institutions inducing SCI-Arc. He believes that questions concerning nature and technology confront us with the proliferation of peculiar hybrids, which require new forms of architectural thinking and making. Kolatan's lecture mapped his interest in this topic through both his work and teaching experiences. Watch a video of his lecture.
Todd Gannon, a former faculty member at SCI-Arc who is now a Professor and Head of the Architecture Section at The Ohio State University's Knowlton School, delivered a lecture discussing his most recent book, Reyner Banham and the Paradoxes of High Tech. The book provides a detailed examination of Banham's writing on high-tech architecture and its immediate antecedents. Gannon sheds new light on Banham's early engagement with the New Brutalism of Alison and Peter Smithson, his measured enthusiasm for the "clip-on" approach developed by Cedric Price and the Archigram group, his advocacy of "well-tempered environments" fostered by integrated mechanical and electrical systems, and his late-career assessments of practitioners such as Norman Foster, Richard Rogers, and Renzo Piano. Watch a video of his lecture.
David Freeland, a SCI-Arc faculty member and principal of FreelandBuck, engaged in conversation with moderator and fellow SCI-Arc faculty member, Jackilin Bloom. Established in 2010, FreelandBuck was named a finalist for the 2018 MoMA PS1 Young Architect's Program, is a member of Architectural Record's 2017 Design Vanguard, and a winner of the 2017 AIA|LA Next LA Award for its project, Second House. Other recent projects include Parallax Gap, an installation for the Smithsonian's American Art Museum, and the Los Angeles headquarters of Hungry Man Productions. Bloom and Freeland pondered new practice models that are pushing the limits of the discipline and questioned whether theories of complexity and systems that underwrite the formal excesses of the early 00s have reached their end point.
Delivering a lecture titled "Moving On!," Petra Blaisse began her career in 1978 at the Stedelijk Museum in Amsterdam in the Department of Applied Arts. Since 1986 she has worked as an exhibition designer and her focus has shifted to the use of textiles, light, and finishes in interiors as well as cultivating outdoor environments through gardens and landscapes. In 1991 she founded Inside Outside and has collaborated with international specialists from various disciplines. Watch a video of her lecture.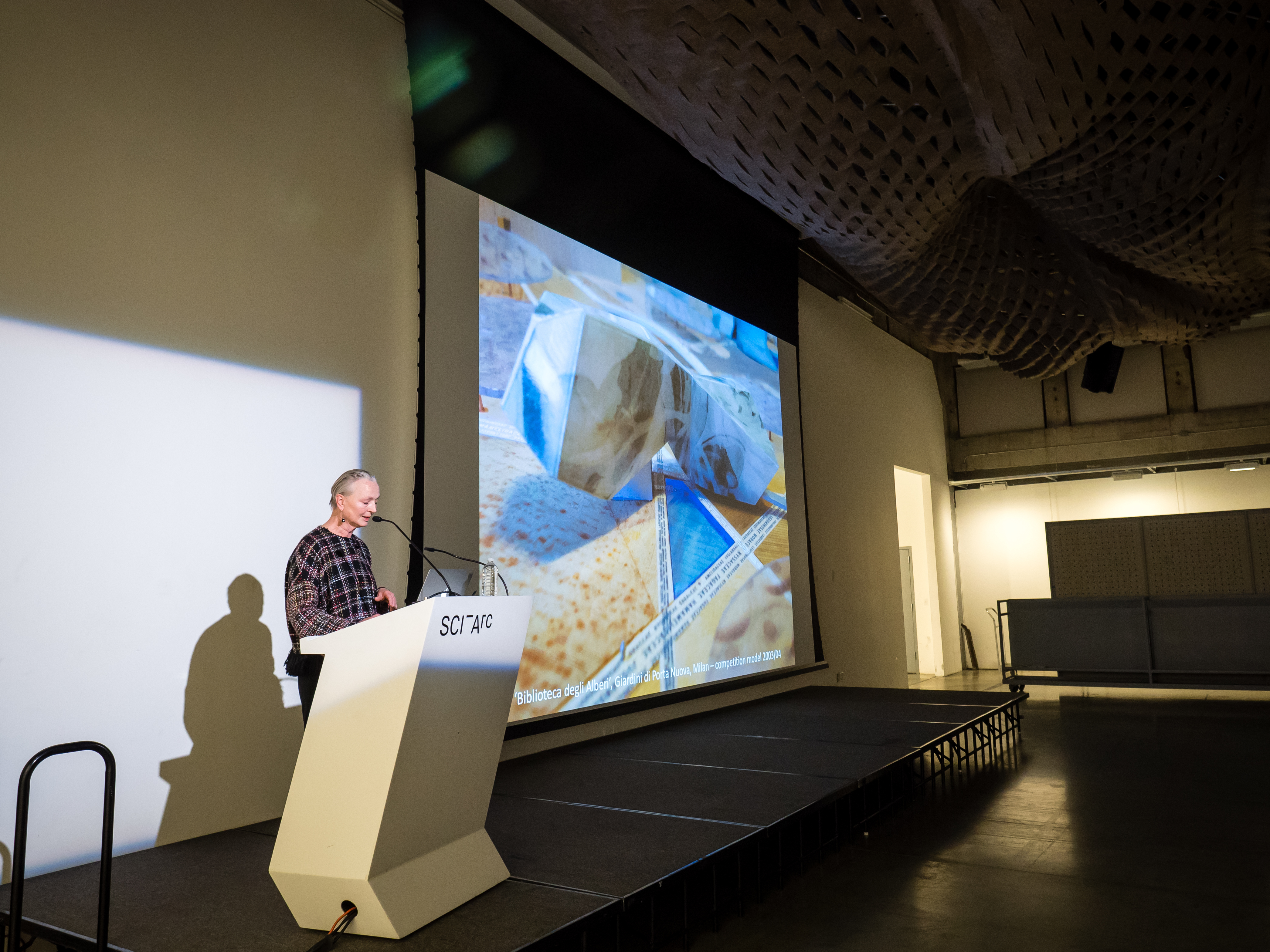 SCI-Arc faculty member Marrikka Trotter moderated a talk with fellow faculty member Zeina Koreitem, who is a founding partner and principal of MILLIØNS, a Los Angeles–based design practice established in 2011 with John May. Their essays and interviews have been widely published, and their work has been featured in numerous solo and group exhibitions, including shows at New York institutions including Friedman Benda Gallery, the Storefront for Art and Architecture, and Museum of the City of New York, as well as Los Angeles intuitions such as the A+D Museum and Jai & Jai Gallery. Koreitem presented examples her firm's work, which ranges from computational color and point cloud experiments to furniture and speculations on collective living.
Mónica Ponce de León is the Dean of the School of Architecture at Princeton University and a National Design Award winner. She is widely recognized as a pioneer in the application of robotic technology to building fabrication and architecture education. Her interdisciplinary practice, MPdL Studio, has offices in New York, Boston, and Ann Arbor, Michigan. Its work ranges in scale from furniture to architecture, urban design, and infrastructure. Much of the studio's research is dedicated to ways to improve contemporary modes of construction, investigating both industry standards as well as evolving technologies derived from digital manufacturing processes. Watch a video of her lecture.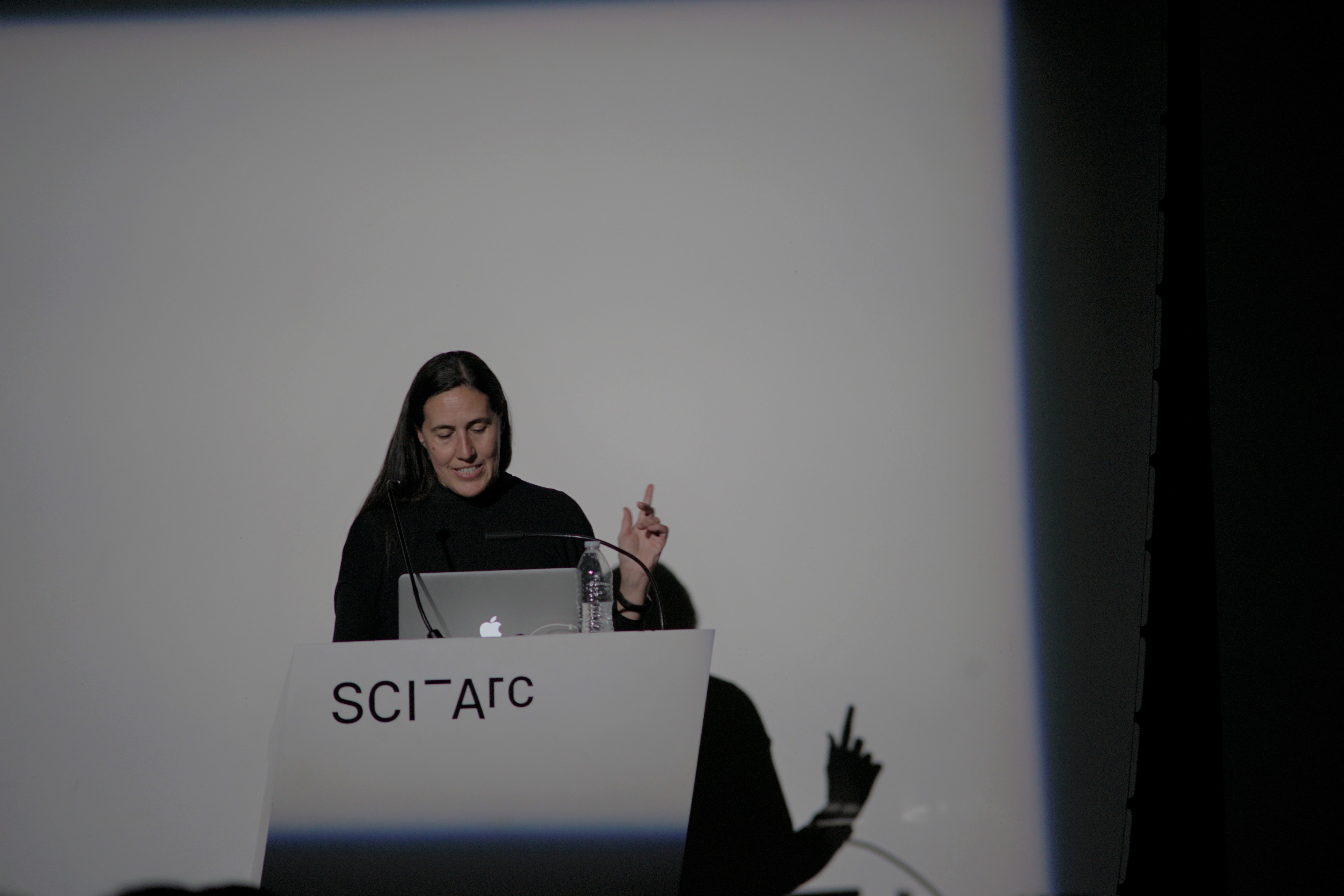 An architectural historian whose work focuses on the history of modernism since the enlightenment, Zeynep Çelik Alexander delivered a lecture titled "Drawing Circles: A History of Design Education." Trained as an architect with a Ph.D. in history, theory, and criticism, she has authored several works including the book Kinaesthetic Knowing: Aesthetics, Epistemology, Modern Design (Chicago and London: University of Chicago Press, 2017), and has been published in journals including Harvard Design Magazine, Log, e-flux, Grey Room, Journal of Design History, and Centropa. A forthcoming research project co-directed with John J. May and funded by Canada's Social Sciences and Humanities Research Council of Canada (SSHRC) explores the histories of technologies that have come to dominate contemporary design disciplines. Çelik Alexander's current research project investigates the architecture of bureaucracy, citing examples from the Kew Herbarium to the Larkin Administration Building. Watch a video of her lecture.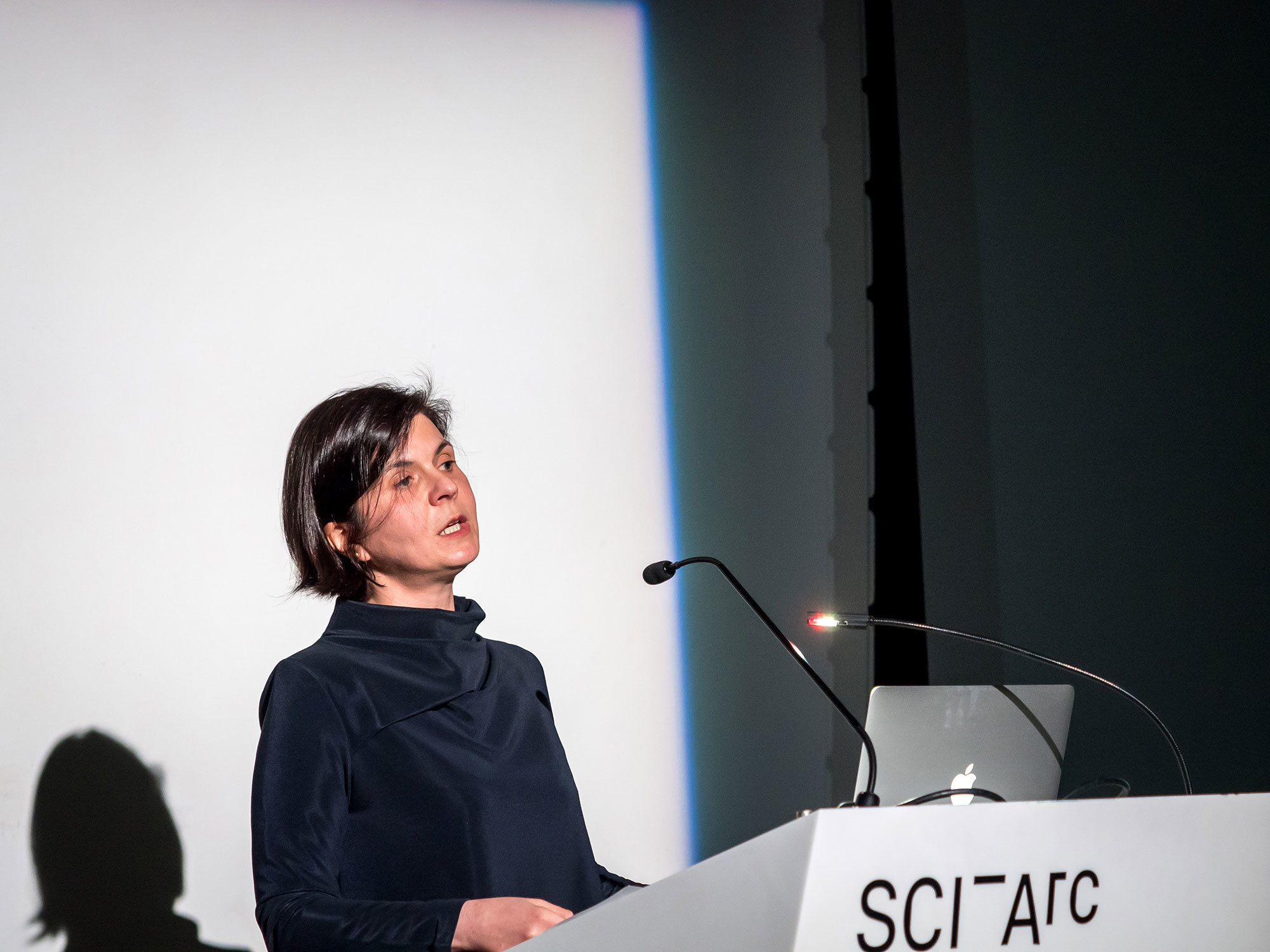 Culminating the spring 2018 lecture series at SCI-Arc, Sir Peter Cook, a founder of Archigram and former director of the Institute for Contemporary Art and Bartlett School of Architecture at University College, both in London, recently delivered a talk titled "Dubious Assumptions." The presentation was drawn from his Bartlett Lecture series, "Architecture is Weird," which was reconfigured for the SCI-Arc audience. Cook's concepts of the "Underdog" and the "Overdog" sprang from the lecture in support of the "Big Personality." Other concepts were derived from his lecture, "Why are Architects' Offices So Awful? Stick to the Task—Don't Look springs from the lecture Small Cities are more Fun (so long as You don't live in them). You Have a Good Chance is from Competitions—the Big Lie." He also confronted architects' preferences for beige and monochromatic palettes in both the United Kingdom and the United States.