Possible Mediums Outlines Systems of Knowledge Yet to Come
The word "medium" describes both the substances through which meanings and impressions are conveyed, and also a general agency or means of accomplishment. SCI-Arc design faculty Kristy Baillet and partner Kelly Bair's Possible Mediums project bridges the abstract and substantive approaches to speculative design, and Possible Mediums the book is the culmination of these events and investigations. Possible Mediums is a collection of sixteen speculative design mediums proposed by emerging architects. Each chapter defines an active medium of contemporary architecture—such as Artifacts, Pattern, Narratives, and Grids—through a dynamic blend of text, drawings, and objects. Descriptive essays throughout illuminate the working principles behind each medium and introduce fresh design concepts to inspire both students and professionals alike.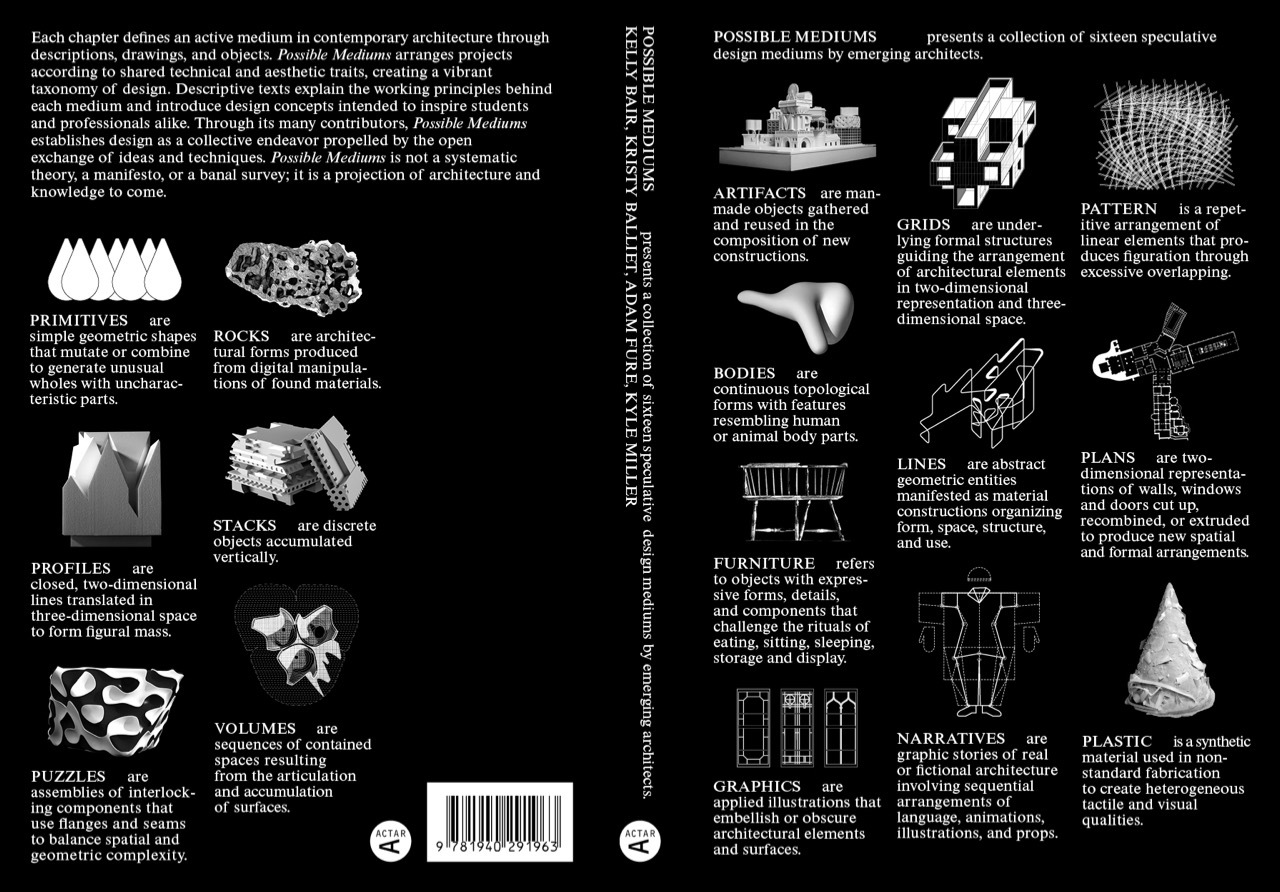 Possible Mediums arranges projects according to shared technical and aesthetic traits, creating a vibrant taxonomy among its many contributors. This approach radically contextualizes design writ large as a collective endeavor propelled by the open exchange of ideas and techniques. Possible Mediums is no mere theory or survey; it is a projection of architecture and knowledge to come.
SCI-Arc is pleased to celebrate the Possible Mediums Project with an exhibition presented by Kristy Baillet and collaborators Kelly Bair (University of Illinois Chicago), Adam Fure (University of Michigan) and Kyle Miller (Syracuse University) in the SCI-Arc Library Gallery from February 4th through March 24th, 2019.
An opening reception and book launch will take place at 7pm on February 4th, where Possible Mediums contributors will be in discussion with critical theorist and historian Slyvia Lavin. Copies of Possible Mediums will be available for purchase on site from Hennessey+Ingalls