In Memory of Alumna Wendy Bone, Scholarship Fund Established in Her Honor
It is with deep sadness that we share that SCI-Arc alumna Wendy Bone (M.Arch 1 '99) passed away on February 8, 2021 after battling brain cancer. She will be deeply missed by those who knew and loved her.
A fourth-generation Californian, Wendy grew up and studied at Dunn School in Los Olivos and obtained a degree in Peace and Conflict Studies at University of California at Berkeley before earning her Master of Architecture at SCI-Arc in 1999.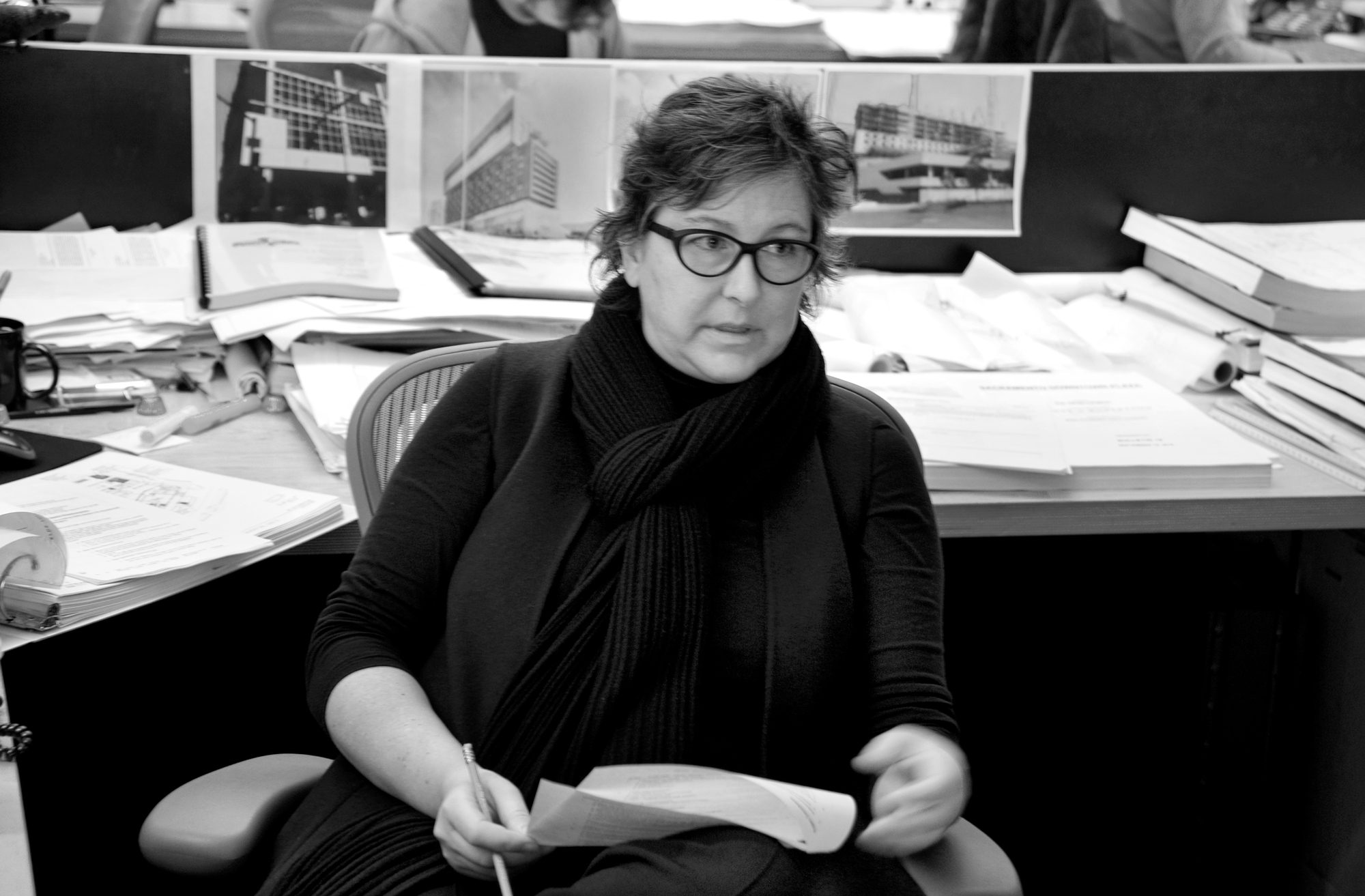 She went on to build a distinguished career as a talented and respected architect, working with internationally acclaimed architecture firms such as JERDE and House & Robertson Architects. Her work has created a lasting and impactful legacy across Los Angeles, including the Columbia Square office campus, the city's historic Farmer's Market, the new headquarters for the California Endowment, and the iconic "Green Blade" tower proposed by Jean Nouvel for 10000 Santa Monica Boulevard, among many others.
Wendy was a highly respected Associate Principal at House & Robertson, where she led many of the firm's most ambitious projects over the past 20 years. A meaningful part of her architecture practice was mentoring diverse groups of young designers, especially those with an interest in sustainable development—herself an expert in green building codes, LEED accreditation, and WELL Building certification. Her commitment to excellence in sustainable development was first exemplified in the Genzyme Corporation Headquarters project in Cambridge, Massachusetts, the first major building in an urban area to receive a platinum LEED rating from the US Green Building Council. This project was awarded many other prestigious honors, including the Harleston Parker Award from the Boston Society of Architects and a national AIA Cote Award for Top Ten Green Projects.
In addition to a storied and illustrious architecture career, Wendy was a beloved family and community member in Los Angeles. Wendy is survived by her husband Franz Baldassini, father William and stepmother Cynthia, brother Randall and sister Michelle, aunts Diana and Barbara, as well as her cousins, nieces, and nephews.
"Wendy was brilliant, a perfectionist, and had an incredible memory for minute details," commented Wendy's father, William Bone. "She had a passion for architecture and in helping young architects grow in their professional competence… she was a very special and a unique person who will be missed by many people."
"My sister Wendy was the best of us…" added Wendy's brother Randall Bone. "…[Her] success in her career, in love with Franz, and in her many-faceted life inspired me to be better too."
Wendy's sister Michelle Bone imparted: "Wendy knew how to enjoy life. From friends and travel to restaurants, museums, and books, she was eager to share the richness of culture and savor the arts in every way… she had a beautiful mind, an inspiring intellect, and a tender heart," she continued. "Above all Wendy championed the pursuit of our passions, encouraging me and my children to explore our dreams and hone our gifts—she believed deeply in education."
"Wendy was brilliant, passionate and compassionate," echoed Wendy's cousin, Geri Bone. "There are not many people you meet in your life whose intellectual intelligence is matched by the emotional intelligence… Wendy was authentic, both professionally and personally, and approached life with exacting diligence, honor, compassion, and above all humor and wit… she was beautiful, in every sense of the word, and I am blessed to have had her be part of my life."

In Wendy's honor, with support from Wendy's family, friends, and colleagues at House & Robertson Architects, SCI-Arc has established the Wendy Bone Scholarship Fund, which will be allocated to students with a preference for those with financial need and who have a demonstrated interest in sustainability and building technology.
SCI-Arc Director Hernán Díaz Alonso shared, "SCI-Arc is honored to celebrate Wendy's legacy through the Wendy Bone Scholarship Fund. We are very grateful to Wendy's family, friends, and colleagues for partnering with us to provide support to students who will someday follow in her footsteps."
For more information on how to contribute, please contact Natasha Neufeld at natasha_neufeld@sciarc.edu, call 213.356.5374, or simply visit the Online Giving page of the SCI-Arc website and select the Wendy Bone Scholarship Fund.
To make a gift by check, kindly make it out to the school, adding a memo regarding the Wendy Bone Scholarship Fund, mailed to SCI-Arc c/o Natasha Neufeld, 960 East 3rd Street, Los Angeles, CA 90013.