$50 for 50 Years: Contribute to Celebrate SCI-Arc's Past and Propel Our Future
Five decades have passed since a band of mavericks embarked on an experiment: a school without walls. Today, SCI-Arc is a globally renowned school of "architectural thinking," but our tenacious spirit remains the same: never predictable, ever audacious.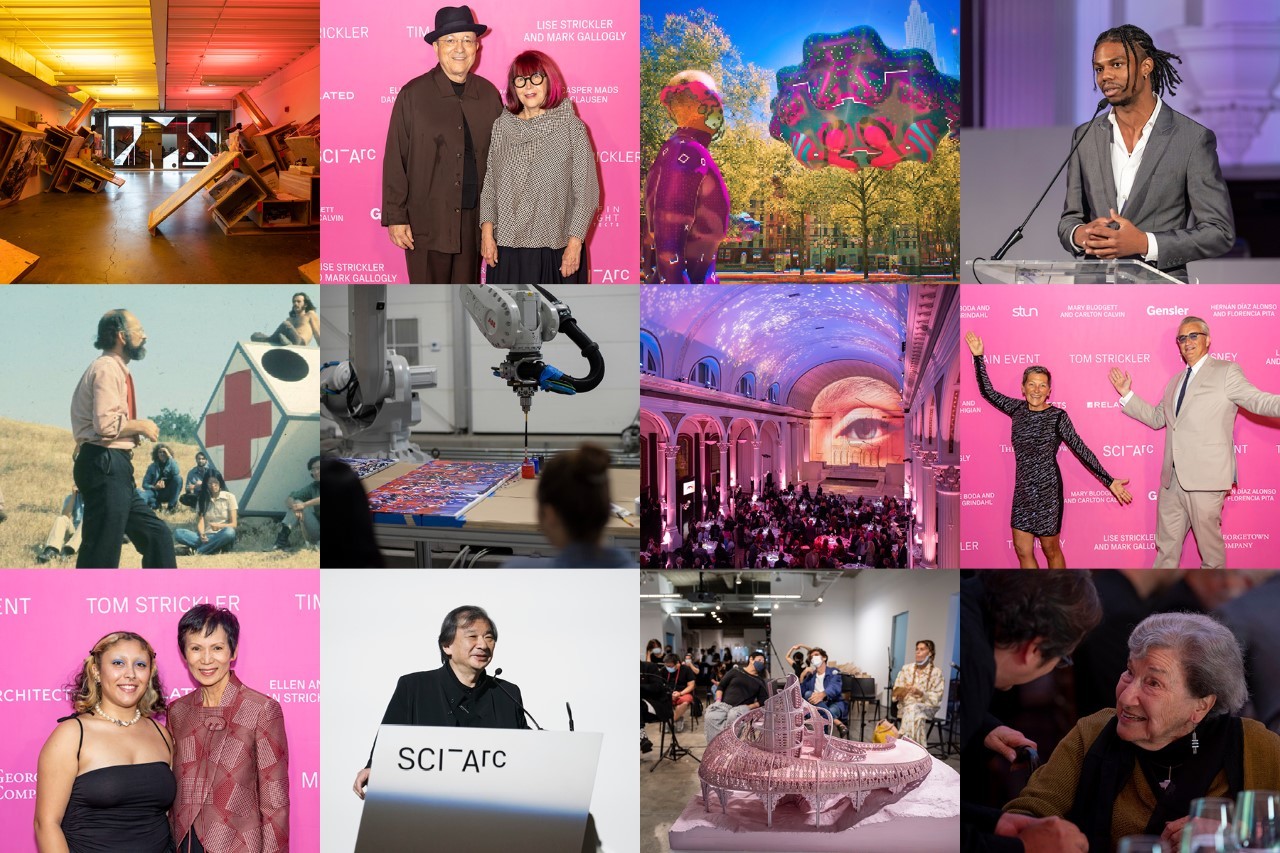 Please consider making a $50 contribution to celebrate SCI-Arc's past and propel our future.
Every gift makes a difference. Your support helps us to provide scholarships for students with need, present provocative exhibitions and lectures, and inspire the next generation to fearlessly follow their wildest dreams.
"I had no conception of what I could achieve before I transferred to SCI-Arc. In what felt like an instant, my dream became not only obtainable, but undeniably necessary to define the architect and person I hope to be." Babatunde-Majadi Adejare (B.Arch '23)

SCI-Arc is proud to share our achievements in this milestone year:
Our scholarship and financial aid programs have more than doubled over the past six years. In 2021-22, we awarded nearly $6.5 million to 266 students. "Although I don't know exactly where I land in this discipline, I do know that this school has invoked a passion and excitement within me about all things in life, especially those that define our world." Alex Brady (B.Arch '25), Alumni Endowment Scholarship recipient

SCI-Arc's wide-reaching Diversity, Equity, and Inclusion initiative has begun leading the way for the field by creating a more accessible and welcoming educational environment for people from backgrounds historically underrepresented in architecture. Our inaugural E+I scholarship program awarded 10 students more than $500,000 in full-tuition scholarships for the duration of their academic careers. "SCI-Arc is a place that allows connections to flourish, and with the help of our supporters, we can continue developing young minds into future leaders. I want to show our students that life is more than the uncertainties of the unknown and that magical things happen when you open yourself to connections and trust people." William Virgil, SCI-Arc faculty and E+I mentor
We expanded our robot family with a newly constructed Robot Annex—home of the "giant robot," enabling students to explore technological solutions to critical issues around sustainable development and affordable housing. "Learning how to interact with these technologies has been rewarding and I think it's going to help us build a better future." Carolina Garcia (Architectural Technologies '21)
We breathed new life into our annual scholarship fundraiser. Now in the fall, Main Event celebrated an extraordinary group of change makers: Frank Gehry, Walt Disney Imagineering, Allison Saar, and the Herald Examiner Building/Georgetown Company.
The lecture series that has spanned the school's history continued to ignite imaginations with the work and words of such inspirational figures as Mariana Ibañez, Deborah Garcia, Catherine Opie, Shigeru Ban, Neil Denari, and Michael Rotondi. On campus events engaged more than 10,000 people last year, while SCI-Arc Channel produced 30 original short documentaries and released 44 public program videos, attracting more than 1.07 million views. "We learned that cooperation was essential to our survival, and in retrospect, everything imaginable was possible." Michael Rotondi, former SCI-Arc Director, on the school's early years.
Shelly Kappe, one of SCI-Arc's founders, said it best: "We made it happen together." With gratitude to you, our SCI-Arc community, we thank you for your support and encourage you to stay connected.
Stay up to date with SCI-Arc and sign up for our email list.