Fear and Wonder 3: Futures of AI Symposium
W.M. Keck Lecture Hall
November 20, 2019 at 6:00pm
–
November 20, 2019 at 10:00pm
This November 20, SCI-Arc is proud to present the third installment of its Fear and Wonder symposium. Curated by Liam Young, SCI-Arc faculty and Coordinator of the EDGE MS Fiction and Entertainment program, Fear and Wonder 3: Futures of AI joins an ensemble of directors, concept artists, video game designers, and storytellers for an expedition through an atlas of imaginary worlds, fictional cities, and speculative geographies.
On the occasion of November 2019, the date Ridley Scott's Blade Runner was originally set, this symposium will explore contemporary representations of artificial intelligence in film, television, and global culture. Long after the flickering Japanese neon illuminating the streets of Blade Runner's world has faded, narratives of human-like AI spiraling out of control still permeate all forms of popular culture. Guests from science fiction-adjacent productions such as West World, Blade Runner 2049, and Her will be in dialogue with theorists and technologists to investigate where the science ends and fiction takes over.
This edition of Fear and Wonder is supported by the Alfred P. Sloan Foundation and is in media collaboration with KRCW's DnA program.
At 6pm George Hull will also be signing copies of his concept sketches for Blade Runner 2049 and across the evening we will be raffling large 3'x2' color prints of his work.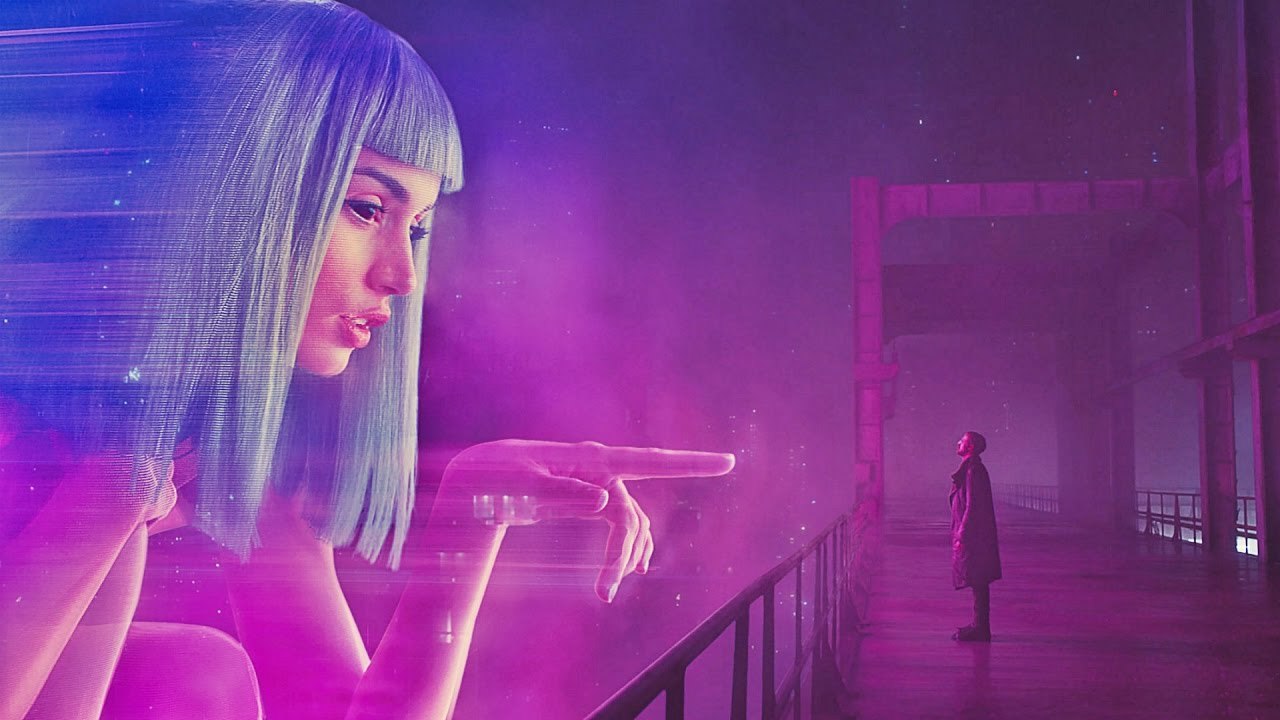 George Hull
Concept artist for Blade Runner 2049
George Hull is one of Hollywood's leading film conceptual designers, specializing in creating unique and imaginative worlds including the cinematography, settings, and vehicles that live within them. Most recently Hull worked as Senior Conceptual Designer on Blade Runner 2049 and the highly anticipated film DUNE. Other film projects include Star Wars: Episode 8, Guardians of the Galaxy Vol. 2, Elysium, The Cloud Atlas, Wall-E, and the science fiction epic The Matrix: Reloaded & Revolutions, and many more.
Dominic Polcino
Animation Director for Rick and Morty
Dominic Polcino has been a driving force on three of the most popular prime-time animated shows of all time: The Simpsons, King of the Hill, and Family Guy, all garnering him a series of Emmy nominations. Polcino also directs for the award winning animated series Rick and Morty for Adult Swim including the episode "The Ricks Must be Crazy," in which Rick's self-aware, artificially intelligent spaceship attempts to keep its occupant Summer safe at all costs.

Deborah Harrison
Architect of the personality for Microsoft's digital assistant, Cortana
Deborah Harrison is one of the original architects of the personality for Microsoft's digital assistant, Cortana. She crafted the core principles that define Cortana's approach to communication and helps teach deep neural networks to manifest distinct personalities. Today, she leads a team that brings same expertise in conversational UI, inclusive design, and machine learning to other intelligent products and features. She believes that while the field of AI is still in adolescence, those in the industry stand in a brilliant position to shape not only technological innovation but also the culture of communication between humans and machines.
Jon Carlos
Westworld Supervising Art Director
Jon Carlos is the Supervising Art Director for HBO's series Westworld. Westworld is a fictional amusement park populated by artificially intelligent android hosts. The park caters to high-paying guests who indulge their wildest fantasies without fear of retaliation from the hosts, who are prevented by their programming from harming humans. Other films art directed by Carlos include Fast and the Furious 7 & 8 and Hotel Artemis.
Kenric McDowell
Director of Google's Artist and Machine Intelligence Group
Kenric McDowell leads the Artists and Machine Intelligence program at Google Research, facilitating collaboration between Google AI researchers, artists, and cultural institutions. In addition to twenty years of experience in software design and engineering, McDowell has an MFA in photography and regularly performs acoustic and electronic music.
Jessica Brillhart
Director of USC's Mixed Reality Lab, founder of Vrai Pictures and former principal filmmaker for VR at Google
Jessica Brillhart is an immersive director, writer, and theorist. She is the new director of USC's Mixed Reality Lab and founder of the independent studio, Vrai Pictures. Previously, Brillhart was the principal filmmaker for VR at Google where she worked with engineers to develop Google Jump, a virtual reality live-action capture ecosystem. Since then, Brillhart has made a range of highly acclaimed VR experiences, working with such entities as NASA, the Philharmonia Orchestra in London, Google's Artists and Machine Intelligence program, the Montreal Canadiens, and (unofficially) the Weather Channel.
Lauren McCarthy
Artist and computer programmer
Lauren McCarthy is an artist and programmer examining social relationships in the midst of surveillance, automation, and algorithmic living. In her project LAUREN, McCarthy became a human version of Amazon Alexa, a smart home intelligence system for people in their own homes. LAUREN is a meditation on the smart home, the tensions between intimacy vs privacy, convenience vs agency they present, and the role of human labor in the future of automation. She is an Associate Professor at UCLA Design Media Arts and co-directs the Processing Foundation, a nonprofit whose mission is to promote software literacy within the visual arts, and visual literacy within technology-related fields—and to make these fields accessible to diverse communities.
Siddharth Suri
Computational scientist with the Adaptive Systems and Interaction group of Microsoft Research–AI and co-author of Ghost Work: How to Stop Silicon Valley from Building a New Global Underclass
Siddharth Suri is a computational social scientist whose research interests lie at the intersection of computer science, behavioral economics, and crowdsourcing. His early work analyzed the relationship between network topology and human behavior. More recently, Suri has studied the crowd workers who power many modern apps, websites, and artificial intelligence (AI) systems. This work culminated in a book he co-authored with Mary L. Gray titled Ghost Work: How to Stop Silicon Valley from Building a New Global Underclass. He was also was a founding member of Microsoft Research–New York City and recently joined the Adaptive Systems and Interaction group of Microsoft Research–AI.
Ingrid Burrington

Artist and Writer
Ingrid Burrington is an artist who writes, makes maps, and tells jokes about places, politics, and the weird feelings people have about both. She's the author of Networks of New York, an illustrated field guide to urban internet infrastructure, and has previously written for The Atlantic, The Nation, The Verge, and other outlets. Her work has previously been supported by Eyebeam Art and Technology Center, the Center for Land Use Interpretation, and Rhizome. She also runs the Data and Society speculative fiction reading group.
Veronica So
Producer of Ian Cheng's Emissaries Trilogy and the artificial lifeform BOB
Veronica So is the producer and co-parent of fine artist Ian Cheng's trilogy of digital ecological simulations of infinite duration and an AI-driven virtual lifeform called BOB (Bag of Beliefs). Over the course of its lifetime, BOB's body, mind, and personality evolve to better confront the continuous stream of life's surprises and metabolize them into familiar routines. An accompanying app called BOB Shrine allows viewers to assert a tutoring influence on BOB to help offset BOB's temptation to only satisfy its immediate impulses and childhood biases. Veronica is currently producing an animated miniseries called Life After BOB by Ian Cheng exploring the transformation of human life scripts in an era of artificial intelligence.

Victor Martinez
Concept designer for Terminator Genisys, Terminator Salvation, Blade Runner 2049 and Real Steel
Victor Martinez is a Los Angeles based Concept Designer dedicated to Visual Development and World Building for the Entertainment Industry. Victor's early love of film led him to start making animated shorts at the age of 9, winning various film festivals in the US and abroad. He then went on to study painting at the Art Center College of Design in Pasadena and later obtained a BA in Art at the UCLA School of Art and Architecture as well as a Masters of Architecture degree at SCI-Arc (Southern California Institute of Architecture). Having worked for over 20 years in the film and entertainment industry, such work includes the design of sets and environments, props, characters, and vehicles - both in the Art Department and in Visual Effects. With over 50 credits to his name, some of the projects he's contributed to include Minority Report, Avatar, Westworld, and Blade Runner 2049.
Ross Goodwin
Creative technologist a co-creator of Sunspring, a science fiction film written by AI
Ross Goodwin is a creative technologist, artist, hacker, data scientist, and former White House ghostwriter. Ross helped conceive Sunspring, a 2016 experimental science fiction short film entirely written by an artificial intelligence bot using neural networks. He employs machine learning, natural language processing, and other computational tools to realize new forms and interfaces for written language.