Graduate Thesis at SCI-Arc is the school's largest annual event. Spanning three days of school-wide presentations, reviews, and more, Graduate Thesis Weekend invites 100 jurors and critics from all over the world to converge in a symposium-like forum where students, architects, urbanists, theorists, artists, academics, deans, and chairs gather to consider, debate, and dispute emerging questions in architecture.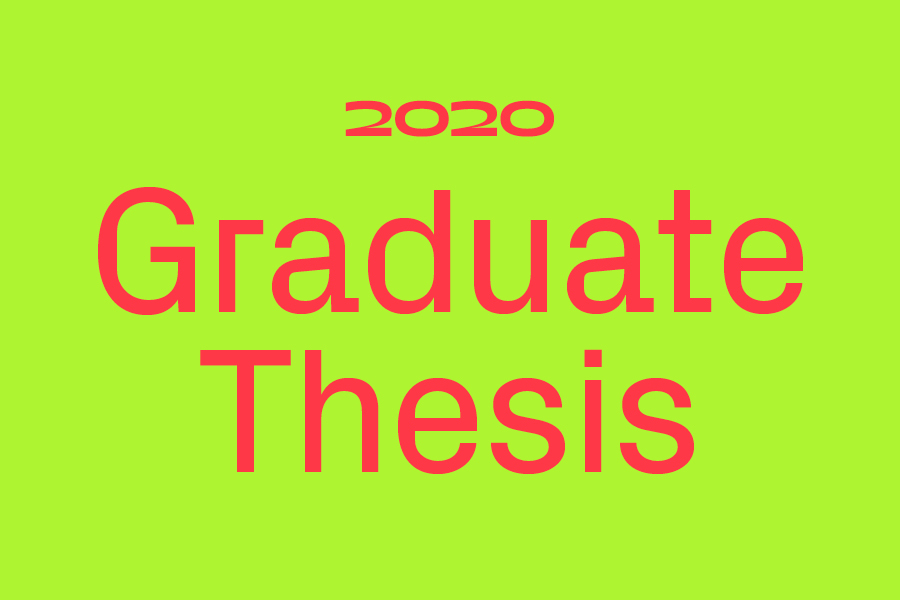 DIRECTOR/CEO
Hernán Díaz Alonso
VICE DIRECTOR/CHIEF ACADEMIC OFFICER
John Enright
GRADUATE PROGRAMS CHAIR
Elena Manferdini
GRADUATE THESIS COORDINATOR
Florencia Pita
Lectures
Graduate Thesis Lecture Series presents the opportunity for SCI-Arc students to engage in conversation with noted professionals, peers, and colleagues as they articulate and defend their positions on the discourse and discipline of architecture. This will include several weekly series of interactive lectures and talks moderated by school faculty and leadership to foster discussion among thesis students and the SCI-Arc community.
Form@
Mondays at 1pm
A series of weekly thesis conversations organized by Elena Manferdini
Career Day
Wednesdays at 1pm
A series of weekly conversations on life after graduation
Quarantine Talks from the Kitchen
Wednesdays at 7pm
A series of weekly thesis conversations organized by Hernán Díaz Alonso
Thesis Live Chat
Fridays at 1pm
A series of weekly live chats with SCI-Arc faculty
Miniatures
Wednesday July 8th
Join SCI-Arc for Miniatures, a public display of the 2020 SCI-Arc Graduate Thesis program students' tangible studies for future architecture proposals. This presentation will feature initial projects rendered in miniature form. The miniature, as opposed to a model, describes the idea of an architectural proposal that is more attuned to concepts of context, building scale, and architectural detail instead of an abstract investigation. Over the course of the summer semester, graduate students will build upon their miniatures to realize their final thesis projects, which will be presented in September.
Midterm
Wednesday August 12th
Graduate Thesis Midterms serve as a halfway point for SCI-Arc M.Arch students to evaluate progress on their thesis projects through engaged feedback from SCI-Arc faculty and leadership, noted guest critics, and more.
Final Reviews
September 2020
During Graduate Thesis reviews, students defend their theses to world-renowned guest reviewers, providing a complex, in-depth look at the work made and presented by the thesis class. Each year SCI-Arc invites over 100 distinguished local and international architects, urbanists, theorists, deans, and chairs from around the globe to engage with graduating M.Arch students about their final design projects.


Students
| | |
| --- | --- |
| Deepak Agrawal | MA2 |
| Hiral Ahir | MA2 |
| Linzi Ai | MA2 |
| Julian Basurto | MA1 |
| Kshitij Bhende | MA2 |
| Yunfei Cao | MA2 |
| Xinyu (Sherry) Cao | MA1 |
| Wangshu Chen | MA1 |
| Ozan Cicek | MA2 |
| Joy Dai | MA1 |
| Theo Dattola | MA2 |
| Wesley Evans | MA1 |
| Luke Falcone | MA1 |
| William Fraser | MA1 |
| Zepeng Gao | MA2 |
| Jesse Gates | MA1 |
| Christina Griggs | MA2 |
| Wendy Guerrero | MA1 |
| Jasleen Gujral | MA1 |
| Jiayue He | MA1 |
| Wangzhuo He | MA1 |
| Nero Chenxuan He | MA2 |
| Philip Hood | MA2 |
| Juicheng Hung | MA2 |
| Saleh Jamsheer | MA2 |
| Sadvi Jayanth | MA1 |
| Sam Kaufman | MA1 |
| Maximilian Maria Kochinke | MA1 |
| Gregory Kokkotis | MA2 |
| Amanda Kotch | MA1 |
| Kaiyun Lei | MA2 |
| Pin Chih Liao | MA2 |
| ChiAn Liao | MA2 |
| Kaiying Lin | MA2 |
| Junkai Liu | MA2 |
| Xin Liu | MA2 |
| Bowen Liu + Yixin Zhang | MA2 |
| Kristoffer Tjerrild Lund | MA2 |
| Sixtina Maculan | MA2 |
| Zoe Malecki | MA1 |
| Richard Mapes | MA2 |
| Amparito Martinez | MA2 |
| Cameron McCormick | MA1 |
| Yash Mehta | MA2 |
| Rad Mika | MA2 |
| Blake Minster | MA2 |
| Ovgu Nurozler | MA2 |
| Robert Oshodin | MA1 |
| Kumaran Parthiban | MA2 |
| Giovanna Penna Lima | MA2 |
| Phoemphol Phoemphoplsinchai | MA2 |
| Julia Pike | MA2 |
| Justine Poulin | MA2 |
| Minxue Qi | MA1 |
| Liu Qiao | MA2 |
| Ely Rabin | MA1 |
| Priyanka Raiani | MA2 |
| Caleb Roberts | MA2 |
| Fatemeh Safdari | MA1 |
| Rish Saito | MA1 |
| Reza Salehi Mobarakeh | MA1 |
| Yiyang Sang Sang | MA2 |
| Irvin Shaifa | MA2 |
| Srimoyee Sinha | MA2 |
| Robert Sipchen | MA1 |
| Andrew Stone | MA2 |
| Lourenço Vaz Pinto | MA2 |
| Erwin Vergara | MA1 |
| Yifan Wang | MA2 |
| Taian Wang | MA2 |
| Henry Wang | MA1 |
| Manying Wang | MA2 |
| HouSheng Wang | MA2 |
| Jonathan Warner | MA2 |
| Jiexun Wu | MA1 |
| Yanchen Wu | MA2 |
| Shengxing Xxiong | MA2 |
| Ziyou Xu | MA2 |
| Lawrence Yuan | MA2 |
| Vincent Yung | MA1 |
| Haozhou Zeng | MA1 |
| Yixin Zhang + Bowen Liu | MA2 |
| Jiaoyue Zhao | MA2 |
| Siyu Zheng Zheng | MA2 |
| Wenzhi Zheng | MA1 |
| Yuting Zhu | MA1 |
Thesis Advisors
Matthew Au
Kristy Balliet
Jackilin Hah Bloom
Hernán Díaz Alonso
Ramiro Diaz-Granados
John Enright
David Eskenazi
Marcelyn Gow
Margaret Griffin
Mira Henry
Coy Howard
Damjan Jovanovic
Zeina Koreitem
Angelica Lorenzi
Elena Manferdini
Eric Owen Moss
Anna Neimark
Florencia Pita
M. Casey Rehm
Michael Rotondi
David Ruy
Peter Testa
Devyn Weiser
Tom Wiscombe
Andrew Zago