Final Reviews
September 10, 11, + 12, 2020
Experience online: gradthesis.sciarc.edu

Graduate Thesis at SCI-Arc is the school's largest annual event, allowing graduating thesis students an invaluable platform to articulate, propose, and defend their work to the SCI-Arc community and beyond. Spanning three days of school-wide reviews, presentations, and more, Graduate Thesis Weekend 2020 invites 86 students, 42 advisors, and over 100 jurors and critics from across the globe to converge in a symposium-like forum where architects, urbanists, theorists, artists, academics, and school leadership gather to consider, debate, and dispute emerging questions in architecture.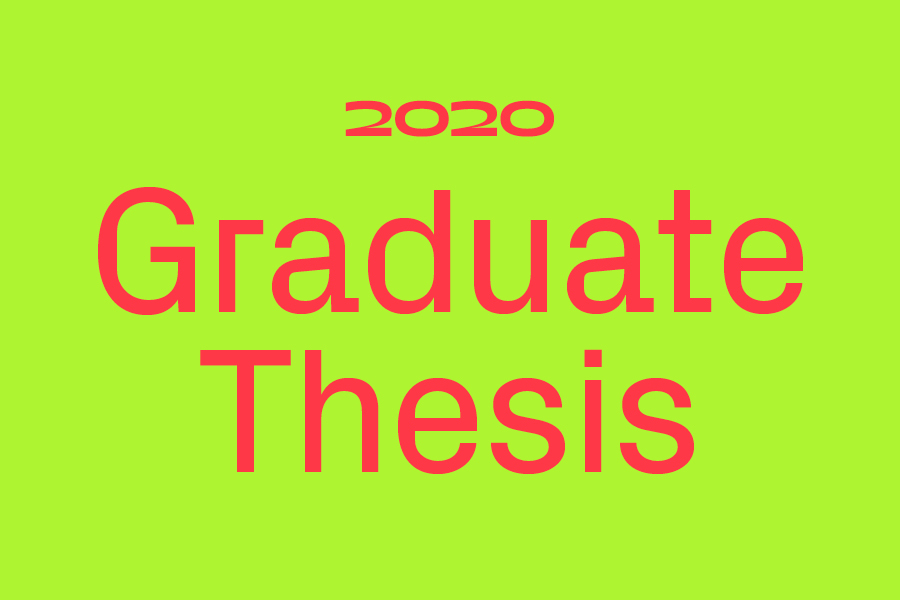 This year SCI-Arc's Graduate Thesis Weekend will be held remotely on September 10-12, 2020, an immersive, virtual public forum featuring live-broadcast reviews streamed online, so friends, family, and participants from all over the world will have the opportunity to tune-in and experience the radical work of SCI-Arc's 2020 Graduate Thesis class.
We invite you to join SCI-Arc's graduating thesis class on September 10-12, 2020 as they present and share their work with the world. Visit the Graduate Thesis 2020 website to preview review schedule, participating juror list, livestream and Spin Room session links, student work, and more.

DIRECTOR/CEO
Hernán Díaz Alonso
VICE DIRECTOR/CHIEF ACADEMIC OFFICER
John Enright
GRADUATE PROGRAMS CHAIR
Elena Manferdini
GRADUATE THESIS COORDINATOR
Florencia Pita
JURORS
Alessandro Melis
Alex Hernandez
Ali Rahim
Alisa Andrasek
Amit Wolf
Analia Saban
Anna Pla Catala
Barbara Bestor
Barbara Campbell-Lange
Bonnie Collura
Breet Steele
Craig Hodgetts
Donald Bates
Drake Dillard
Erin Besler
Evan Douglis
Florencia Rodriguez
Francisco Pardo
Gabriel Esquivel
Galia Solomonoff
Georgina Huljich
Gordon Kipping
Hina Jamelle
Ila Berman
Jasmine Benjamin
Jason Schupbach
Joe Deegan Day
John McMorrough
Kivi Sotaama
Kordae Jatafa Henry
Kutan Ayata
Lance Collins
Lisa Iwamoto
Lise Anne Couture
Luca Galofaro
Lucy McRae
Lydia Kallipoliti
Mariana Ibanez
Marion Weiss
Martin Summers
Maya Alam
MIchael Bell
Michael Osman
Mimi Zeiger
Miroslava Brooks
Natasha Sandemier
Niccolo Casas
Patricia Olynyk
Patrik Schumacher
Penelope Dean
Peter Cook
Pippo Ciorra
Rene Peralta
Sophie Hochhäusl
Steven Ma
Sylvia Lavin
Thom Mayne
Tom Kovak
V. Mitch McEwen
Xu Weiguo
STUDENTS
| | |
| --- | --- |
| Deepak Agrawal | MA2 |
| Hiral Ahir | MA2 |
| Linzi Ai | MA2 |
| Julian Basurto | MA1 |
| Kshitij Bhende | MA2 |
| Yunfei Cao | MA2 |
| Xinyu (Sherry) Cao | MA1 |
| Wangshu Chen | MA1 |
| Ozan Cicek | MA2 |
| Joy Dai | MA1 |
| Theo Dattola | MA2 |
| Wesley Evans | MA1 |
| Luke Falcone | MA1 |
| William Fraser | MA1 |
| Zepeng Gao | MA2 |
| Jesse Gates | MA1 |
| Christina Griggs | MA2 |
| Wendy Guerrero | MA1 |
| Jasleen Gujral | MA1 |
| Jiayue He | MA1 |
| Wangzhuo He | MA1 |
| Nero Chenxuan He | MA2 |
| Philip Hood | MA2 |
| Juicheng Hung | MA2 |
| Saleh Jamsheer | MA2 |
| Sadvi Jayanth | MA1 |
| Sam Kaufman | MA1 |
| Maximilian Maria Kochinke | MA1 |
| Gregory Kokkotis | MA2 |
| Amanda Kotch | MA1 |
| Kaiyun Lei | MA2 |
| Pin Chih Liao | MA2 |
| ChiAn Liao | MA2 |
| Kaiying Lin | MA2 |
| Junkai Liu | MA2 |
| Xin Liu | MA2 |
| Bowen Liu + Yixin Zhang | MA2 |
| Kristoffer Tjerrild Lund | MA2 |
| Sixtina Maculan | MA2 |
| Zoe Malecki | MA1 |
| Richard Mapes | MA2 |
| Amparito Martinez | MA2 |
| Cameron McCormick | MA1 |
| Yash Mehta | MA2 |
| Rad Mika | MA2 |
| Blake Minster | MA2 |
| Ovgu Nurozler | MA2 |
| Robert Oshodin | MA1 |
| Kumaran Parthiban | MA2 |
| Giovanna Penna Lima | MA2 |
| Phoemphol Phoemphoplsinchai | MA2 |
| Julia Pike | MA2 |
| Justine Poulin | MA2 |
| Minxue Qi | MA1 |
| Liu Qiao | MA2 |
| Ely Rabin | MA1 |
| Priyanka Raiani | MA2 |
| Caleb Roberts | MA2 |
| Fatemeh Safdari | MA1 |
| Rish Saito | MA1 |
| Reza Salehi Mobarakeh | MA1 |
| Yiyang Sang Sang | MA2 |
| Irvin Shaifa | MA2 |
| Srimoyee Sinha | MA2 |
| Robert Sipchen | MA1 |
| Andrew Stone | MA2 |
| Lourenço Vaz Pinto | MA2 |
| Erwin Vergara | MA1 |
| Yifan Wang | MA2 |
| Taian Wang | MA2 |
| Henry Wang | MA1 |
| Manying Wang | MA2 |
| HouSheng Wang | MA2 |
| Jonathan Warner | MA2 |
| Jiexun Wu | MA1 |
| Yanchen Wu | MA2 |
| Shengxing Xxiong | MA2 |
| Ziyou Xu | MA2 |
| Lawrence Yuan | MA2 |
| Vincent Yung | MA1 |
| Haozhou Zeng | MA1 |
| Yixin Zhang + Bowen Liu | MA2 |
| Jiaoyue Zhao | MA2 |
| Siyu Zheng Zheng | MA2 |
| Wenzhi Zheng | MA1 |
| Yuting Zhu | MA1 |


THESIS ADVISORS
Matthew Au
Kristy Balliet
Jackilin Hah Bloom
Hernán Díaz Alonso
Ramiro Diaz-Granados
John Enright
David Eskenazi
Marcelyn Gow
Margaret Griffin
Mira Henry
Coy Howard
Damjan Jovanovic
Zeina Koreitem
Angelica Lorenzi
Elena Manferdini
Eric Owen Moss
Anna Neimark
Florencia Pita
M. Casey Rehm
Michael Rotondi
David Ruy
Peter Testa
Devyn Weiser
Tom Wiscombe
Andrew Zago