Design as a human right, not a luxury or a privilege, has been at the core of SCI-Arc's mission and pedagogy since our founding in 1972. It is in this spirit that we turn the entire school's attention to some of the most pressing issues of our moment and our city: homelessness. Los Angeles is an epicenter of shifting urban planning and housing issues, with homelessness surging over 40% in the past ten years alone. In this four-day, all-school workshop, we will come together as a community of designers to contribute to the body of thinking on tackling this issue. Taking on the intense, collaborative format known as a charrette—a problem-solving effort involving the transparency and voices of all stakeholders— all 506 SCI-Arc students will come together to affirm design's responsibility to imagine and shape new futures that can be and should be in service of everyone.
SCI-Arc is neighbor to Skid Row, where the homeless crisis is at its most visible and challenging. SCI-Arc is known for meeting design challenges with radical, speculative thinking. We acknowledge that design in and of itself does not eradicate homelessness, and throughout this charrette we hope to identify new directions and fresh approaches for the many fields engaged with this crisis.
"SCI-Arc is committed to playing an integral role in solving the homeless crisis," says SCI-Arc Director Hernan Diaz Alonso. "We are committed not only because of our proximity to Skid Row but because there is a moral imperative and an architectural challenge. Design must be implemented as a means for social change."
SCI-Arc students have proven time and time again that they have the capacity to generate unprecedented ideas and modes of thinking. For this reason we look forward to directing the energy, enthusiasm, skill, and inventiveness of our students toward this issue. Working with faculty, students, alumni, and key voices from around Los Angeles, we have identified the most pressing questions concerning homelessness, housing, policies, services, and public perceptions. Over four days, small groups of SCI-Arc students will answer these questions with original research and design proposals. The students will begin their work immediately following the opening event on January 11th. On January 14th, from 5-7pm, all student work will be presented to the community and the general public. Following the charrette, a formal report and video feature will be made available, as well as submitted to the Office of the Mayor.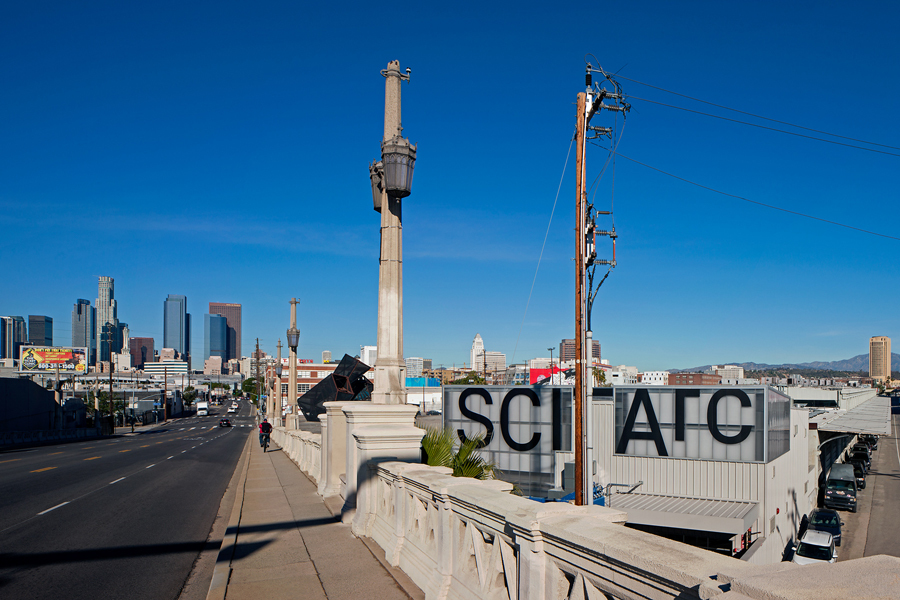 EVENT SCHEDULE
Friday, January 11, 2019
W.M. Keck Hall Lecture Hall
Welcome and Introduction
1:00pm-1:20pm
Hernan Diaz Alonso, SCI-Arc Director
Lien Heidenreich-Seleme, Goethe-Institut Director
Mark Ridley-Thomas, LA County Supervisor
Presentation: Framing the Problem
1:20pm-1:40pm
Jerry Neuman, SCI-Arc trustee
Chris Ko, United Way of Greater Los Angeles
Panel Discussion 1
1:40pm-2:40pm
Marqueece Harris-Dawson, LA City Councilmember (Moderator)
Jerry Neuman, SCI-Arc trustee
Jerry Ramirez, County Homelessness Initiative
Christopher Hawthorne, LA City Chief Design Officer
Thomas Newman, United Way of Greater Los Angeles

Panel Discussion 2
3:00pm-4:30pm
Frances Anderton, KCRW (Moderator)
Deborah Weintraub, Chief Deputy City Engineer of Los Angeles
Carlos Zedillo, Head of Pienza Sostenible
Kevin Hirai, President of Flyaway Homes
Lorcan O'Herlihy, Architect
Closing Remarks
4:30pm-4:45pm
Hernan Diaz Alonso, SCI-Arc Director
Saturday, January 12, 2019
Conversations Livestreamed
10:00am-10:30am
Mimi Zeiger, Journalist and Curator + Tanner Blackman, City Planner
Volunteer faculty, alumni and guests Pin-up
2:30pm-6:00pm, Keck Hall
SCI-Arc Students + Volunteer Faculty
Monday, January 14
Exhibition
4:00pm – 7:00pm
Student work exhibited throughout the school

--

Research Team: Erik Ghenoiu (Faculty), Masha Hupalo, and Andrew Chittenden

In partnership with the Goethe-Institut