A One Night Stand for Architecture
William Hu (B.Arch '13), Ryan Tyler Martinez (M.Arch '13), and Anthony Morey (B.Arch '14), met as students at SCI-Arc. In 2014, the group of friends began to discuss putting on a show that would allow individuals to produce and present work that might not be possible in traditional shows. "As a young designer or architect, it was hard to find venues to display work," Martinez recalls. These meetings coincided with the rise in popularity of many web platforms, such as Instagram, and the team wanted to bring the over-prevalence of sharing offline, and into the physical space.
In evaluating existing opportunities to show work at galleries, Morey noted contingencies were primarily for finished work. But what about those who didn't want to show building models, or drawings of buildings? Where did individuals turn when they wanted to show architectural ideas? Drawing on the principles of their SCI-Arc education, or how to share ideas with limited resources, Hu, Martinez, and Morey, decided to focus on audience, to reach beyond architecture schools and engage a public audience. "We met for lunches at Zinc Cafe, just around the corner from the school to flesh out our ideas," Morey remembers. "It was a 'Wild Wild West' version of the event that year."
But where to host their show of ideas? They looked at alleyways in the city, abandoned houses, hotels--any space that was unexpected and affordable to occupy. Finally, they agreed on a motel as one that supported a curatorial stance, and impermanence. The very nature of a motel guest's tenure inspired the 2015 show's title, A One Night Stand for Art & Architecture.
"By the second year, we had all taken professional steps in our careers: Ryan was working as a designer in Gehry's office, I was a teaching fellow and attending grad school at Harvard, and William was working with SCI-Arc alumni at Sugarlab. We had personal agendas, and moved into a curator's role for the second show," Morey notes. SCI-Arc student Debbie Garcia, anticipated B.Arch 2017, Jonathan Crisman of UCLA, and SCI-Arc alumni Duygun Inal, M.Arch 2012, were the guest curators for 2016.
"We wanted new voices and new work to keep things changing, and evolving," Martinez says.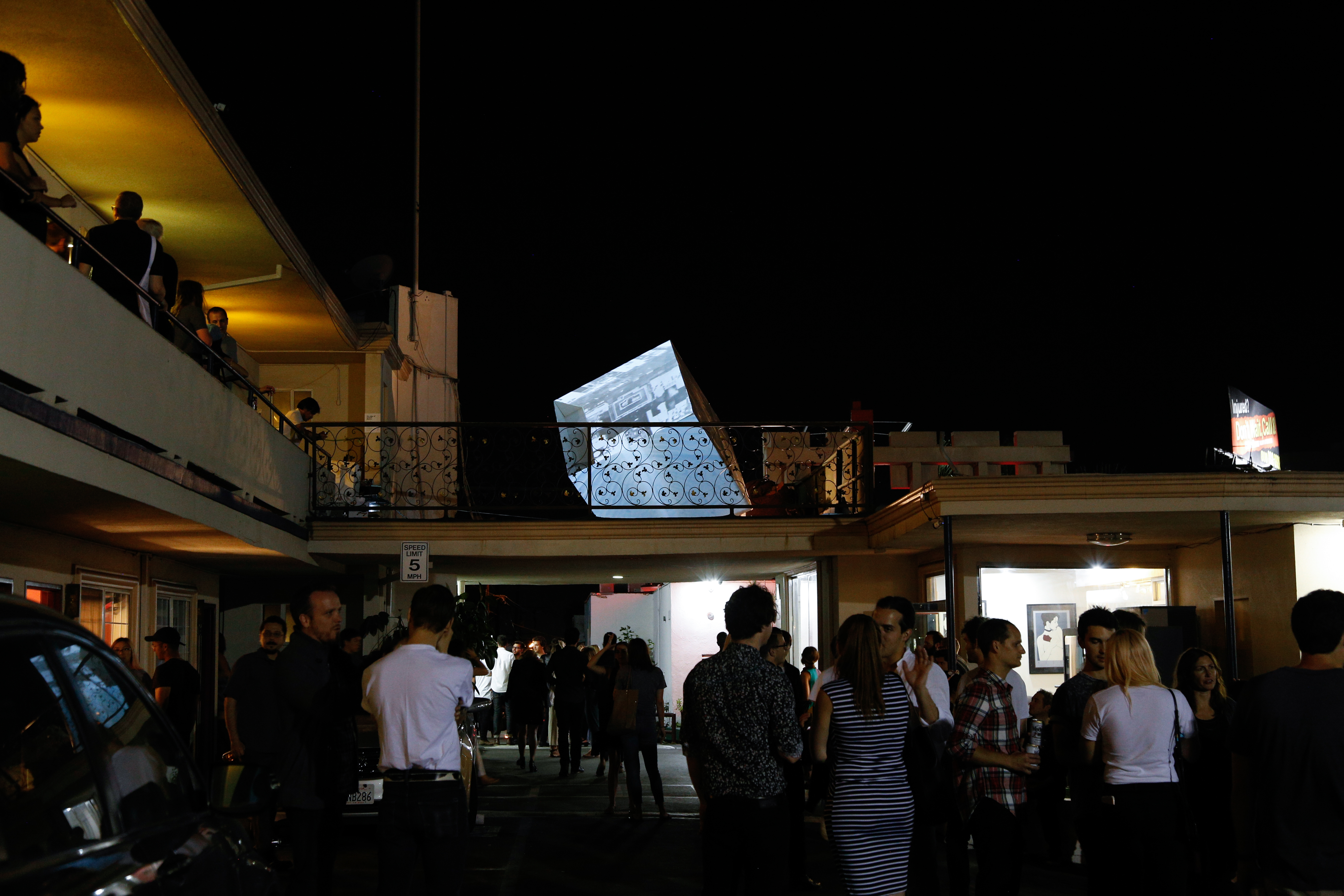 One Night Stand: Last Call
This goal drove the next nine months of planning for One Night Stand's final show in 2017, which had two connotations. One was a "last call" for architecture installations, as the show's final exhibition. The other was the limited-run concept of a one-night stand. The original team selected three guest curators: Volkan Alkanoglu, Jennifer Bonner, and Kyle Miller.
"Volkan was my first professor at SCI-Arc, and we've worked together since," Morey explains. "He, Jennifer, and myself were all at Harvard during the planning time, and we'd all been exposed to different groups and ideas from different geographies, which helped us bring in new voices to the show." Alkanoglu and Bonner showed in the 2016 show, and transitioned seamlessly as curators.
The motel model had been vetted in previous years, and stood out as something different from the gallery scene in LA. However to accommodate a growing audience--2015 attracted 1,500 visitors, and 2016 saw over 4,000 with a closing sweep from the LAPD for exceeding code occupancy at the venue--the team sought a new motel. This change rode on the condition that the new venue exemplify the grittiness of LA, erase expectations for producers and visitors, and show off signage and site arrangement that supports an architectural motif conducive to the show.
"This year's motel on 3rd Street was great for temporality, a four-hour window of a show that made us all think differently," Martinez says. "In school, we learned patience, that the built environment takes a long time to produce, and this was the opposite position of how makers operate. We liked finding a venue that makes that speed work, only to leave it the way we found it."
One Night Stand's 2017 participants included:
Emanuel Admassu and Jen Wood
Viola Ago (M.Arch 1 '13)
Andrew Atwood and Anna Neimark (SCI-Arc Faculty)
Caio Barboza and Sofia Blanco
Chloe Brunner (B.Arch '12)
Abby Coover and Nate Hume
Mircea Eni
Heather Flood (M.Arch '04)
Marshall Ford
Jia Gu (SCI-Arc Faculty) and Maxi Spina (SCI-Arc Faculty)
Jeff Halstead (M.Arch '14)
Mira Henry (SCI-Arc Faculty)
Molly Hunker and Greg Corso
Joel Kerner (M.Arch '13)
Brandon Kruysman (M.DR/ES Tm, '11) and Jonathan Proto (M.DR/ES Tm, '11)
Zachary Tate Porter (SCI-Arc Faculty), Christina Novakov-Ritchey, and Mari Beltran (SCI-Arc Student)
James Michael Tate
Clark Thenhaus
Michael Zimmerman and Walaid Sehwail
Yaohua Want (B.Arch '10)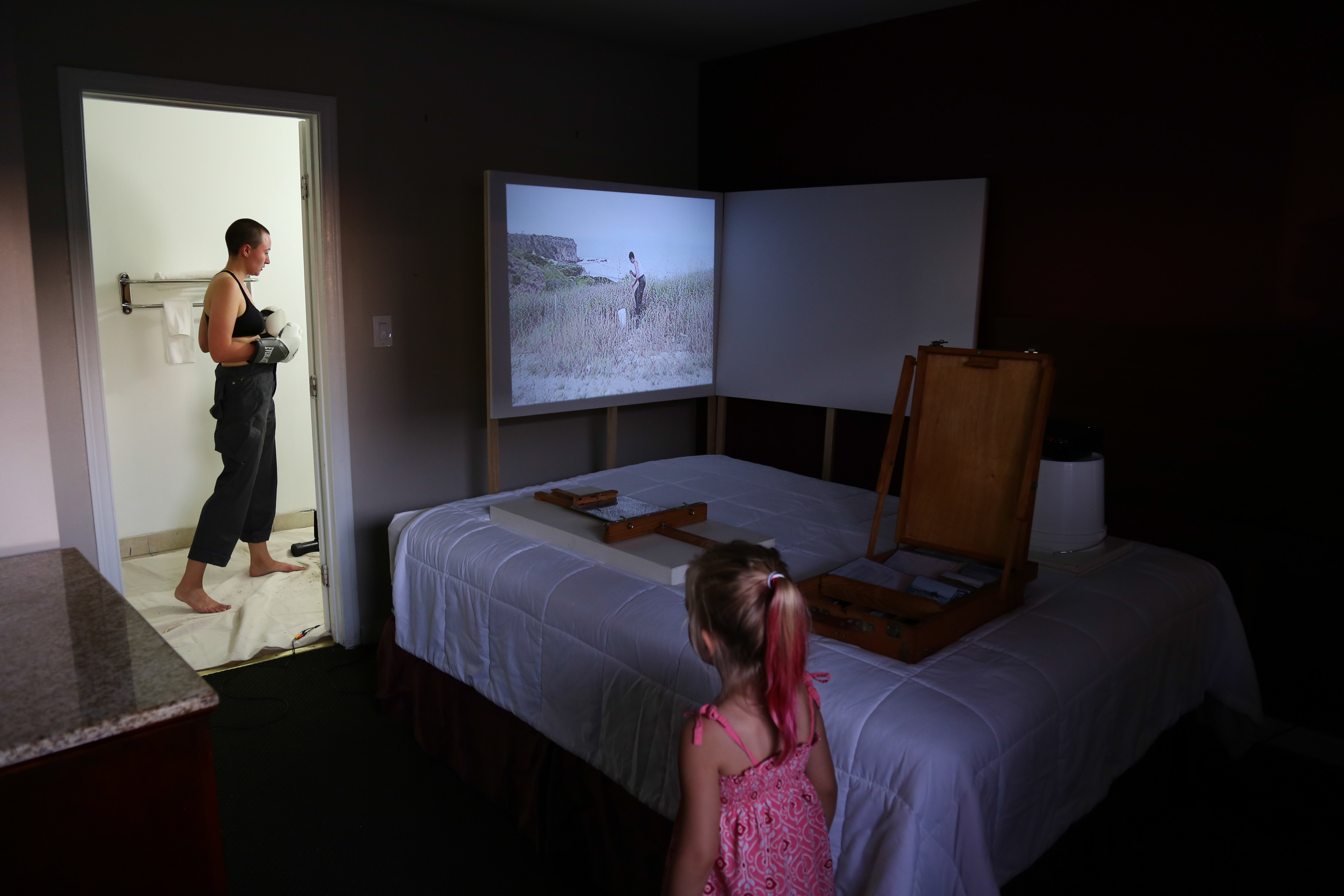 Exhibition Highlights
Kruysman and Proto's project took advantage of a space no one else wanted using advanced tools and methods to thoroughly engage the physical environment. The former SCI-Arc Robot House leaders, who have since began working in robotics with Google X, designed a gateway between two spaces through a wall of interactive light "They drew with light and wrote custom code to control it," says Martinez. "The back-end was invisible, so you never saw the structure or framework. That is what made it appear so simple and powerful."
Jeff Halstead, currently a designer at Frank Gehry's office in LA and SCI-Arc graduate, took a 3D scan of a motel room, digitized the physical form, and removed all furniture. He then fabricated three temporary walls that propped up against existing walls to serve as a projection surface for manipulations of the original images from his scan, using the room itself as an architectural element.
The installation from Porter, Ritchey, and Beltran was a hybrid of architectural installation and performance art. "It was definitely not something you see in institutions or the professional world," Morey says. The piece featured a display of architectural drawings, objects, and history. In the bathroom, another collaborator was punching a punching bag with the sand slowly leaking out of the bottom, a live metaphor for working through projects. Each collaborator fulfilled various stages of the show: The goal of a one-night stand, the equalization of hierarchy, and sharing projects that are one step away from a fully-formed idea.
Ultimately, sharing non-traditional ideas in an unexpected venue attracted close to 5,200 visitors in 2017. Combined with a mixed medium of concept delivery, Hu, Martinez, and Morey achieved their collective goal to bring architectural ideas to a broader audience--both for visitors and creators. "The show was between digital, analog, and an architecture show; it all depends on the viewer coming in off the street," Morey says. "That is where architecture finds its power."