SCI-Arc Hosts Syd Mead in Conversation with Craig Hodgetts
On December 5, SCI-Arc hosted a conversation between renown science-fiction designer Syd Mead and architect Craig Hodgetts. Mead started his career, which spans more than 50 years, by studying automotive design and creating architectural renderings. In the late 1970s he began designing for major film studios, and he is best known for his work on sci-fi classics such as Blade Runner, Tron, 2010, Aliens, Short Circuit, Time Cop, Johnny Mnemonic, MP-3, and, most recently, Blade Runner 2049.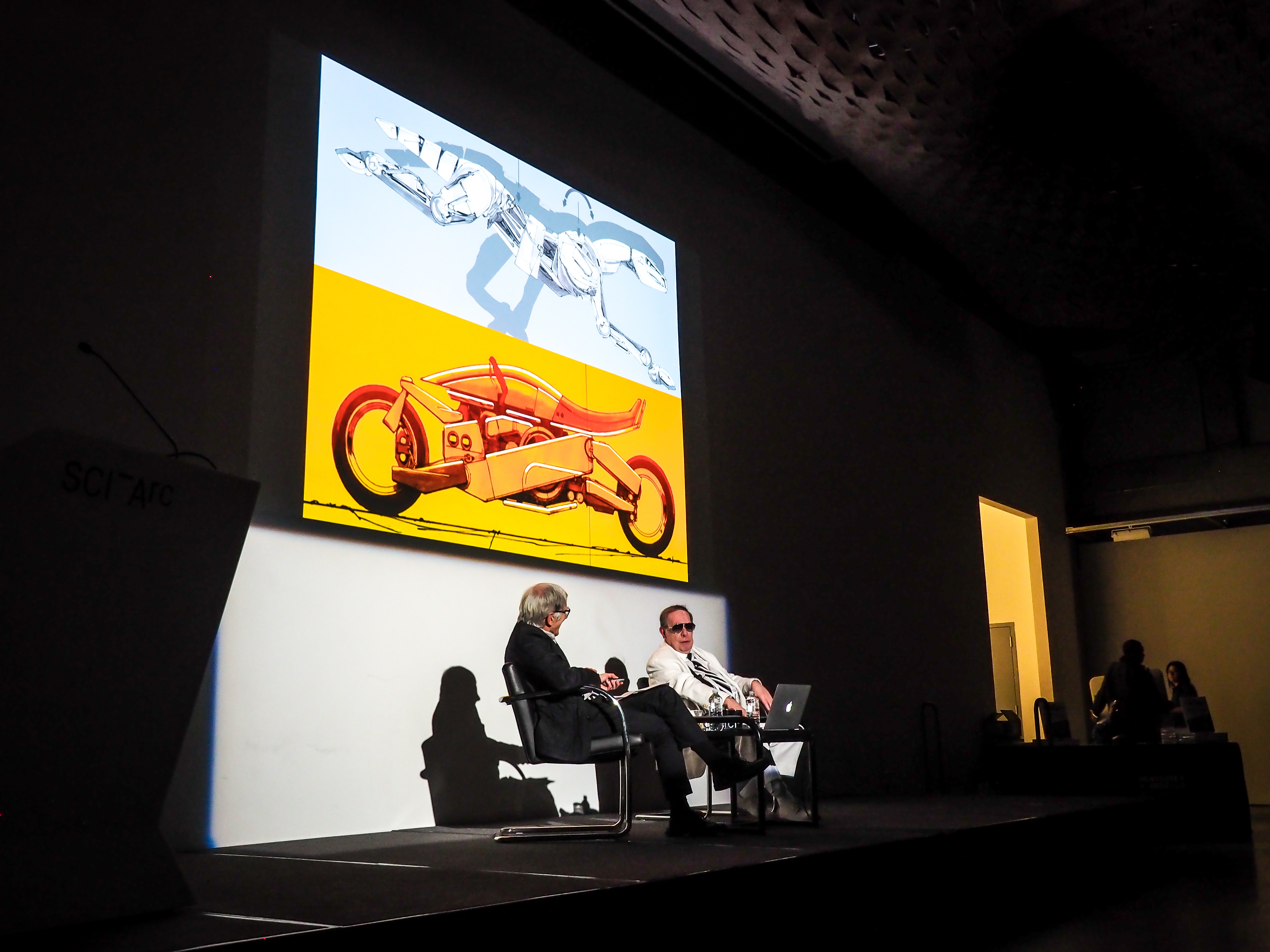 The event marked the third installment of SCI-Arc's cinema series, and the conversation was followed by a screening of the film Aliens, which Mead designed in 1986 for director James Cameron. It also celebrated the publication of the book The Movie Art of Syd Mead: Visual Futurist, a year-long collaboration between Mead and Hodgetts. A founding principal of Hodgetts + Fung, Hodgetts's portfolio includes the renovation of the historic Egyptian Theater in Hollywood and the creation of the Hollywood Bowl shell, and he is currently engaged in the research of developing technologies such as Elon Musk's Hyperloop. Like Mead, Hodgetts was educated as an automotive designer before studying theater and architecture. The two first met at a film and architecture conference more than 20 years ago.
During their discussion, Mead and Hodgetts delved into the origins of Mead's imagery and methods of illustration, which span from handmade drawings to computer-generated renderings, as well as his relationships with directors and writers. In school Mead studied the works of Caravaggio and other artists. "That allowed me to bring with me into my professional rendering work all of the niceties of classic painting—lighting, shadow, and the sensibility of drawing people."
From the masters Mead also learned an approach that has served him well in his designs for film: Keep the eye moving. "Intricate geometries—the horizon line, and so forth—make the picture balance itself. To perceive depth, you have to look past something, such as a shadowed object or a person with sunlight beyond. You also need a scale reference like cars to give you a carefully planned illusion of distance." While he understands how to cultivate ambiance and visual drama, Mead produces technically accurate drawings that make his futuristic designs appear realistic.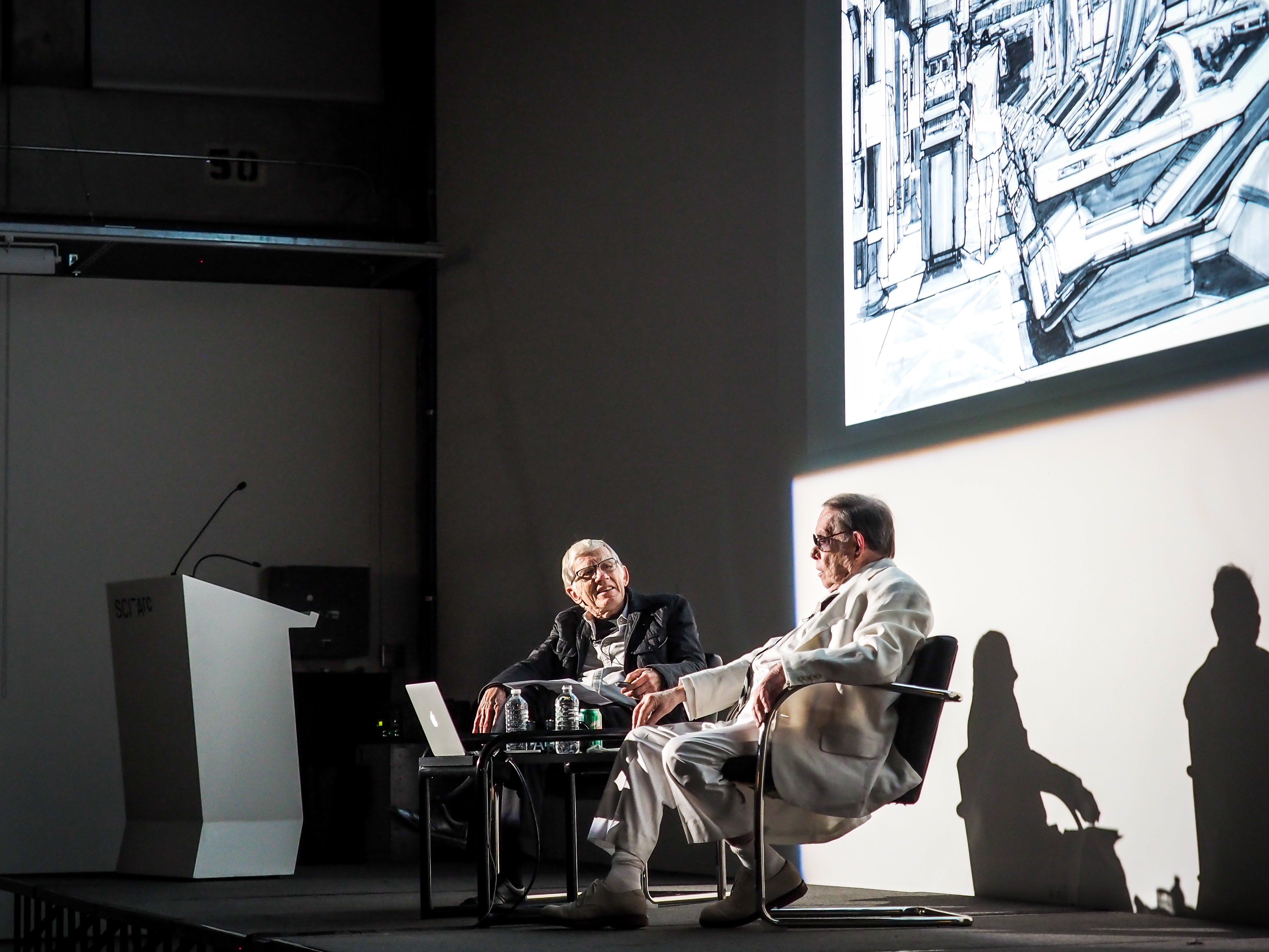 "Mead's work is, without a doubt, incredibly influential in the world of architecture, or at least the architecture we're interested in here at SCI-Arc," said Hernan Diaz Alonso, SCI-Arc Director and CEO, during his introduction. "He created a new genre in film."
The conversation between Mead and Hodgetts ties into film classes currently being taught by Michael Stock, a member of SCI-Arc's liberal arts department and the DJ of the PART TIME PUNKS radio show on KXLU 88.9FM. "Part of the initiative is to bring the breadth of liberal arts into architectural education," said Stock. "But it's also a way for us to reach out and contribute to the intellectual and visual culture of the Arts District and Downtown Los Angeles."