SCI-Arc Fall Semester Kicks off with Graduate Thesis Weekend and Graduation
Graduate Thesis Weekend marked the end of a long journey for SCI-Arc's class of 2018. The three action-packed days featured the school-wide the final crits of students' hard-fought thesis projects, juried by 78 architectural luminaries including guests Neil Denari, Barbara Bestor (M.Arch '92), Sylvia Lavin, and Greg Lynn; the debut of the Spin Room, a new podcast for live reflection; and of course, the long-awaited commencement.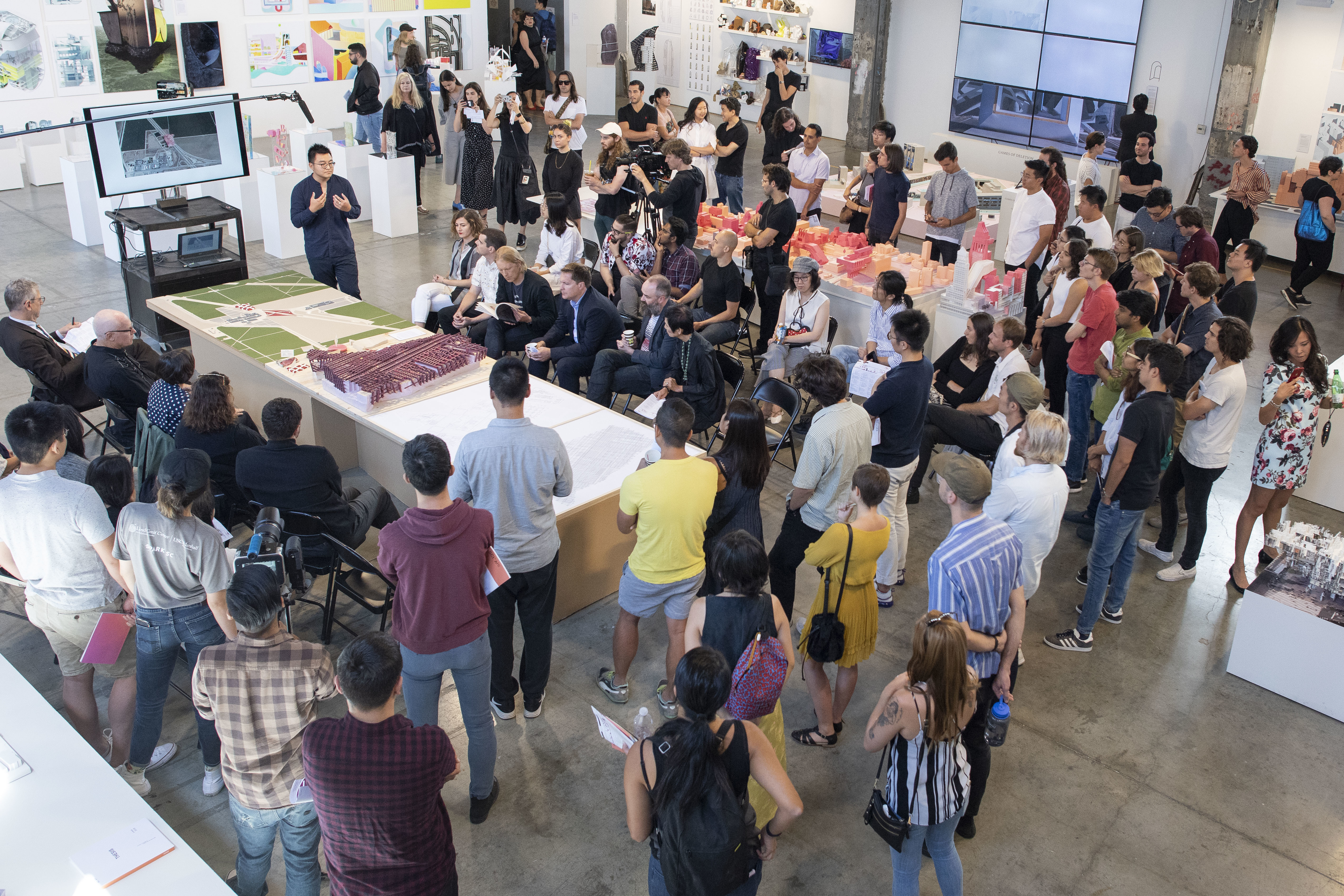 During the ceremony, which took place in the shade of P-A-T-T-E-R-N-S' "League of Shadows" pavilion, Graduate Programs Chair Elena Manferdini described the weekend as a display of "outstanding human capital at work."
"I also want to thank the students for going all out this year for taking risks for shaping our discipline for raising their voices," she added, as students received not only their diplomas, but an array of awards. Winners included Isabela De Sousa and Karim Saleh, who took the Blythe and Thom Mayne Undergraduate Thesis Prize, and Alessio Grancini and Runze Zhang, who took top honors with the SCI-Arc Gehry Prize, awarded annually to the year's best graduate thesis for testing "the limits of architecture." Grancini and Zhang's project, "Games of Deletion," an actual video game of real and virtual reality where players transform the blankness of urban space through murals. (Visitors can play the game, as well as see the projects of 11 of their peers, in the Selected Thesis exhibition from Sept. 14 through 23.)
This year also marked the inaugural Woods Bagot Prize, an award based on portfolio reviews sponsored by the global architecture firm. Woods Bagot Principal Patrick Daly described the award as "a strategy for making friends and finding out where the talent is," and announced the first winners as Luciano Menghini, Mikiko Tagasago, and Jose Garcia.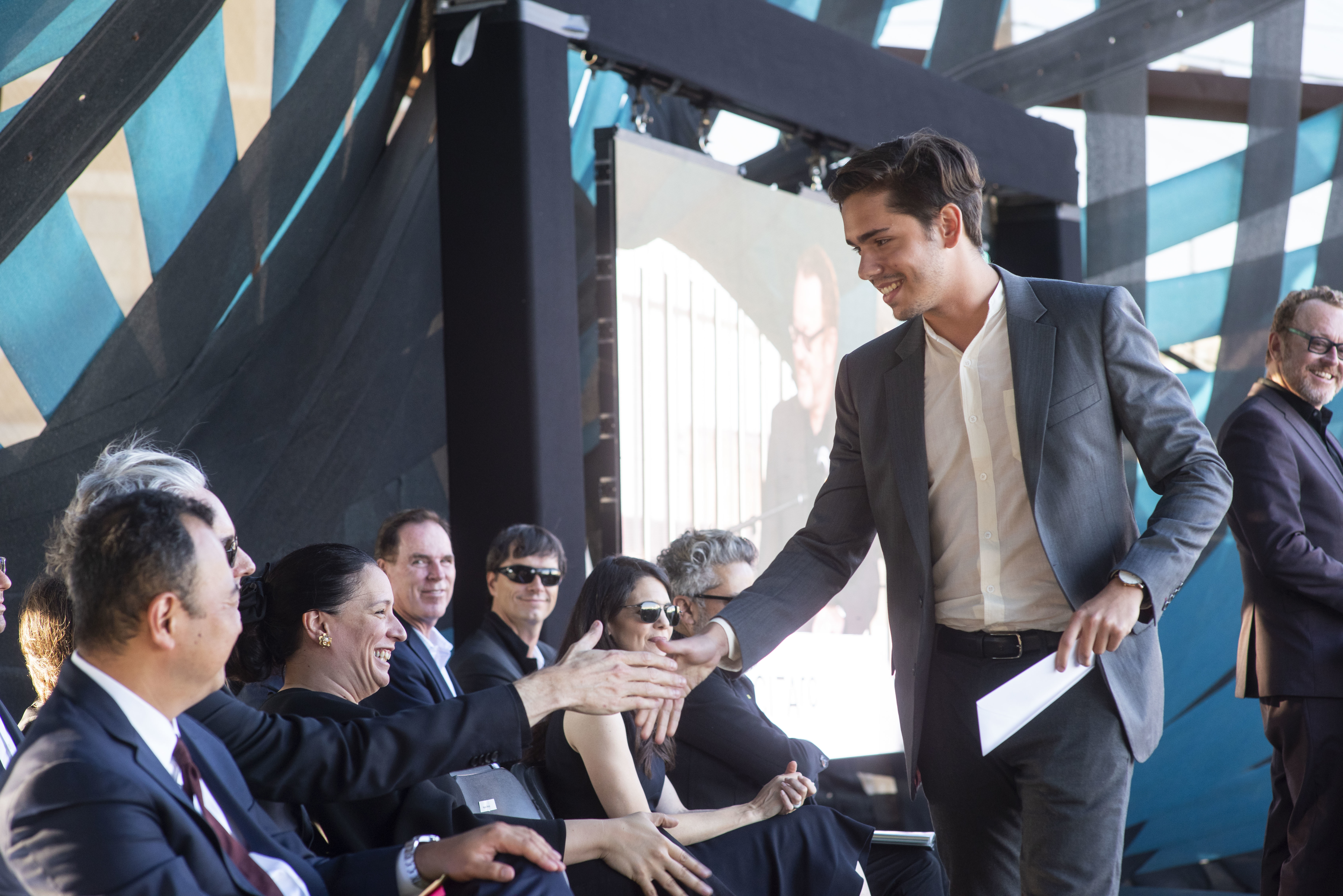 The ceremony was full of sentiment; student commencement speaker and student union president Abagael Warners delivered an emotional speech, urging her fellow graduates to remember SCI-Arc as "a tightknit family made of passionate oddballs." SCI-Arc director Hernan Diaz Alonso took a moment to honor Alex Monroe Hayes, an undergraduate student who passed away in early August, not with a moment of silence, but "a lot of noise."

Both Alonso and commencement speaker Ambassador Nina Hachigian, the city's Deputy Mayor for International Affairs, turned the students' focus not only to the turbulence and historic disruption affecting the world at large, but to the architect's role in correcting it.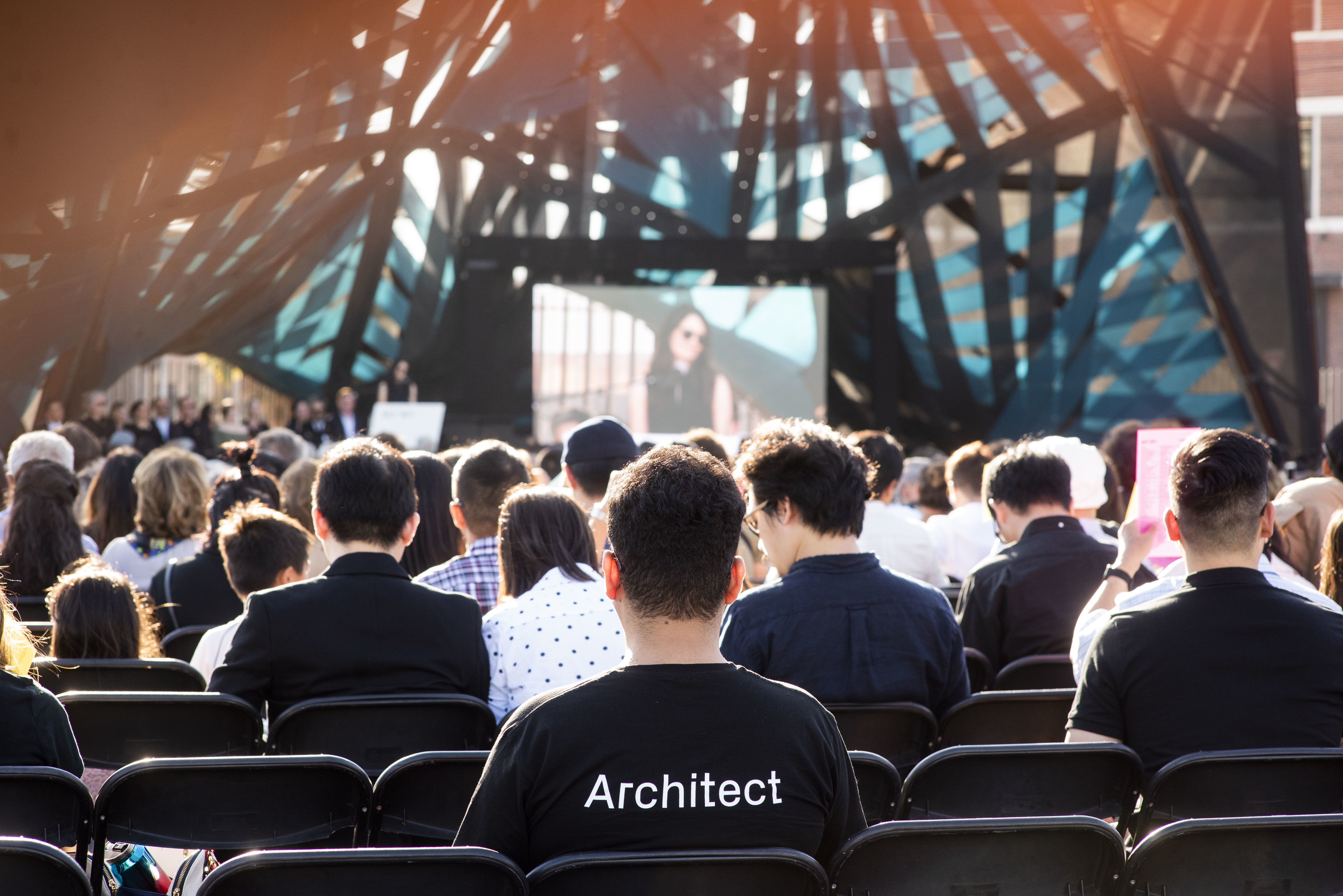 "You can compel action, thought, and feeling," said Hachigian, stressing the dire need for solutions amid worsening homelessness and climate change. Her words were underscored by Diaz's own sentiments. "We're the only school that starts with the apocalypse and we go from there," he said. His final words of advice: "Never forget the power of a small group of committed people to change things."

Congratulations to all the winners, who are listed in full below, with a selection of works to be featured in the Selected Thesis exhibition.
Merit Graduate Thesis Awards
Frank Y.T. Chen (M.Arch 1)
Frank Chen's "Moosphere," is a lab-grown meat facility consisting of laboratories, production facilities, offices, restaurants and pastures that he describes as, "a 21st-century version of Vernadsky's concept for the countryside."
Spencer Daly (M.Arch 1)
Yan Leng (M.Arch 1)
Nicole Yi Li (M.Arch 1)
Nicole Li's "Material Consequences" focuses on new ways of generating form and organizing space through the folding and unfolding, cutting, and sewing of study models.
Jackson Lukas (M.Arch 1)
Abagael Warnars (M.Arch 1)
Abagael Warner's "atLAs" dismantles the supremacy of Western architecture, notably its pinnacle, neoclassical style, in order to better represent the cultural plurality of Los Angeles. Her project maps unconventional examples in the Civic Center.
Andrea Cadioli (M.Arch 2)
Jose Carlos Garcia (M.Arch 2)
Eleonora Orlandi (M.Arch 2)
Eleonora Orlandi's "Cloud Fabuland" is an extravagant space that treats life as a performance. She divided the building into four distinct program areas: immersion and engagement; individuality and catharsis; atmospheres and floating; and theatricality and gesture.
Yujue Wang + Ziwei Wei (M.Arch 2)
SCI-Arc Gehry Prize
Alessio Grancini (M.Arch 1) + Runze Zhang (M.Arch 2)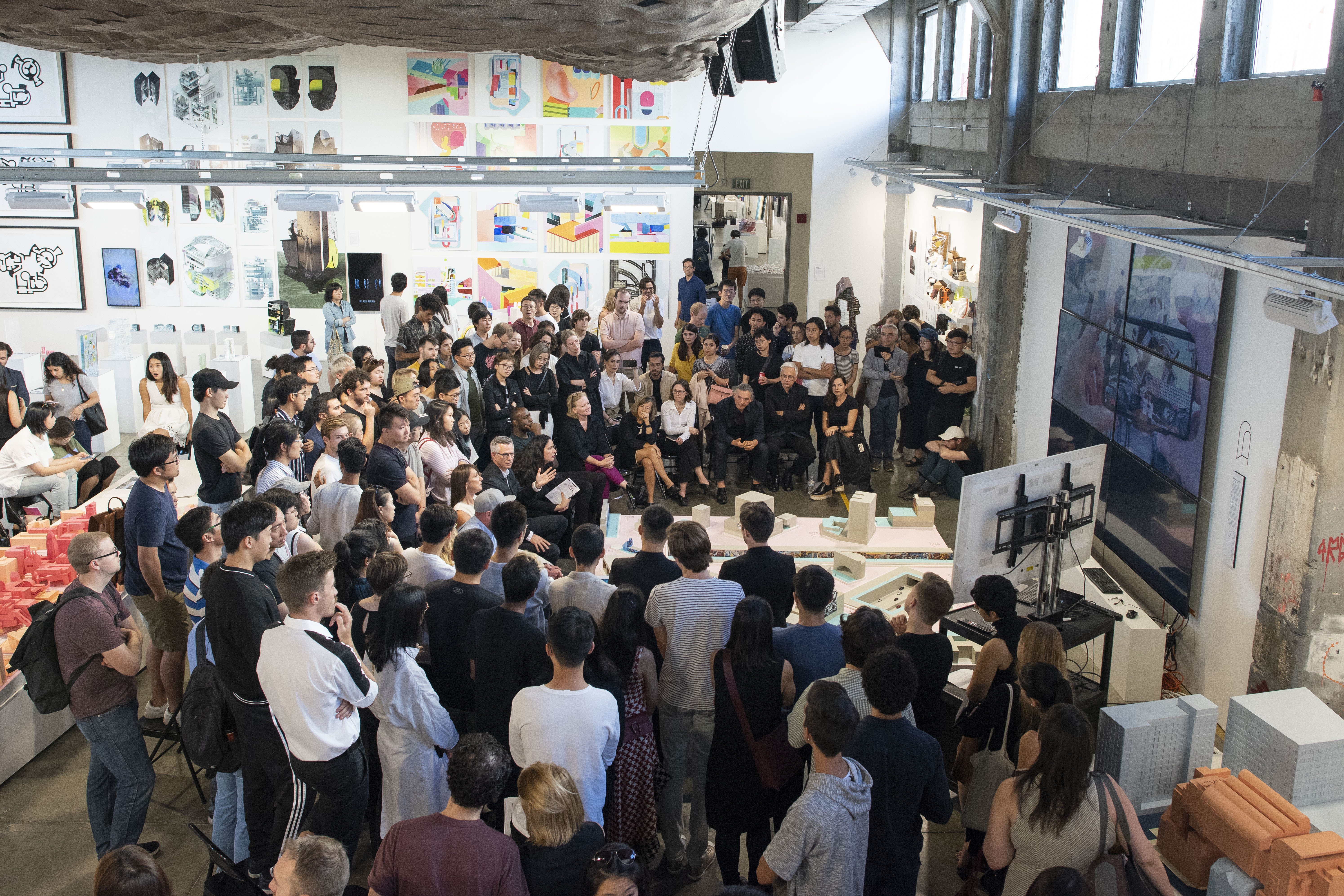 SCI-Arc Service Award
Andreina Pepe (B. Arch)
Ashley Hastings (M.Arch 1)
Ross Fernandes (M.Arch 2)
Alpha Rho Chi Medal
Karim Saleh (B. Arch)
Andrea Cadioli (M.Arch 2)
Henry Adams Certificate
Luciano Menghini (B. Arch)
Jackson Lukas (M.Arch 1)
Henry Adams Medal
Alexis Rosenthal (B. Arch)
Ross Fernandes (M.Arch 2) and Abagael Warnars (M.Arch 1) (tied)
Graduation with Distinction
Alexis Rosenthal (B. Arch)
Luciano Menghini (B. Arch)
Isabela De Sousa (B. Arch)
Andrea Sanchez (B. Arch)
Cristina Macia Briedis (B. Arch)
Abagael Warnars (M.Arch 1)
Jackson Lukas (M.Arch 1)
Amanda Dellevigne (M.Arch 1)
Alessio Grancini (M.Arch 1)
Ross Fernandes (M.Arch 2)
Jose Garcia (M.Arch 2)
Andrea Cadioli (M.Arch 2)
Runze "Paul" Zhang (M.Arch 2)
Marcos Dana (MS Architectural Technologies)
Maxime Lefebvre (MS Architectural Technologies)
Hseng Tai Linter (MS Architectural Technologies)
Yara Feghali (MS Design Theory and Pedagogy)
Daniel Horowitz (MS Design Theory and Pedagogy)
Dylan Krueger (MS Design Theory and Pedagogy)
Daniel Wills (MS Design Theory and Pedagogy)
Kordae Henry (MA Fiction and Entertainment)
Mohammad Soleimanifeijani (MA Fiction and Entertainment)
Viviane El Kmati (MA Fiction and Entertainment)
Woods Bagot Graduation Prize
Luciano Menghini (B.Arch)
Mikiko Tagasago (M.Arch 1)
Jose Garcia (M.Arch 2)