The 2018 Graduate Thesis 'Miniatures' Exhibition, In Pictures
During SCI-Arc's annual Graduate Thesis presentation at Hauser & Wirth, the miniatures serve less as the spatial representation of buildings than that of ideas, ones where issues of policy, economics, technology, and literal construction coincide. The 2018 edition took place on Wednesday, crowding the breezeway at the Arts District gallery with graduate thesis students' projects in their preliminary stages; the feedback they received from faculty, advisors, and invited critics will ultimately shape their final presentations in September.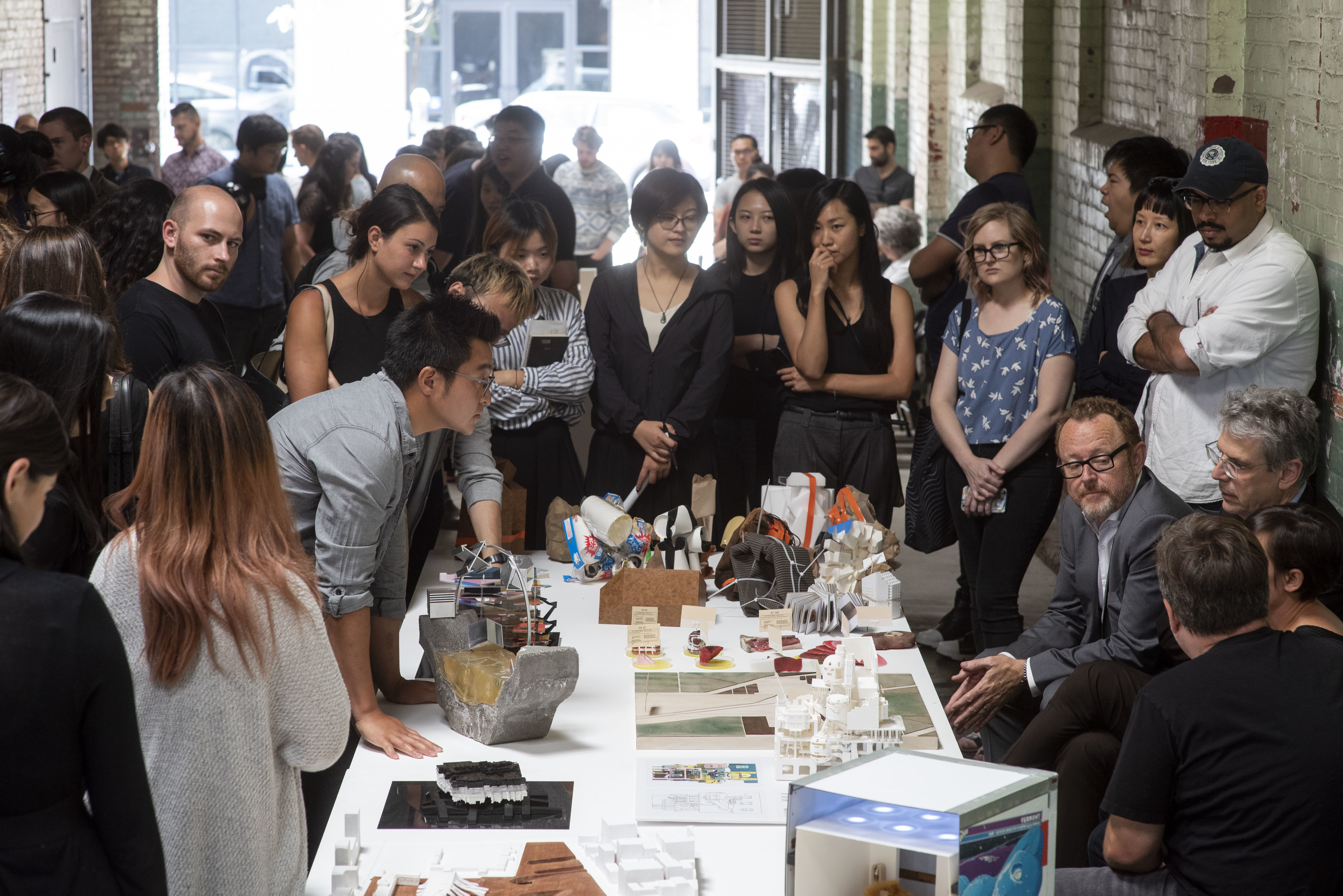 With themes spanning urban organization outside the grid, to the aesthetics of synthetic meats, and many topics in between, the miniatures were a foray into the unknown, the space beyond the limitations of the existing built environment where the possibilities of the future lie.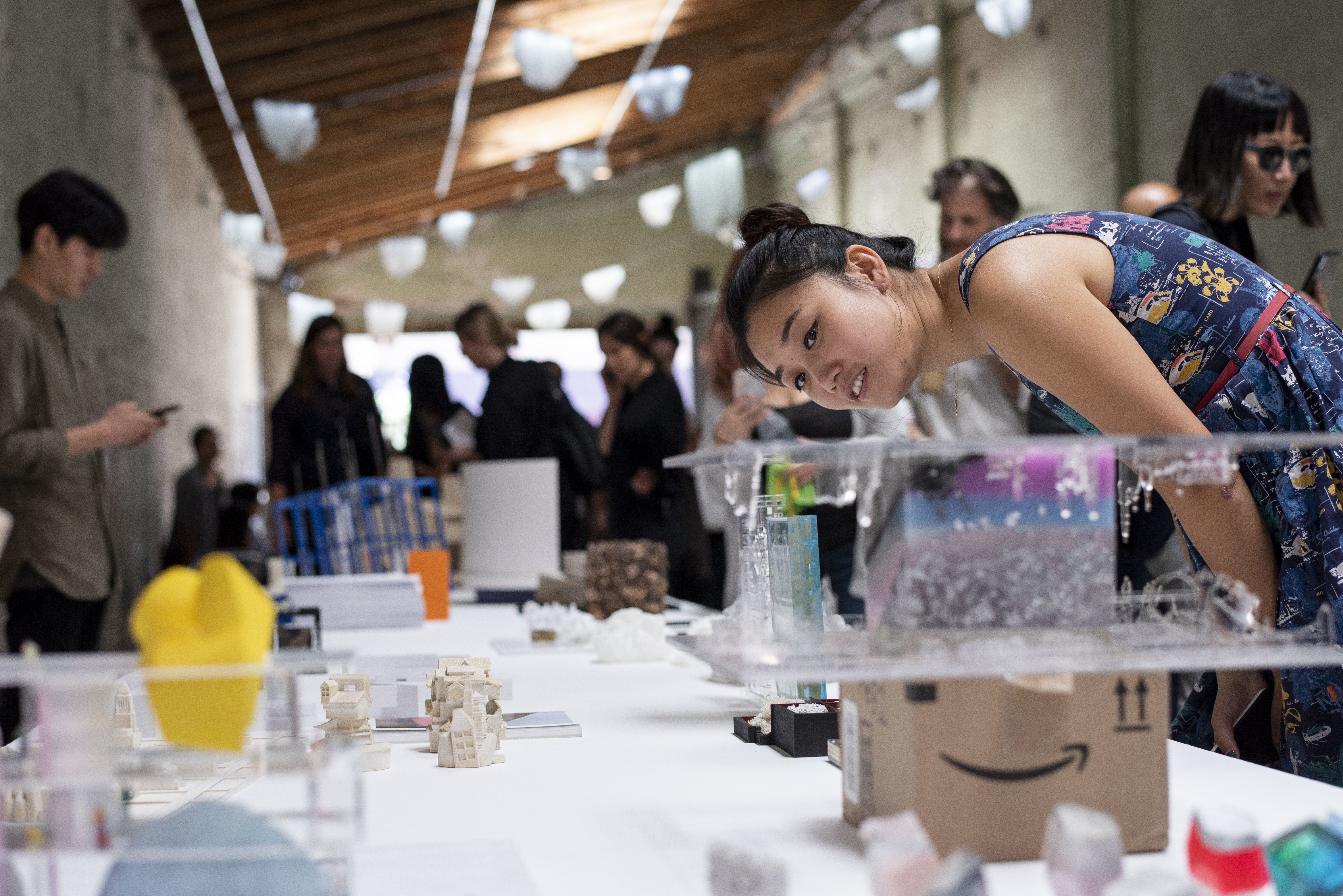 Peter Testa and Qi Jia discuss Jia's, "The Giddy City." "My thesis is to discover a new way of approaching urbanism through forms of organization and coherence, and how to organize high-density cities without the conventional grid," Jia explains. "The concept is to use the method of explosion and implosion to create forms, parts and an integrated infrastructure."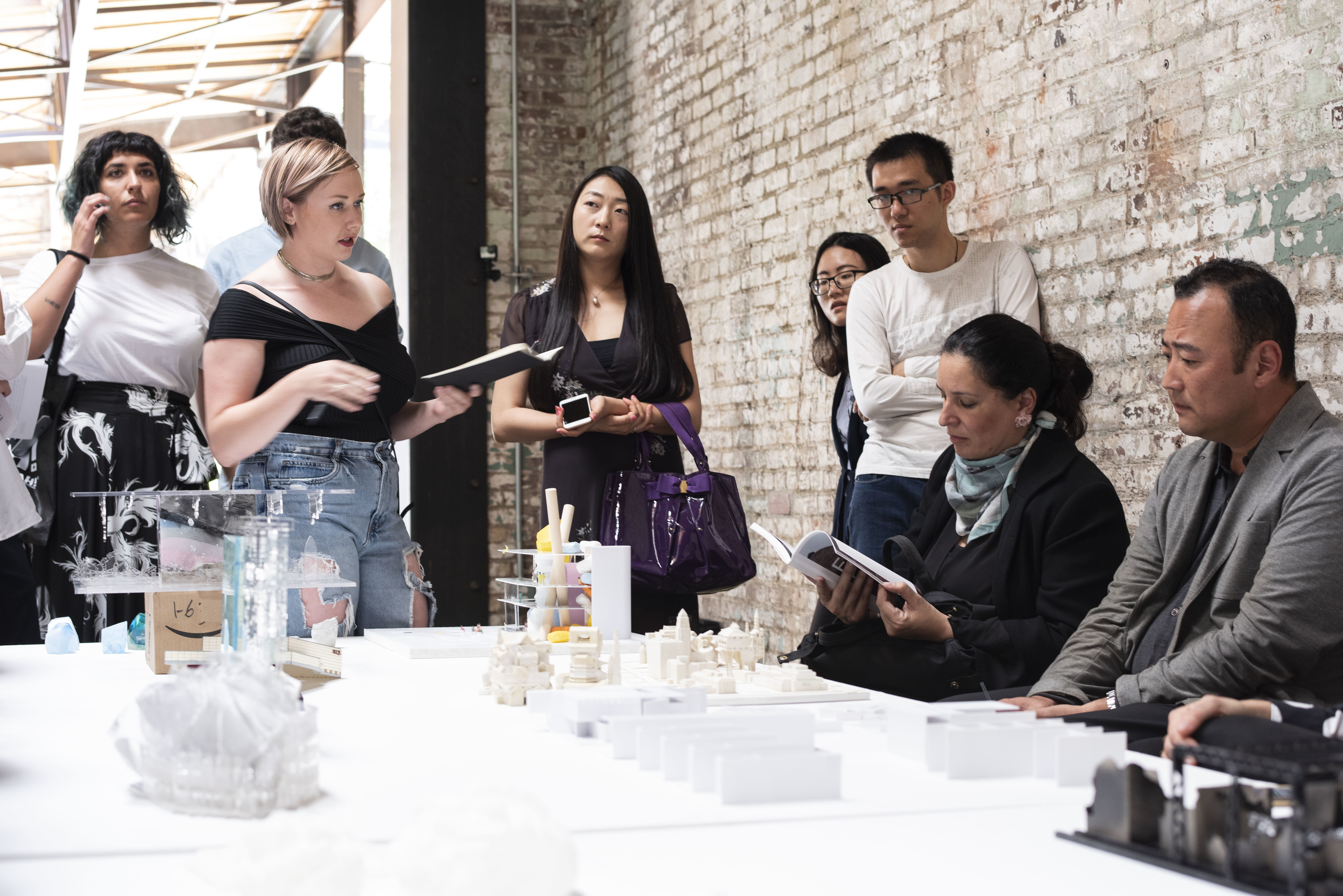 Yujue Wang & Ziewei Wei's "Mutple Subjectivities" is based on the scroll painting "Along the River During the Qingming Festival," painted by artist Zhang Zeduan during the Song Dynasty. It's an unusual linear and axonometric depiction of a single street in the gridded city of Bianjing, thought to be a fictional composite of several others. "What we did is reversing the process of drawing the scroll painting," explains Wei. "By using the concept of scroll painting as an imaginary tool instead of an end product, we try to start from one primary imaginary line which is hidden underneath the model to retrace back to real-life architecture."
John Enright, Andrew Zago, Anna Niemark, and Daniel Horowitz discuss Frank Y.T Chen's "Lab to Table" project, which he describes as "a culture meat laboratory in the town of Coalinga." Chen says that, "The miniature pieces explore potential aesthetics of lab grown meat, and tests our tolerance, as consumers of meat products, for abstraction in familiar objects."
SCI-Arc's Graduate Thesis Weekend will take place September 7-9th, where the public will get a chance to see the students' final projects and presentations.