SCI-Arc Alum Adhavan Sundaramurthy on Thesis and Tamizh Futurism
Adhavan Sundaramurthy completed his M.Arch 1 at SCI-Arc. Born and raised in Chennai, India, he holds a bachelor's degree in Civil Engineering from the College of Engineering, Guindy, Anna University. He worked for Undisclosable, Inc. and is also the co-founder of architecture firm Dot Architecture and Design studio based in Chennai, Tamil Nadu. He is now working for HplusF design labs founded by Craig Hodgetts and Hsinming Fung. Sundaramurthy based his final project, "Tamizh Futurism," around the Tamil language Tamizh, which he presented during this year's graduate thesis at SCI-Arc.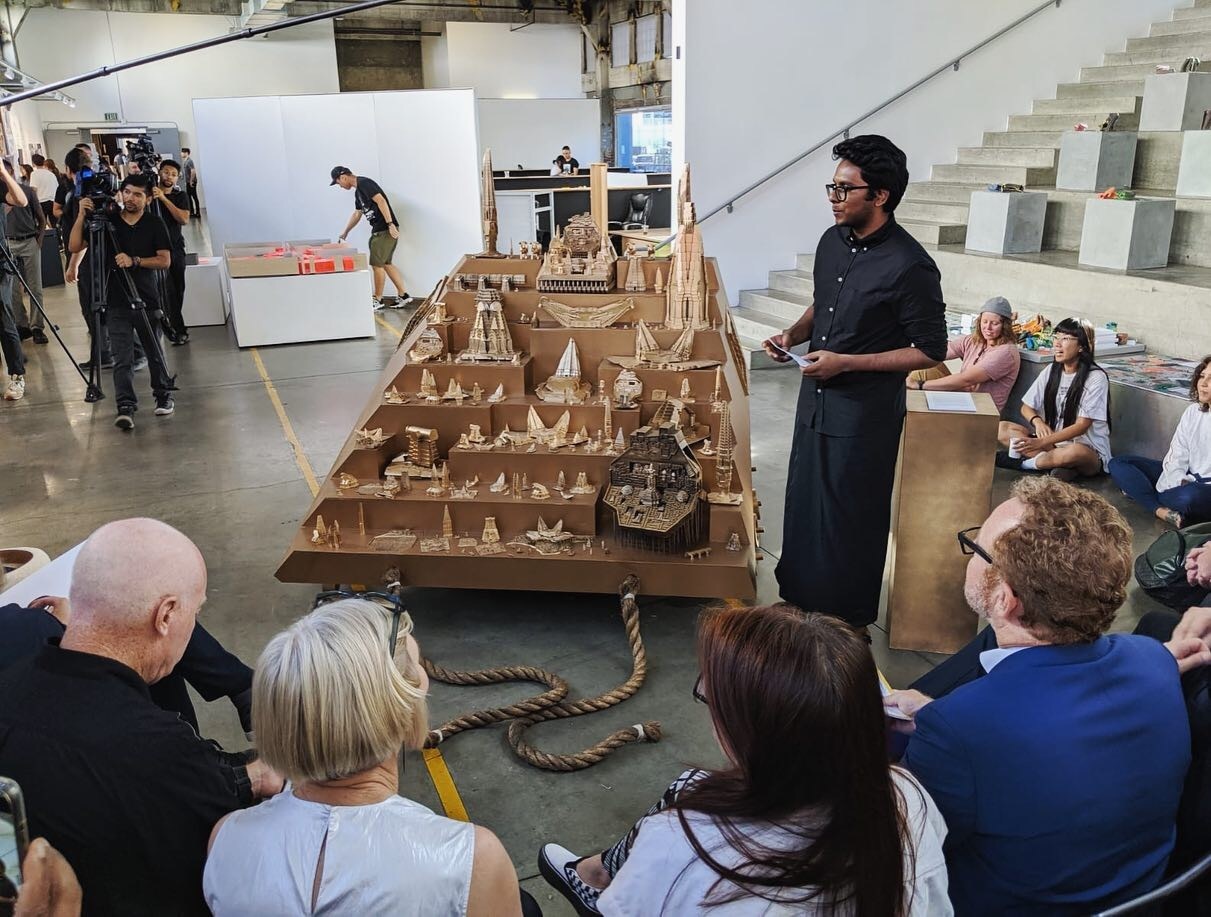 Can you describe Tamizh Futurism? What was your process in developing this as a thesis project?
Tamizh Futurism is the vision of a possible future/futures that are steeped in ancient history, philosophy, literature, and tradition of the Tamizh language and celebrates the legacy of Tamizh culture through the speculative lens of architecture. In spite of its rich history, the language, its tradition, its culture, and its people are being continuously oppressed due to geopolitical reasons. And also, over a history of cultural influences, invasion, colonization, conquest, and repression, the distinct architectural elements and technological logic of Tamizh architectures were lost.
The project aims to not just make the history relevant to the present scenario but also to envision a Tamizh future through architecture. I strongly believe that Tamizh is not just a language but a culture, a philosophy, and a way of life that deserves to be heard. And the project narrates its importance, its relevance, and its place in this global society.
What was your experience like presenting during Thesis?
It felt like the balancing wheels of my bike were removed and that it was suddenly my responsibility to take control over my bike. Anxious, nervous, proud—those were the emotions that were going on in my mind. I was extremely anxious before my presentation. I was nervous while I was presenting. I was very proud of what I accomplished after my presentation. Graduate thesis was one of the best experiences I've ever had at SCI-Arc and one of the most important reasons was my thesis advisor Tom Wiscombe without whom my thesis wouldn't be what it is today. Thesis was a platform where I was able to find a voice for myself through the knowledge I gained during my three years of education. It felt very special when people like Michael Rotondi, Craig Hodgetts, John Enright, and [M.] Casey Rehm who I look up to, appreciated the work and gave very valuable feedback to take this idea further.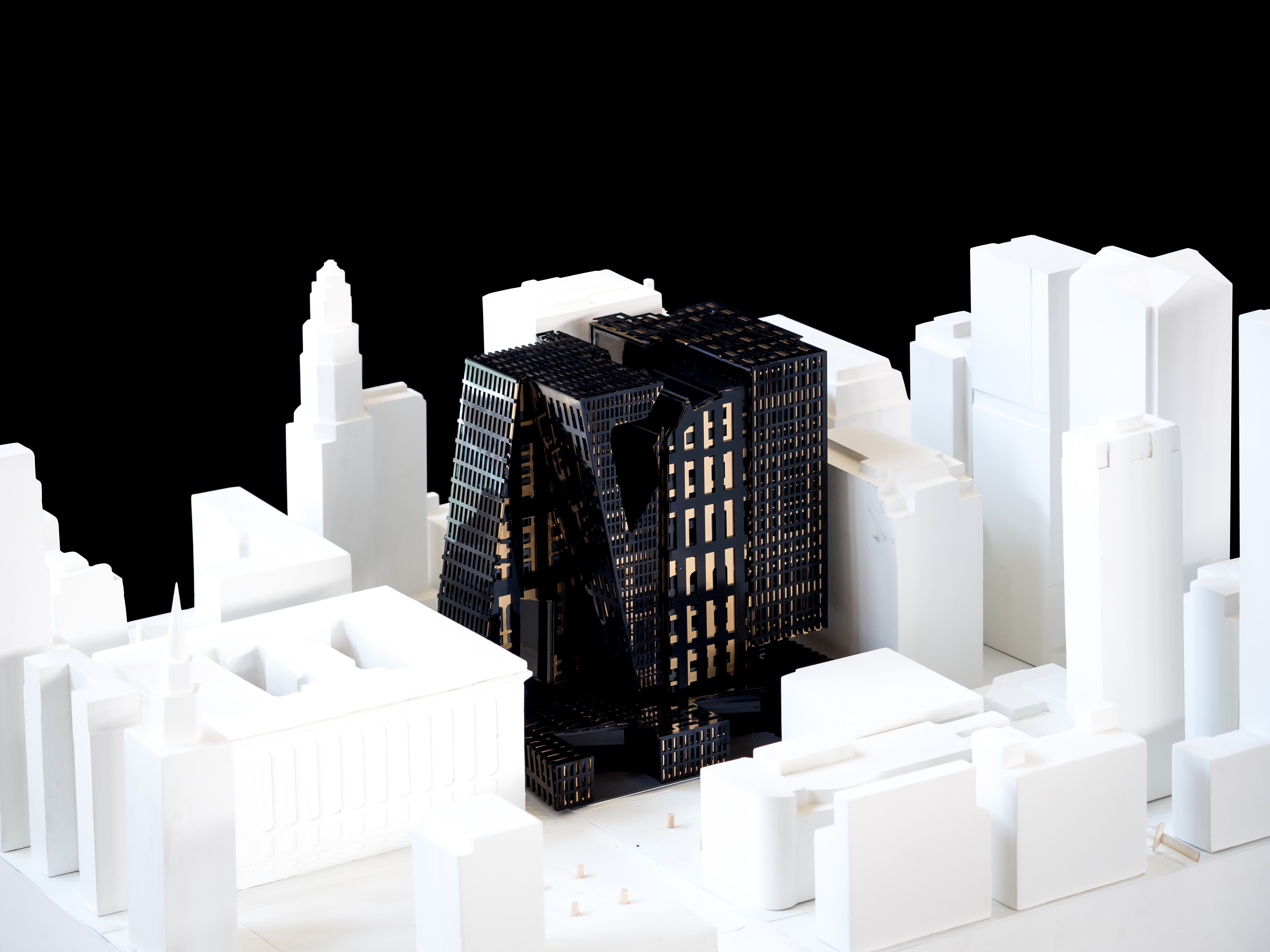 What feedback have you received? What would you like the response to be to your work?
There were constructive criticisms about the work, the conversations have been very interesting, and overall the project was well received. Though it talks about a specific language and culture the project was getting a good reception across the globe. A lot of people reached out to me through social media to know more about the project. It's been making good rounds and I'm already starting to see people take up the idea of Tamizh Futurism and develop it further in their own way.
I am looking at my thesis not as an endpoint but a point of departure. Tamizh Futurism is a wide umbrella and it's not bound only to architecture. I'm expecting this to become an art movement and am looking forward to seeing how people from various disciplines approach the concept.
How did your interest in architecture and design development, and how has your background influenced you?
I've always been a person who loves to create a positive impact on people's lives and it always brings me immense joy and happiness when I see that happening. I believe architecture is one of the very few disciplines that plays a really important role in shaping the society we live in, which in turn has a direct impact on shaping people's lives. Hence architecture. My undergrad background is in civil engineering and I have a great interest in films, philosophy, and literature. The influences of these disciplines helped me have a unique approach to my thought process and how it was reflected in my work.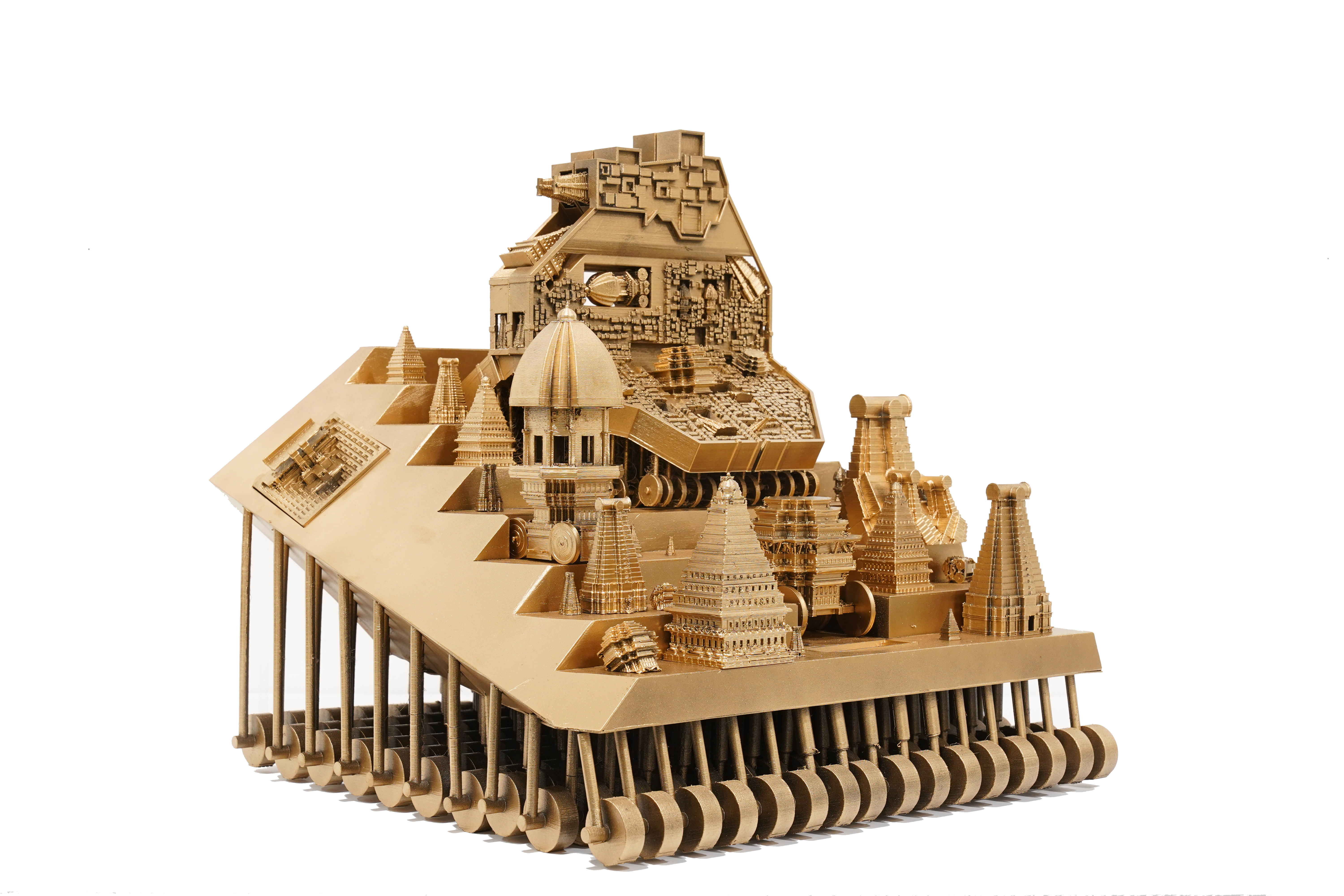 How would you describe your creative process?
I don't have a formula as such. Creating a narrative is a crucial part of my process. I would try to give the narrative a form by designing an independent object, which has an ambiguous, scaleless, and esoteric characteristic that kind of questions the reality. I'd then play with this object, see how it starts to influence the site and vice versa. Lately, I've been very much interested in speculative realism, Object-Oriented Ontology, and flat ontology philosophies since my thesis. The influences of these philosophies would be evident in my works lately.
What drew you to study at SCI-Arc? What has been the trajectory of your architecture studies here?
I was interested in a program that had a very experimental and exploratory approach towards architecture. I believe SCI-Arc is one of the very few schools around the globe that has an unconventional approach towards not just architecture but also architectural thinking.
I had a slow start at the beginning because it did take some time to get used to the environment. My turning point was when I took an architecture theory course with Marrikka Trotter and a vertical design studio with Tom Wiscombe. It completely changed everything and shifted the way I thought and approached architecture. Initially, it all felt like random dots but grad thesis was the moment when the dots started connecting and it all started making sense.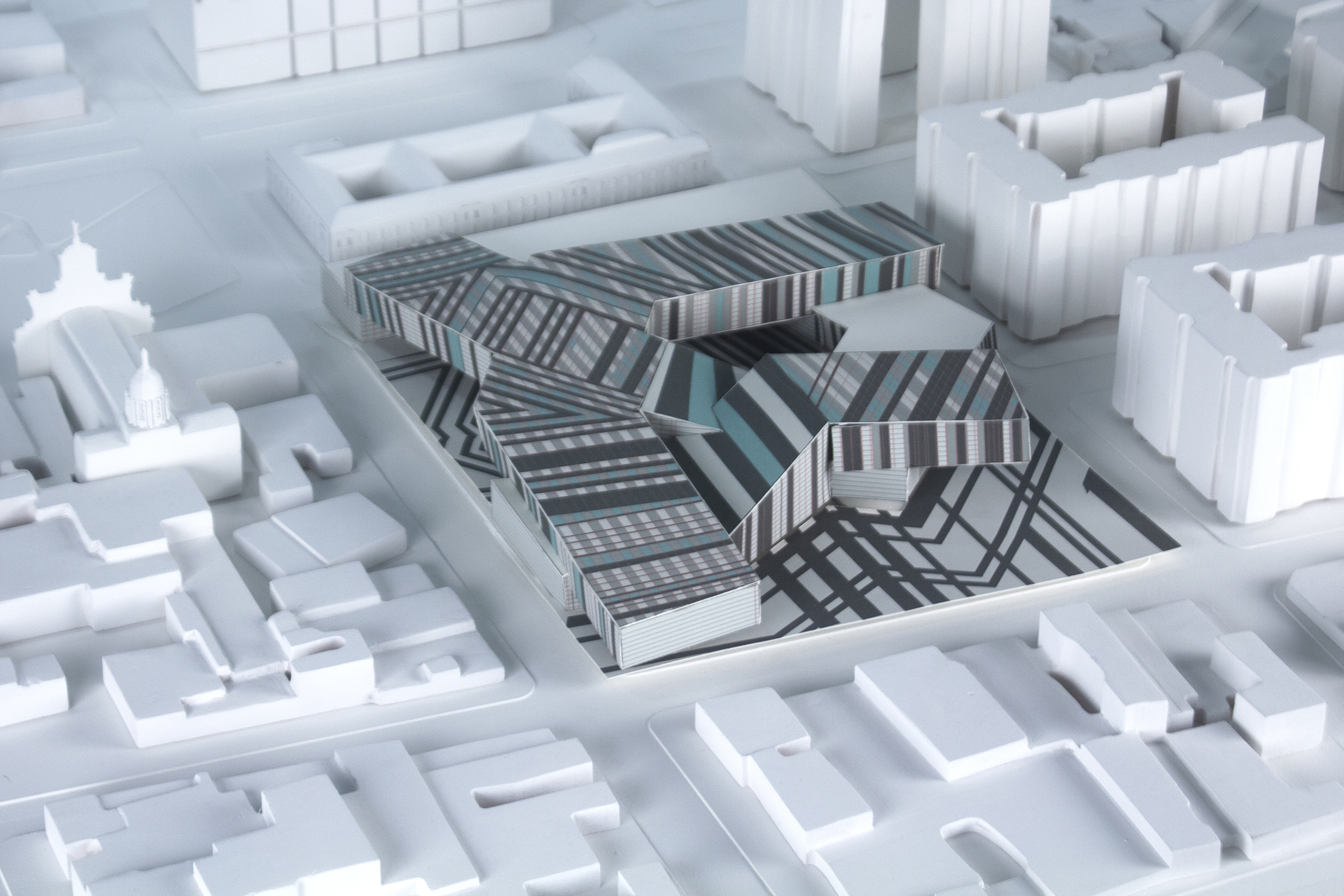 What have been some of your conclusions during this formative time, working on such a meaningful project(s)?
Two important takeaways: There's no one right way to do things. Taking risks and failing is okay. I realized that critical thinking and having an independent voice for myself is very crucial in the architecture realm. My journey at SCI-Arc has always been about finding that voice of mine through which I could instigate people to think about what the world could be other than what it is. This reminds me of what Hernan told us in one of his talks: "Do not become a conventional architect. You cannot and you should not."
Can you share any recent endeavors or goals moving forward?
My thesis got elaborate press coverage by a national media in India, and that to me was a milestone. Tamizh Futurism was also selected to be featured in DesignTO (Canada's largest cultural festival for design) happening in January 2020.
I believe that Tamizh Futurism has a strong potential in creating a new architectural language. My goal at the moment is to develop the concept further, give it a global reach, and explore its potential to the fullest. I'm simultaneously working on preparing myself to setup an international practice.