Fear and Wonder 3: Futures of AI Invites Provocative Conversations
Last week, SCI-Arc presented the third installment of its Fear and Wonder symposium, entitled Fear and Wonder 3: Futures of AI. Curated by Liam Young, SCI-Arc faculty and Coordinator of the EDGE MS Fiction and Entertainment program, Futures of AI joined an ensemble of directors, concept artists, video game designers, and storytellers for an expedition through an atlas of imaginary worlds, narrative fictions, and speculative geographies. During the event, George Hull signed copies of his concept sketches for Blade Runner 2049, and films created by this year's Fiction and Entertainment graduates were concurrently screened throughout the evening.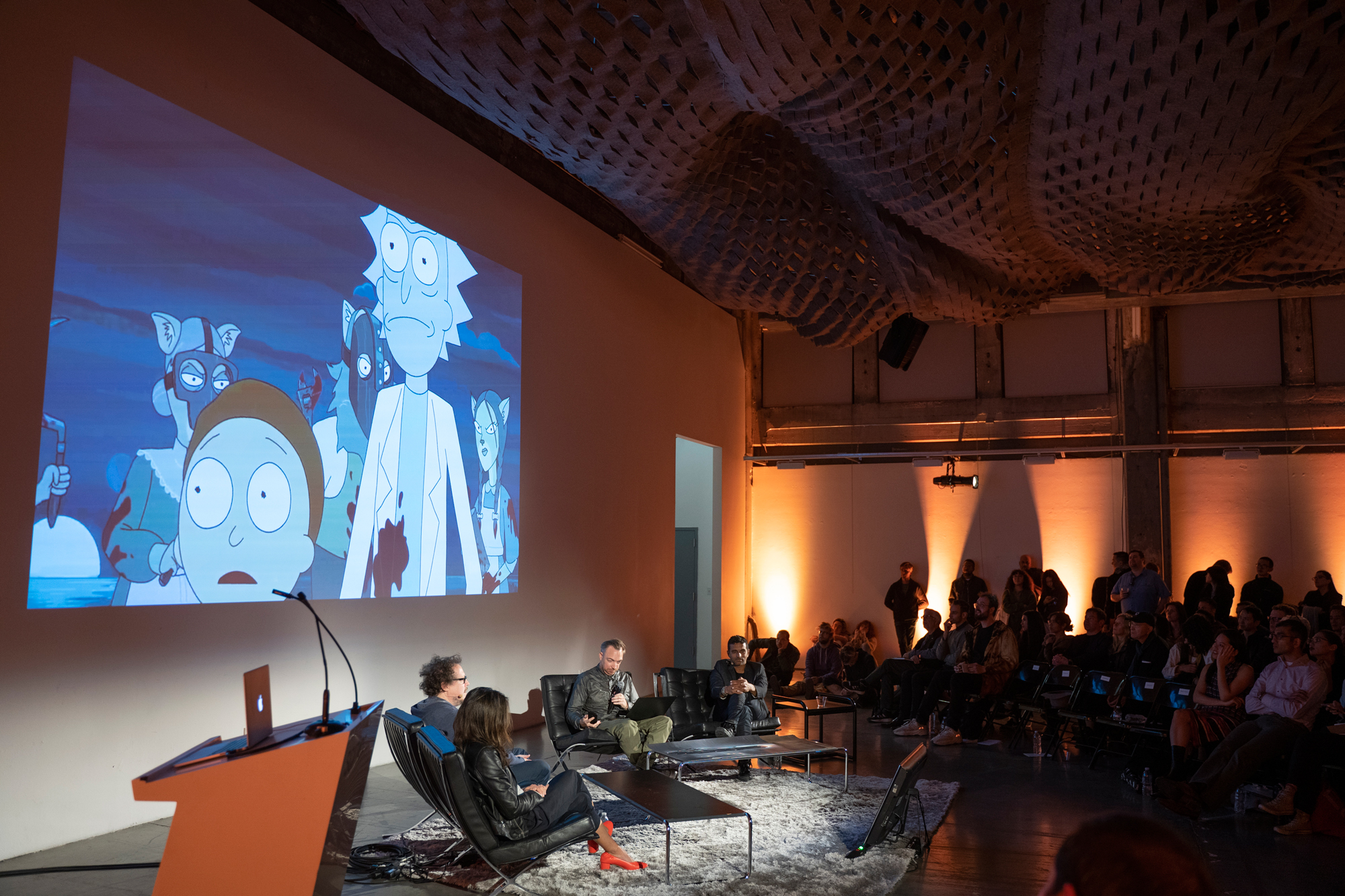 On the occasion of November 2019, the date Ridley Scott's Blade Runner was originally set, the symposium explored contemporary representations of artificial intelligence in film, television, and global culture. "Long after the flickering Japanese neon illuminating the streets of Blade Runner's world has faded," stated the event's official press release, "narratives of human-like AI spiraling out of control still permeate all forms of popular culture." Guests from science fiction-adjacent productions such as Westworld and Blade Runner 2049 were in dialogue with theorists and technologists to investigate "where the science ends and fiction takes over."
Young, setting the stage for the evening, remarked, "Our perception of technology is often shaped through the mediums of fiction and the imaginary worlds of cities, and that which we see in popular culture often embody the hopes and dreams, the horrors and anxieties of the time in which they are made. Such stories of technology can transport us; they can be antidotes to an angry and broken world," he began. "These stories; these films; these projects that we'll travel through tonight are sites in which we can prototype the most wondrous technological possibilities or dark cautionary tales—because in films, literature, and media, we've always imagined alternative worlds as a means to explore our own."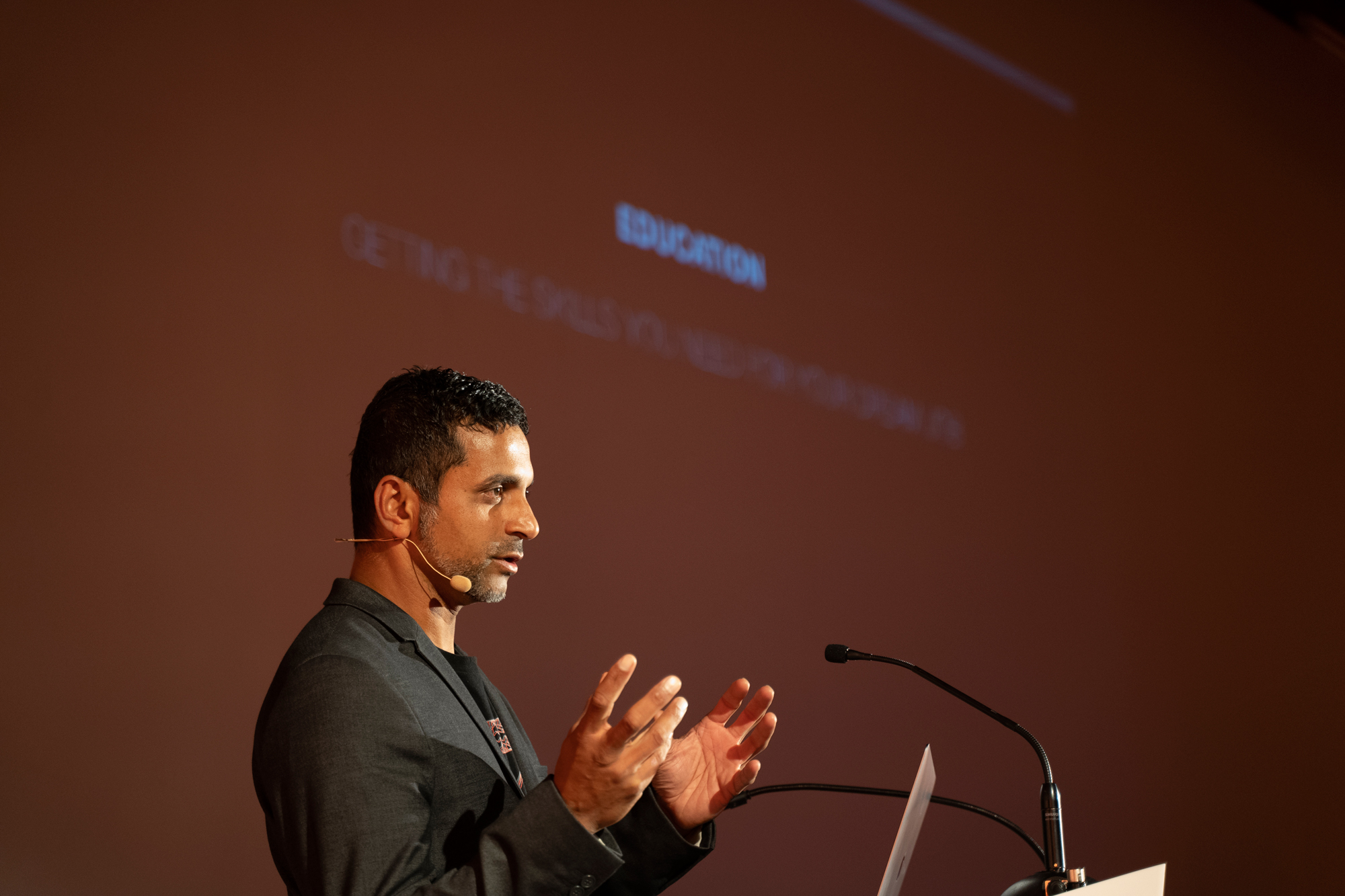 Kicking off the night of lively presentations and discussions was George Hull, concept designer for such films as Blade Runner 2049, Star Wars: Episode 8, Guardians of the Galaxy Vol. 2, Wall-E, and The Matrix: Reloaded, who delved into his own filmography, detailing the development of complex processes and concepts in his work throughout the course of his career in production design.
Following Hull was a riveting conversation between Young and supervising art director for the popular HBO series Westworld, Jon Carlos. Westworld is a fictional amusement park populated by artificially intelligent android hosts, for which Carlos was instrumental in creating the visual and conceptual environments. He richly described in fascinating detail the processes and considerations in conceptualizing these worlds and how those decisions were ultimately made.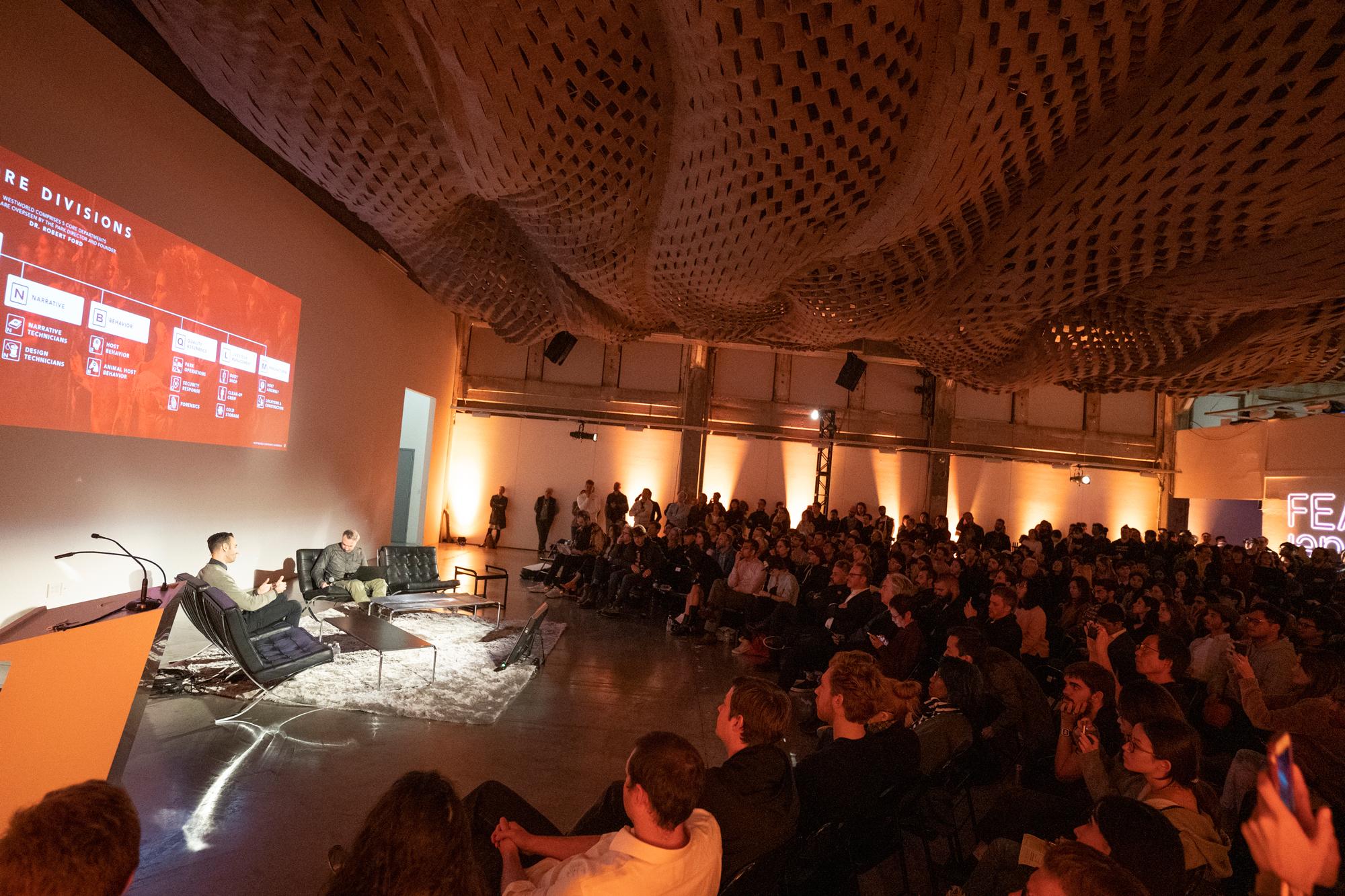 Ross Goodwin a creative technologist, artist, hacker, data scientist, and former White House ghostwriter then discussed an AI bot he developed which used neural networks to write poetry and an experimental science fiction short film, Sunspring. Goodwin presented other recent projects to illustrate how he employs machine learning, natural language processing, and other computational tools to realize new forms and interfaces for written language—even asking the audience to make suggestions for words from which his bot, or "poetry machine" could generate a poem on the spot.
Young then moderated a conversation between Hull, Rick and Morty's Dominic Polcino, and director of USC's Mixed Reality Lab Jessica Brillhart.
Artist and computer programmer Lauren McCarthy delivered a lecture outlining her work examining social relationships in the midst of surveillance, artificial intelligence, and algorithmic living. She discussed several projects including LAUREN, in which McCarthy became a human version of Amazon's Alexa, a smart home intelligence system for people in their own homes. For McCarthy, the project becomes a performative meditation on the smart home, the tensions between intimacy and privacy, and the role of human labor in the future of automation. McCarthy then participated in a panel discussion with architect of the personality for Microsoft's digital assistant, Cortana Deborah Harrison and producer of Ian Cheng's Emissaries Trilogy and the artificial lifeform BOB Veronica So.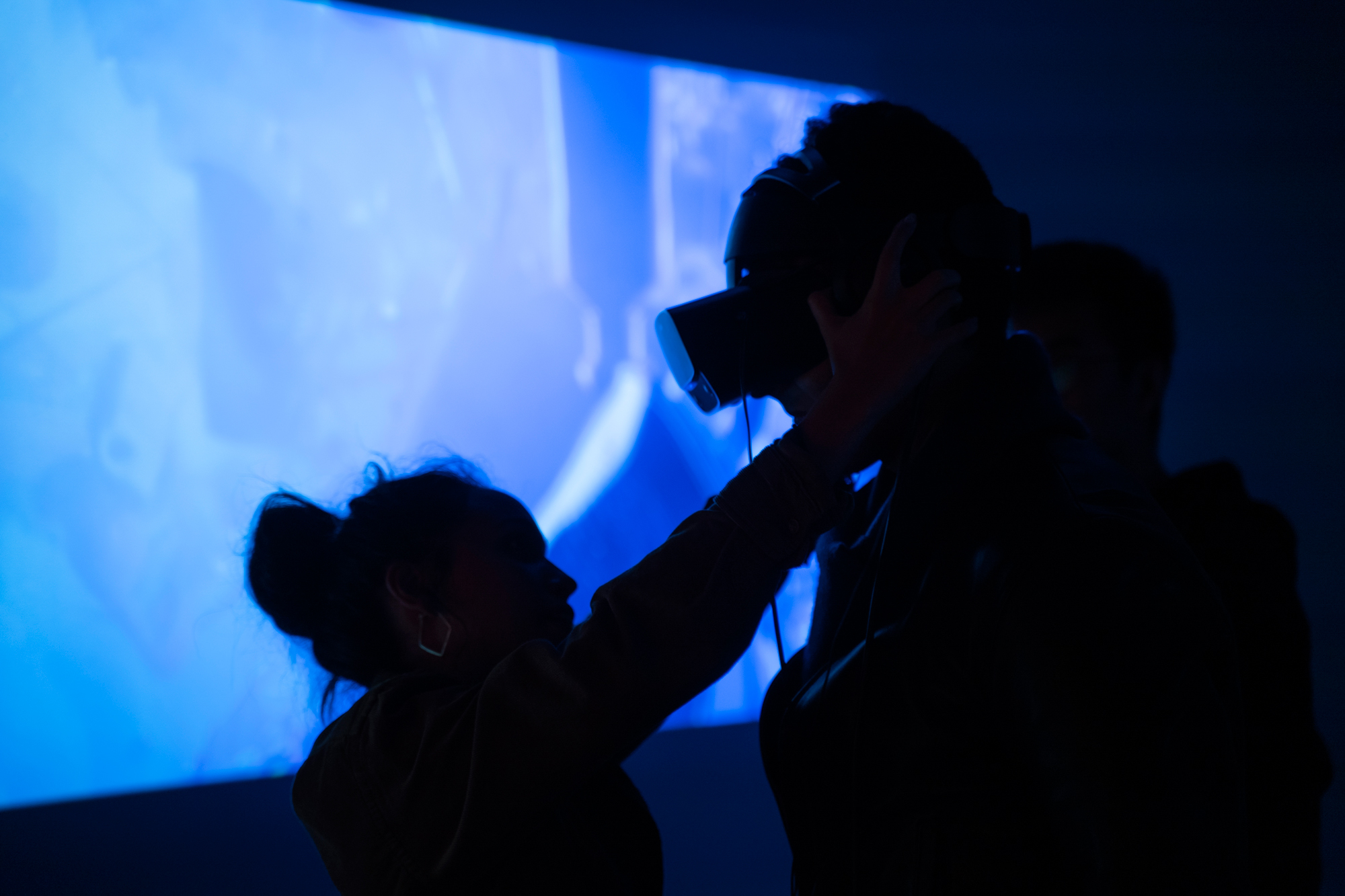 The evening concluded with a lecture by Siddarth Suri, and a panel discussion involving Suri, artist and writer Ingrid Burrington, and concept designer for Terminator: Genisys, Terminator: Salvation, and Blade Runner 2049 Victor Martinez.
In Young's closing remarks, he evoked the power of storytelling, and how its use as an avenue for artificial intelligence can serve as a mirror to our condition as humans. "We craft tales of alternative futures because sometimes when faced with technologies that are unnerving or unfamiliar or disappointing or disastrous or sexy or seismic," he concluded. "Such madness is in many ways the only way of staying sane."
Fear and Wonder 3: Futures of AI was generously supported by the Alfred P. Sloan Foundation and in media collaboration with KRCW's DnA program. View the complete recorded live stream of the symposium here.