Hauser & Wirth Los Angeles Hosts SCI-Arc's Graduate Thesis Miniatures Exhibition in Conjunction with Gehry Prize Recipient Presentations
On Wednesday June 12th at Hauser & Wirth Gallery, SCI-Arc's current graduate thesis class opened the fourth annual, one-day Miniatures exhibition to faculty, students, and the public, featuring in-progress thesis projects rendered in miniature form. The exhibition represents the culmination of SCI-Arc's graduate curriculum, providing the students an opportunity to share their work as it evolves, with a wider audience than their peers and instructors.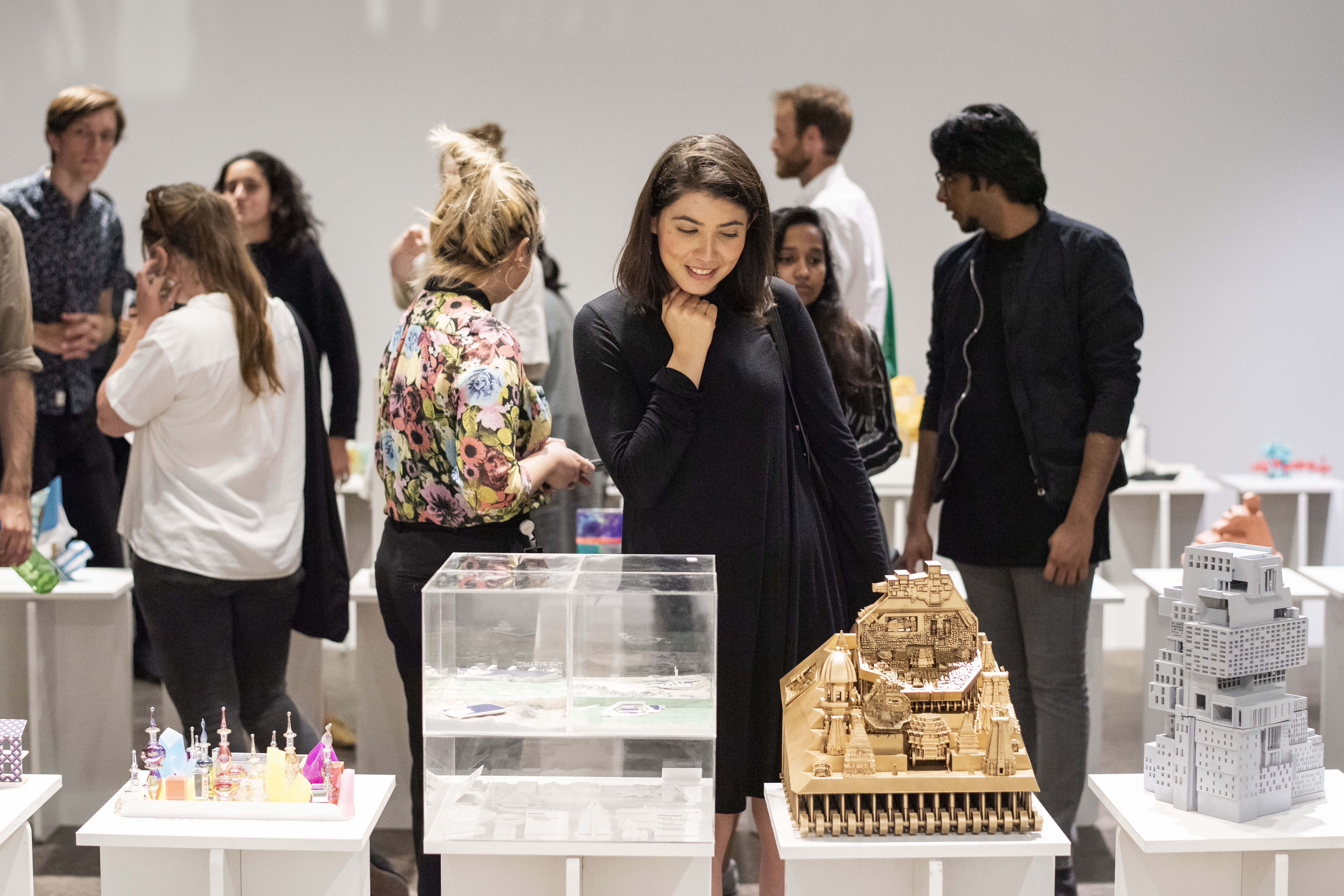 The miniature, as opposed to a model, encapsulates the idea of an architectural proposal that reflects concepts of context, building scale, and architectural details rather than an abstract investigation as typified by a model. Guided by feedback from faculty, advisors, and visiting critics generated during the exhibition, graduate students will build upon the miniatures over the course of the summer semester to realize their final thesis projects, which will be presented in September.
Ranging from innovative concepts like the Diagonal City, inspired by the urban organization of Chennai, India and the theoretical construct of "Oblique Function," to an investigation into the geometric possibilities of prismatic extrusion, to the architectural charge of designing to preserve function in anticipation of structural decay, the themes explored by the graduate thesis miniatures represent a diverse collection of ideas to be further expanded upon as the students develop their final projects.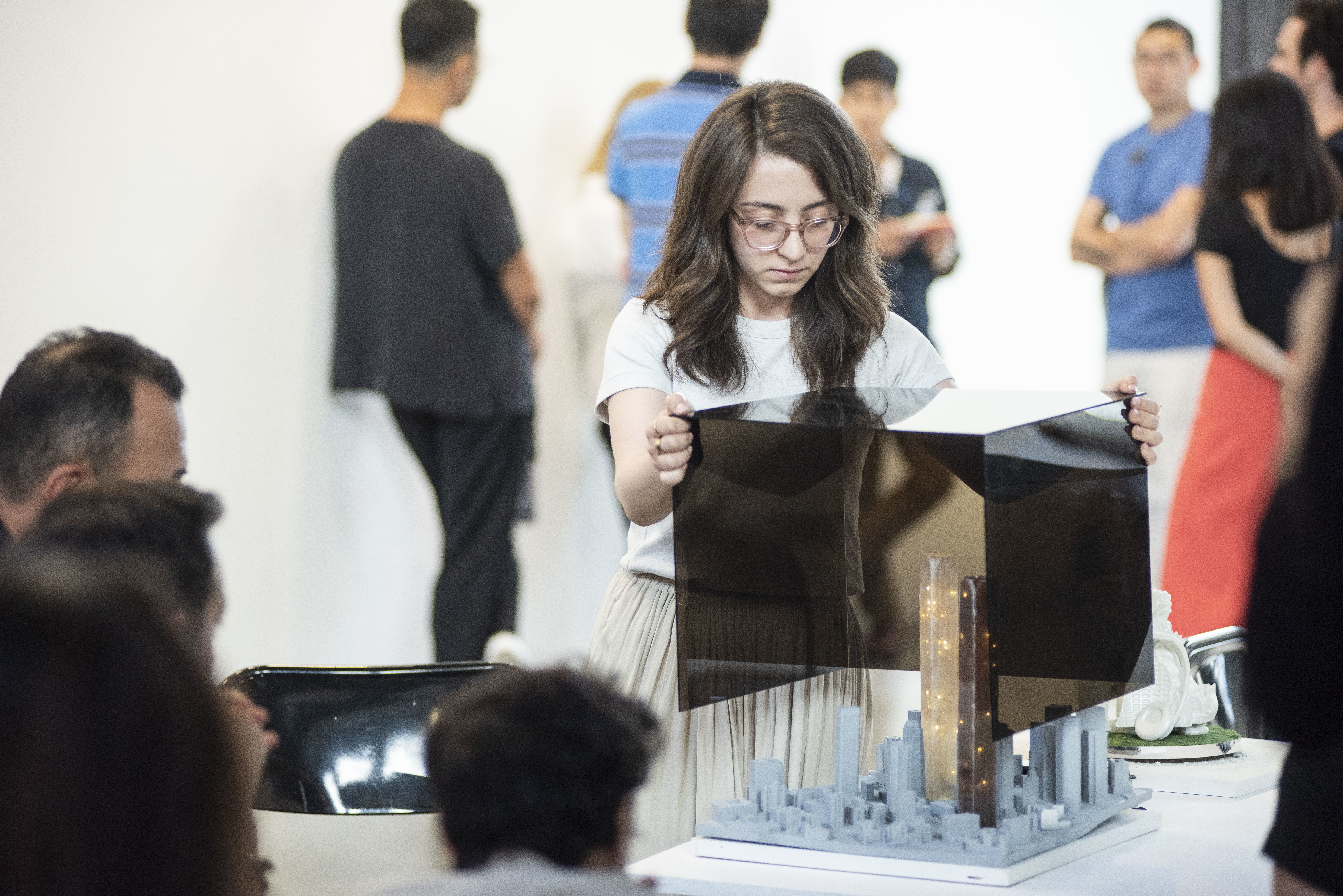 Of the Miniatures exhibition, Graduate Programs Chair Elena Manferdini says, "At SCI-Arc, [the exhibition] is an important part of how we evaluate the maturity of the school in general and how we can make a contribution to the discipline."
She continues, "I think it's good for the students to start engaging with audiences that are not just that of architecture. This is the first moment they are asked to describe their projects to people that are not architects in a setting not architecture-related – that is not protective of them, but still creative and exciting."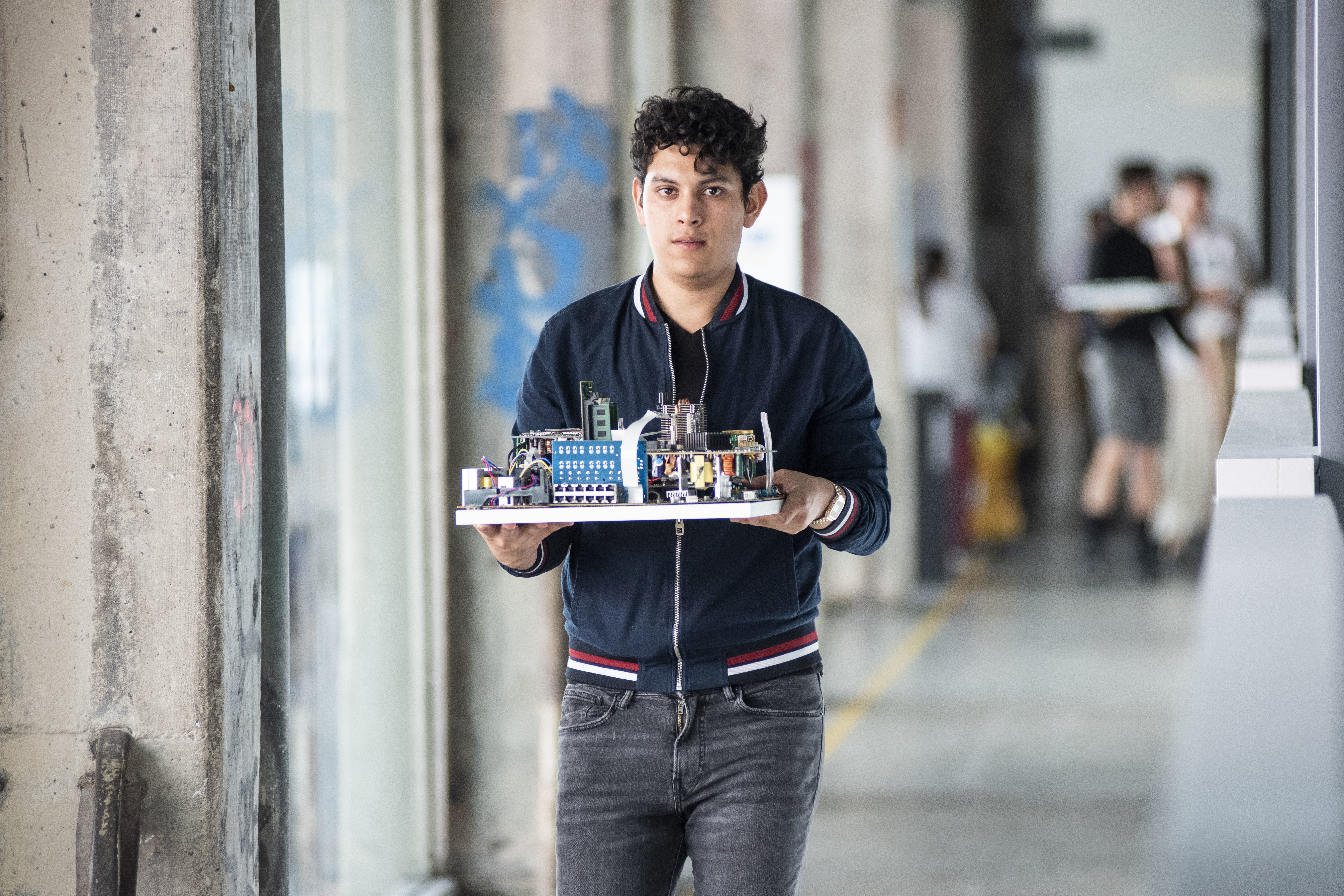 Graduate Thesis Coordinator Florencia Pita adds, "You really see the range of possibilities through the different types of projects that are developed."
The Miniatures exhibition took place in conjunction with presentations given by past winners of the Gehry Prize in SCI-Arc's Kappe Library. Five of the recent honorees delivered talks on their winning projects. The Gehry Prize, established by longtime SCI-Arc friend, faculty, and Trustee Frank Gehry, is awarded to the best thesis project(s) from each year's graduate studies class as chosen by a panel of jurors.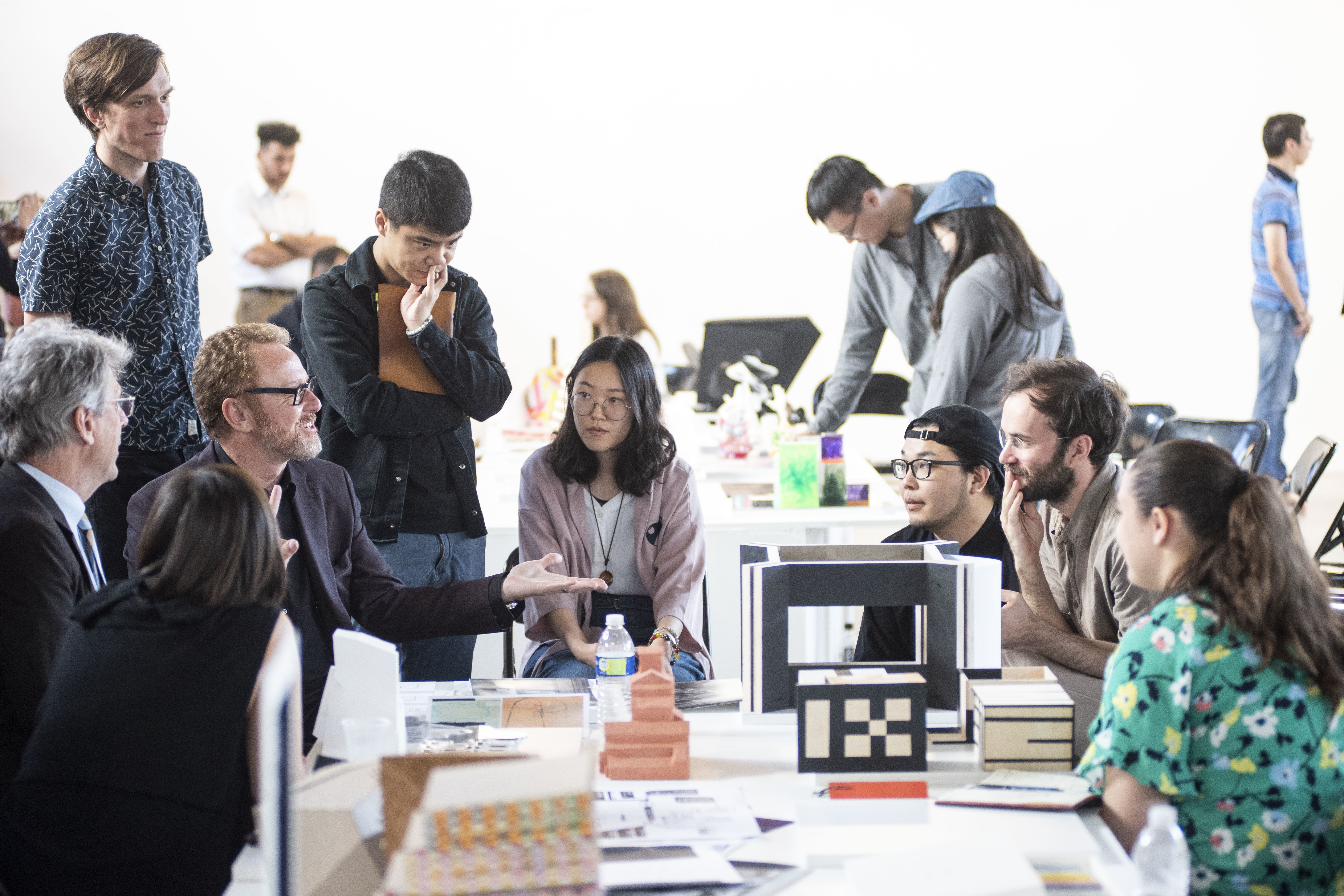 Several of the recipients, now employed at renowned firms like Morphosis, HOK, HDA-x, and Gehry Partners, discussed the impact that the Gehry Prize has had upon their work and career.
2017 Gehry Prize honoree Keith Marks (M.Arch 2 '17) says, "Winning the Gehry Prize represented some validation in a process that I was developing during my time at SCI-Arc, which I could then bring with me wherever I landed professionally, and then start to exploit that process to perform real work and see its ramifications in the actual built environment."

Of winning the Prize, 2017 recipient James Kubinec (M.Arch 2 '17) remarks, "It really got me thinking about what architecture will be in the future, and how we can apply technology in a way that maybe hasn't been seen or developed yet. And I found that challenging the architecture of the future is really how to shake things up."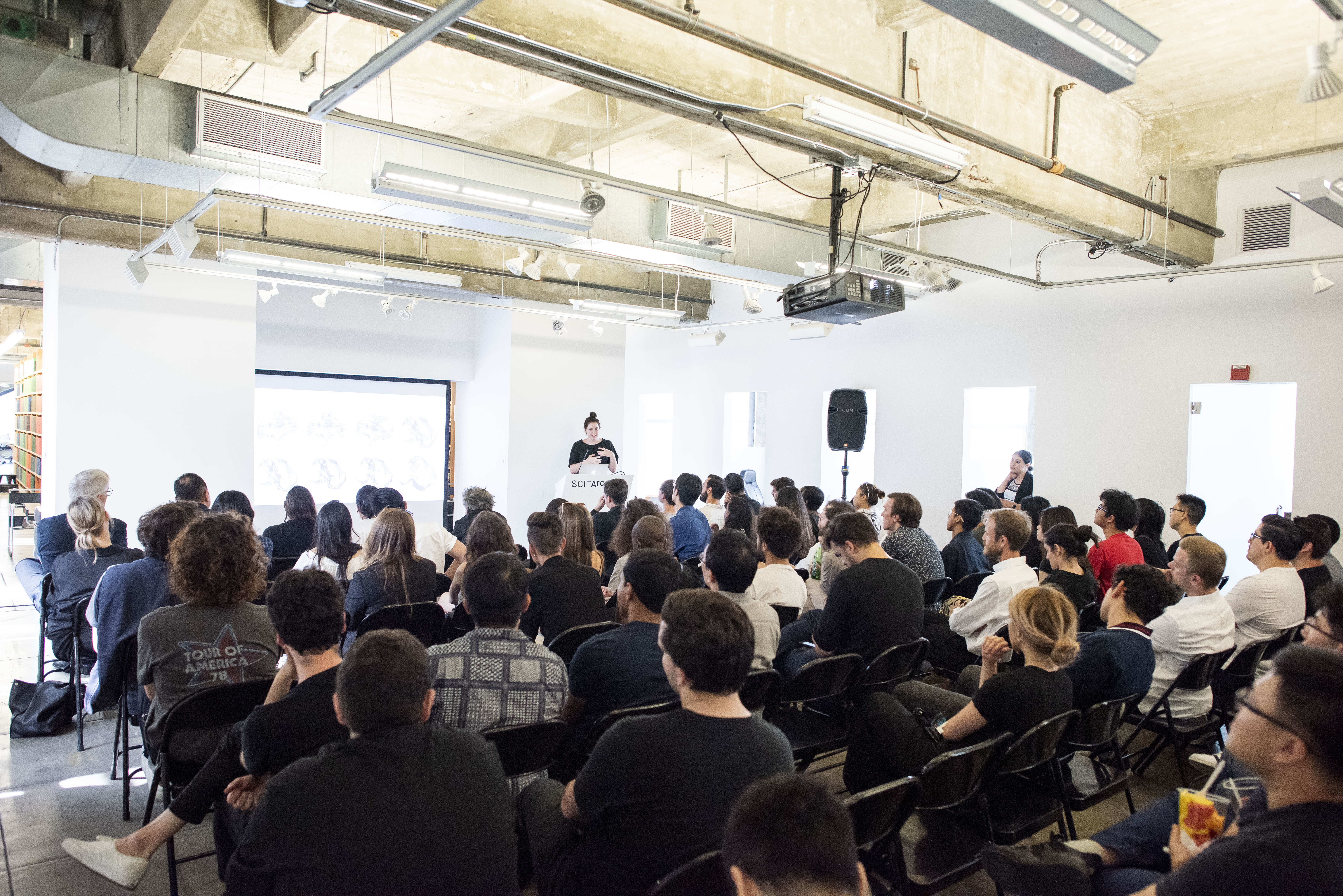 2015 Gehry Prize winner and current SCI-Arc Design Faculty Rachael McCall (M.Arch 2 '15) comments, "I think the Gehry Prize is important, and as SCI-Arc is still a new school, it's great to have something of such weight that students can really strive for. And for me, winning the prize reminds me constantly that I have to work on the edge of architecture and not settle for the everyday."
The Gehry Prize recipients included in this year's presentations were Rachael McCall (M.Arch 2 '15), James Kubiniec (M.Arch 2 '17), Keith Marks (M.Arch 2 '17), Alessio Grancini (M.Arch 1 '18), and Runze Zhang (M.Arch 2 '18).