SCI-Arc Alumna Ana Paula Ruiz Galindo and Partner Mecky Reuss of Pedro & Juana Named Winners of MoMA PS1's 20th Young Architects Program
Mexico City-based firm Pedro & Juana – comprised of SCI-Arc alumna Ana Paula Ruiz Galindo (M.Arch 2,'07) and partner Mecky Russ – has been named the winner of MoMA PS1's 20th annual Young Architects Program with their immersive junglescape installation Hórama Rama.
Founded by MoMA and MoMA PS1 in 1999, the Young Architects Program competition invites burgeoning architects to submit original, environmentally sensitive designs for a temporary outdoor installation built inside the courtyard at MoMA PS1 – the primary requirements for which being that it must provide respite in the form of shade, seating, and water.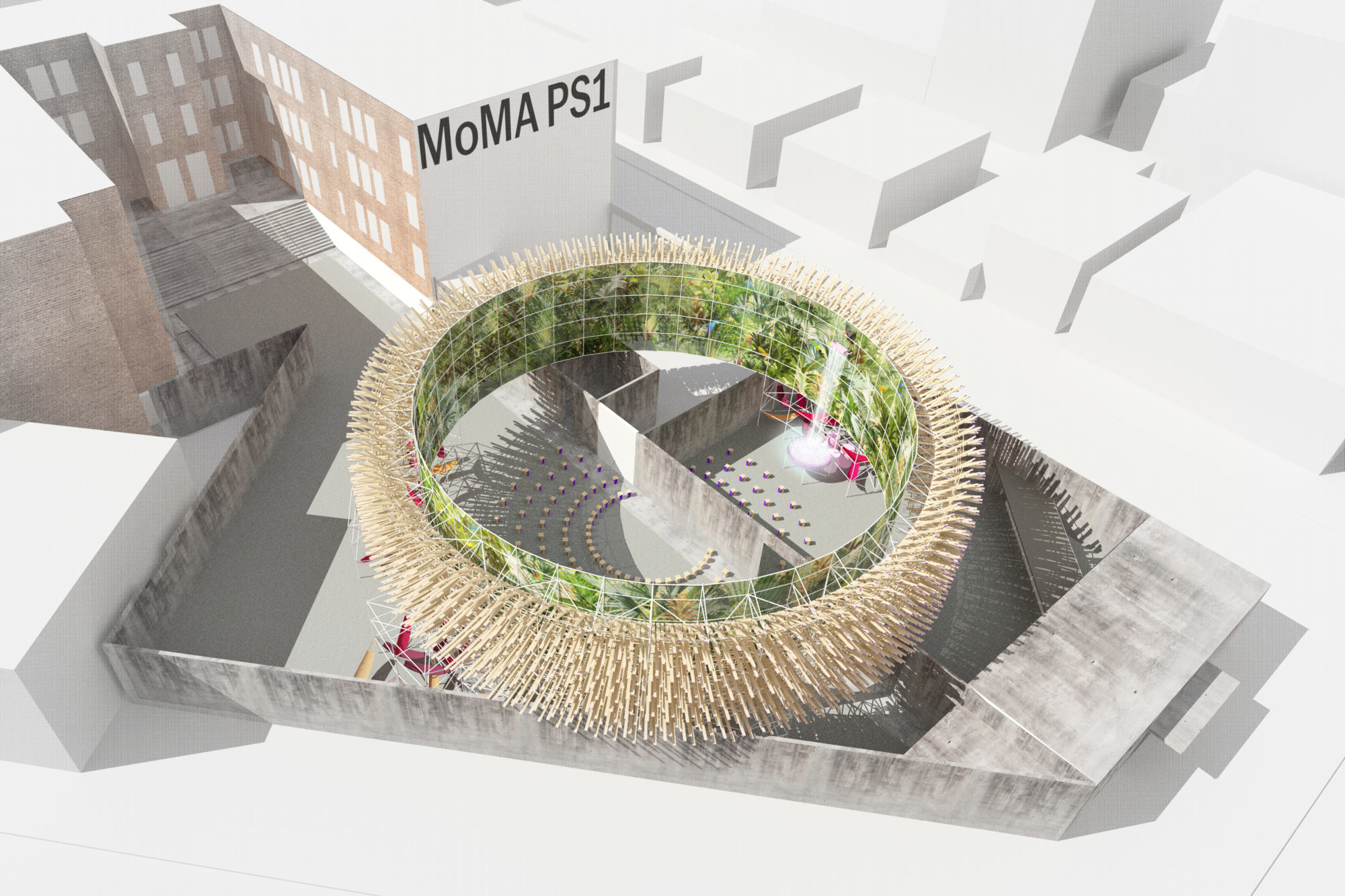 For the past 20 years, architecture scholars and professionals nominate approximately 50 firms constituted by emerging architectural talent experimenting with new methods of design and building, eventually narrowed down to five finalists who are invited to submit preliminary design proposals. The award is considered to be one of the most prestigious platforms for up-and-coming practitioners in the field of architecture.
Opening in June and lasting through September 2019, to correspond with PS1's summer music performance series Warm Up, Ruiz Galindo and Reuss will build Hórama Rama – a 40-foot-tall, 90-foot-wide cyclorama which features a panoramic image of the jungle on scaffolding that will sit atop MoMA PS1's courtyard walls.
Complete with hammocks crafted in the south of Mexico along with a functioning waterfall and protruding wood "bristles" that create a dynamic sense of movement, Hórama Rama will transform the interior courtyard space into a wild, foreign environment, contrasting with the cityscape immediately adjacent to the Museum and repositioning visitors within an immersive urban jungle.
"Finding inspiration in historical panoramas, Pedro & Juana have designed a structure that will allow visitors to immerse themselves in a fantastical wilderness, a visual refuge from the city," MoMA PS1 Chief Curator Peter Eleey said. "By juxtaposing two landscapes in transition – the jungle and the Long Island City skyline – they draw attention to the evolving conditions of our environment, both globally and locally, at a crucial moment."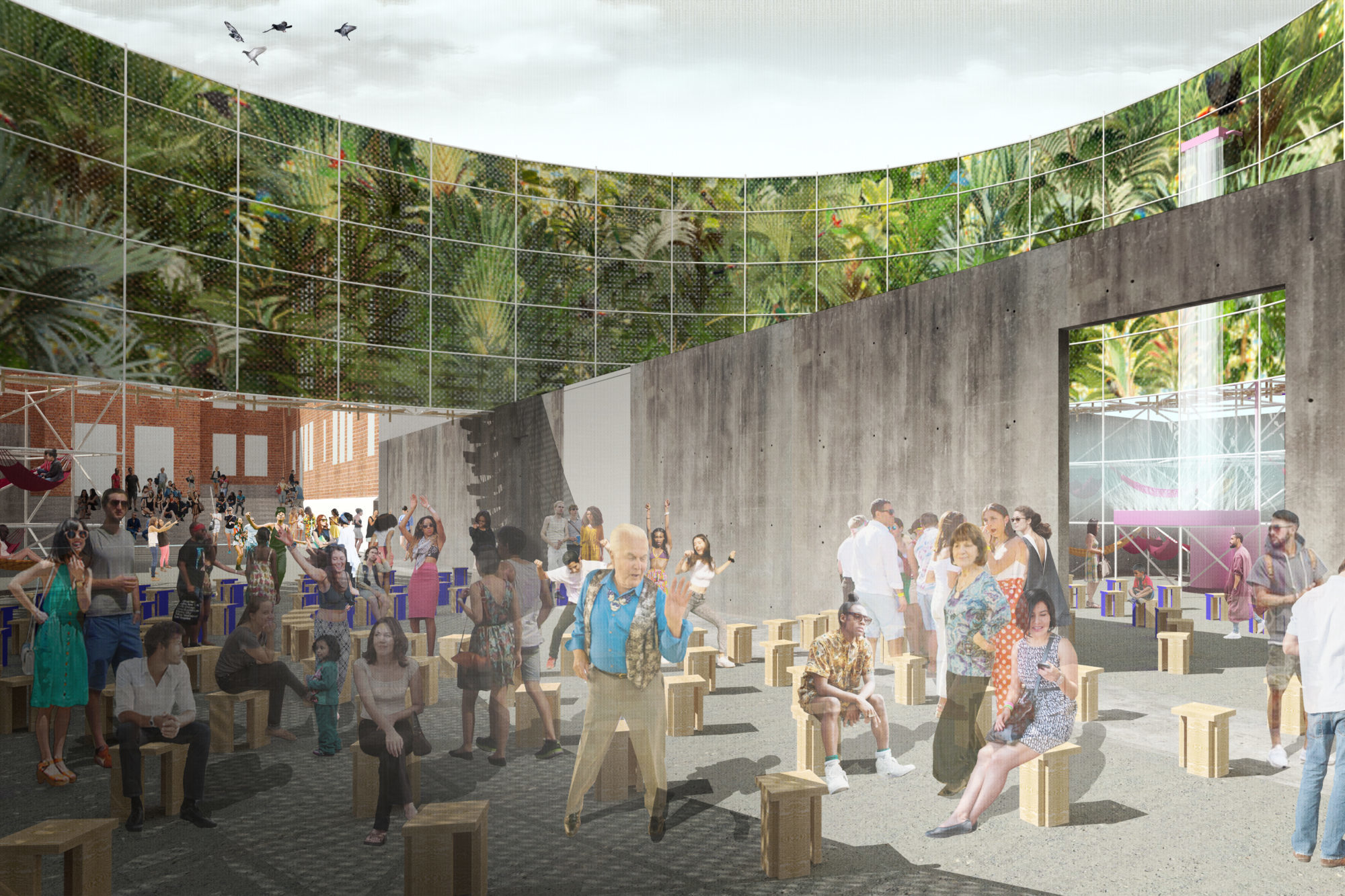 "For the 20th anniversary of the Young Architects Program, each of the five finalists designed potential – of surface, of movement, of space, of structure – as narratives that both reveal and conceal," added Sean Anderson, Associate Curator in MoMA's Department of Architecture and Design. "Pedro & Juana's world-within-a-world, Hórama Rama, is a manifold of views in which to see and be seen, to find and lose oneself in a radically different environment. The installation constructs a collection of scenes into which visitors may escape, even if for a moment, whether in a hammock or by the waterfall."
Previous finalists of the Young Architects Program include SCI-Arc Design faculty Florencia Pita and Jackilin Bloom of Pita + Bloom, Erin Besler (M.Arch '12), Design faculty David Freeland of FreelandBuck, Design faculty Kristy Balliet of Balliet Studio, Design faculty Margaret Griffin and SCI-Arc Vice Director John Enright of Griffin Enright Architects, Postgraduate Design Theory and Pedagogy Program Coordinator Marcelyn Gow of servo, and EDGE Program Chair David Ruy and Design faculty Karel Klein of Ruy Klein. Past winners include SCI-Arc Director Hernan Diaz Alonso of Xefirotarch (2005), SCI-Arc B.Arch Program Chair Tom Wiscombe of Tom Wiscombe Architecture (2003) and Benjamin Ball (B.Arch '03) and Gaston Nogues (B.Arch '93) of Ball-Nogues (2007).