SCI-Arc's Commencement Ceremony Honors 2019 Graduates
SCI-Arc commencement is an occasion to honor the achievements, dedication, and hard work of the B.Arch, M.Arch, and Postgraduate EDGE programs' graduates each year. The 2019 graduation ceremony took place this past Sunday at SCI-Arc's Arts District campus in the P-A-T-T-E-R-N-S-designed "League of Shadows" pavilion, capping off a bustling and eventful week at the school, which included Graduate Thesis Weekend as well as the third annual EDGE Symposium.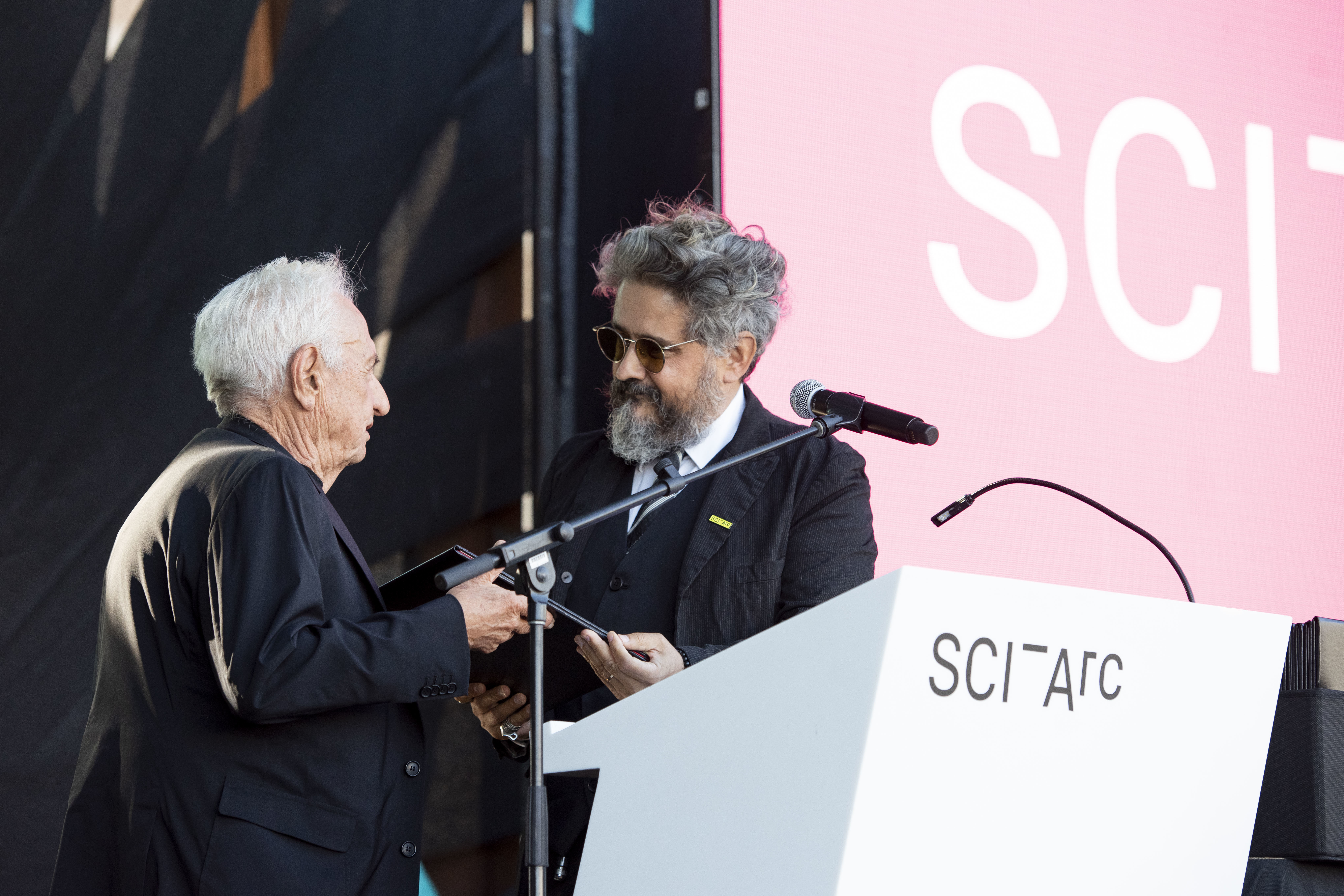 SCI-Arc Director and CEO Hernán Díaz Alonso opened the ceremony by welcoming and congratulating the crowd of graduates, staff, faculty, and guests, after which he presented an honorary M.Arch degree to longtime SCI-Arc friend, faculty, and Trustee Frank Gehry, who shook hands with each graduate as they collected their diploma. Gehry also imparted a few reflective and encouraging thoughts about what his time at SCI-Arc has meant to him. "What a journey SCI-Arc has had," Gehry said. "The people that have supported it and been with it all these years—and look where it is now. I'm so proud of you. Keep on going."
SCI-Arc alumna Barbara Bestor (M.Arch '92) delivered the commencement address, centered around various notions of 'freedom,' in which she discussed SCI-Arc's beginnings in its current home on Santa Fe, the school's significance within the canon of modern, experimental architecture of both the West Coast and internationally, and how her experience studying at SCI-Arc was instrumental in her development as a practitioner and as a human being. "Making buildings is a collective act," Bestor said, "and one of the great things about SCI-Arc is that it gives you a place to connect to other like-minded people as your allies, possible partners, and collaborators."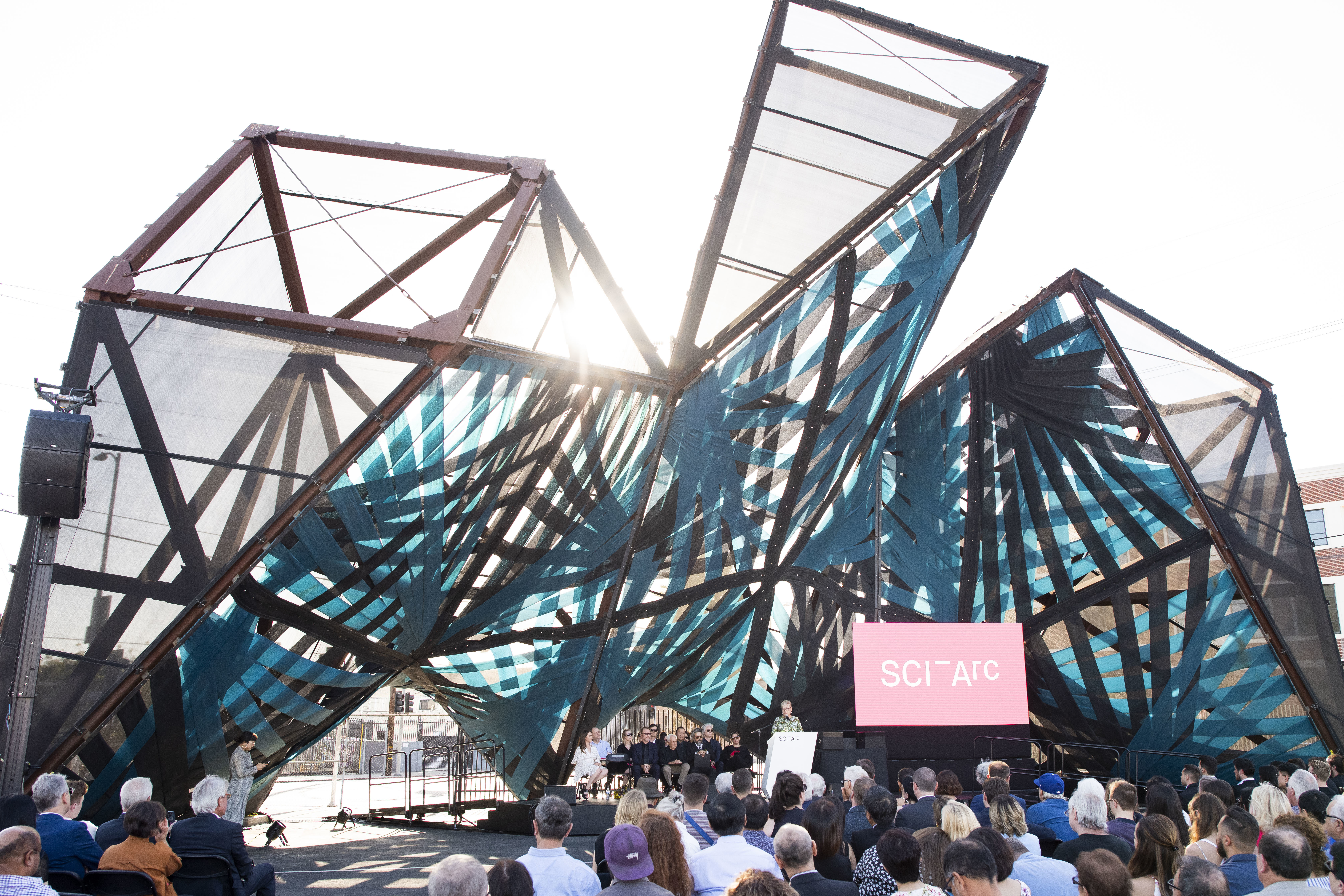 After making a point to note the pressing implications of Los Angeles's density and the shifting paradigms of urban problems, including those regarding homelessness, she implored the graduating class to embrace the vital role they can play in creating "a new future with more freedom for all humans." Bestor eloquently captured the sensibility of the evening in her final words of advice: "We are architects. We build new ways of living and being in the world. Never ever forget your power to make people's lives better. It's a great time to be a graduate of SCI-Arc," she said. "The city needs you."
Graduating B.Arch student Ann Gutierrez was also selected to speak, sharing that through the relationships she'd cultivated during her studies at SCI-Arc, she came to understand that "an architect's greatest strength is in their ability to create by connecting ideas."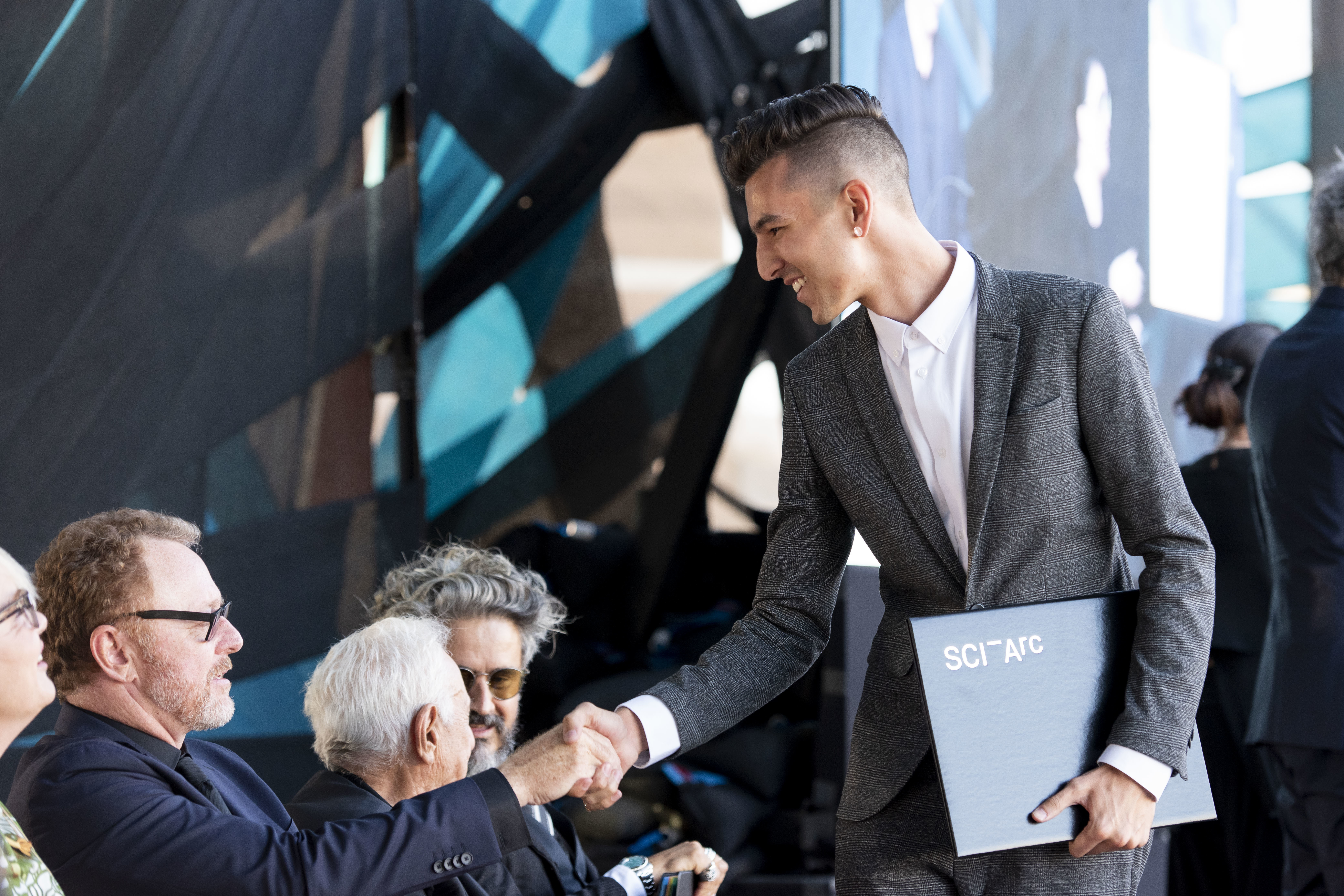 Echoing the sentiment that architecture can serve as a unifying force, rather than a dividing one, Gutierrez said, "In this day and age when we are encountering so many different lines—be they border lines, racial lines, or economic lines—it is crucial to understand that difference is a way of celebrating our diversity and what can be achieved when our differences come together."
Graduates then received their diplomas, and awards for each class were announced. This year's winners included Gutierrez, who received the Blythe and Thom Mayne Undergraduate Thesis Prize for the best undergraduate thesis project of the year, and Aminatou Fall, Yuan Wang + Sabrina Yuen, Jiekai Yi, Liang Yi, and Siyao Zheng, who as a group form the 2019 Gehry League, all took top honors with the SCI-Arc Gehry Prize, awarded to the best graduate theses that fulfill SCI-Arc's core mission to test the limits of architecture. This year also marked the inaugural award of the Hsinming Fung + Craig Hodgetts Postgraduate Thesis Prize, given to Viviano Villarreal-Bueron. A selection of work from the graduate thesis winners will be featured in the 2019 Selected Thesis exhibition.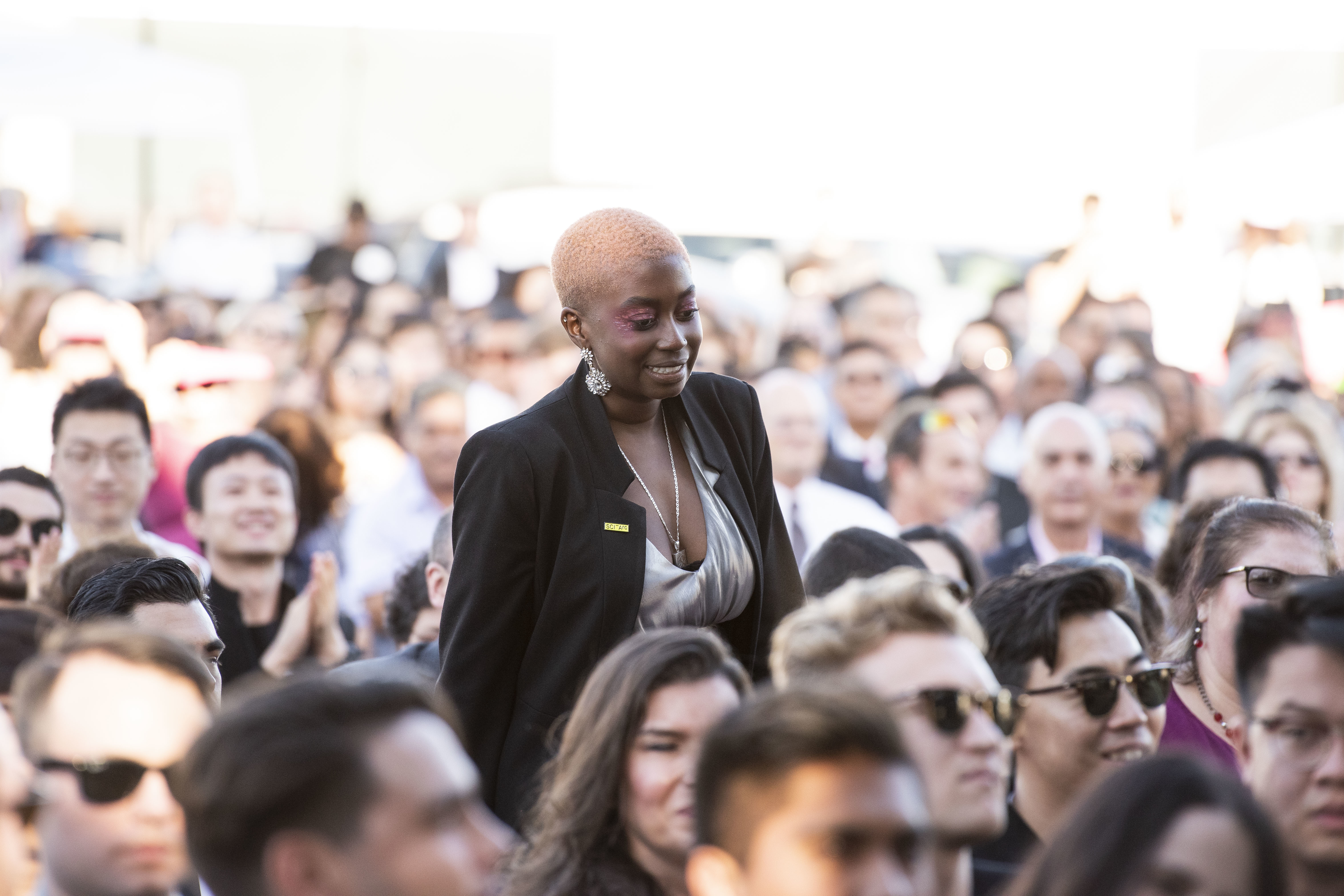 Díaz Alonso closed the ceremony by challenging SCI-Arc's newest graduates to rise to the occasion of architecture as a calling, rather than just a profession. "It's a form of life, and a choice that you make," he said. "This is what you're going to do for the rest of your life—do not take it lightly."
"We really hope that you look back on your time at SCI-Arc and remember it as a great time in your life, but don't you dare make it the best time of your life," Díaz Alonso concluded. "It can and should be only the beginning."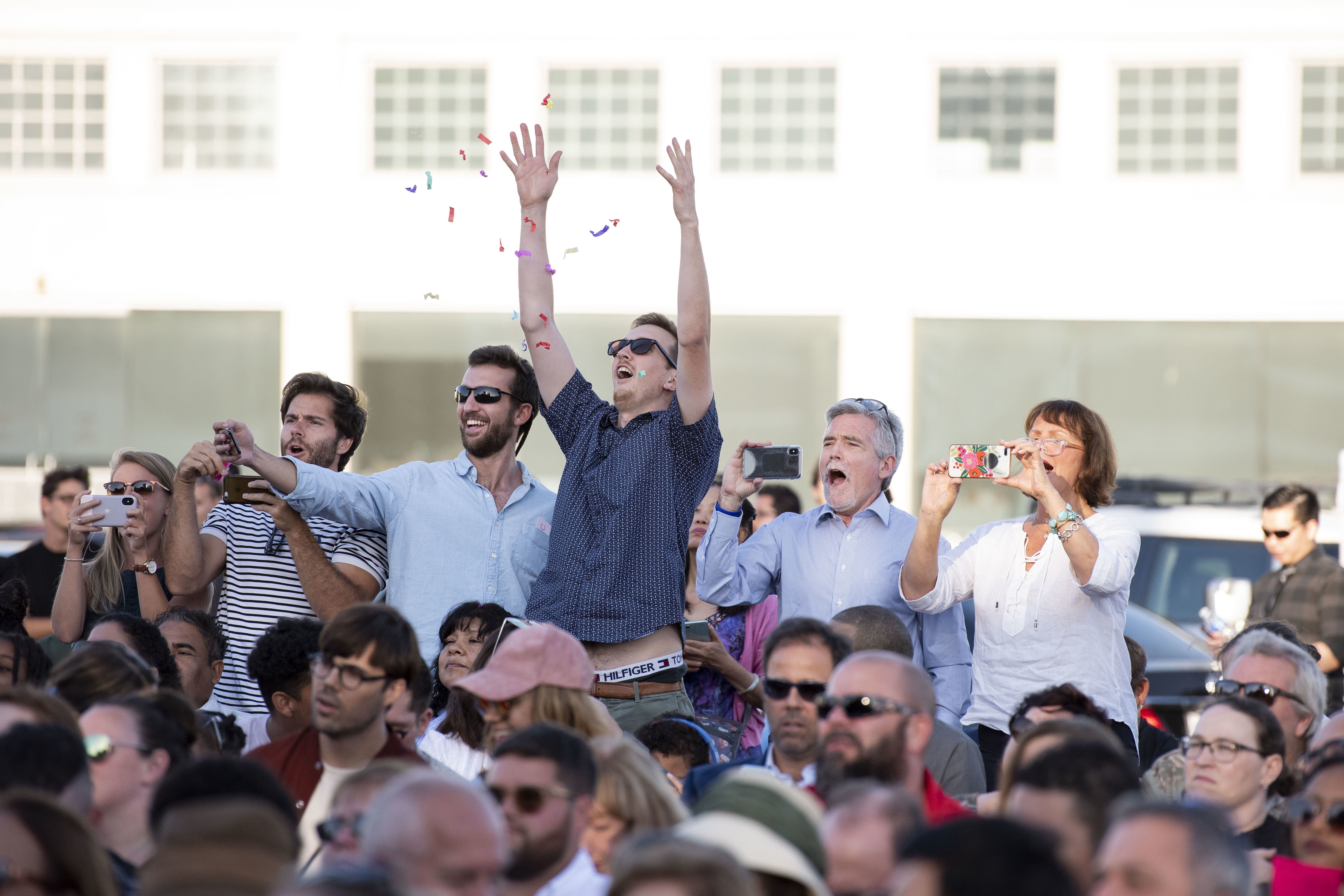 The complete list of award winners is below:
SCI-Arc Service Award
Marianna Girgenti (B. Arch)
Aminatou Fall (M.Arch 1)
Juan Villarreal (M.Arch 2)
Alpha Rho Chi Medal
Jose Anthony Avila (B. Arch)
Julia Robertson Arnold (M.Arch 2)
Henry Adams Medal
Ann Gutierrez (B. Arch)
Julia Robertson Arnold (M.Arch 2)
Graduation with Distinction
Christopher Daniel Becerra (B.Arch)
Marianna Girgenti (B.Arch)
Ann Gutierrez (B.Arch)
Tucker Hulbert van Leuwen-Hall (B.Arch)
Xinxin Lin (B.Arch)
Mariajose Meza (B.Arch)
Elaine Chan (M.Arch 1)
Andrew Chittenden (M.Arch 1)
Aminatou Fall (M.Arch 1)
Benjamin Joseph Weisgall (M.Arch 1)
Mingzhe Xu (M.Arch 1)
Julia Robertson Arnold (M.Arch 2)
Asmaa Abu Asaaf (M.Arch 2)
Alayna Davidson (M.Arch 2)
Akhil Mathew (M.Arch 2)
Laure Helene Michelon (MS Architectural Technologies)
Sofia Ospina (MS Architectural Technologies)
Anthony Frank Samaha (MS Architectural Technologies
Juan Ricardo Rincon (MS Design Theory and Pedagogy)
Viviano Villarrea-Bueron (MS Design Theory and Pedagogy)
Enrique Agudo (MS Fiction and Entertainment)
Jeremy Kamal Hartley (MS Fiction and Entertainment)
Case Berman Aaron Miller (MS Fiction and Entertainment)
Katherine Lee Stuteville (MS Fiction and Entertainment)
Shuruq Carlotta Tramontini (MS Fiction and Entertainment)
Marine Lemarie (MS Design of Cities)
Nicolas Marc Stephan (MS Design of Cities)
Yiqun Wang (MS Design of Cities)
Merit Graduate Thesis Awards
Zhongding Cui (M.Arch 1)
Chenming Jiang (M.Arch 1)
Benjamin Joseph Weisgall (M.Arch 1)
Mingzhe Xu (M.Arch 1)
Julia Robertson Arnold (M.Arch 2)
Alayna Davidson (M.Arch 2)
Weiti Wang (M.Arch 2)
Merit Undergraduate Thesis Awards
Jose Anthony Avila (B.Arch)
Javier Benavides + Erik Valle (B.Arch)
Raina Lin and Zin Xin Lin (B.Arch)
Qianwen Liang (B.Arch)
Marianna Girgenti and Min Kyu Kim (B.Arch)
Hsinming Fung + Craig Hodgetts Postgraduate Thesis

Viviano Villarreal-Bueron (MS Design Theory and Pedagogy)
Blythe and Thom Mayne Undergraduate Thesis Prize
SCI-Arc Gehry Prize, 2019 Gehry League
Aminatou Fall (M.Arch 1)
Yuan Wang + Sabrina Yuen (M.Arch 1)
Jiekai Yi (M.Arch 2)
Liang Yu (M.Arch 2)
Siyao Zheng (M.Arch 2)