Spring 2020 Vertical Studios Consider Cyborgs, Play, and Enchanted Models
SCI-Arc kicked off its spring semester with a brand new crop of vertical studio presentations, culminating in its biannual Vertical Studio Lottery. Twice a year, the lottery matches small, combined groups of students from SCI-Arc's undergraduate, graduate, and postgraduate programs with SCI-Arc faculty and visiting architects leading design studio projects that explore a wide variety of focuses and interests. With topics ranging from artificial intelligence to speculative realism to competition structures, participating students will have no shortage of exposure to fascinating and diverse ways of engaging in architectural thinking this spring.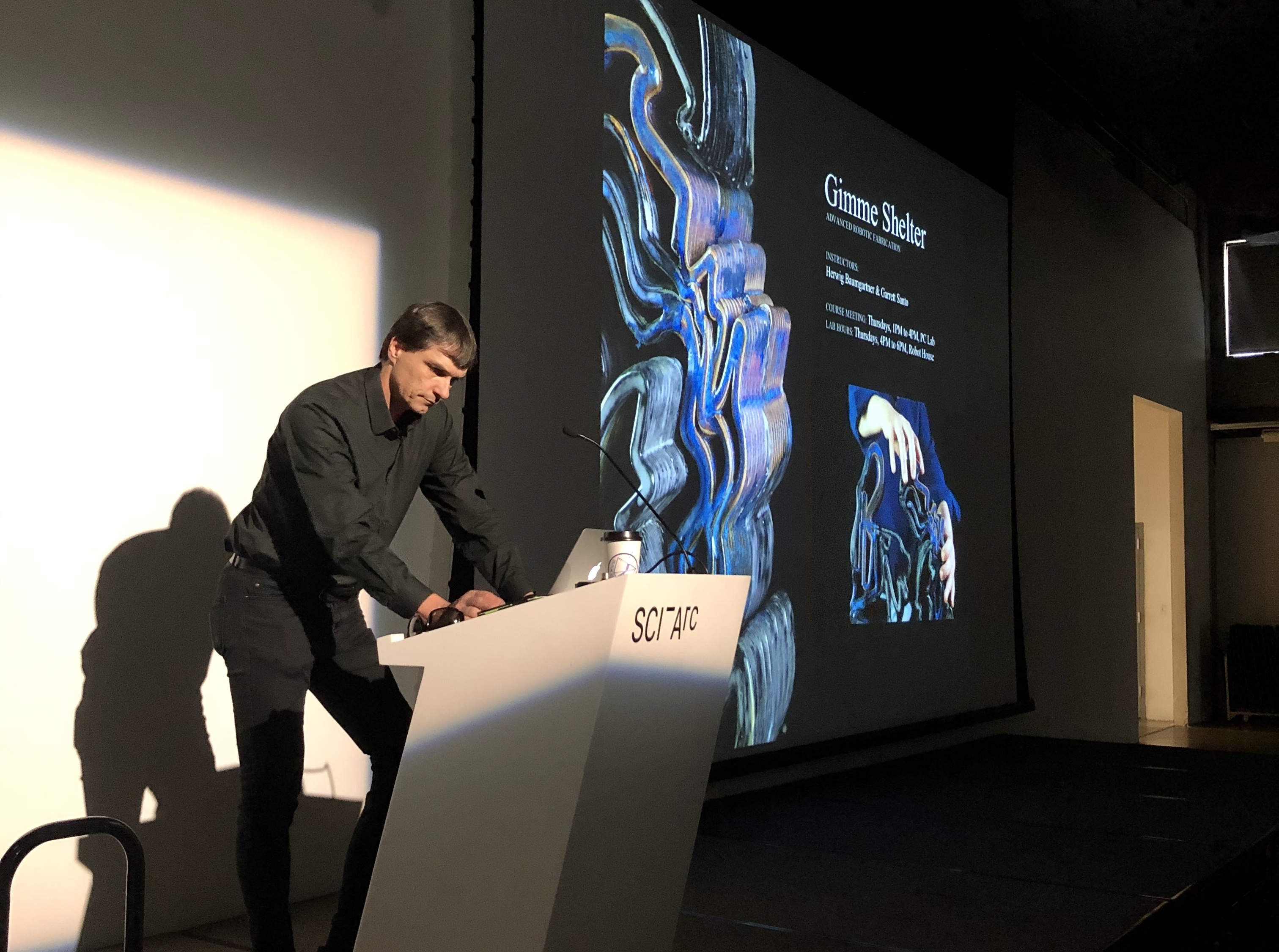 Led by distinguished faculty, department chairs, and practicing architects working in Los Angeles and beyond, vertical studios challenge students to spend an entire semester working through an array of architectural issues as they relate to digital and analog representation, ecology, neural networks, linguistics, urbanism, and more. SCI-Arc's spring 2020 vertical studios will allow students to collaborate with renowned architects, designers, and theorists, as well as the established practices SCI-Arc faculty engaged in real-world projects, to examine both conceptual and practical proposals via design studio briefs.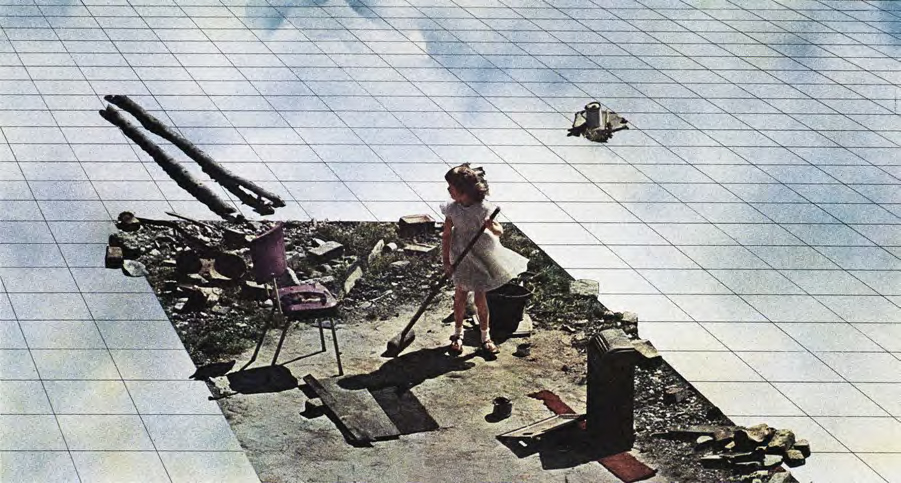 After a series of 12 unique and engaging presentations delivered to the student body by coordinating faculty, individual submissions for desired studios were sorted using a computer algorithm designed to weigh preference and cumulative GPA in determining placement. Results were then posted in Keck Lecture Hall, with each studio meeting and begin their work later that afternoon.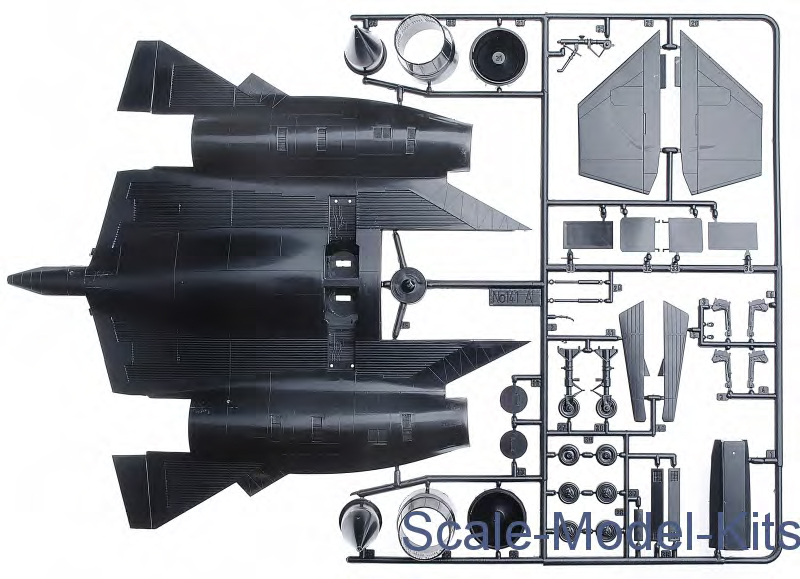 Examples of vertical studios presented this semester included "All At Once Ness," taught by Visual Studies Coordinator Devyn Weiser, which will consider how the depletion of modernity has brought about new methods of time sequencing, as well as new representational forms, specifically within analog and digital realms. Referencing Florence, Italy as a model, the students in this studio will be challenged to design 2D and 3D architectural objects—with tools like Grasshopper, After Effects, Cinema 4D, and the Robot House—to fit into a particular media narrative of their creation.
Graduate Thesis Coordinator Florencia Pita's studio, entitled "playhouse," will investigate the idea of 'play'—both in terms of a childlike, exploratory spirit as well as a urge or tendency to move fluidly between mediums, materiality, and types of spaces. "This is not just a reference to a playhouse or a dollhouse," said Pita in her presentation, "but something that we are going to be fabricating. We are going to look within interiority, within the spaces of domesticity, and shifting both from the small scale of the domestic to the large scale of the more public realm with the program that we're going to be working on." Using 1920s era Victorian homes in the Bunker Hill neighborhood of Los Angeles that were demolished in the 1960s as a reference, students in this studio will also consider the ways in which such economic paradigm shifts can impact the current and future states of architecture.
Presenting a second iteration of his studio "Enchanted Models," Undergraduate Program Chair Tom Wiscombe has centered this studio on the example of a model kit, which represents the idea that there is a reality external to the ability of humans to see or understand differences in scale, and how the resulting sense of wonder and doubt encompasses what is known as "speculative reality." Wiscombe's studio proposes that this kind of reality is endemic to architectural—or for his purposes—"enchanted' models. Students in this studio will create models for real building projects, which subvert typical proportions of scale in an attempt to produce novel ways of interacting with physical and visual space.
Additionally, SCI-Arc Vice Director John Enright will be repeating his vertical studio, "Competition x3," the fall 2019 installment of which saw several of its students go on to win first prizes in two of the three entered competitions announced so far.

The full list of faculty leading vertical studios this spring includes:
Hernán Díaz Alonso
John Enright
Ming Fung
Coy Howard
Eric Owen Moss
Dwayne Oyler
Florencia Pita
Michael Rotondi
David Ruy
Devyn Weiser
Tom Wiscombe
Andrew Zago