Black Lives Matter Week of Action Deepened Disciplinary Dialogue with Community
Last week, SCI-Arc hosted its inaugural Black Lives Matter Week of Action, a national, student-run event held during the first week of February dedicated to unapologetic conversations and presentations on Black culture, expression, and justice. Conducted virtually beginning on February 1—the first day of Black History Month—the week-long series at SCI-Arc was organized by undergraduate students Allyn Viault (B.Arch '21) and Babatunde-Majadi Adejare (B.Arch '23), representing a unique opportunity to unite creative disciplines within cultural and societal issues and embodying the students' mission to create a collective platform of speakers with diverse disciplinary interests ranging from art to activism.
SCI-Arc's Black Lives Matter Week of Action was conceived in acknowledgement of the conceit that not only is the school's prestige based on revolutionary conversations demonstrating a direct influence on the educational spectrum and the overall discourse of design, but that as a private institution with global recognition, SCI-Arc's student body represents over 50 countries—and with less than 3% being Black, there exists a deficiency of Black culture imbued in the development of architectural theory, practice, and design.
Topics for each day of the event followed the guiding principles of the Black Lives Matter movement, which were celebrated and discussed throughout the week, including Restorative Justice, Empathy, Loving Engagement, Diversity, Globalism, Trans Affirming, Queer Affirming, Collective Value, Intergenerational, Black Families, Black Villages, Black Women, and Unapologetically Black.
SCI-Arc Director Hernán Díaz Alonso opened the first session on Monday with welcoming remarks, expressing, "We are grateful and indeed proud of all the work that has been done by our students to put this event together. I think it's crucial for us to keep learning and listening and educating ourselves and taking action and change based on what we learn."
"There cannot be change without accountability and self-criticality," added Díaz Alonso. "We all have to understand the systematic racism that exists in our country, our society, our profession, our discipline, and our schools, and what we can do to change it. We are happy that this is the first of many, many more to come."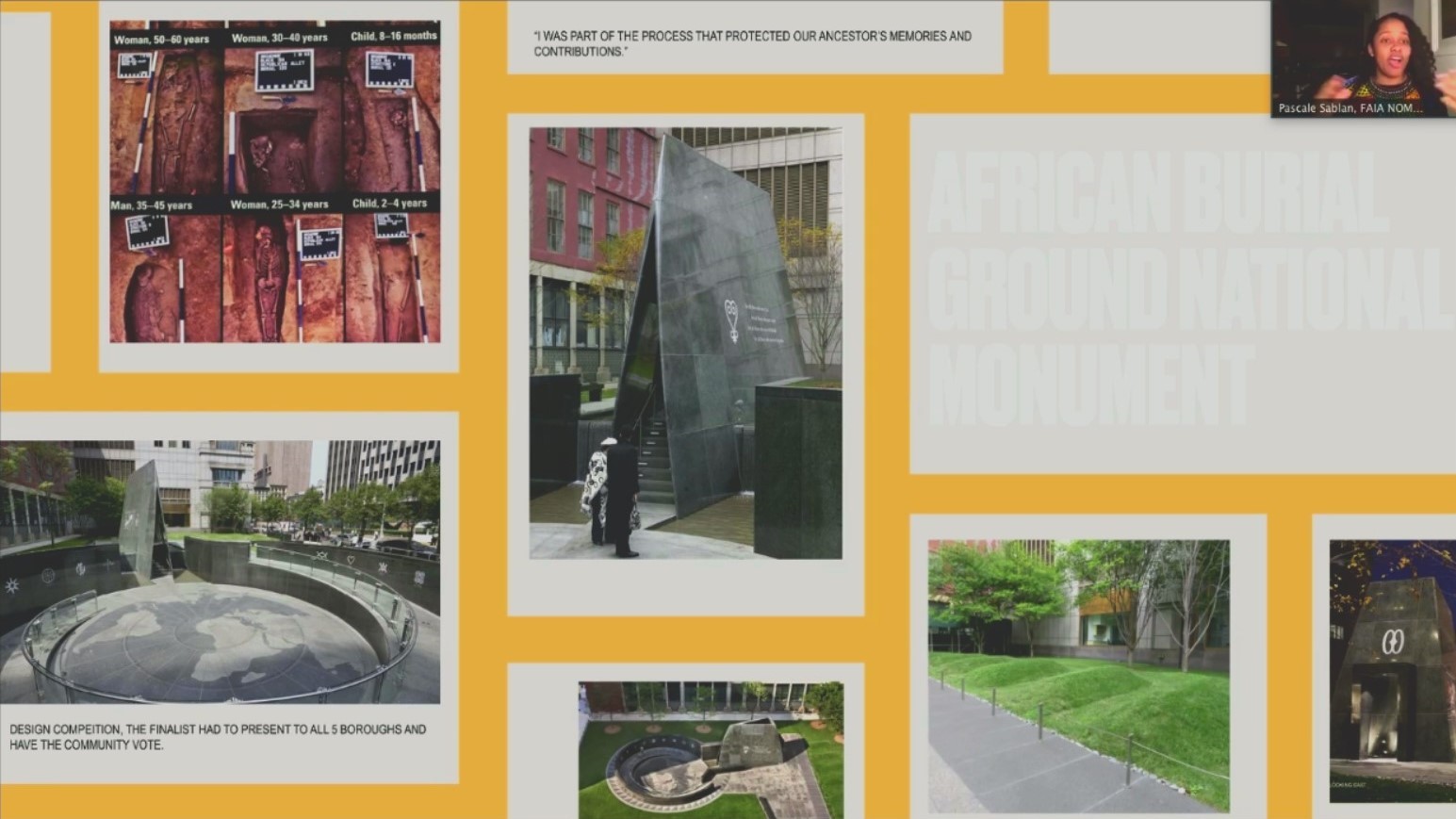 Activist-architect Pascale Sablan, youth organizer Khalila Williams, and artist Mr. StarCity then led presentations on their work, in accordance with the principles related to Restorative Justice, Loving Engagement, and Black Women, moderated seamlessly by SCI-Arc alumni and faculty Natou Fall (M.Arch 2 '19) and Leah Wulfman (MS Fiction and Entertainment '18).
Sablan in her work with her organization Beyond the Built Environment expressed the criticality of creating allies for institutional advocacy in architecture and bringing visibility and voice to the issues concerning women and BIPOC designers. Williams shared her activism as cofounder of youth-led movement Black Lives Matter Youth Vanguard and Students Deserve, which strives to create protections for Black students and students of color from criminalization by police in schools. Artist Mr. StarCity generously presented his exuberant installations, paintings, and drawings, which critically address the lasting effects of generational trauma on Black identity, emotional well being, and on the stigmas associated with mental illness. He effusively stated the value for him of vulnerability, personal experience, and healing through making art.
Tuesday's schedule, focused conceptually on Diversity, Globalism, and Collective Value, saw talks by Charles Davis II and Bryan Lee Jr., guided by SCI-Arc faculty John Cooper and DID coordinator Mira Henry.
After an invigorating conversation regarding Blackness in architecture and settler colonialism's effect on how difficult it's been for Blackness to infiltrate architecture, Davis talked about the effort to achieve abolition and radical redistribution of resources at the level of capitalism—rather than liberalism through a white, European lens—in order to make structural change and fully divest from white supremacy in architecture, as well as the aspiration for institutions to give Black people the space to build their own futures. Bryan Lee Jr. discussed legacies of power and place through his role championing design justice as founder of Dark Matter University.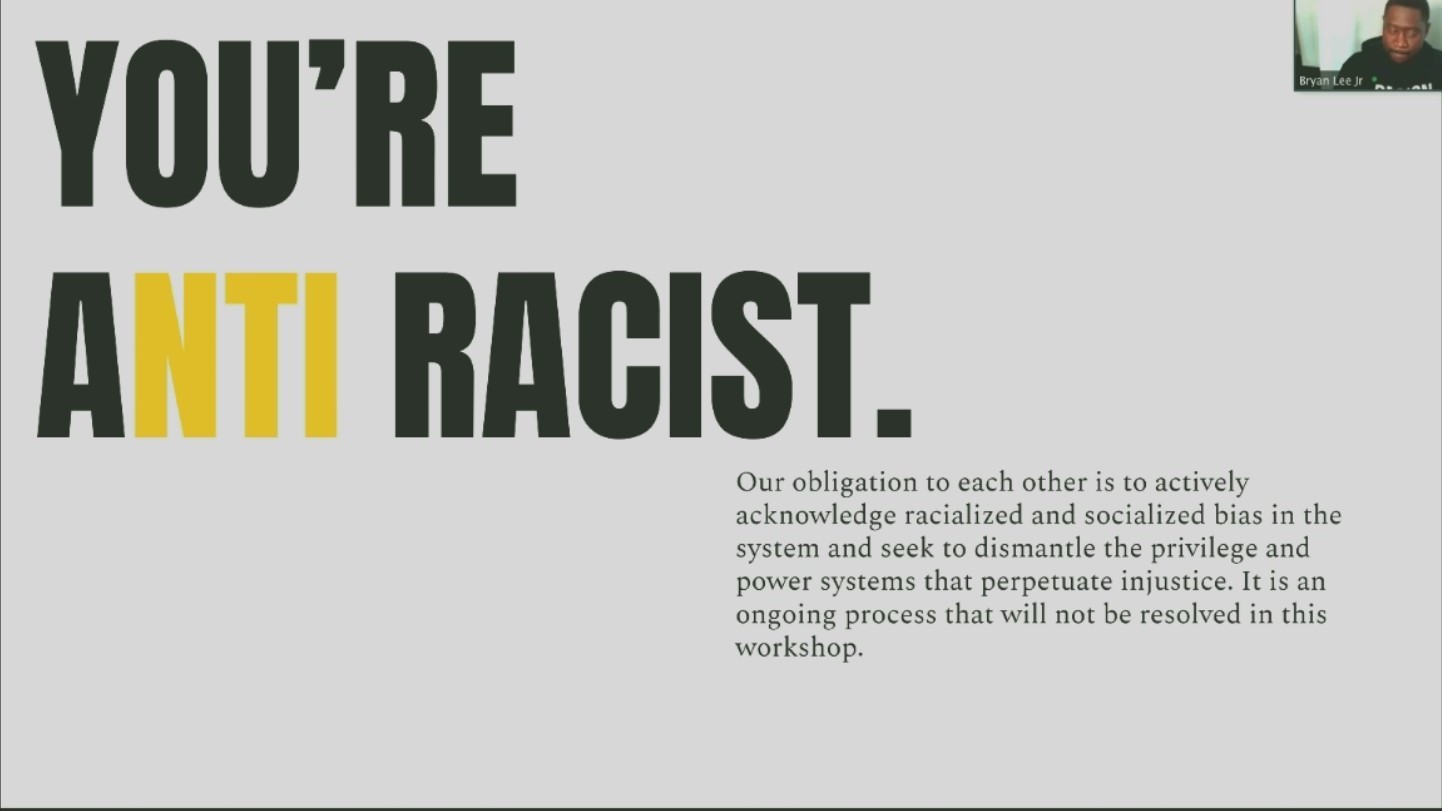 Activist Ravyn Wngz and filmmaker Elegance Bratton spoke about their work during Wednesday's event surrounding Trans Affirming, Queer Affirming, and Empathy, led by SCI-Arc alumni Li Pallas (MS Fiction and Entertainment) and Vincent Yung (M.Arch 1 '20). Ravyn discussed her work, which aims to challenge mainstream arts and dance spaces by sharing the contemporary voices of African/Black and Queer/Self-Identified storytellers while continuing to create opportunities and platforms for marginalized LGBTTIQQ2S people with a focus on African/Black communities. Elegance, in his groundbreaking films centering queer and trans characters and narratives, as depicted in the ball scene in New York, wants to prioritize being critical about the stories we're telling and the media produced, over representation alone.

Thursday's illuminating discussions around the Intergenerational, Black Families, and Black Villages featured activist DeRay Mckesson, filmmaker Ben Caldwell, renowned animator and digital artist Marlon West, and SCI-Arc alum Jeremy Kamal (MS Fiction and Entertainment '19), with moderation from Hernán Díaz Alonso and faculty and Making+Meaning coordinator William Virgil.
Finally, Friday featured an open, informal, and collegial dialogue centering everything Unapologetically Black, between Kordae Jatafa Henry, Mira Henry, and Natou Fall. A special installment of the SCI-Arc Student Union's regular discussion series Fridays @5 closed out the week, culminating with a conversation between artist and technologist Whoopi aka Ashten Winger and Kordae Jatafa Henry (MS Fiction and Entertainment '18).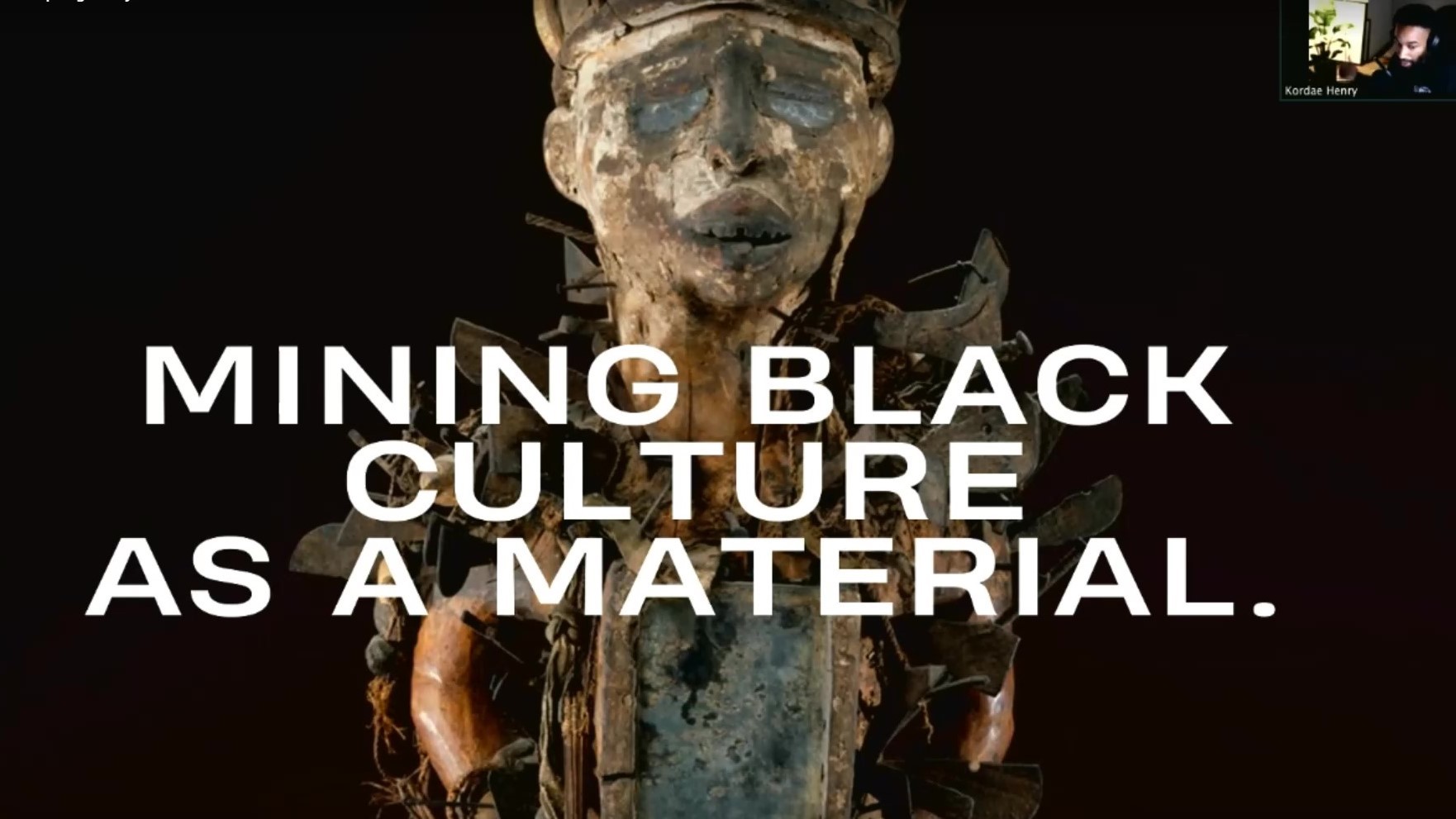 During one particularly poignant moment, as Fall pondered and identified with the weight and importance of "making art for your future self," Jatafa Henry responded, "You gotta find things that make you feel whole, and you gotta move through those things."
Winger, who at the event's final session encapsulated the sentiment of the week—which coalesced as a powerful, galvanizing, and uplifting moment for attendees—warmly paraphrased Toni Morrison by concluding, "If you're free, free somebody else."
Student organizer Babatunde-Majadi Adejare commented of the event, "I'm very proud of the content and conversations we were able to bring to SCI Arc," he said. "I'm looking forward to coordinating more Black-focused initiatives and events, including next year's Week of Action."
"Our mission as students was to create a collective platform of speakers with diverse passions ranging from art to activism, where discussions would greatly reinforce a place for Black culture in the design fields," echoed fellow student organizer Allyn Viault. "I am really proud that we were able to accomplish this goal and the outcome of the week and am excited that BLMWA will be an annual event."
For archived viewing links of all Black Lives Matter Week of Action sessions, a complete list of panelists and bios, as well as more information about the national, student-led movement around organizing for racial justice in education can be found on SCI-Arc's event page.