SCI-Arc 'Expands the Archive' with 2021 Grad Thesis Weekend and Exhibition Film
SCI-Arc's lively and immersive Graduate Thesis Weekend took place September 10-12, 2021, held both in person at SCI-Arc and remotely.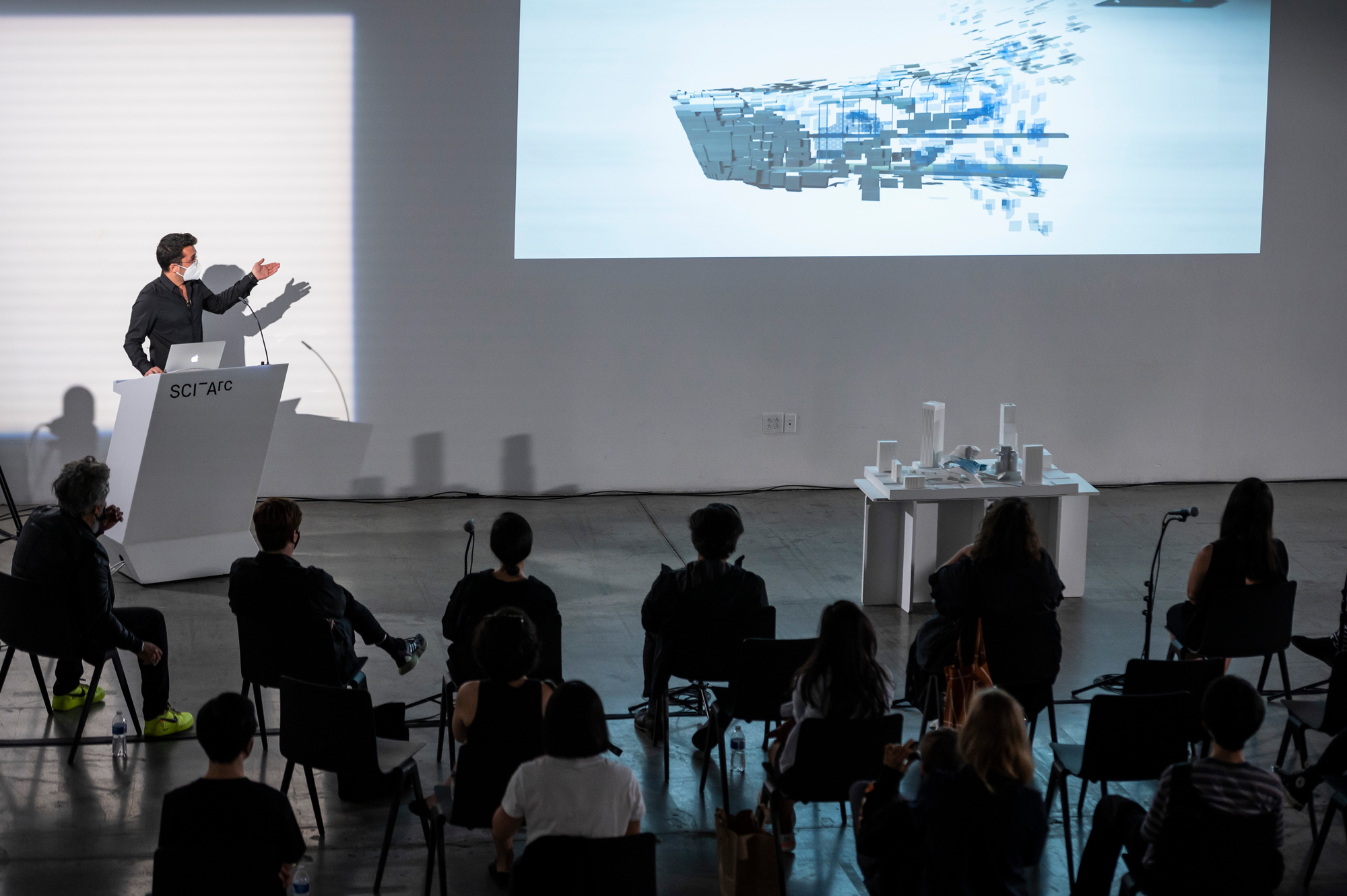 Featuring live-broadcast reviews streamed via the Graduate Thesis 2021 website, friends, family, and participants from all over the world were able to experience the extraordinary work of SCI-Arc's graduating class. For Graduate Thesis 2021, graduating thesis students presented their completed projects on a public platform to over 100 jurors, critics, and architecture professionals from around the globe who discussed, debated, and disputed emerging questions in architecture.
Graduate Thesis is the culminating project of SCI-Arc's curriculum that prepares M.Arch 1 and M.Arch 2 graduate students to make a statement and form a commitment that establishes their orientation to future architectural work. This year's thesis has collectively explored the theme of "expanding the archive," with every thesis project tackling questions and problems urgent to the discipline of architecture in 2021, "making an attempt not only to synthesize the practice of design as it is now, but as it might become," explains this year's official thesis description by 2021 Graduate Thesis co-coordinators John Cooper and Kristy Balliet. "This means taking account of the situatedness of every thesis project in relation to its many entanglements with the history and theory of the discipline, society, and environment, and projecting them forward into new possible futures."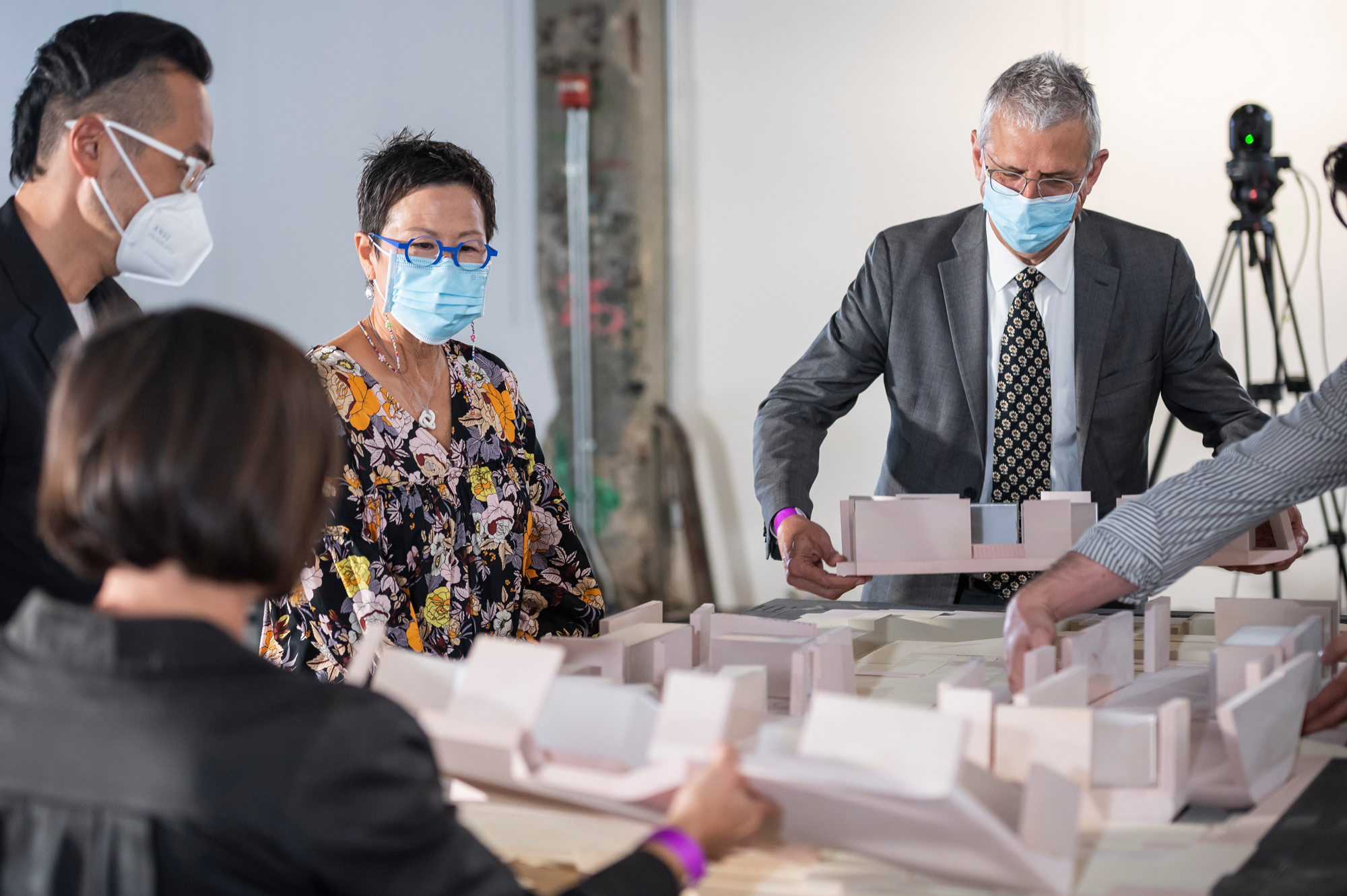 The theme of "expanding the archive" has connected student work, invited lectures, and collective conversation across the year. The annual summer thesis FORM@ lectures and Spin Room sessions were streamed live on the Graduate Thesis 2021 website and brought in powerful voices that challenge the architecture community to rethink who and what is included in architectural archives. AI and software-based environments, race and surveillance, crip technoscience, exhibiting histories of urbanism, the poetics of sanctuary in the architecture of Paul Williams, and architecture's relationship to nature were all subjects critically engaged in the forum of thesis through these lectures which have provided a backdrop against which students have projected their work into new architectural futures. Earlier this summer, the "Planet Thesis" public symposium, hosted by a virtual avatar, explored the new territories opened up by student projects.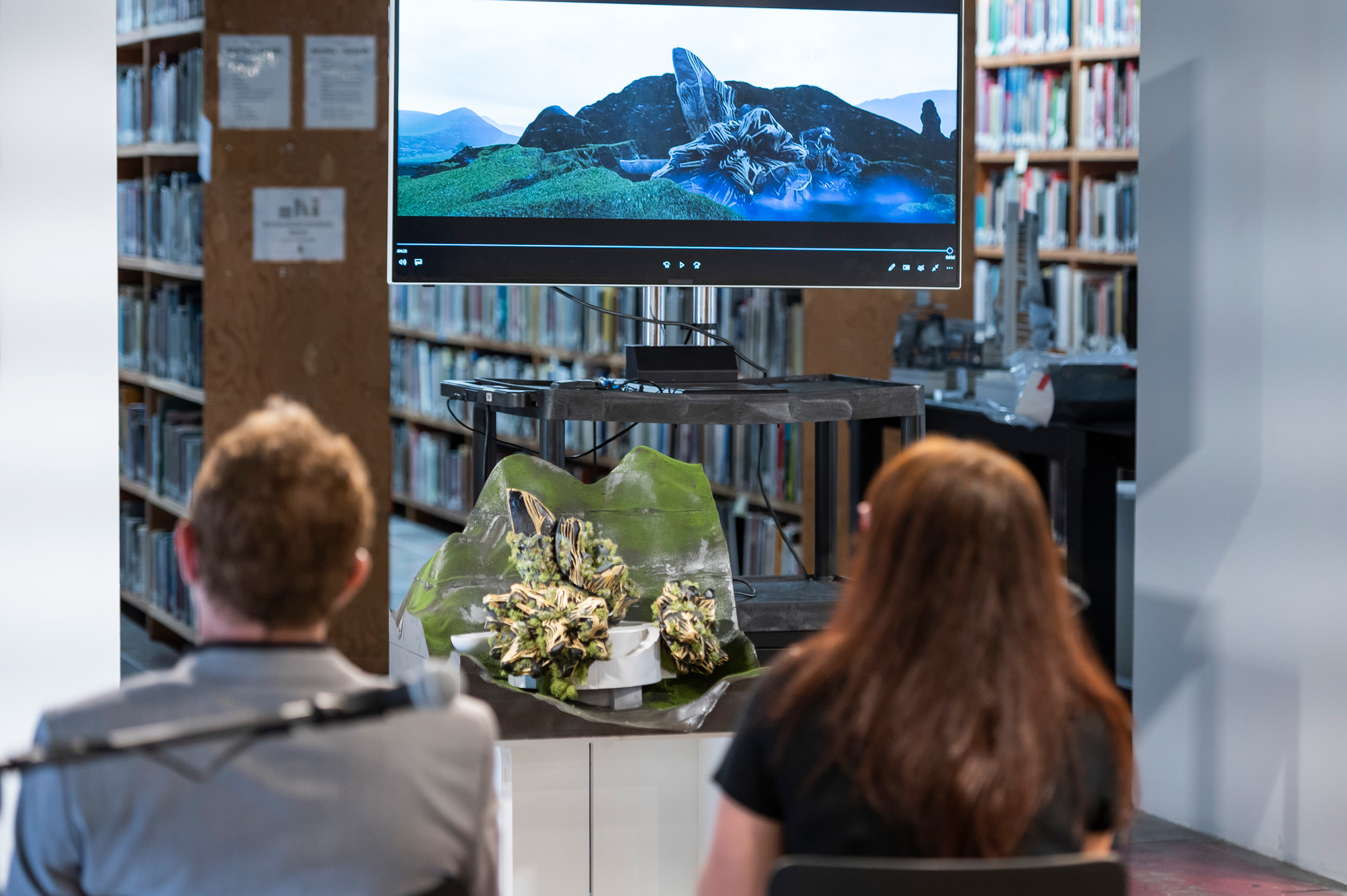 Several examples of outstanding student work represented throughout the weekend came from some of this year's Merit Graduate Thesis Award Winners. Envirovore by Alexandros Lewis (M.Arch 2 '21) reimagines marine infrastructure in the face of climate change. His project enacts a bio-reacting structure on a site located in the town of Portree at the isle of Skye, Scotland that uses tectonics as a vehicle, featuring manipulated skin as a host for marine life, reef, and maerl beds; ecosystems that are threatened by pollution from domestic sewage, oil spills in the sea, sedimentation, and by the rising of ocean temperatures.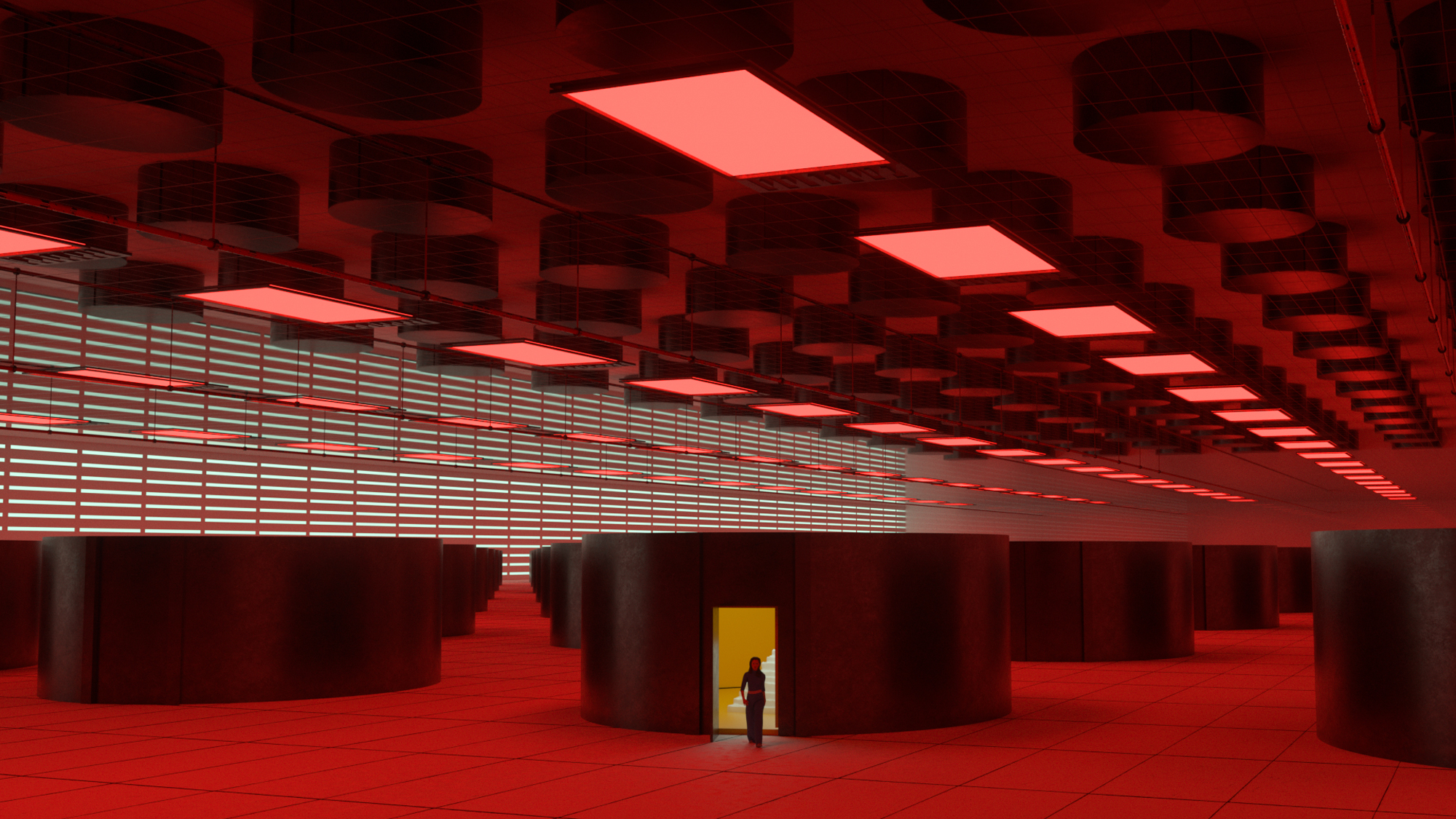 In her thesis, Pledge of Allegiance, Julia Mae McConnell (M.Arch 1 '21) references political theater, creating a speculative fiction animated short film centered around the Oval Office, presenting the storied room within complex shifting perspectives mediated by the collective memory of the nation.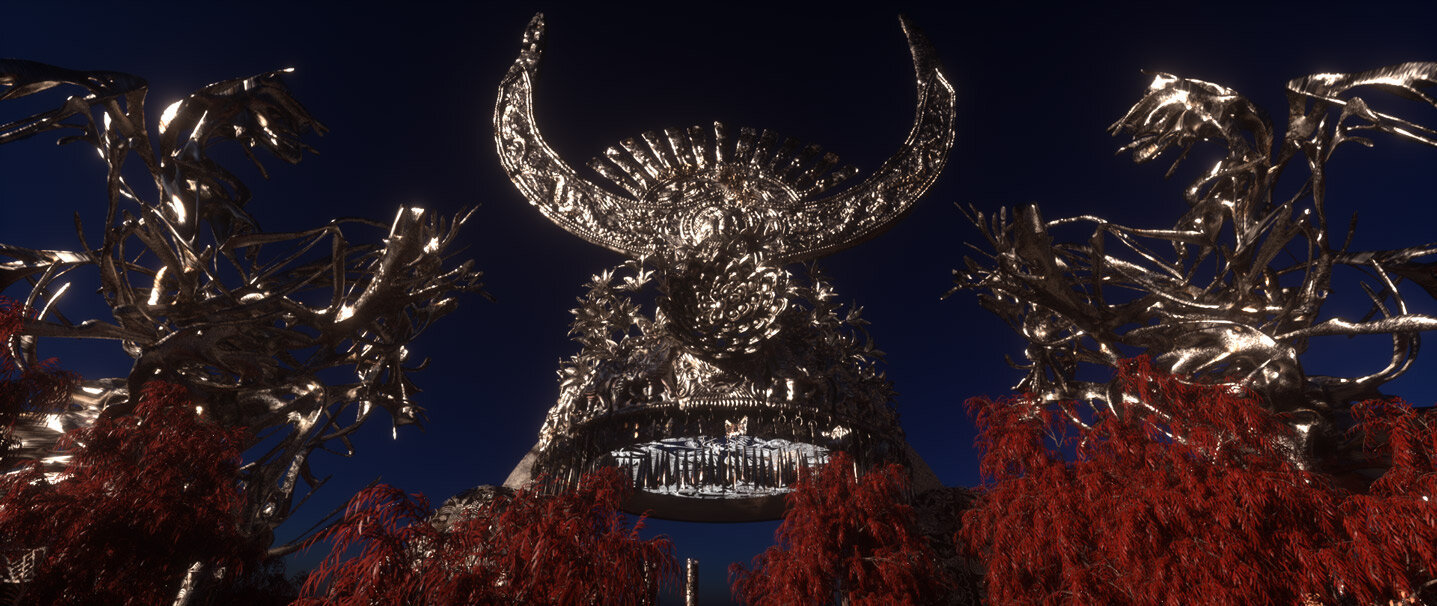 Yutao Fang (M.Arch 2 '21)
 in his thesis 未决录 Experience, Experiment, Expectation constructs a non-linear, Asian-futurist narrative to interpret the tradition and mystics of the Miao people which ascribe life and meaning to inanimate objects, merging into nature and technology.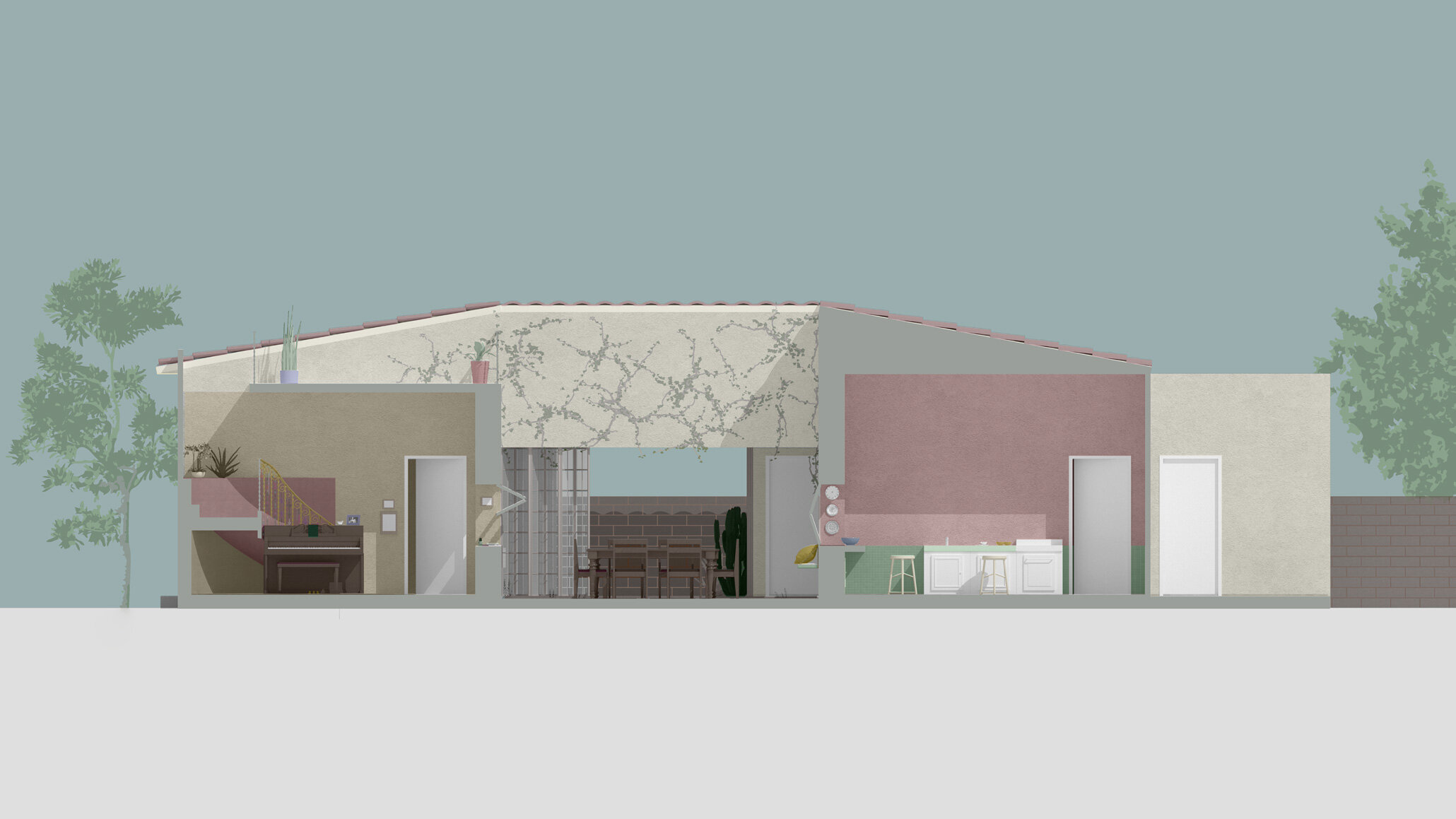 In a personal and research-based meditation on post-war suburbia entitled Atypical, Lauren Carmen Hanna (M.Arch 1 '21)
 reimagines the home as occupied by a multigenerational family, subverting the historical narrative of suburban middle-class whiteness and the American Dream.
Emerging out of a time of crisis and transformation, the architectural projects featured in this year's thesis expand not only what is included within architecture, but also how to do the work of architecture in the present, how to speculate, how to engage in current issues, and how to communicate architecture's purpose to the wider world. An accompanying film comprised of selected works from this year's thesis class, also entitled Expanding the Archive, will be screened live both in person and online on October 1, with an accompanying exhibition of the film on campus at SCI-Arc. Expanding the Archive will capture the planetary scope of architectural thinking at SCI-Arc, showcasing projects which were conceived, developed, and shared across time zones, cities, and social contexts, linked by the collective act of imagining alternative futures while also engaging architecture's past.
"Many of this year's thesis projects reach out and engage new publics and audiences in a range of architectural languages, claiming technological experimentation and formal adventurousness as scenes of direct cultural engagement across multiple scales: from spectacular urbanism and symbiotic landscapes, to microcosmic interiors and many gradations in between," added Balliet and Cooper. "Together, these projects testify to the power of imagination to generate optimism out of crisis and reset the standards of what architecture can be."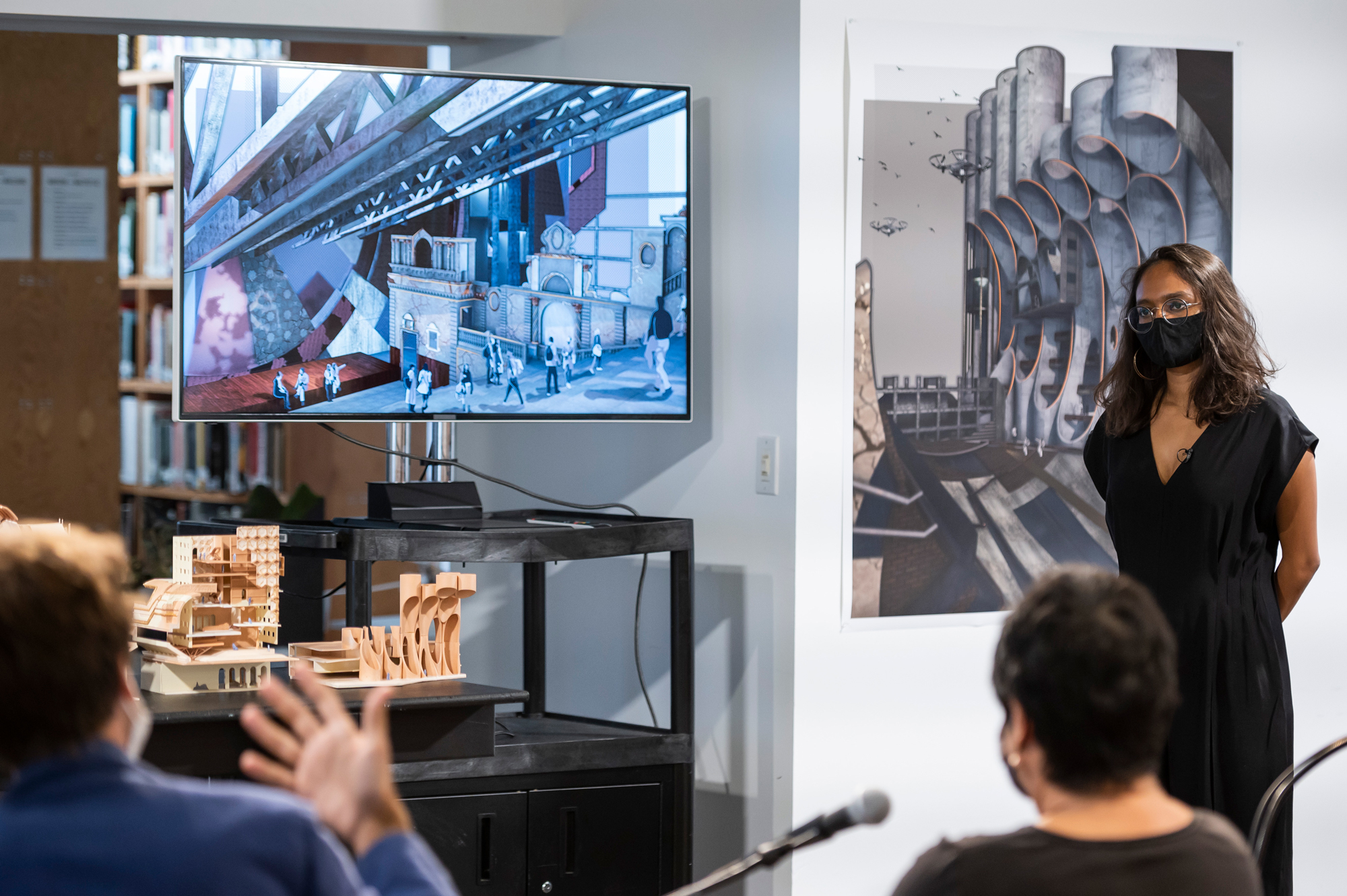 "Architects owe it to those who today are making a sacrifice to secure the greater good to build a post-pandemic world that is better and more just than the one that preceded it—and this is exactly what our 2021 graduate students did," said SCI-Arc Graduate Programs Chair Elena Manderdini. "This summer was permeated by a sense of solidarity and shared responsibility, in support of a more inclusive architecture. Our SCI-Arc Graduate Thesis class questioned and challenged every given architectural canon and gifted us with their inventions to visualize the change we all want to see."
Complete list of Graduate Thesis award winners is below. Archived reviews, lectures, Spin Room sessions, and student projects can be viewed on the Graduate Thesis 2021 website here.
Expanding the Archive: A 2021 Graduate Thesis Film will be screened online with a reception taking place in W.M. Keck Lecture Hall on October 1 at 6:00pm PT. Screening can be viewed live on SCI-Arc's livestream channel here. More information can be found on the official event page here.
Merit Graduate Thesis Award Winners
Yixuan Cai (M.Arch 2)
Yutao Fang (M.Arch 2)
Sohail Gil (M.Arch 1)
Nicholas Kenny Gochnour (M.Arch 1)
Lauren Carmen Hanna (M.Arch 1)
Jessie Vivian Helgesen (M.Arch 1)
René Pérez Ignacio (M.Arch 2)
Carnation Kng Ni Xin (M.Arch 2)
Alexandros Lewis (M.Arch 2)
Di Liang (M.Arch 2)
Julia Mae McConnell (M.Arch 1)
Hans Karl Steffes (M.Arch 2)
SCI-Arc Gehry Prize Winners
Burak Celik (M.Arch 2)
Julie Elizabeth Riley (M.Arch 1)