Lucy McRae Expounds Upon 'Heavy Duty Love' and the Alchemy of Intimacy
Lucy McRae (Australian, b. England) is a science fiction artist, filmmaker, inventor, and body architect. Her work speculates on how human biology might be augmented by a mixture of physical design, as well as the modification of genes and emotions. She is a visiting professor at SCI-Arc.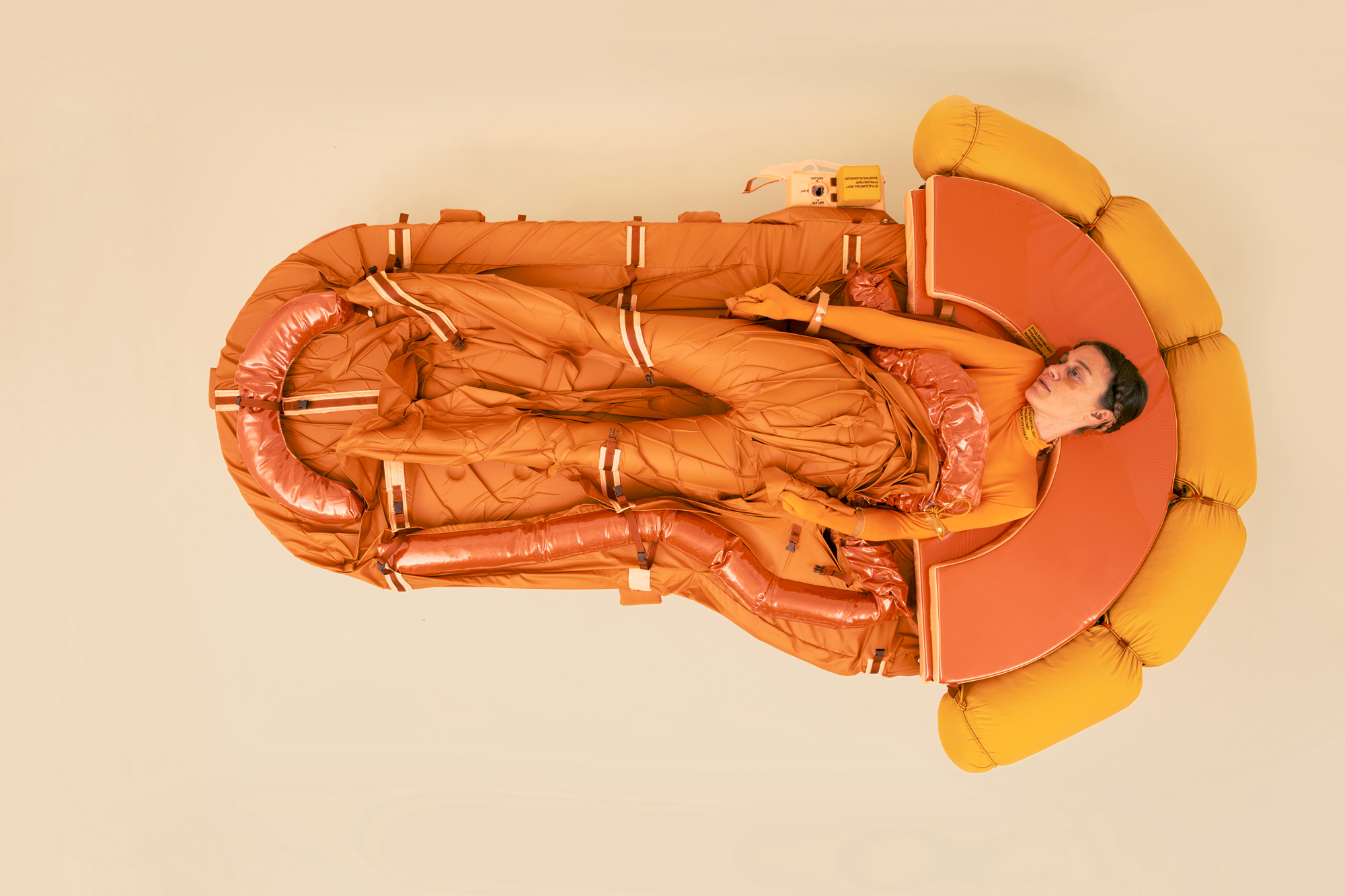 McRae works across installation, film, photography, artificial intelligence, and edible technology. She is regarded as a thought leader who is exploring the cultural and emotional impacts science and cutting-edge technology have on redesigning the body, as well as a pioneer who blurs the boundaries across art, architecture, design, and technology with a healthy disregard for labels that limit interdisciplinary practice.
She has worked with global scientific and cultural organizations and institutions including MIT, Ars Electronica, NASA, TED, Cannes, Tribeca, Nike, and Aesop with major artworks exhibited at Science Museum London, NGV, Centre Pompidou, and the Triennale Milano. She is recognized as a Young Global Leader by the World Economic Forum.
Last month, McRae was included in the 17th Venice Architecture Biennial, curated by Hashim Sarkis, exhibiting Heavy Duty Love—an immersive working prototype exploring the imminent realities, and challenges, of engineering both the human body and the human condition.
We spoke to McRae about her past and current projects, vertical studios at SCI-Arc, and upcoming work.
Hi Lucy, thank you so much for speaking with us. First, congratulations on your work being in the most recent Venice Biennale [which opened May 20, with Heavy Duty Love]! How very exciting and a wonderful full circle to the work you've been making over the past year. Can you talk about how previous pieces like the Biometric Mirror helped build to Heavy Duty Love?
Biometric Mirror is a squishy, domesticated, tech-style heavy environment that plays host to an algorithm that psychoanalyzes you. So, a visitor would stand at one of the three shrines which you see no hard technology. Everything in this world is soft, crossing realms of sport, worship, ceremony, play, and domesticity—one of my friends said it's like "good girl meets BDSM," which I love.
As you stand in front of Biometric Mirror through facial recognition technology, it rates your humbleness; whether you're an introvert, extrovert, your kindness, gender, age; intrusive personality traits that I am learning about myself—which spectrum am I? After this crude, or recently nicknamed "mean machine", has psychoanalyzed you, it then, through facial recognition, again, morphs your face into what is considered biostatistically "perfect." The way that this mutation happens is that it uses an equation called the Marquardt mask, originally developed by a Hollywood plastic surgeon used to define the parameters and symmetry of what is considered "biostatistically beautiful," this biased, gendered and far from diverse rule continues to be used in plastic surgeries to date.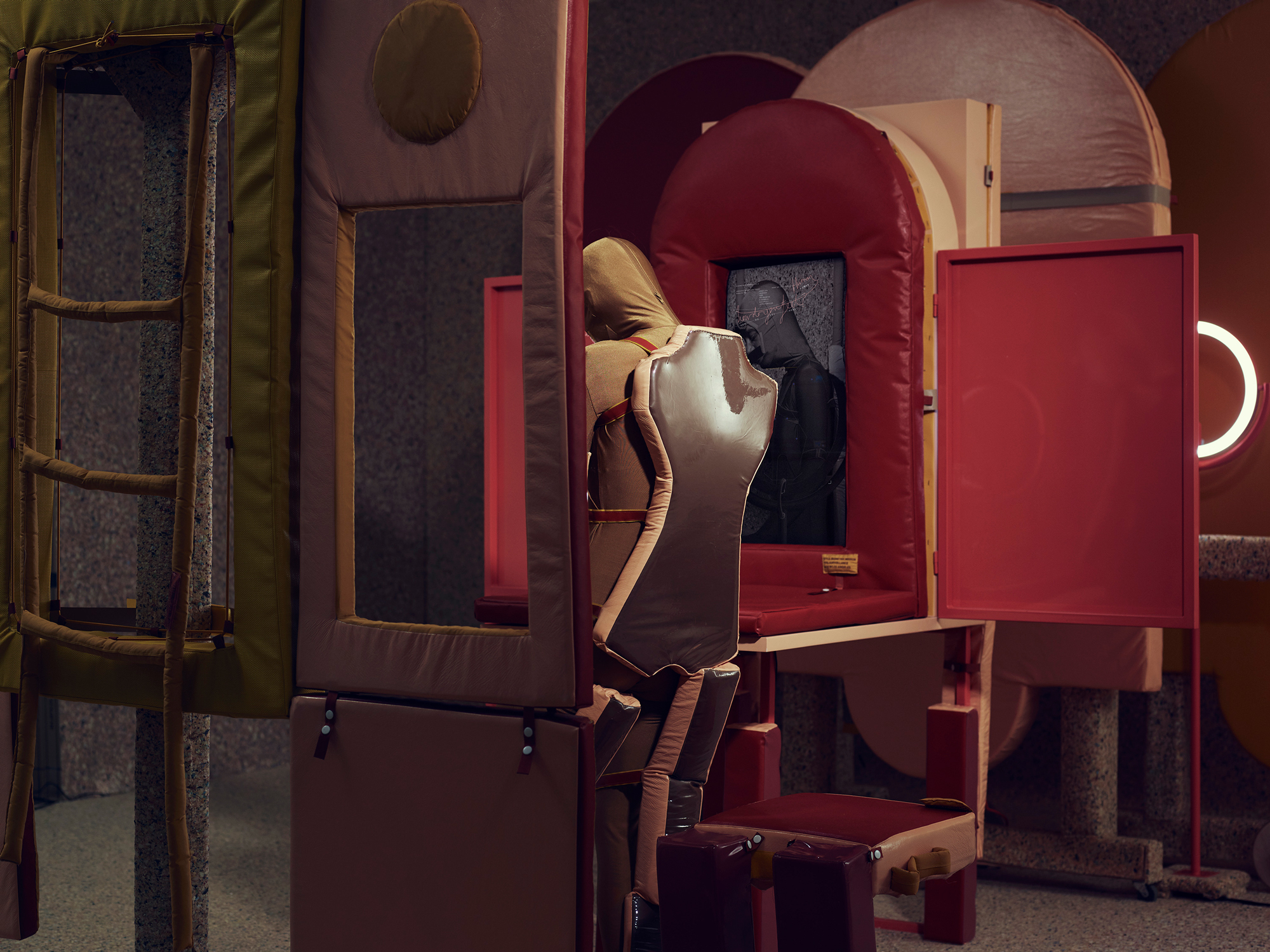 I made Heavy Duty Love because I am curious about the human consequences of bypassing the womb and that first hug of a "mother"—envisioning a new generation of children having radically different formative years, developing new types of sensitivities and neurobiological quirks. This machine questions whether these future sensitive humans will find new ways for intimacy and togetherness. More broadly, my work wants to connect the public with the main bulk of science and biotech, cracking open debate around how these God-like technologies will change what makes us human forevermore.
It seems that you're marrying this conversation of the ethics of technology in terms of how we construct or insert humanity into that, where technology can be at once sinister and this idea of the binary being "aggressive" in some ways. And then you cultivate a feeling of domesticity because there is also a personal element to all your work.
It makes me think about Benjamin Bratton's work, his books, and his take on algorithmic governance. Moore's law, we're at the end of it, it's no longer relevant. And there is Huang's law which is around, kind of, a new artificial intelligence exponential theory on technology. I've been given the book, The Structure of Scientific Revolutions. This is something that we're exploring in my studio.
Max Planck, the physicist, once said that science happens one funeral at a time, meaning we must wait till one generation passes before we can uproot existing theories. This is no longer the case—Generation Z are the biggest generation, surpassing baby boomers and millennials, they're aged 8 to 23. The concept of paradigm shifts, and revolutions, and Moore's law is cracked open, making space and necessity for new ways, and provocations. Fossil fuels will be banned in the UK by 2030, California is banning sales of new gas-only cars by 2035—new levels of commitment are needed.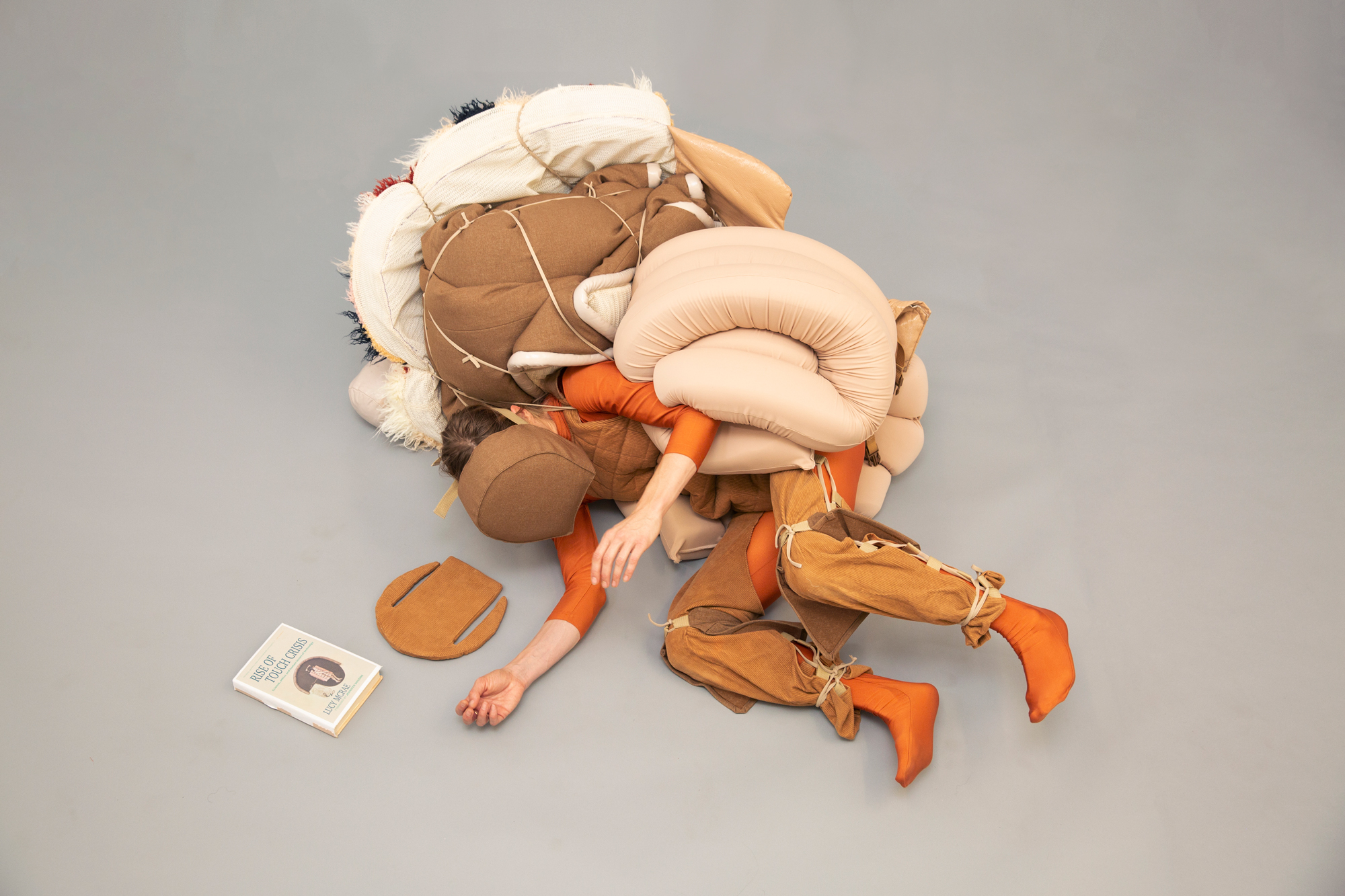 I'm curious how you see these objects that you're making or even the objects that you were making before the speculative future arrived? What role, practical or abstract, do they play in the future now as is dictated by the events that have been presented to us?
I'm still finding my place in this situation, particularly in terms of my work. And I've had friends who have said that, the work I've been making is prophetic and farsighted. I consider my job as an interpreter, picking up on the weak signals of culture, the complexities of science, and nature, and technology, turning those into manifestations and stories. I think it was Andrew Zago who said that storytelling is a kind of control, which I love. I think that the most important artistic genre right now is film and storytelling because it plays a critical role in steering public opinion.
Do you find there is a personal or intimate element related to the idea of emphasizing touch in your work?
I think that my work has always felt really personal, and I think that the process of making has always been very intimate because it's either I'm testing on my body, or, when I'm coming up with the ideas at the very, very beginning, can feel lonely, which is a good thing. But I think that loneliness brings about a emotion that allows me to explore something. Each project is an opportunity to make something new—our studio's philosophy is to swim upstream and make things we haven't made before. That takes an element of stubbornness and experimentation.
How do these investigations of humanity, technology, and collaboration manifest in the discourse in your studios? How do you see students asking these questions, and how does their work reflect these conversations?
The studio is not only about storytelling, and art direction, and prop making, and creative direction but it's also about personal growth. How do you use your vulnerability to create a new aesthetic you've never made before? It's about designing from states of doubt, and holding that space for students to be able to openly say, "I'm scared. I don't know what I'm going to make." Voicing uncertainty becomes the students' creative currency. Through this blind making where we don't know what's going to happen or where it's going to end, which is reflective of where we are now, is the way that the studio starts building narratives. We look at the landscape of current science and technology and there's themes students want to explore around androgyny, and gender, genetic engineering, artificial intelligence, and we depart from there, while rendering physical experiments in the background—alchemy plays a role.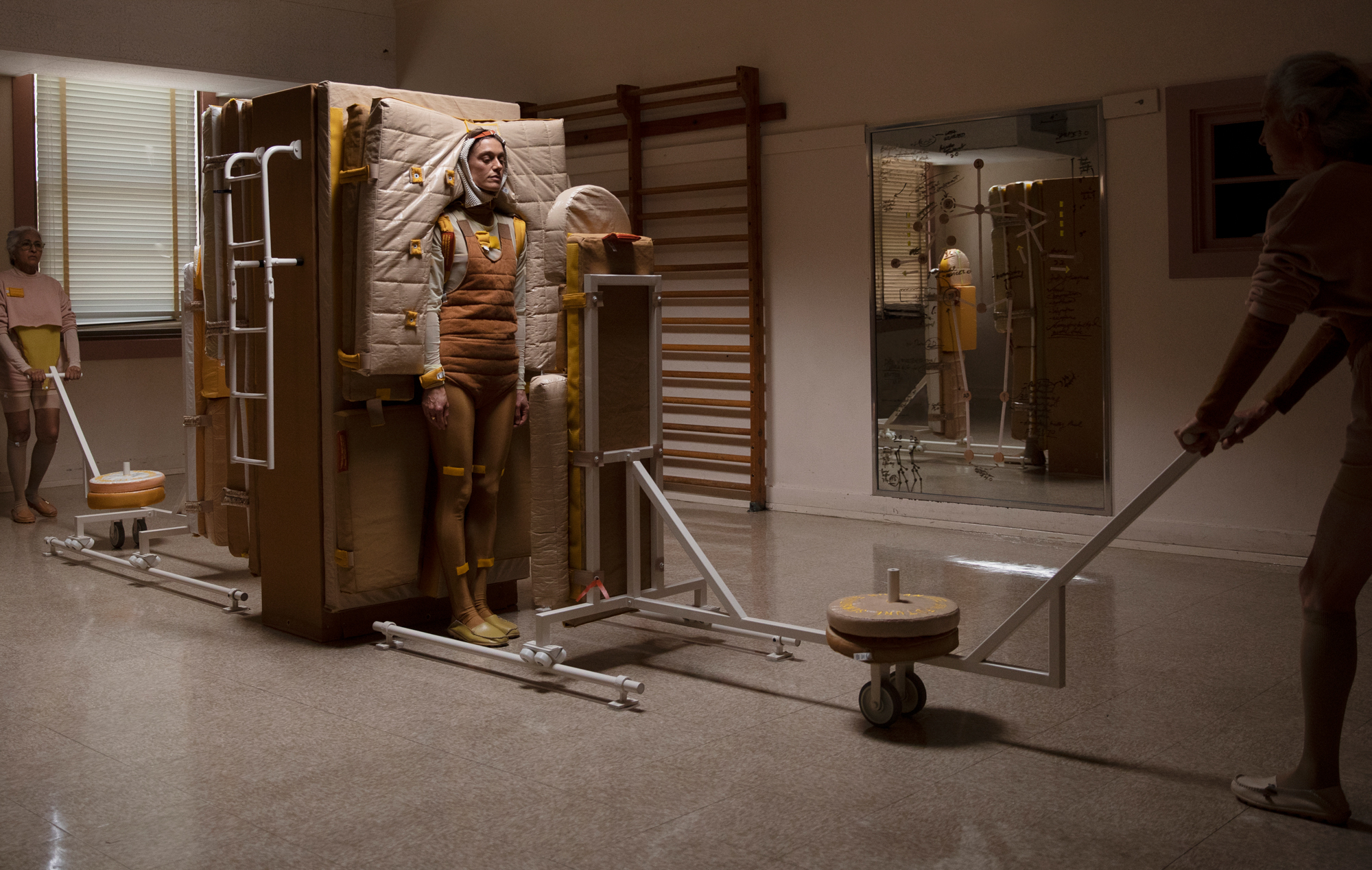 I'm interested to know how your studios and your projects influence each other and how that has started to frame or how you see that framing your approach to your practice now and moving forward? How do the ideas that you're exploring in your work and the ideas that the students are exploring in their work intersect and shape each other?
The way that we work in the studio is to balance intuition and logic and I'm having to translate that into a syllabus. Because it is intangible, there's no blueprint to how I make an artwork and we are developing a pipeline where there are some repetitions in our process but a lot of the time it's unique to each project. That's challenging when I come to teach what I do.
For me, that's the first thing that comes to mind, that correlation between the SCI-Arc studios and my work. The reminder of playfulness with materials, and making while students are making, and the inspiration that one can have, whether it's that I'm introduced to a new concept around androgyny and an ancient tribal practice I hadn't come across before. I love learning and the way that students bring concepts to the table is very different to how I do. It's a live experiment, an exchange and opportunity for students to be raw in education.
What other projects or studios are you currently developing, and what does your future look like and can you describe those things?
I have a solo show at SCI-Arc opening in February 2022, and a solo show at Honor Fraser gallery running concurrently. I'm directing and producing a new film and speculative fashion range for Gen Zs, which I'll be able to share at a later date.