'Queer Architecture' Channel Collection Catalyzes Liberation Through Design
Lesbian, Gay, Bisexual, Transgender, and Queer (LGBTQ) Pride Month is celebrated each year during the month of June to commemorate the Stonewall Uprising which occurred on June 28, 1969 at the Stonewall Inn in Manhattan. Catalyzed by Black trans and gay liberation activist Marsha P. Johnson, among many others, the Stonewall Uprising was a critical turning point in the movement for LGBTQ+ rights in the United States.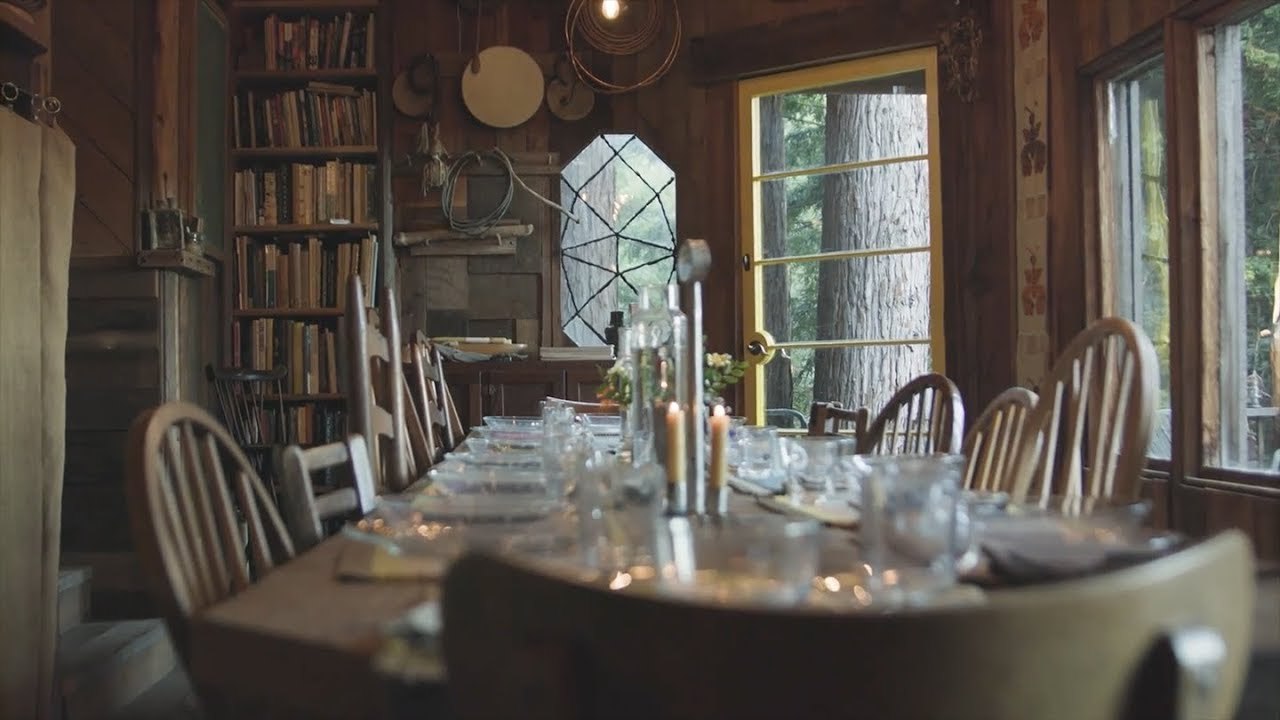 The notion of queerness, as it relates not only to gender, politics, and personhood, but also to design, architecture, and aesthetics, can be understood as a conceptual framework through which academics and practitioners have developed meaningful discourse in the twenty-first century. SCI-Arc's Kappe Library has curated a series of lectures from the SCI-Arc Media Archive alongside films, panels, and documentaries produced by SCI-Arc Channel featuring architects, designers, curators, and artists that delve deeply into conversations considering ideas of equity, space, bodies, mythology, materiality, liberation, performance, form, and history.

Visit SCI-Arc Channel here for more.
Aaron Betsky discusses his research concerning the body and sexuality in architecture and design. His interest in the subject began during his first teaching assignment at the University of Cincinnati when he noticed his interior design class consisted of forty women and one gay man. Pondering why this difference in gender make up exists between architectural and interior design, he began to explore ways in which ideas of gender performance are wrapped up with notions of space and building.
Heather Flood introduces M.C. Schmidt and Drew Daniel of Matmos, identifying them as an experimental music practice whose recent activities include an exhibition at the Whitney Museum of American Art and a world tour with Björk. Schmidt and Daniel perform some of their music, which includes audience participation and pre-recorded video segments.
M.C. Schmidt and Drew Daniel perform some of their music, which includes audience participation and pre-recorded video segments. The video sequences range from the abstract forms to portrayals of burning skin, with sound samples corresponding to the on-screen segments.
David Eskenazi (M.Arch 2 '13) introduces the concluding session "Ritual" consisting of Leah Wulfman's (MS Fiction and Entertainment '18) Deep Sea Dredging. Wulfman's performance combines live performance and chatting with Zoom participants, plus other music and video.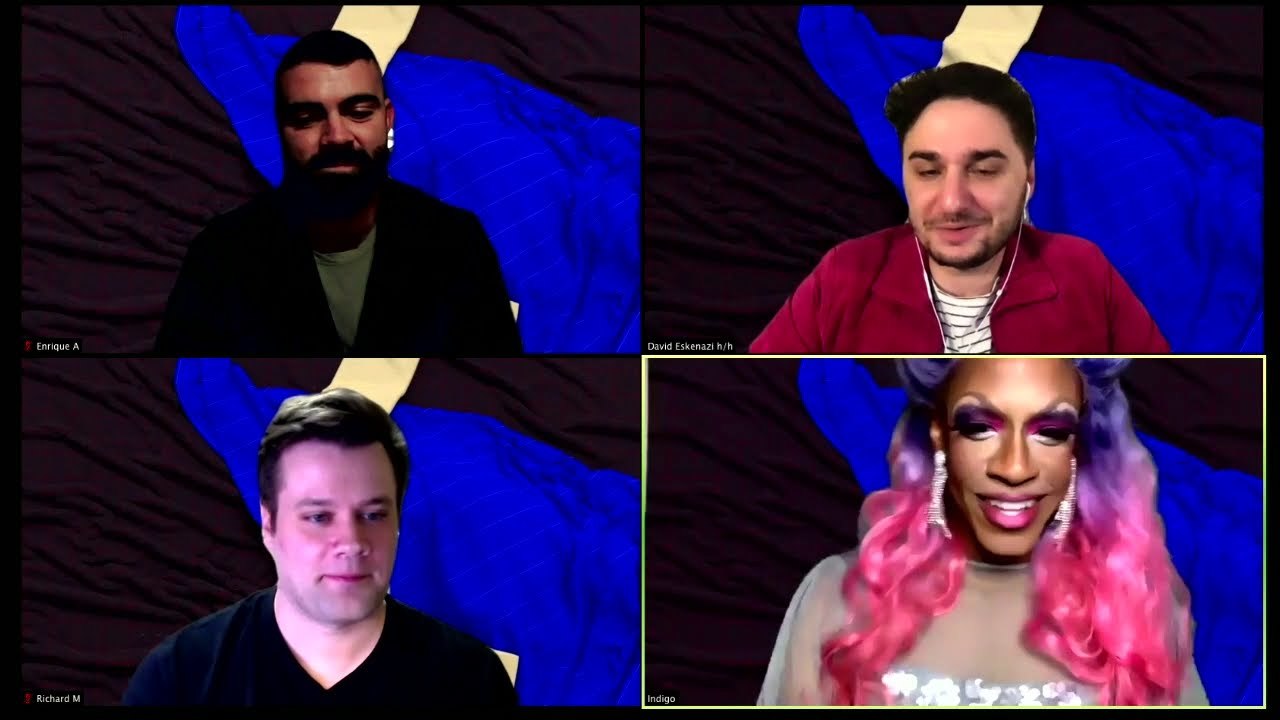 Student hosts Allyn Viault (B.Arch '21) and Babatunde-Majadi Adejare (B.Arch '23) introduce session moderator Li Pallas.



At 6:38, Ravyn Wngz discusses her journey from dance to Black Lives Matter, from Georgia to Toronto, stressing the interplay between self-esteem and activism. At 48:35, participants join in a discussion of the issues she raises.
At 1:39:36, Elegance Bratton discusses several projects about chosen families, including the photo book Bound by Night (2014) and the films Pier Kids (2019) and Walk for Me (2016). At 2:05:27, Bratton discusses his work with Pallas and viewers.
After Mimi Zeiger's (M.Arch '98) introduction, Jack Halberstam proposes "a new vocabulary for transformative change in an era of stalemate, compromise and environmental decline" based on nothing, un-making, and dispossession. "I will advocate for nothing. I will offer nothing. I will speak of nothing. I will ask you to embrace nothing with me on behalf of what you will see is an empty-handed future."

Halberstam articulates a "politics of nothing" through discussions of art works, books and project including:

Alvin Baltrop's 1975-1986 photographs of Manhattan's West Side piers.

Joan Jett Black's "camp-pain" for president in 1992 and 1996.

José Esteban Muñoz's book Cruising Utopia (2009), especially his discussion of Fred Herko, and Ray Johnson's staging of Nothings in opposition to Happenings.
Gordon Matta-Clark's Day's End and Fake Estates (both 1975)

Cameron Rowland's Depreciation (2018)

David Hammons's Day's End (under construction)

Lizzie Borden's Born in Flames (1983)

Allan Moyle's Times Square (1980)
boychild's untitled hand dance (2019)

Ursula K. Le Guin's The Dispossesed (1974)
Halberstam cites from Le Guin's novel two quotes:
"Those who build walls are their own prisoners. I'm going to fulfill my proper function in the social organism. I am going to unbuild walls."
"We know that there is no help for us but from one another, that no hand will save us if we do not reach out our hand. And that the hand you reach out is as empty as mine is. You have nothing. You possess nothing. You own nothing. You are free. All you have is what you are and what you give."
After Hernán Díaz Alsonso's welcome, David Eskenazi proposes that this symposium will offer more questions than answers: How can I participate in queer culture as an architect? How can I teach queerly? Can a queer thing be authored by a non-queer person? Or is the question really, Who has a seat at the table?
At 15:33, as the first presentation in the "Doing It Exactly Wrong" session, V. Mitch McEwen and Jerome Haferd first deploy go-go music and images of an outdoor dining space for the Alibi Lounge, into which they embed a conversation about "junky systems" – not to be confused with "junk space"—liveness, and comfort with precarity. They conclude with Big Freedia's video "Rona Rona." At 31:19, Eskenazi and other panelists respond.
At 40:23, Jack Halberstam's "Coming Undone" discusses collapse, stillness and "performance architectures" in the work of Alivin Baltrop, Merce Cunningham, and Pauline Oliveros. The panelists respond at 1:06:22.
At 1:16:30, Laida Aguirre introduces a presentation of "Acid plumbing", a collaboration with and response to Patrick Staff's 2019 installation "On Venus" at the Serpentine Gallery, London. At 1:37:35 the panelists respond.
Beginning the "Entanglements" session, David Eskenazi introduces excerpts from two films made in 2016 by Andrés Jaque: Intimate Strangers (2016) on the hookup app Grindr, and Pornified Homes (2016) examining the spaces of online male prostitution. At 21:43, Eskenazi and Jaque discuss issues raised by the films.
At 43:17, Andrew Holder, in "Untitled (House in Los Angeles 5)" discusses a single family home project in terms of three questions: What is a client? What is a dominant model? What is the center? He concludes with the hope that architects can develop "models for how to doubt one's own position in the world and walk away smiling." At 1:11:46, Eskanzi responds and continues the discussion with Holder.
David Eskenazi begins by introducing the panelists of the "Out Here" session.
At 3:31 Jaffer Kolb and Adrian Silva begin "X-ing the Rural," an exploration of "alternatives to metro-normativity" structured around the gay farming game "Morningdew Farms." At 30:03 the panelists respond.
At 37:45 Nancy Nguyen presents her film "On Hollywoods : making a queer urbanism" (2020) on the urbanisms of Hollywood and West Hollywood, featuring Victor Jones and Mimi Zeiger. At 53:23 the panelists discuss the film.
At 1:16:41, Nancy Nguyen introduces a clip from her film "Frat House" (2020) on the public and private history of the Frat House LGBT bar in Garden Grove, California.
At 1:32:42, the panelists respond.
David Eskenazi begins by introducing the panelists of the session "Feeling Ourselves".
At 3:47, Richard Mapes (M.Arch 2 '20) presents "Perfect Boyfriend Builder" a video exploration of portraiture and interior staging. At 23:00, the panelists respond. At 29:25, Enrique Agudo (MS Fiction and Entertainment '19) discusses fusing technological systems and mythologies as an introduction to a collaboration with the dancer b.gosse.
At 45:07, Agudo discusses the work with the other panelists.
At 59:44 Indigo/Marlin Meikle performs an excerpt from "Immortal men" (2013) on Japanese Sokushinbutsu Buddhist ascetics, followed by discussion at 1:04:40.
A gallery talk with David Eskenazi [Principal d.esk / SCI-Arc design studio and visual studies faculty] in his recent exhibition Slump Model Installed at the Woodbury University Wedge Gallery. The installation, part of an exhibition series curated by Ryan Tyler Martinez (M.Arch 2 '13), presents a large model made with modeling techniques and structural logics more commonly found at a smaller scale size, and as such the model's form collapses and deforms.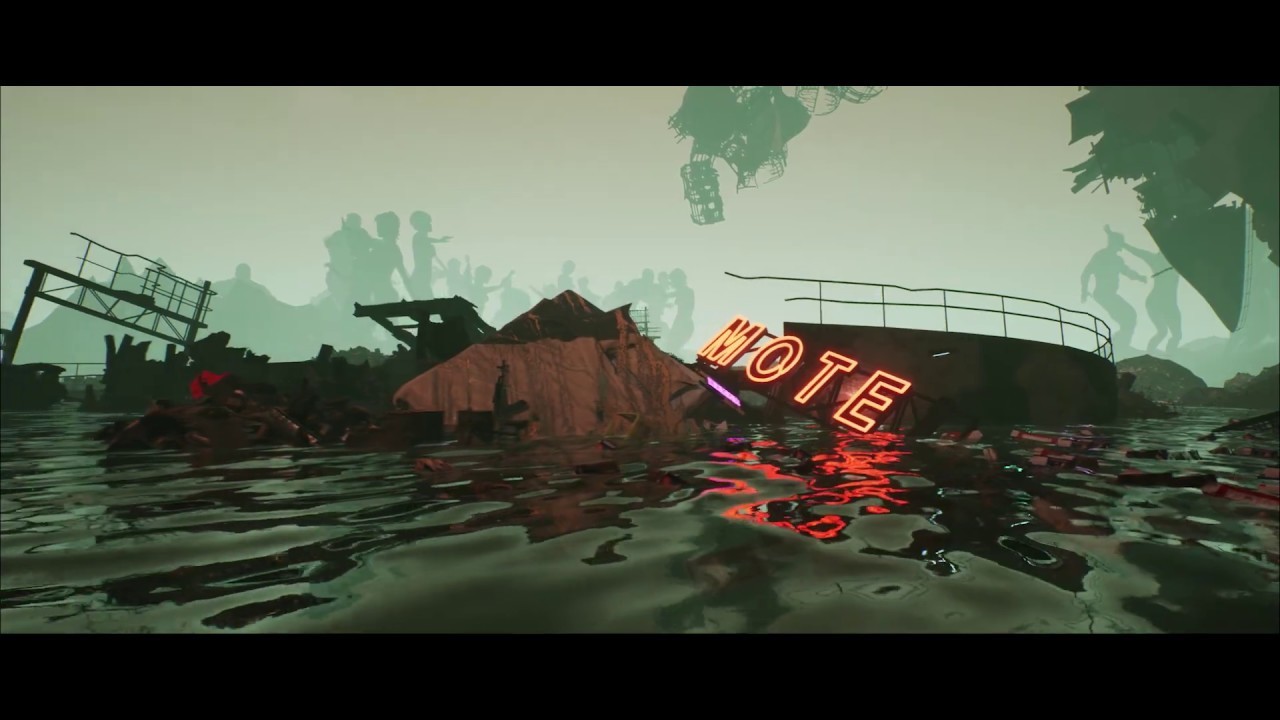 The Pantheon of Queer Mythology is an immersive experience in which the audience is taken through the whimsical worlds of a group of Queer deities representing the struggles, contradictions, hopes, and victories of some queer experiences today.

The project bridges the analog production of fashion with digital media through the use of photogrammetry. The digitization of the models in these physical garments weaves the tactile intricacy of detailed fashion with endless virtual forms of storytelling in a seamless relay of interaction. The Pantheon of Queer Mythology recently made its world premiere at the 2020 Tribeca Film Festival.
Dora Epstein Jones introduces Diane Ghirardo, discussing her contributions to the understanding of architecture, urbanism and the social realm in Los Angeles. She praises Ghirardo's books Out of Site and Architecture After Modernism for engaging not only architecture's aesthetic aspect, but its economic and social realities.

Ghirardo begins her lecture with an explanation of the geography of Cape Town and discusses the difficulties in assessing history and the associated populations due to unavailability of official records. She discusses the history of the place in relationship to political changes and policies implemented and their role in shaping the neighborhood.
Curated by Mimi Zeiger, Soft Schindler brings together contemporary artists and architects to explore questions of softness within the narrative of Pauline Schindler's history at the MAK Center for Art and Architecture at the Schindler House.

Soft Schindler participants, through their respective practices and presented works, show the incompleteness of binary ideas in architecture, sculpture, and design— femininity vs. masculinity, inside vs. outside, heavy vs. light, rational vs. emotional—framing such notions outmoded. Each of these practitioners makes non-conforming aesthetics and ideologies manifest in space.
Soft Schindler, October 12, 2019 – February 16, 2020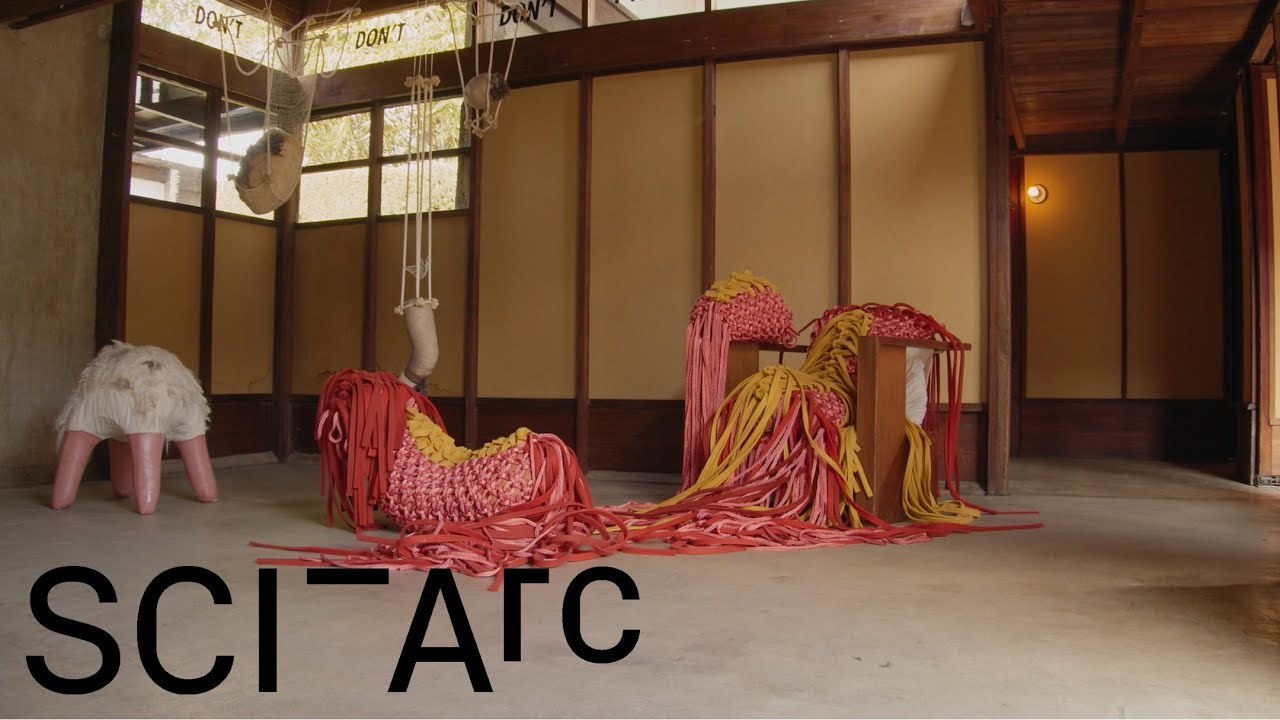 SCI-Arc Channel joins Tim Ivison to explore the history and transformation of Fritz Haeg's Salmon Creek Farm. The New York Times says: 'Salmon Creek Farm is communal living, the 21st-century way. Haeg's vision is to bring together artists whose work, he says, ''goes beyond conventional studio practice,'' and who, rather, are ''responding to wilderness and the basics of daily life.'''
Salmon Creek Farm is located two miles from California's Mendocino coast on 35 acres of mostly second-growth redwoods. From gardens, meadows and fruit orchard on a ridge-top, the property slopes down to Big Salmon Creek in the valley. A cottage in the orchard is followed by an octagonal sauna, various out-houses and out-buildings, and ten hand-crafted cabins secluded on footpaths throughout the property and across a tributary that bisects the land.
LAXART Executive Director Hamza Walker and Deputy Director Catherine Taft discuss the history of "alternative spaces," LAXART's diverse programming, and their current exhibition, Remote Castration.
On October 19, 2018, SCI-Arc presents Rough Coat, a public exhibition by Mira Henry. In Henry's words: "This is a story of constructing a monumental blanket. Blankets, as we know, are soft, submissive, and tolerant. They are inviting to use and easy to put away. The monumental, by contrast, suggests a stern grandiosity—something heroic to build and equally heroic to remove. Here is the set up: in which the relaxed quality of interior comforts are thrown against the rigorous logic of an architectural surface. After that, as is often said, one thing leads to another."
Henry is the principal of Henry Architecture (HA) and the co-principal of the collaborative project Current Interests. She is design faculty at SCI-Arc.
Radical Women: Latin American Art, 1960-1985 – Conversation with Guest Curator Cecilia Fajardo-Hill
Cecilia Fajardo-Hill (Guest Curator – Radical Women: Latin American Art, 1960-1985) and Theresa Sotto (Assistant Director Academic Programs - Hammer Museum) discuss the exhibition Radical Women: Latin American Art, 1960-1985. The exhibition focuses on the artistic practices of women artists working in Latin America and US-born women artists of Latino heritage between 1960 and 1985, providing insight into this important period in Latin American history and in the development of contemporary art.