Soomeen Hahm's AR-Focused Exhibition '2021: A Steam Odyssey' to Open July 30
SCI-Arc is proud to announce a new exhibition, 2021: A Steam Odyssey by SCI-Arc design faculty and robotics researcher Soomeen Hahm, will open July 30 at 6pm PT in the SCI-Arc Gallery, with a live discussion between Hahm and special guests taking place virtually on August 4 at 6pm PT. The exhibition will present the ongoing research of SoomeenHahm Design, a London-based design studio helmed by Hahm, into application of augmented reality technologies and their impact on architectural design and construction.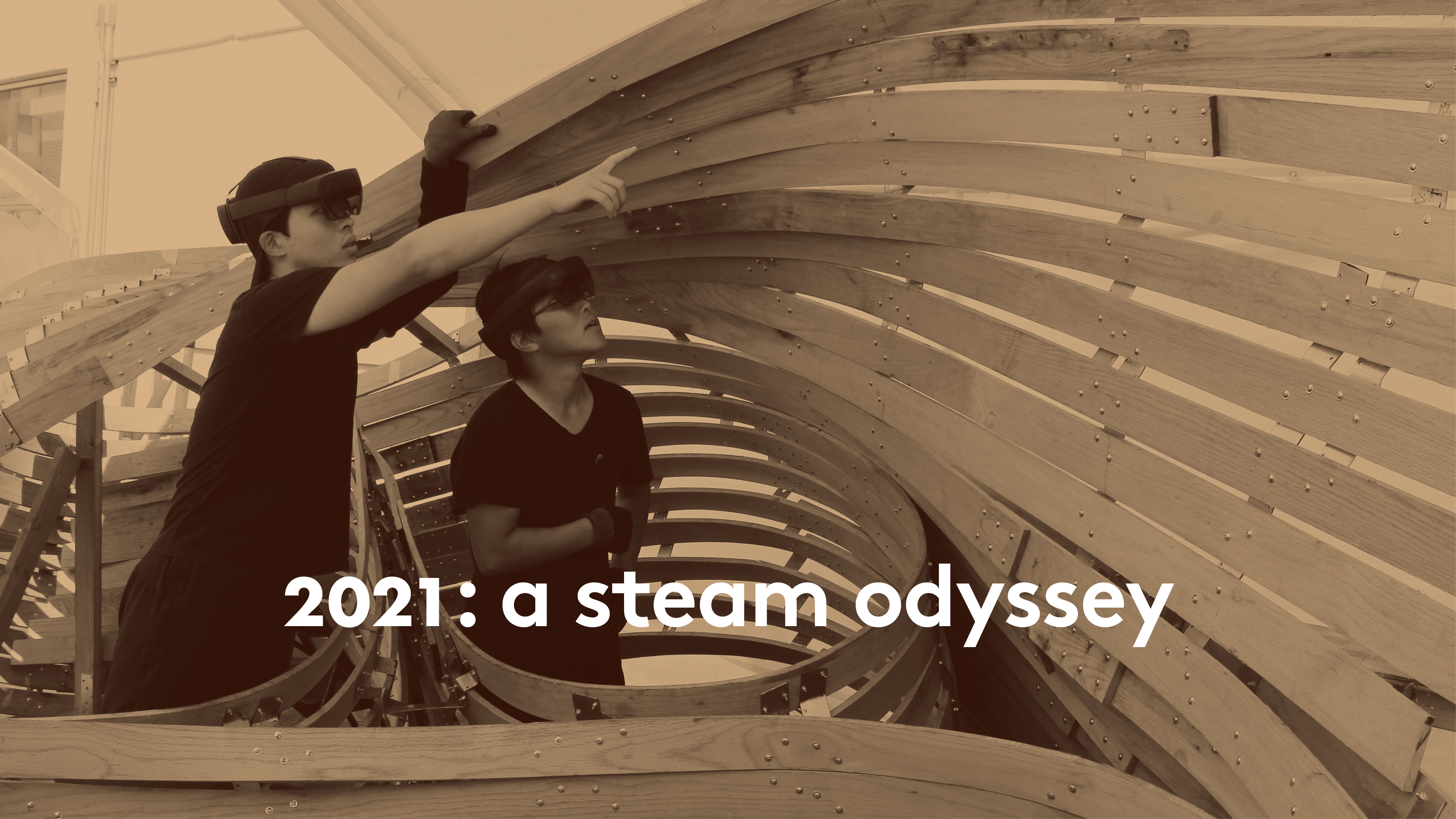 The official description for the exhibition reads:

For the past decade, we have witnessed radical advancements in technical development in computational design and digital fabrication following the ever-shifting computational paradigm. Presented by the breakthrough of machine learning in AI and foreseeable impact by quantum computing, the speed of this shift has been exponential which our humanity never experienced before.

While the architecture industry has been embracing these technological advancements, the role of humans has often been neglected in the discussion on computation and automation. Ironically, subsequent developments in technology (such as AI and AR) have all but opened up a myriad of possibilities for a closer relationship between humans, computers and machines, requiring multiple fields and industries to rethink the role of humans in the production chain.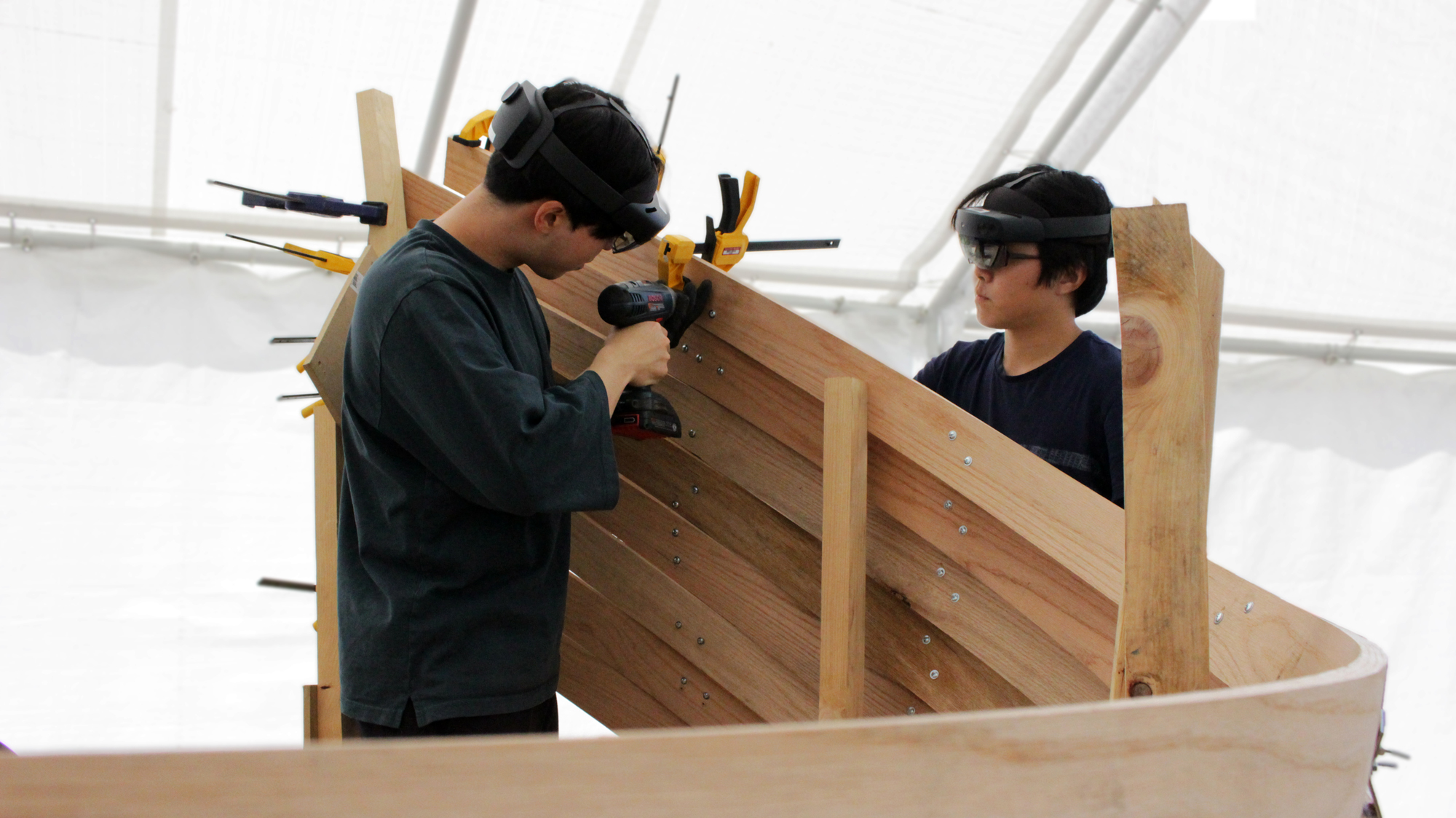 This raises a question on the impact of technological advancements on the architectural design and construction industries, as well as the way they will shape the physical environment of our future in the broader sense. As Brett King argues in Augmented: Life in the Smart Lane, we are already living in a new era—the 'Augmented Age'—where machines have become inseparable parts of our lives, our knowledge is augmented through devices and the internet, and humans are no longer restricted by physical constraints. This suggests a unique way of enhancing the resilience of human intuition and craftsmanship within design and construction processes, through the use of augmented reality.

These AR assisted processes have the capability of enhancing human labor with data previously exclusive to machines, while enabling seamless inclusion of intuitive decision making and experience, often absent from automated construction processes.

2021: A Steam Odyssey is conceptualized around the notion that making in AR reinvigorates traditional craftsmanship by augmenting hand and material skills with the precision and formal possibilities of digital modeling—occupying the territory between purely automated, exclusively robotically-driven fabrication and highly crafted processes requiring human labor.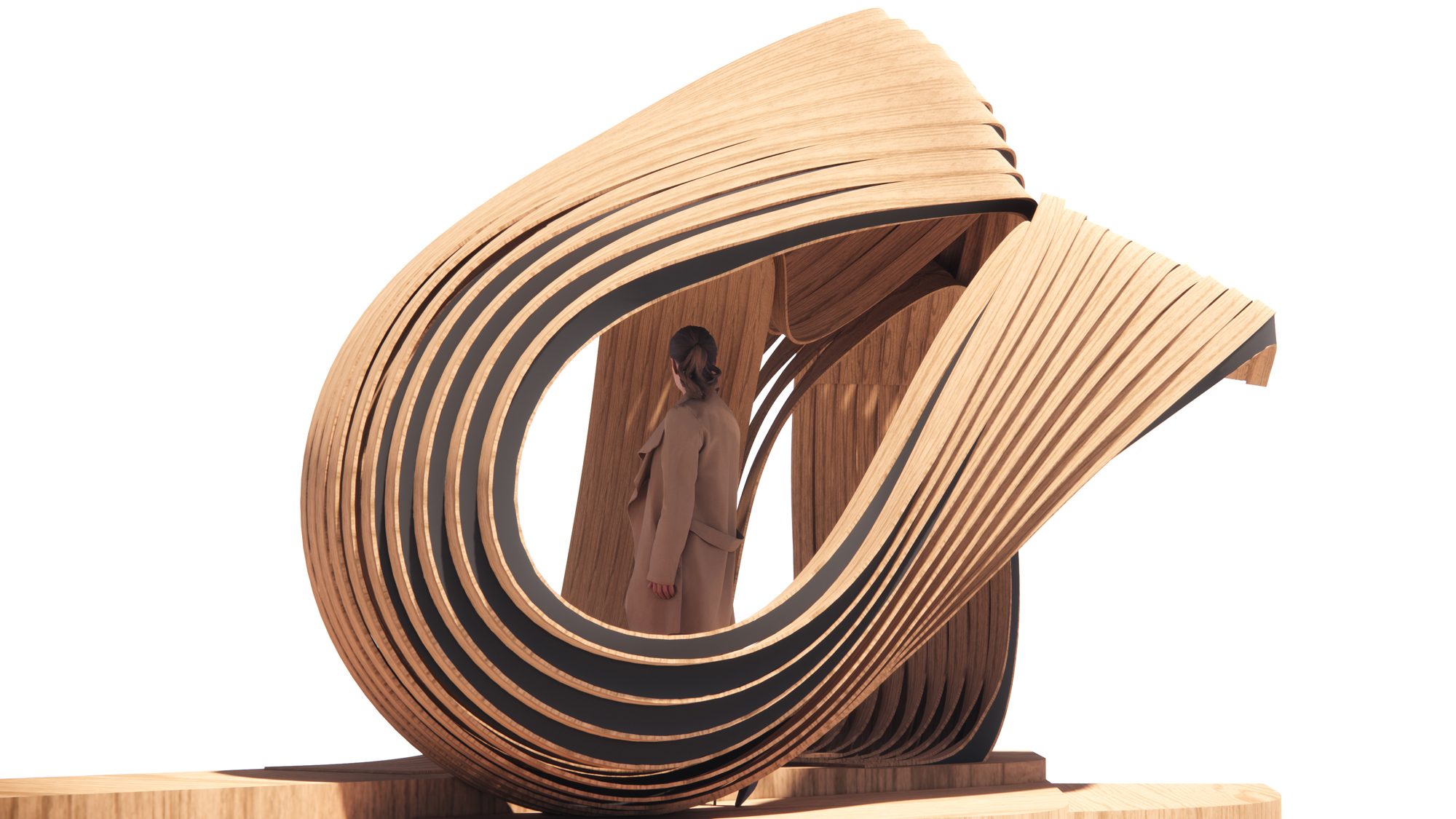 The centerpiece of the exhibition, designed in collaboration with Igor Pantic, is a structure built out of steam-bent hardwood using primitive hand tools augmented with the precision of intelligent holographic guides. It explores alternative strategies for the fabrication of digitally designed architectural structures, utilizing cutting-edge, head-mounted devices (HMDs) to holographically assist workers in the manufacturing and assembly of highly varied components using traditional craft techniques.
The exhibition piece itself, which is a full-scale section of a larger inhabitable space, represents a next step in the evolution of the SoomeenHahm Design's ongoing research into complex timber structures, assembled with the assistance of AR. It builds on the methodology developed for the 2019 Tallinn Biennale Steampunk Pavilion (designed by Hahm, Pantic, Gwyllim Jahn, and Cameron Newnham), further expanding it in the realm of fully functional space.

"It is crucial to understand that augmented reality-assisted fabrication is not seen as an alternative to automation and robotics, but rather aims to expand the understanding of automated production," explains Hahm. "We are interested in exploring the interaction between human, machine, and data, and their mutual relationships throughout computational design and fabrication processes—2021: A Steam Odyssey builds on this idea."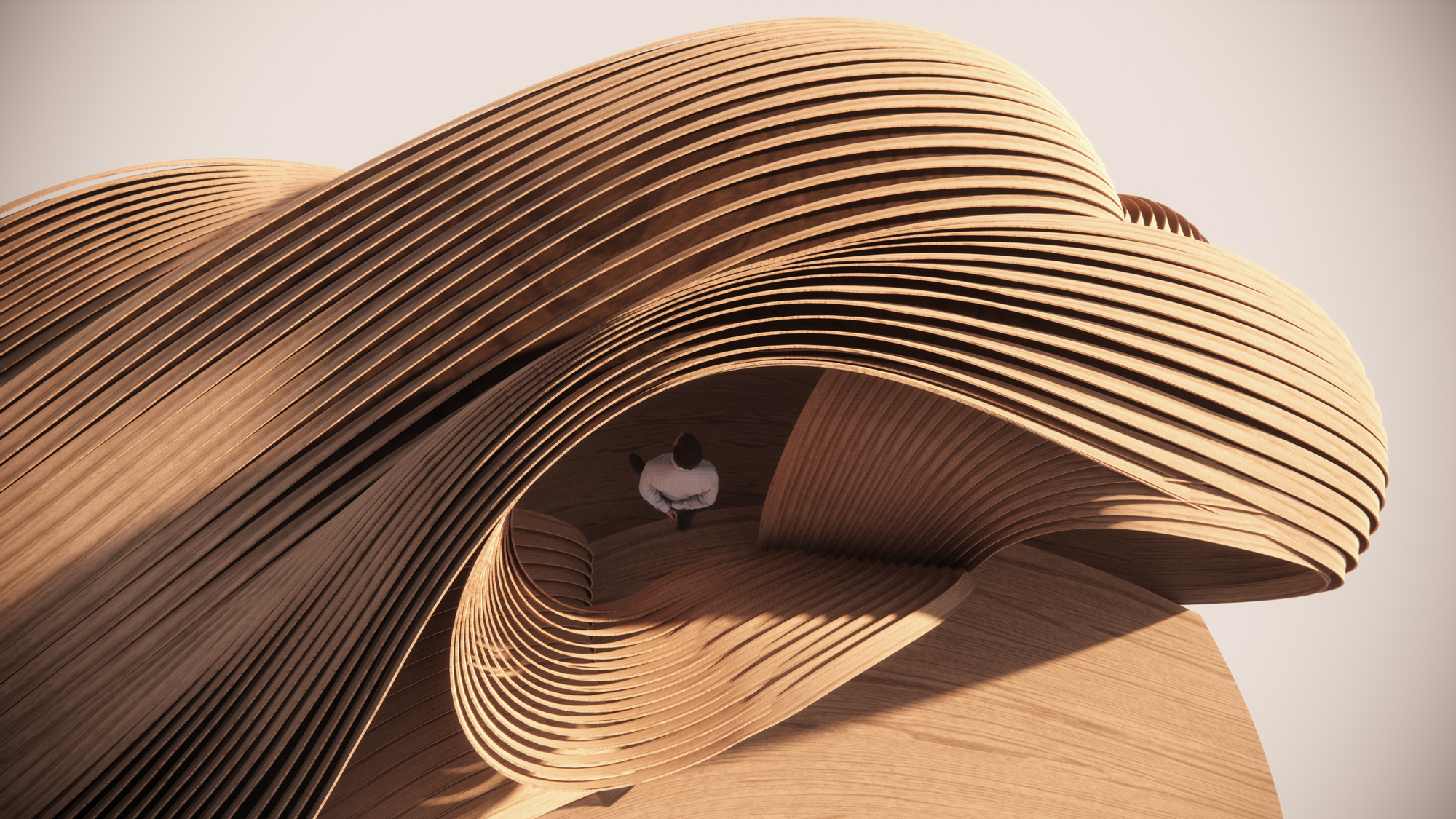 SoomeenHahm Design Ltd is a London-based design studio focusing on design research and practice tackling the issues of computational paradigm in architecture across multiple scales and perspectives. The research looks at the ecology of computational power, technology, and human intuition and the ways in which this collaboration impacts the design industry and physical environment. Approaching the work with a strong interest in research, the practice is trying to bridge between academia and commercial practices. Practical work produced in the studio ranges from small products to large scale architectural and urban design—experts in providing conceptual design solutions. Currently the practice is interested in the use of augmentation (i.e., AR/VR) to execute complex and precise digitally generated forms, while questioning the future role of human, robot, machine, and computer.
The exhibition will be open through August 30. More information about 2021: A Steam Odyssey can be found at the event page on the SCI-Arc website.
The exhibition is currently only open for in-person visits by reservation to the SCI-Arc community of students, faculty, staff, and trustees. A live discussion between Haham and special guests will take place virtually on August 4 at 6pm PT. This virtual event is free and open to the public.
Press inquiries contact stephanie_atlan@sciarc.edu.