Graduate Thesis Weekend 2022 Presents Work to 'Change the World as We Know It'
SCI-Arc's Graduate Thesis Weekend returned to its Arts District campus Saturday, September 10 and Sunday, September 11, gracing students, faculty, and guests alike with a thrilling and multidimensional look into the last year of extensive research and experimentation by this year's graduating M.Arch 1 and M.Arch 2 students. Held fully in-person and in the SCI-Arc building for the first time in two years, Graduate Thesis Weekend brought back the vital ability for students to install and exhibit their work physically, and to engage their audience in real-time.
Crossing over with the first week of the fall term, Graduate Thesis at SCI-Arc is the nexus of school events, cultivating an inevitable link between outgoing thesis ideas with incoming students' curiosities. The weekend of reviews gave thesis students an invaluable platform to articulate, propose, and defend their work to the SCI-Arc community and beyond. 62 students and 17 faculty advisors converged with an array of invited guest critics to review, debate, and contemplate the provocations of this year's thesis projects. 



"Thesis is not only a demonstration of a student's scholarship, skills, and ideas, but an ongoing endeavor of their professional and creative future," shares Jackilin Hah Bloom, SCI-Arc design faculty and this year's Graduate Thesis Coordinator. "This year's thesis projects take positions on compelling provocations of 2022. While each thesis is a personal and specific investigation, collectively, this year's class gives us a pulse on the ideas and attitudes that will shape our built environments." 



Explains Graduate Programs Chair Elena Manferdini, "Today young architects want to be fully, deeply engaged in something worthwhile, something that actually matters. These Graduate Thesis students understand that architecture is not an individual journey, but a collective act.
"

"This generation, I am sure of it, will change the world as we know it," continues Manferdini. "These students are graduating and they have been faced with the realization that we need to reimagine the world and its infrastructure. Their thesis is the first step into a new world as they imagine it. This year's Graduate Thesis Weekend was an opportunity to engage with the alternative future we all want to be part of."
At the culminating commencement ceremony on Sunday night, SCI-Arc's Academic Program Chairs announced the winners of this year's graduation prizes for outstanding thesis projects, including the Merit Graduate Thesis Prize and Gehry Prize. The recipients and their projects are included below.
 A complete collection of student projects are viewable on the Graduate Thesis 2022 website here.


Gehry Prize Winners:

Sophie Akoury
 (M.Arch 2)
Advisor: Marcelyn Gow
51mi + 25km = 13ft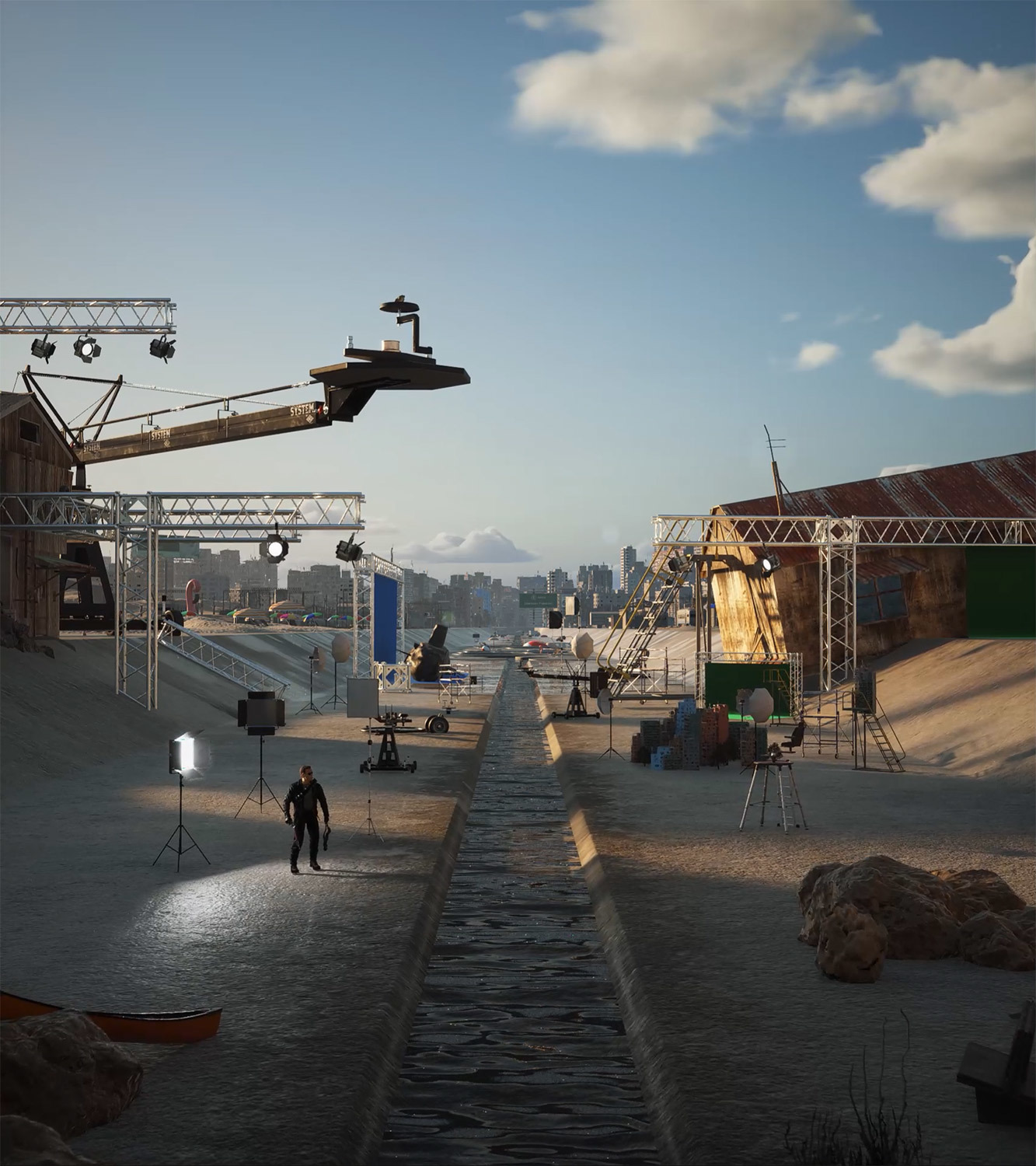 Archiving the Place That Remains

An abstract sewer network and a rich ecosystem, a highway shortcut and a movie set, a flood zone to the Army Corps of Engineers and a life-giver to the Tongva tribe: a 'river' in Los Angeles.


The act of curating outside-world data for it to adhere to our design process is intrinsically part of the architectural discipline. Rather than presenting the architectural site as an inert urban object awaiting intervention, I suggest a revised approach to engaging it by considering the multitude of layers that it inhabits.


By relying on archival documentation as evidence and archival creation (or recreation) as provocation, the project aims to underscore the procedure of constructing site-specific facts as found yet constructed, factual yet fictive, collective yet personal. For Foucault, the archive is not a set of things or even a set of statements, but rather a set of relations: it is 'the general system of the formation and transformation of statements.'


As W. Vanstiphout suggests, History can be used as a practical tool in shaping the future when it is treated as something that can be 're-designed', as once you retell the story you have something you can manipulate, it becomes actionable.


This installation, dialoguing between physical and digital mediums at many scales, invites us to witness a place as a mashup of different narratives, materialities, agencies, and time frames simultaneously. It is an act of decentering site representation within architectural pedagogy, putting it at the forefront of the design project itself.



Ian Wong + Sue Hang Mun Choi (M.Ach 1)
Advisor: David Eskenazi
Earthly Passage 亡遊花園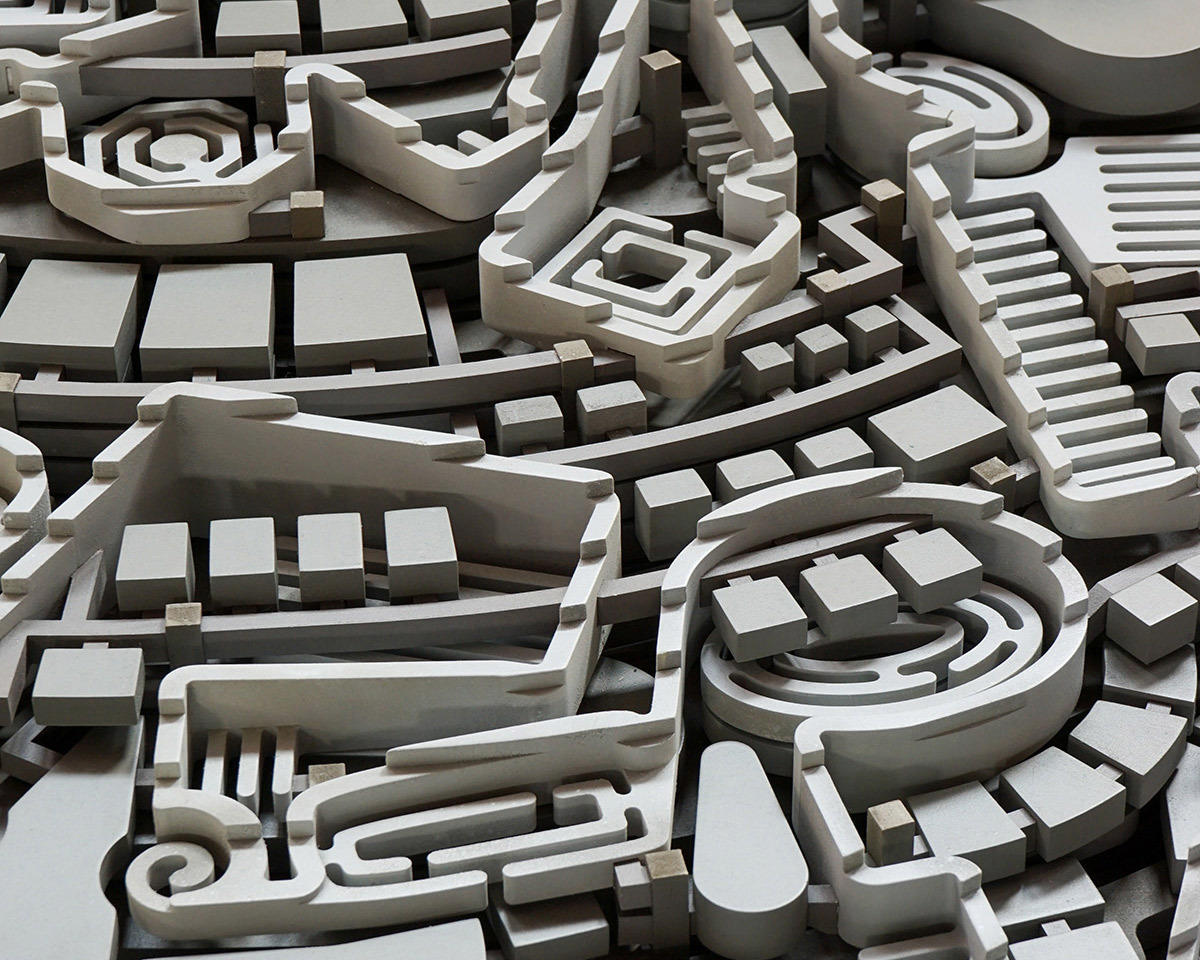 The traditional Cantonese funeral procession calls for a public performance of mourning. However, this tradition is no longer common practice today. Though there are still public ceremonial grieving practices, grievers in contemporary culture prefer experiences that are isolated from the distractions of the city, and for many, in solitude.

But in a city like Hong Kong, where spaces of seclusion are rare, mourners are forced to amble against the chaos of urban life to traverse between the various sites of the funeral—from the funeral home to the hillside cemetery, and back to an ancestral hall/temple/church—all of which are dispersed throughout the city in conformance to the traditional model of the processional funeral. 


Earthly Passage is a new model of funerary architecture: a cemetery in Hong Kong that centralizes funerary sites whilst memorializing and refining the bygone funerary traditions and architecture of Hong Kong. It commemorates the canonical terraced landform cemeteries of the 19th century and upholds the tradition of the funerary procession. Where the processional path was once a result of logistic necessity, this path is purposeful, intentional, figural, and defined; a clear passage through the various sites of the funeral, but condensed into an abstraction of Hong Kong that evokes a procession through the city with all the distractions filtered out.


Earthly Passage: The Procession

Merit Graduate Thesis Prize Winners


Camille Khanh Linh Thai (M.Arch 2)
Advisor: Kristy Balliet
Acts of Living




According to Wendy Chun in Updating to Remain the Same: Habitual New Media, "Internet users are curiously inside out - they are framed as private subjects exposed in public," the internet and its cultural practices are becoming undeniably invasive, even more so after the pandemic. Media tools completely took over the home with webcam, microphones, lights, someone else's furniture, etc.

The thesis began with questioning the influence of social media in private space, observing consumer behavior and the technosocial phenomenon that requires people to surrender their privacy online to upkeep a standard of living. With the blur between a "home", a "homepage" and the #home, one's idea of a domestic landscape is constantly coupled with the information and products they consume online. The delineation of the current states of the home embraces the fragmentation and the multiplicity of the domestic landscape as portrayed in fragmented, composed posts. The private realm becomes questionable with the invasion of things that are meant to satisfy a larger audience; therefore, a traditional home no longer reflects the things our current society values. 


The project takes on the existent typology of a home in Los Angeles to establish a place of familiarity and intimacy. Using the idea of a home as a storytelling tool, the design exists in the form of three methods of interventions to fracture the found domestic landscape, identifying the manifestation of social media domestic space as interventions of objects, materials, and staging.

As it is reduced to nothing but objects that define the inhabitants and the feed that defines the brandability of their identities, the "home" becomes a commodity for the collective entity. Hence, the thesis aims to reveal a critical technosocial phenomenon of the time using an architectural narrative. By borrowing the typical landscape of a home, the thesis aims to unfold and disrupt the idea of living and working today behind the ideals that exist online.


Jure Zibret (M.Arch 2)
Advisor: Jeremy Kamal Hartley
Domestic Wilderness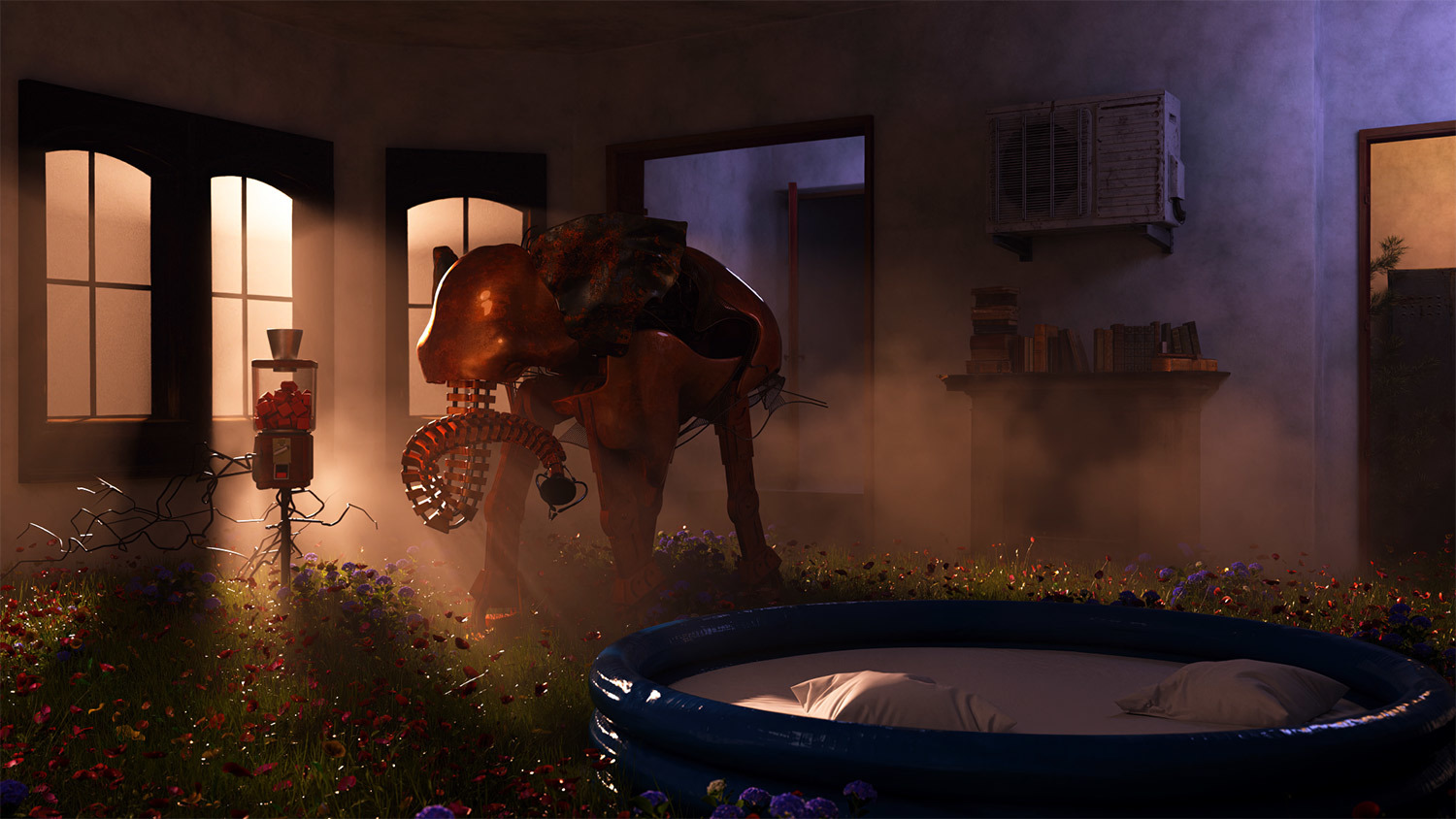 Domestic Wilderness is a docufiction film about ecology. It is an uncanny and surreal journey into the universe of our homes and objects. To become ecological is to be aware of the complexity of the events that surround us in respect of their appearance and performance. However, for Latour, environmental actions are insufficient because society does not perceive the magnitude of the phenomena of climate change phenomena and the events that are triggered by it. In this work, the opposite is sought - connectivity, a relationship between human, non-human, and non-lifeform actors. The main goal of this work is to explore how we might live in the future through the notion of domesticity and wilderness. Could this type of representation - film, serve as a method to explain habitat to a potential resident?


This project shows the world of the domestic landscape and its ecologies in the form of a cinematographic combination of documentary and fiction. Different actors/organisms inhabit the same space - an average American house is transformed into a place with different artificial ecosystems. This allows the viewer to observe different narratives on different time and space scales. Sometimes these stories overlap, so that seemingly unrelated events are suddenly connected. Nonetheless, the viewer is free to connect with the content and pay attention to the stories that interest them. Moreover, each space offers a different cinematic atmosphere, expressed through the weather, lighting, humidity, and the organisms living in it.


The artificial climate in each room is different. The weather is constantly changing, affecting the living and non-living objects that inhabit the space. This makes the house a place of wilderness, where living conditions are constantly changing. Unintentionally, the house is transformed into a laboratory for architectural speculation that reveals new ways of dwelling. From a clean and sterile environment, the house transforms into a chaotic and porous world without boundaries, where the understanding of random and intentional connections plays an important role in life. Yet the dwelling does not disintegrate. On the contrary, the house becomes a landscape of organic and artificial matter.


The focus of this project is on the objects that occupy space. The work examines their actions in numerous environmental conditions, their mutual relationships, and their contribution to the new idea of life. Living and non-living organisms are synthetic hybrids with different roles. For example, a robotic elephant picks flowers, extracts their oils, and makes soap for a shower among flowers. Using its trunk, the elephant performs its morning duties by showering people with the flowers surrounding it. In another story, the flooded sink in the kitchen serves as the water source for the swamp in the middle of the dining room. The water in the swamp hosts a species of small fish that fertilize the soil and provide minerals to the vegetation growing in it. Each screen focuses on a story that may be related to another, while maintaining the authentic image.


I believe architecture has the power to respond to ecological problems through cinematic modes of representation. The project speculates on the future of habitation, pushing the audience to explore new possibilities and aesthetics. I believe anyone should design their domestic ecosystem. Here, the architect creates a climate and its organisms through terraforming new domestic landscapes and overlapping natural and artificial. 


Austin Lightle (M.Arch 2)
Advisor: Devyn Weiser
Common Objects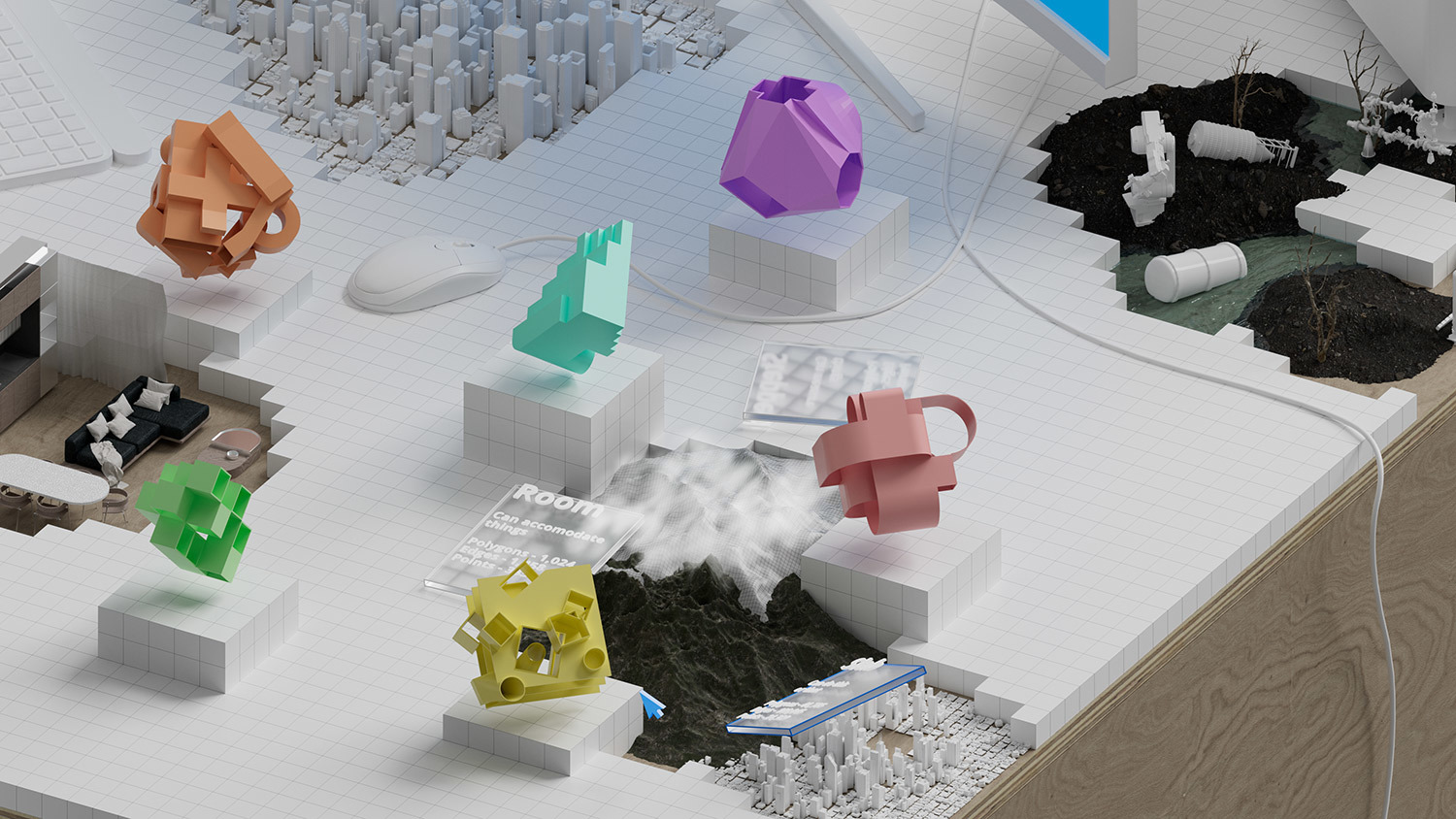 The current zeitgeist of architecture calls for the re-examining of program and function. Architecture remains in constant flux, likewise the function of a program is ever changing. Common Objects is an interface that seeks to explore morphological objects and their performance; not through a discovery of their meaning, but through spontaneous interpretation that is unique to the user. The interface acts as a digital double between the interpreter and the objects, merging the physical and digital environment to give new meaning to the common objects. The aspect of the interface become an active participant within the environment, rather than being a 2D overlay. This interface is void of any conventional naming systems, allowing the user to break free from the naming problem, or the synchronous program form relationship that has formed through linguistics of interfaces. Instead of developing authored objects that get rationalized to a program or developing a functional form that is an accumulation of optimized object; this uncontaminated interface seeks to develop undefined objects through environments and materials and to re-imagine what program and function can be. The objects can be re-purposed into new scale and context, allowing the object to remain in-flux.

Jordan Micham (M.Arch 2)
Advisor: William Virgil
Reflections of Utopia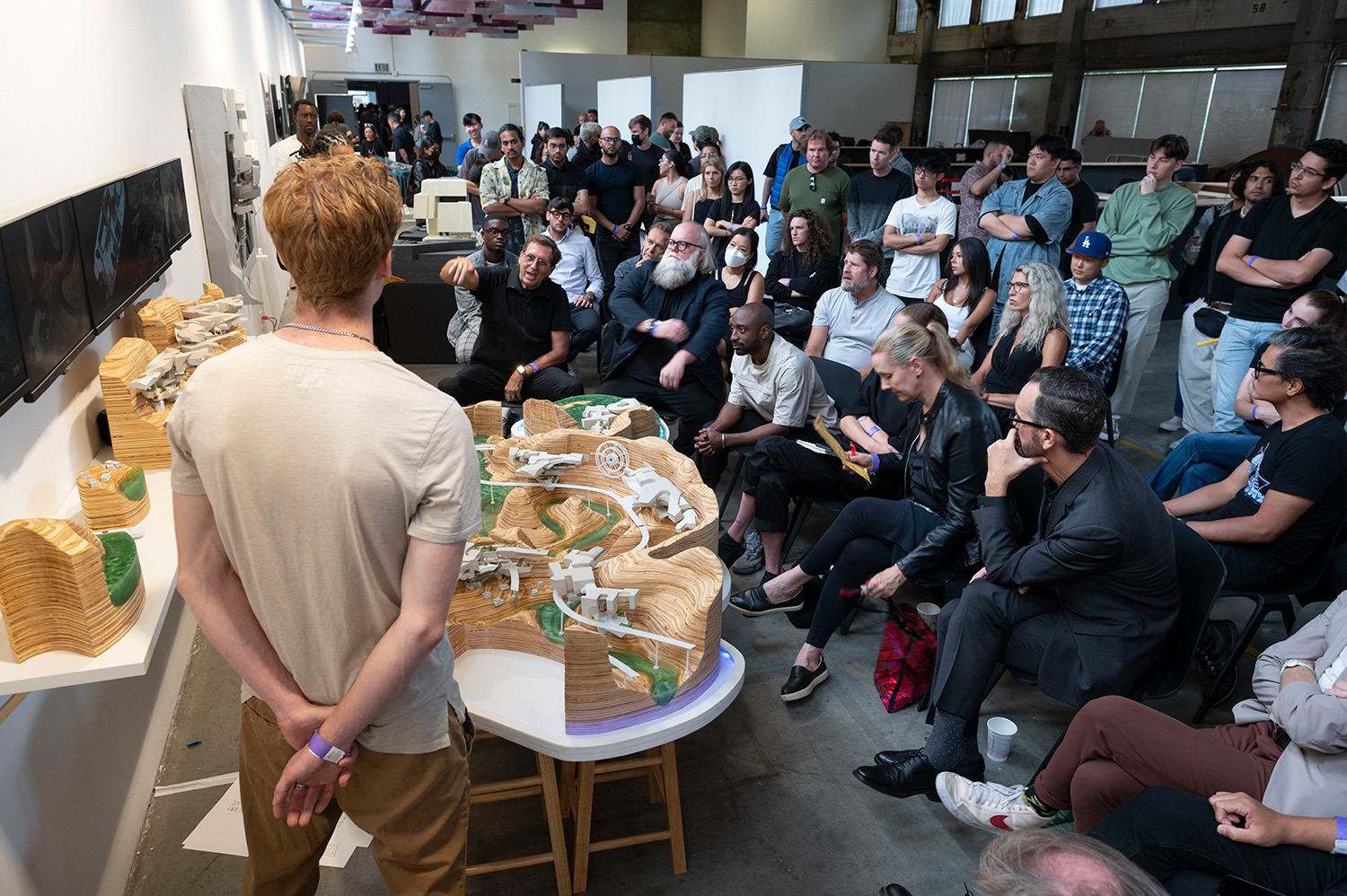 Reflections of Utopia sets up an ecological commentary discussing the current trends of a reclusive society through a fictional lens. Situated deep up the Colorado River in an extension of Lake Powell, the site requires either a ten-mile hike, or a fifty-mile boat ride from the nearest marina stationed in Page, Arizona, to gain access. The man-made lake created by the Glenn Canyon Dam has been supplying much of the west coast, including Los Angeles, with fresh water and hydroelectricity since it was built in 1963. Since it was filled in 1980, it has been rapidly receding, and is now only thirty-five feet from being unable to produce power (the water level receded approximately forty feet this past year). Even amidst extreme drought and heat crisis, we continue to ignore the warnings and only accelerate in our consumption.


Influenced by Netflix documentary Wild Wild Country, and subsequently it's parody on Documentary Now! "Batsh*t Valley", the project is initially framed through an infomercial for an absurd vacation resort which uses cult-like recruitment techniques to isolate a particular demographic and manipulate them into forming a lawless city-state in the middle of nowhere. At roughly eight-million square feet, the intervention overwhelms the canyon void with extravagant building forms, transportation systems, and amusement park rides. The utopic paradise is intended to be a community isolated from the rest of society- only comprised of like-minded individuals with no concern towards alternative perspectives. It is meant to be representative of the tilt in social media towards rallying around controversy and supporting individuals that express radical views.


After setting the stage with the project's origin story, the lens shifts- stepping back into a much broader perspective. It is at this point where the dimension of time becomes distorted, allowing you to view the city's entire lifespan all at once, drawing reference from Kurt Vonnegut's Slaughterhouse Five. Meanwhile the staging of the presentation is referencing a series of paintings by Thomas Cole titled The Course of Empire, in which he illustrates five scenes portraying the rise and fall of the Roman Empire. While The Course of Empire examines a historic fragment from the past, I have developed an interpretation that looks to the future through placing the project within modern day context. Similar to Cole's paintings, the project is viewed from a distance at five distinct moments in time: Savage (natural) State, Arcadian (nomadic) state, Empire, Destruction, then Ruins. Enlarging the frame of reference to a larger scale allows us to look at humanity and our expansion from a third-person perspective, which allows us to recognize the cycle and admit our flaws.

In the words of Thomas Cole, "There is the moral of all human tales; 'Tis but the same rehearsal of the past. First Freedom and then Glory—when that fails, Wealth, vice, corruption—barbarism at last, And History, with all her volumes vast, Hath but one page."


What Cole is trying to convey is that yes, the world is our playground. We can live carelessly and continue down the rise and fall cycle of civilization, or we can learn from our past and attempt to break the wheel. What we put out into the world is very much permanent, and we would be wise to be conscious of the past which we leave behind.


Kait Cartmell (M.Arch 2)
Advisor: Damjan Jovanovic
New Animal Machine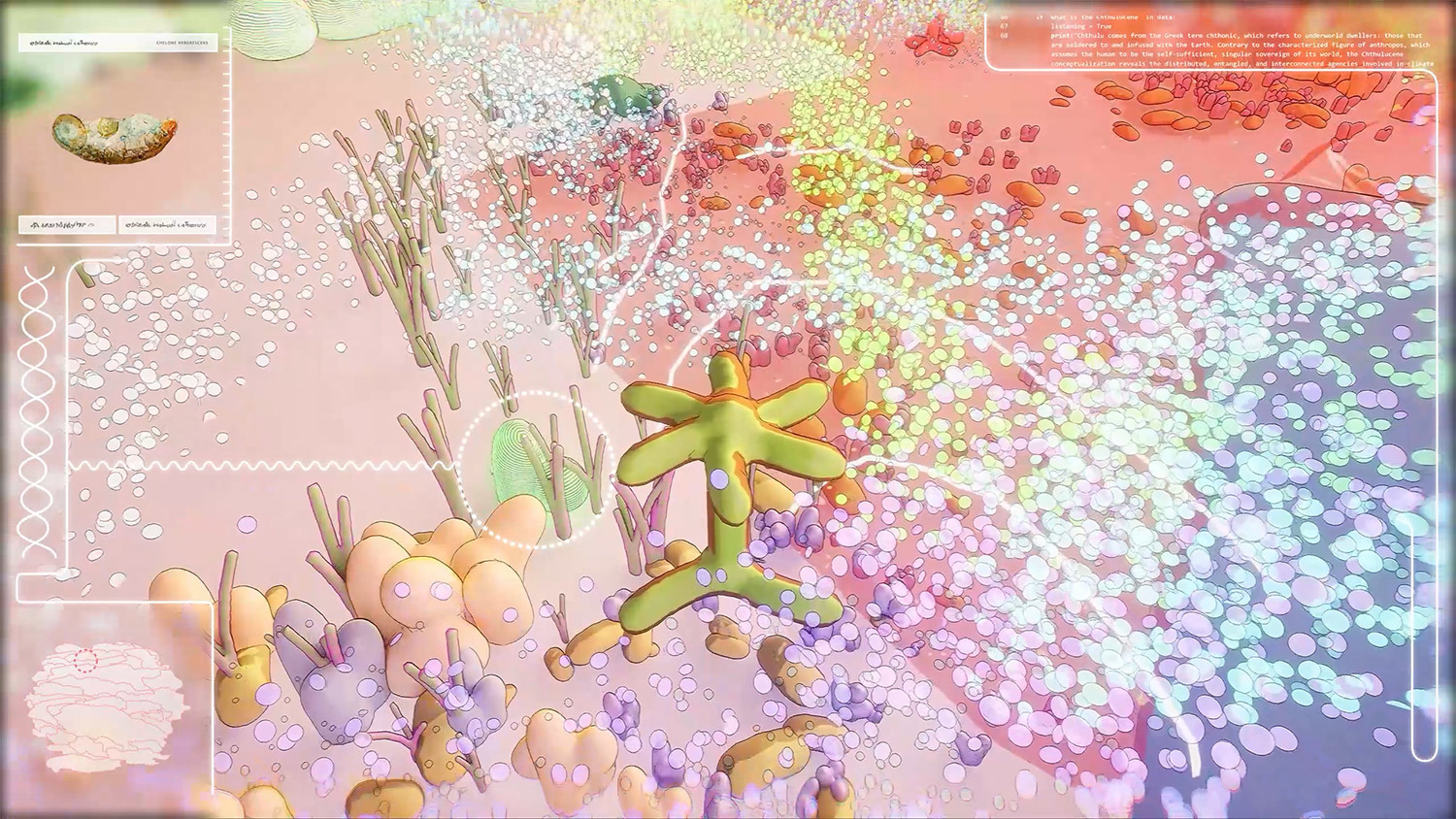 Situated within the Digital Space and after Computation, this New World is formatted in a post-anthropological world - one where the New Animal Machine takes the title of main character. As spatial actors, humans have long been agents of environmental change while separating themselves from the natural order¹. Referencing Donna Haraway's Cyborg Manifesto, the New Animal Machine takes on the form of an evolved human. If humans are not natural but are constructed, like a cyborg, then given the right tools they can be reconstructed. Being a cyborg is not about the freedom to reconstruct oneself, it is about networks. Cyborgs, like an old forest, are a collection of networks, constantly feeding information, like carbon, back and forth across the line to the world wide web.²

The carbon in this New World becomes entropic transformation and this evolved human form coexists with the Entropic Species, affecting each other and moving between the opposite spectrums of decay and growth. Depicted as a gradual decline into disorder, Entropy becomes a character itself as it participates in the simulated cycle. If the profane is what disrupts order (from the human point of view) then the sacred represents cycles of life that are consistent and predictable.³ The shift between the sacred and profane is an important tension that the characters participate in. In this world, brought to the forefront is what humans have hidden from their eyes and now becomes an essential part of the New Animals' lives.

Computation, although not new, can now be utilized by actors as a means of perception⁴. It makes up the Network, which is the web in which all species exist together. In the Network, all species are dependent on each other. The New Animal Machine becomes the coders that pass Entropy and nutrients from system to system. Its composition changes to participate in this computation. Now, an adaptation from the shape we associate with the human, the New Animal Machine updates its code to match the language of its surroundings.

Our new characters take on a tentacularity that is about life lived along lines, not at points or spheres.⁵ Entropic species well understand their connection to their home network. Through their view, connections between species, earth, and themselves are scripted through the senses. They are extended in all directions, collecting data. In this New World, creatures of all kinds create generations of interlaced trails.
1. Rania Ghosn and El Hadi Jazairy. "Geostories: Another Architecture for the Environment", Design Earth, 2019.
2. Donna Haraway, "Tentacular Thinking; Anthropocene, Capitalocene, Chthulucene," 2016.
3. Judy Kuo, "Deconstructing Bataille: The Sacred and the Profane," 2015.
4. Benjamin Bratton, "Some Trace Effects of the Post-Anthropocene: On Accelerationist Geopolitical Aesthetics," E-Flux #46, 2013.
5. Donna Haraway, "Cyborg Manifesto," 2000.



Charlie Allen + John Siu Lun Chan (M.Arch 1)
Advisor: Soomeen Hahm
Orthopolis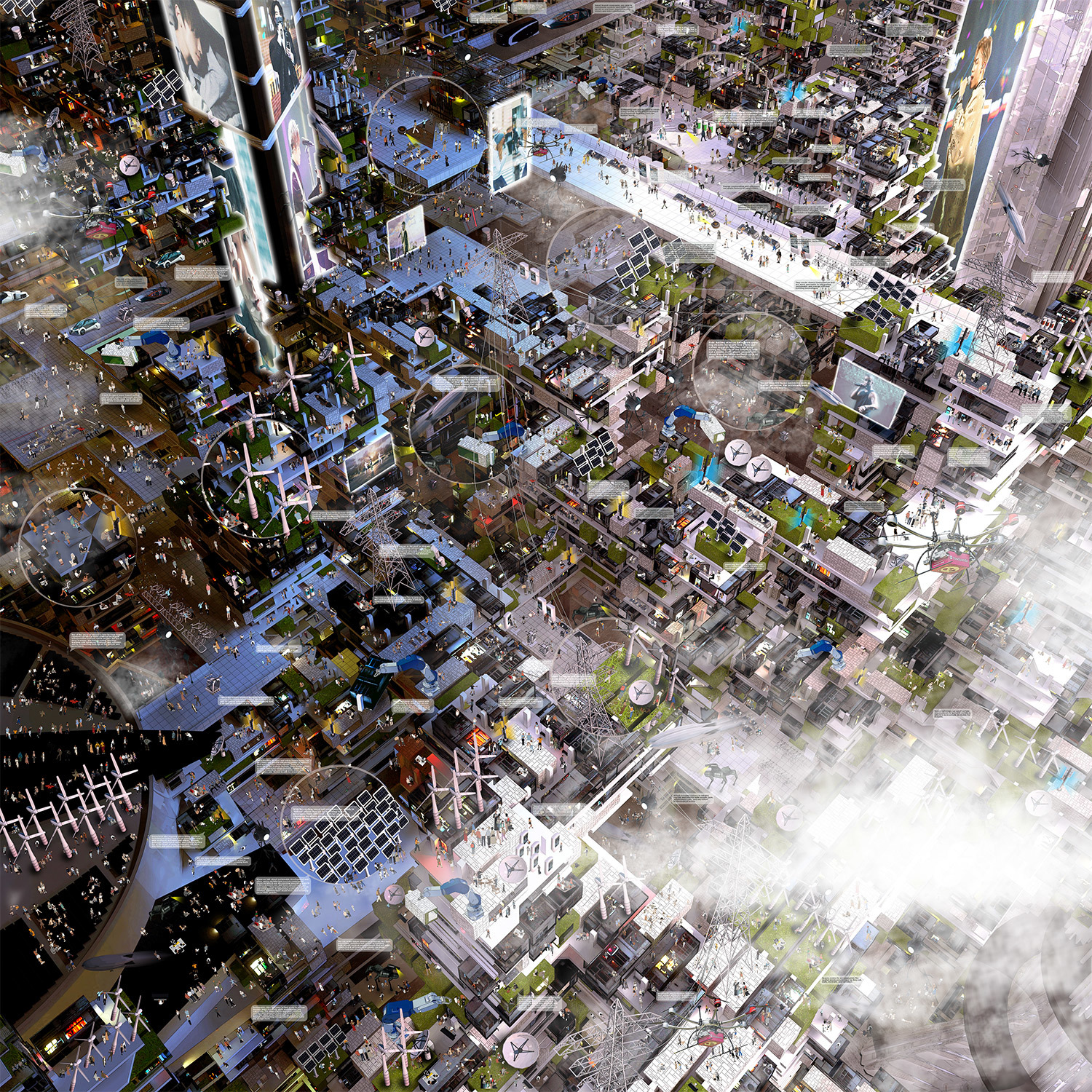 "Roads? Where we're going, we don't need roads."
-Dr. Emmett Brown in the film: Back to the Future
Our project speculates into a future where the street is no longer beholden to either human driven or privately owned and parked cars. Further, our right to air is viewed with a higher regard as the city breathes, and the world seeks to sequester CO2. With the anticipation of new vehicles and new spatial politics, comes an obfuscation of the line between building, dwelling, car, and street as they begin to coalesce into a single organism. Independently intelligent, and collective in their aggregation they hinge neither on single author nor design firm, but on the citizens, themselves serving as sensors.

Our aim is to conceive an intervention that will free us from the arrested development inherent in contemporary design projects today, where a decade often separates completed project from the data on which its based. Instead, we propose a leveraging of modularity and mass production to decentralize design and aggregate an ever-evolving urban organism.


After plundering the sordid canon of urbanism we plucked one prescient word from our furiously crumbled copies of Situationist literature that highlight architecture's, and certainly our intervention's, raison d'etre: possibility. Whether it is outrunning sea-level rise, drought, fire, storms, technological shifts, geo-politics, viruses, or any number of dangers and sources of violence, we must cling to and hold to the grander idea that our cities can and must move, drift, and drift with us.

Chris Biao Cao (M.Arch 1)
Advisor: Anna Neimark
Urban Texture: A Campus in Schenzhen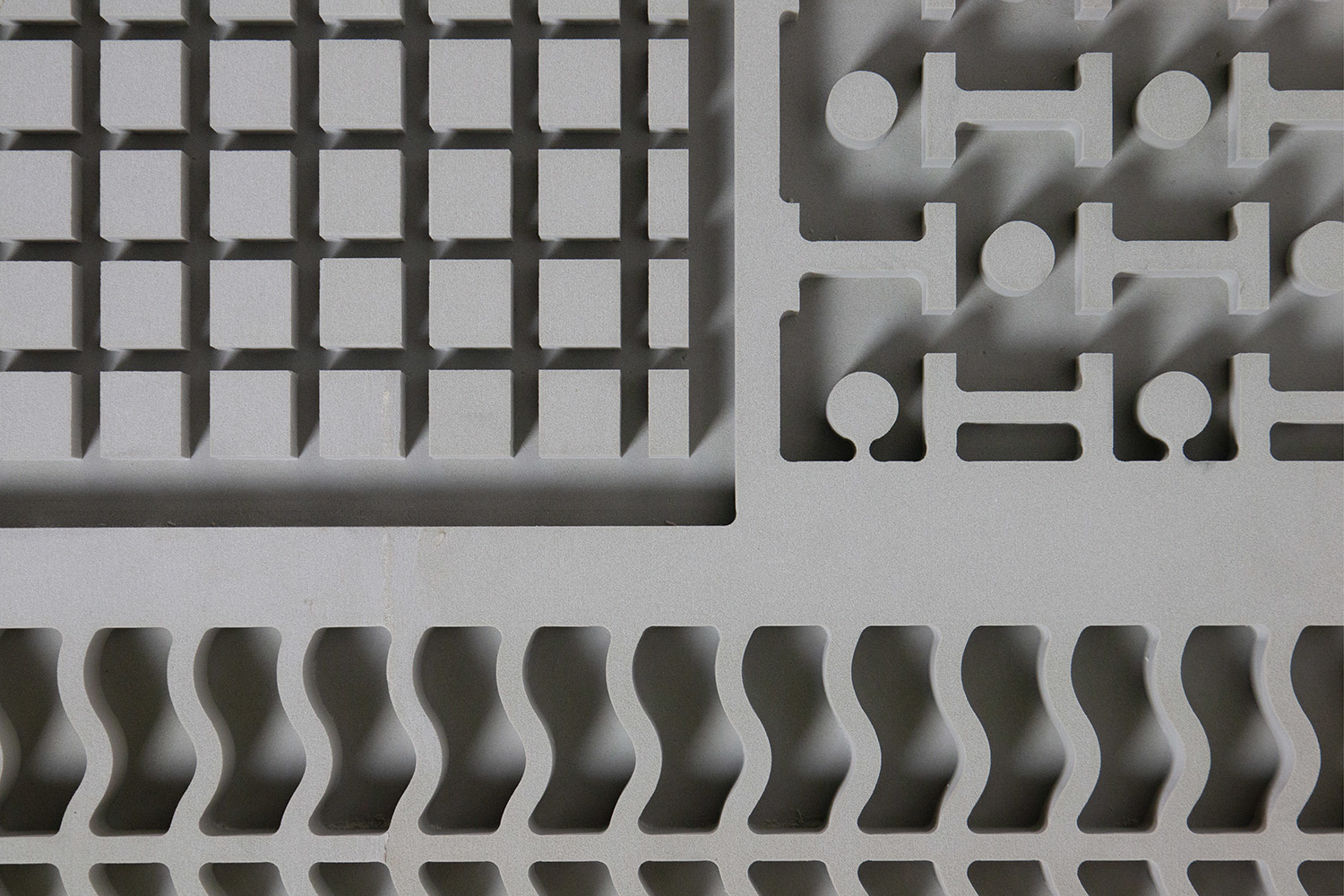 The campus is a very important place. It provides people with many vital spaces, private and public. When we discuss the campus, we must address both: architecture and landscape. Buildings alone can exist anywhere, in the city or in the countryside, but buildings alone do not make communities. 


The campus is different from other spaces in the city because it is built around an infrastructure of public space. Its multiple textures of trees, light and shadow, water, lawns and gardens, plazas, parks, pavements, and paths offer a collective space to connect as a community. The landscape is the most important part of the campus. 


The model for this experiment will be the city of Shenzhen. With the continuous development and renewal of the city, Shenzhen is facing problems, such as a sharp increase in urban population density and limited land resources. As a result, old buildings are constantly demolished, and high-rise buildings are rebuilt for people to work and live in. In such an urban renewal process, buildings occupy a lot of usable space in the city, and outdoor space is drastically compressed. 


The campus will be designed as a project including landscape and infrastructure, where the landscape will be composed of multiple textures, and then a new infrastructure will be designed to connect the buildings. This project will use CNC milling techniques to create a physical model of the multiple urban textures: a campus in between the buildings. Make landscape and infrastructure into different layers, and stack them together to form a physical model. 




Shuang Feng + Tianze Wu (M.Arch 1)
Advisor: Peter Testa
Out of House and Home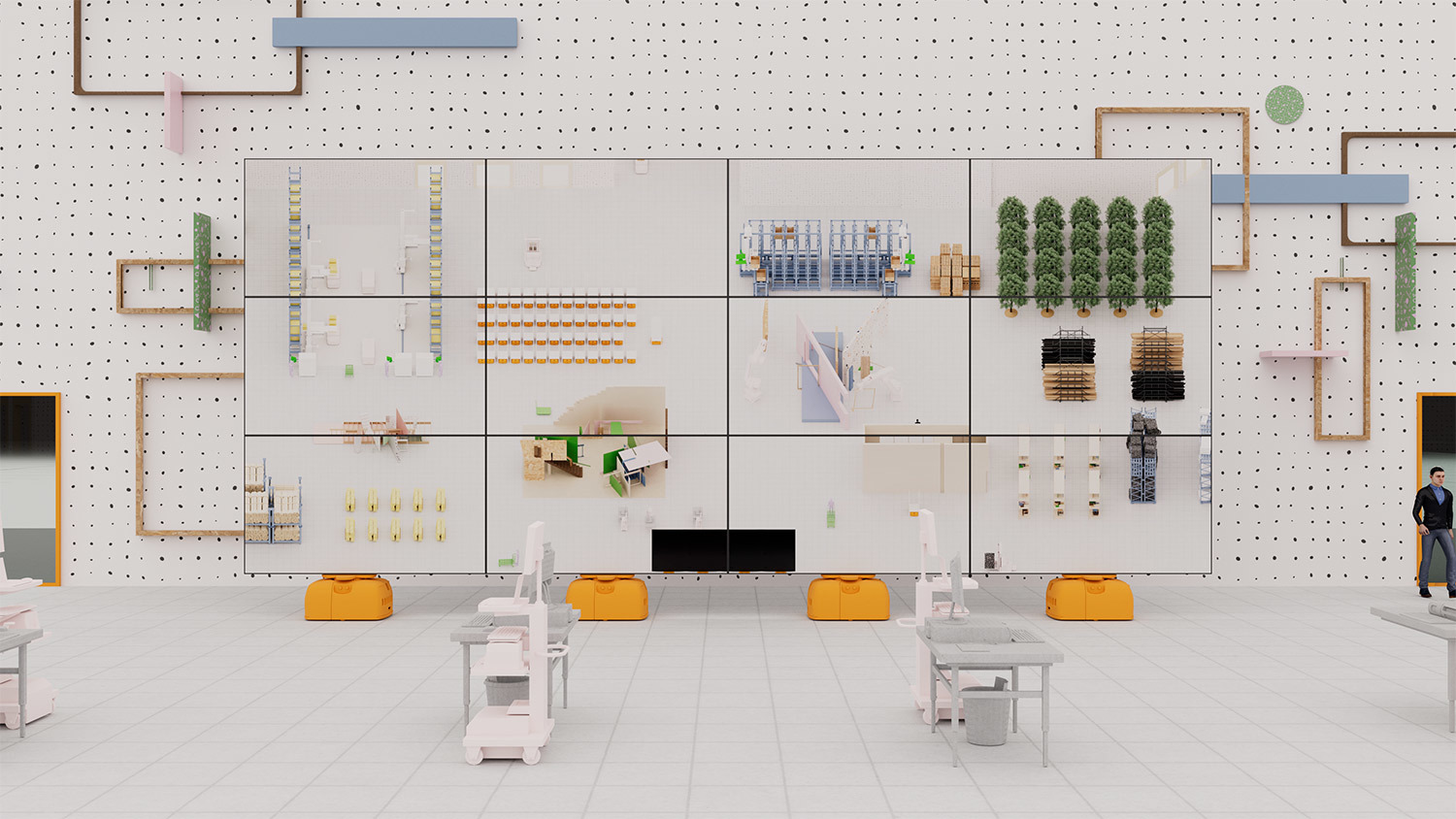 Our thesis title is "OUT OF HOUSE & HOME." The Thesis situates itself within the idea of the reconfigurability and transformation of spatial models with non-standard materials (particularly upcycled materials from C&D waste) and assumes a business model around this idea.

Spatial models that exist in the factory and warehouse typology have always been organized around efficiency and consumerism. A series of standard classification systems are established to manage categorizable materials and products.


Traditional Home supply stores are always organized in a warehouse of uniform rows with over-scaled shelves. With the intervention of artificial intelligence, factories like Amazon started to use robots to sort and distribute their products. Both spatial models are based on the standardization of inventories and meet efficiency.


When the inventories can't fall into predetermined categories, how will they influence the spatial organization? Materials that come from the demolition of buildings, construction waste, and landfills are considered non-standard materials that become the changing inventory being updated regularly. They open new possible spatial layouts for us to rethink the "traditional" warehouses, material sourcing, labor practices, and consumer economies. 


As designers, we take the position not only is there an opportunity for a new aesthetics of upcycling but potential business models that move between physical and digital platforms, or what may be called phygital retail. 


Current business models like Rotor DC or Restado, are more like a database that gathered information on C&D waste, soon-to-be-demolished projects, and manuals on how to deal with these salvaged materials, some may provide additional services (clean, rent, dismantle, etc.). However, in their models, the customers are not involved in the process after they placed an order. While in our case, we are introducing a digital platform/tool that would help them to have a more straightforward idea of how they can design and create their own version.


The interface constantly shows the different ways space may be arranged; some upcycled demos and samples (from discrete pieces to new assemblies put together by upcycled material) that allow people to construct by themselves and serves as a virtual world for them to view materials, configurations, and so on. Instead of space planned and fixed in advance of material inventories, we reverse the logic and customize layouts depending on the changing inventory of upcycled materials. The intention is to let this digital platform work with existing C&D waste and explore the possibilities of spatial layouts and how architectural assets can be processed digitally, and eventually start to learn from these models and apply them to the real world.

OOHH Interface
OOHH Fiction




Jiaxin Li (M.Arch 1)
Advisor: Mira Henry
Floating Sustainability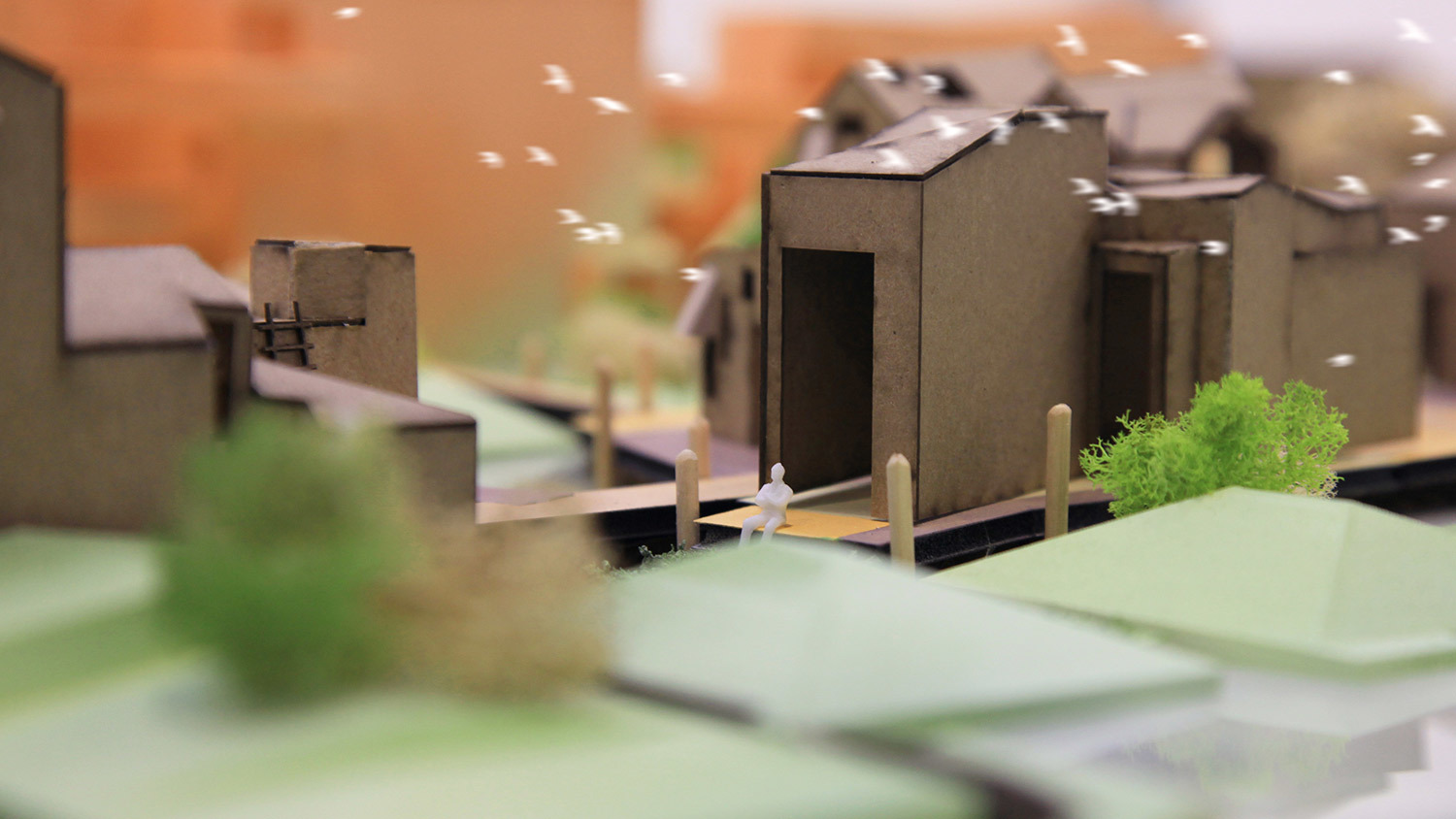 Sea level rise due to climate change will reshape coastal cities, wrecking damage and putting some communities underwater. This project explores the development of an amphibious community over 100 years in a submerged neighborhood in Venice, Los Angeles.

The neighborhood's history, spatial and social relations are considered while layering a climate change outcome onto it to advance a solution specific to the area.


Rising waters presents an opportunity to release us from the constraints of privatized, single-family homes as the dominant way in which contractive elements exist in present day Los Angeles.

Using the dissolving hard boundaries and property lines as a device, the space is reclaimed through the evolution of an infrastructure that connects people to the submerged properties.


This thesis presents infrastructure as a space more expressed as connecting rather than being hidden.



Yujia Fang
Advisor: Marcelo Spina
Beyond Tabula Raza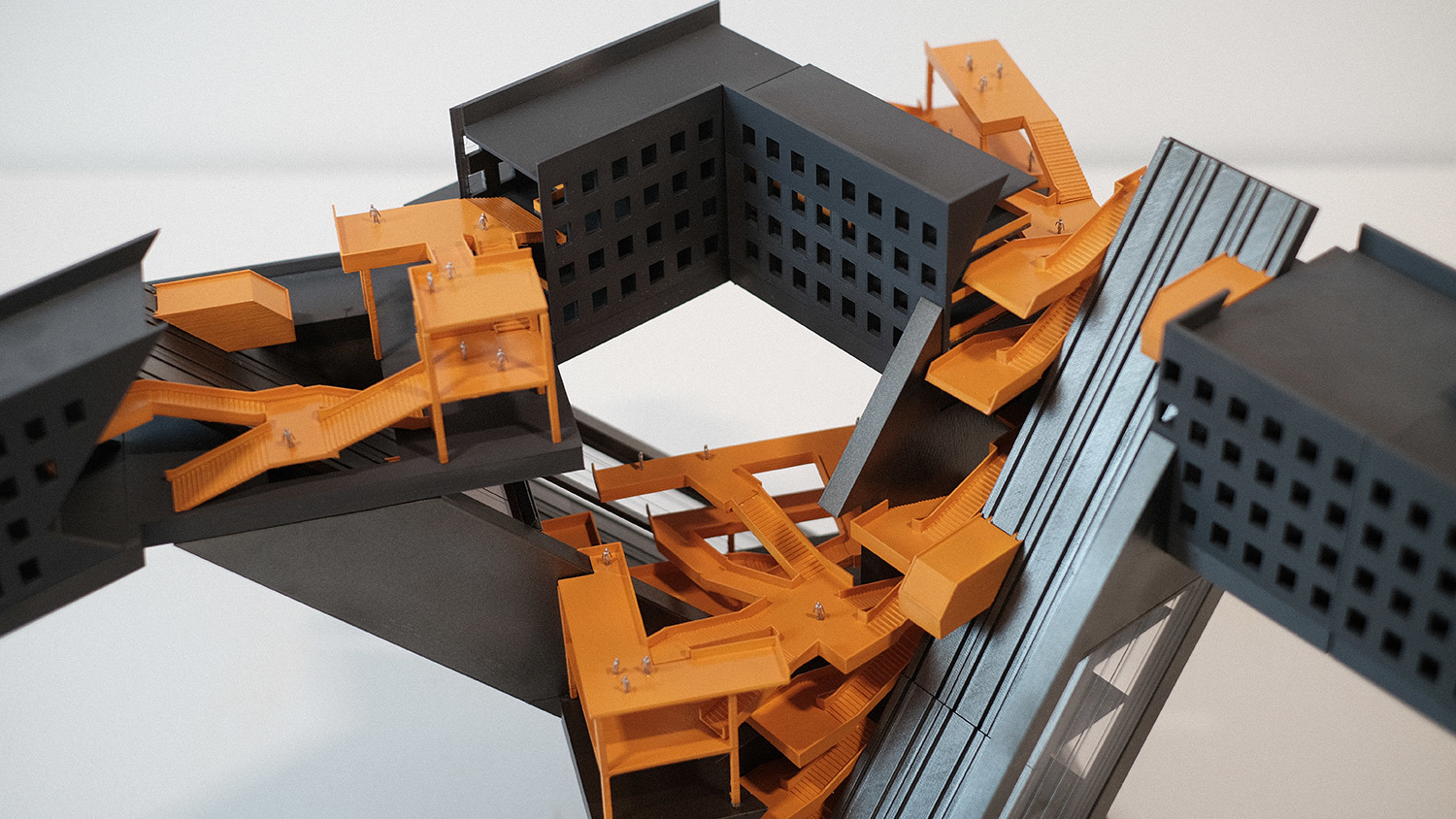 An Additive and Subtractive Spatial approach to Urban Renewal for China existing dense Urban Villages.

Rather than merely continuing the mainstream tendency in China to completely erase the past in pursue of urban renewal, and at the same time, continue to advocate the need to progressively intervene in our cities while creating a new village typology for all. My thesis speculates on a radical albeit plausible middle-ground between Tabula Raza and pure preservation.
To achieve this, I have subjected my project to some of the predicaments of Jane Jacobs, not to abide by her anti-development approach but to suggest that these ideas can still be used nowadays while supporting innovative spatial frameworks for intense living and dense communities.
High density of building happens due to old urban planning, they always create unhealthy living conditions and fascinating social systems. Nowadays, demolishment is taking place in many countries to rebuild a standardized urban environment. Along with this, the old fascinating social systems, contain a few programs and organizations developed naturally by the original communities., were destroyed together. Refer to the four essential conditions required for Diversity urban community indicated by Jane Jacobs. Sufficient Building Densities, small blocks, building from many different eras, Mixed land uses. The goal is to reform the village typology within the same social system.


Betty Ziyin Gu + Joy Xinyi Ma
Advisor: Elena Manferdini
Tech-No-Lonely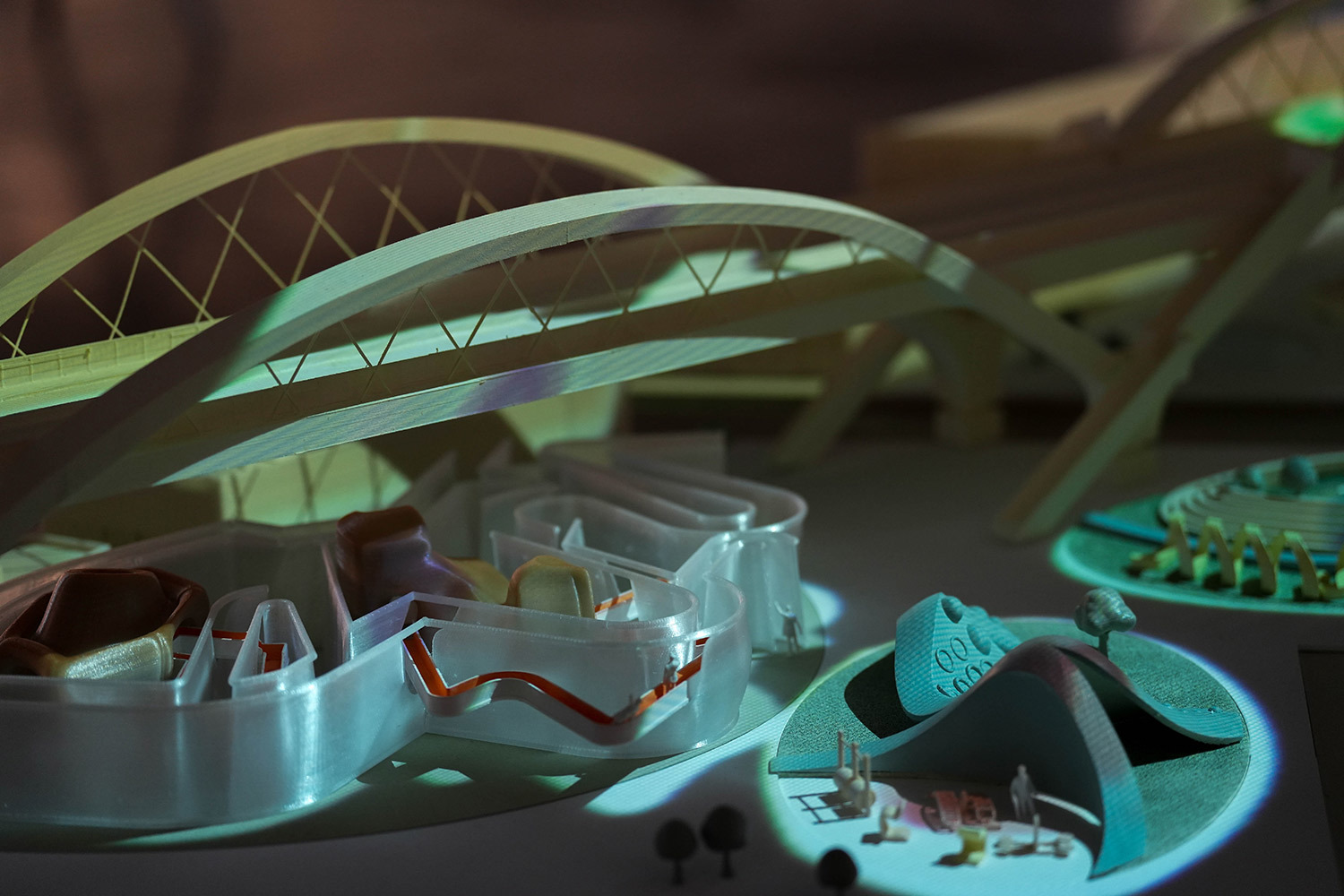 This thesis aims to experiment how new social interactions can be cultivated through the combination of an online digital platform and a physical space, specifically within an adult playground. This experiment lands itself in the open flexible play spaces of the proposed park being constructed beneath the new 6th street viaduct. The location of this site not only appeals to the younger generation as it is centrally located within the city of Los Angeles, but it also allows for cross-pollination between the neighborhoods of Arts District and Boyle Heights. This approach reimagines traditional settings for new social connections into one that is simultaneously digital and physical- a hybrid of the two worlds. The allure of online connections and interactions stems from its accessibility, its allowance for an alternative persona, its anonymity, and its abundance of choice, how can we play upon this psychology and reimagine it within a physical environment? Can this result in a typology that can reflect the individual expressions and cultures of the younger generation?

By designing a maze-like environment with hidden programmatic follies nested within it, we wish to visualize how technology could help enhance the experience of a physical environment and how various social interactions can simultaneously occur within this environment. As our phones have become an integral part of our daily experience, almost a physical extension of our body, we propose a wholistic online platform that encompasses an AR navigational system, AR compatibility games to help its users navigate, discover, and explore new connections and experiences. Visitors of this playground will find themselves immersed in both the digital and the physical world as they explore these new grounds for social interaction.