SCI-Arc Announces Acting Undergraduate Co-Chairs and History + Theory Coordinators
SCI-Arc is pleased to announce that acting Undergraduate Program Co-Chairs have been selected, in coordination with SCI-Arc STUN and undergraduate faculty. Acting and History + Theory Coordinators have also been selected. Effective immediately, acting Undergraduate Program Co-Chairs will be William Virgil and Darin Johnstone and acting History + Theory Co-Coordinators will be Marcelyn Gow, Erik Ghenoiu, and John Cooper.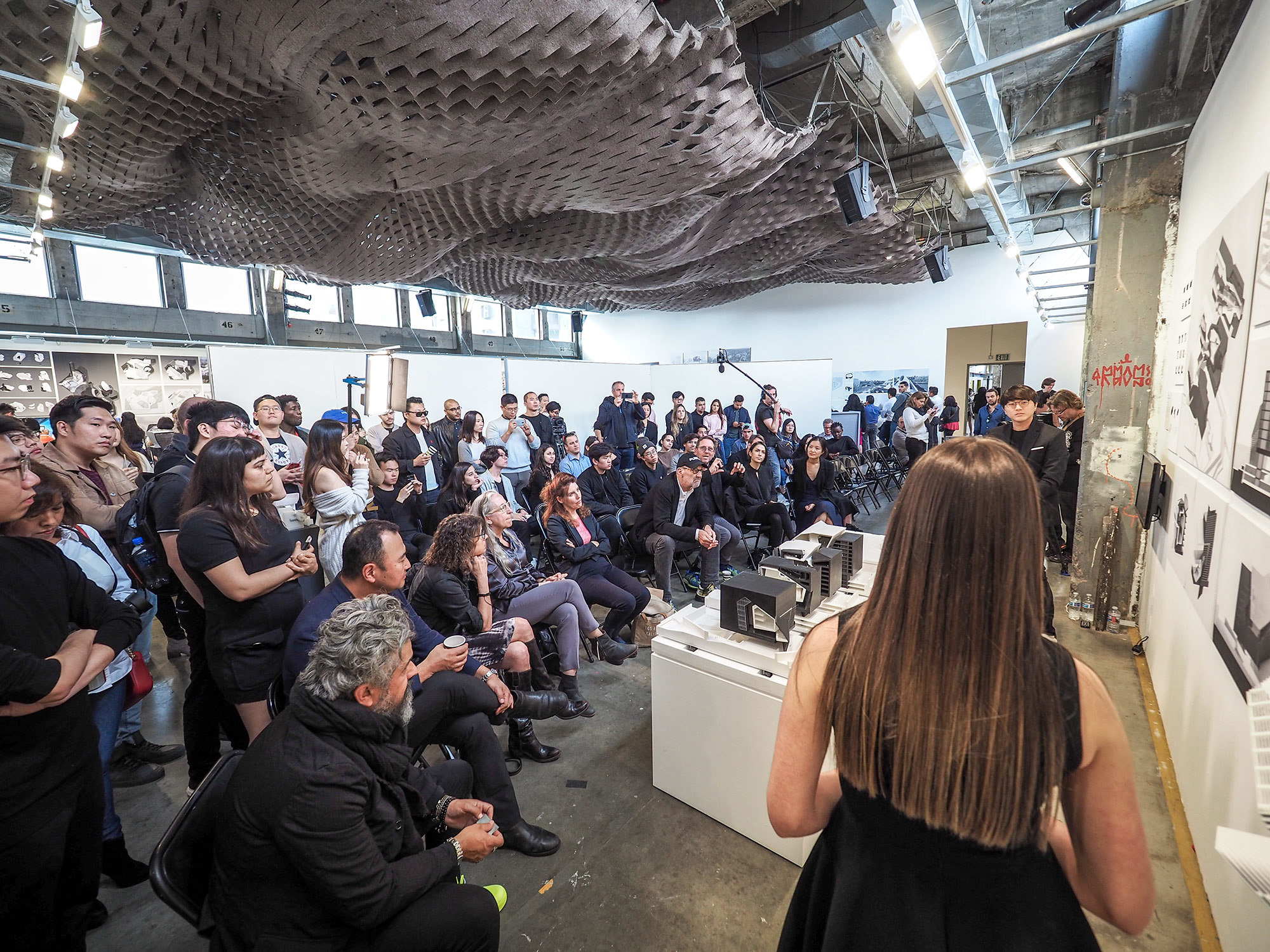 Shared Gow, Ghenoiu, and Cooper in a collective statement, "Our appointment allows for a moment of experimentation in a time of transformation: to test received hierarchies of organization by working together through shared consensus, and afford extra openness to student involvement in shaping what 'history' and 'theory' include. The practice of architecture is stratified both by glaring inequalities of power, and by radical acts of creativity that bring completely new kinds of collective life into existence. So now is a good time to work together to rethink what History + Theory can do at SCI-Arc—and to do this collectively."
"We would like to acknowledge the appointment process and thank the students and faculty for trusting us to collaborate with them during this time of reflection and transformation. SCI-Arc, as an institution, has the power to shape a new generation of bright minds capable of changing a culture that for decades often valued quantity of work versus quality of life," acknowledged Virgil and Johnstone in their own statement.
"With the pandemic's challenges and the awareness for social justice, people have realized the correlation between happiness and their voice. Recognizing the situation is the first step to transforming a culture; eradicating abuse of power is the backbone of any social movement," Virgil and Johnstone continued. "The world is looking to SCI-Arc to lead and put forward the steps to correct the conformity of labor oppression. It is our responsibility to enable positive change from within while continuing our dedication to experimentation and design excellence."
William Virgil (M.Arch 2 '16) is an artist, educator, Army veteran, cofounder of Brash Collective and Design Studio, Visual Studies faculty, and Making+Meaning Coordinator at SCI-Arc. Virgil holds a Master of Architecture from SCI-Arc, a Master of Human Resources, and a Bachelor of Architecture from Florida International University. Virgil has acted as a guest critic at Rensselaer Polytechnic Institute School of Architecture (RPI), Syracuse, and Kent State Universities. Before returning to teach at SCI-Arc, he lectured at RPI. While studying at SCI-Arc, Virgil both taught as an assistant to Frank Gehry in a studio examining Prisons of the Future and collaborated with Gehry Partners. He has also taught studios and seminars in SCI-Arc's Design of Cities postgraduate program. Virgil's work has been exhibited domestically and internationally at Hauser & Wirth, A+D Museum, LACI LA Kretz Innovation Campus, SCI-Arc Gallery, One Night Stand LA with Familiar Primitives design team, Kent CAED, Armstrong Gallery in Ohio, and Arsenal Gallery in Poland. His research operates by a deranged consumption of visual culture. His detail-oriented work prioritizes high craftsmanship while obsessing with creating high-level details in computational modeling. Virgil's interest lies in multidisciplinary formal design explorations between ordinary objects and eccentric modeling techniques. As digital refinement allows him to reference architecture history and notions of class and value while generating work that acts as a portal for reflection on new forms.
Darin Johnstone is Design Studio faculty at SCI-Arc and a Los Angeles-based architect and educator. He is Principal of DJA (Darin Johnstone Architects) established in 2004. DJA engages architecture as an overarching discipline accepting a wide range of design challenges spanning scales and genres. Recently DJA has designed and completed renovation projects and planning work for ArtCenter College of Design in Pasadena including the Ahmanson Auditorium, the Peter and Merle Mullin Gallery, and the Bruce Heavin and Lynda Weinman Alumni Gallery. Johnstone's work has been exhibited internationally and published in Architectural Record, Azure, Domus, Dwell, Form, Frame, Interior Design, Los Angeles Times, Surface, and Architect's Newspaper amongst others. Johnstone has received numerous awards including multiple AIA awards for built works and grants for academic endeavors. He also led a collaboration between SCI-Arc and Habitat for Humanity resulting in the design and construction of the multi-award winning IVRV house. Johnstone received his Bachelor of Architecture from California State Polytechnic University of Pomona and a Master of Science in Advanced Architectural Design from Columbia University.
Marcelyn Gow currently serves as MS Design Theory and Pedagogy Coordinator and teaches design studios and critical theory seminars at SCI-Arc. Gow is also principal of servo los angeles, a design collaborative invested in the development of architectural environments integrating synthetic ecologies with shifting material states. servo's work has been exhibited at the Los Angeles Municipal Art Gallery, Venice Architecture Biennale, Centre Pompidou, Archilab, Artists Space, the SCI-Arc Gallery, the MAK Center for Art and Architecture, the Storefront for Art and Architecture and SFMoMA. Gow received her architecture degrees from the Architectural Association and Columbia University, as well as a Dr.Sc. from the ETH Zurich. Her doctoral dissertation Invisible Environment: Art, Architecture and a Systems Aesthetic explores the relationship between aesthetic research and technological innovation. Gow has lectured internationally and contributed to numerous journals including Perspecta, Via and AD. She is the co-editor of Material Beyond Materials and Onramp 4. Gow was the recipient of a 2012 Graham Foundation Grant to Individuals and a 2014-15 City of Los Angeles Department of Cultural Affairs Visual Artist Fellowship.
Erik Ghenoiu currently serves as Research Coordinator, Learning Assessment Coordinator, History + Theory at SCI-Arc. He writes about visual urbanism and design theory in Europe and the United States from before the First World War and after the Second, and on contemporary issues of urban transformation and emerging architectural philosophy. He previously served as the Manager of the Harvard-Mellon Urban Initiative, where he coordinated urban research involving more than twenty departments and institutes across Harvard. He was Adjunct Associate Professor of Graduate Architecture and Urban Design at Pratt Institute, where he also served as Director of Publications for the School of Architecture. He has taught or been a fellow at the City College of New York, the University of Queensland, Parsons, Queens University Belfast, Harvard, Freie-Universität Berlin, Technische Universität Berlin, and the University of Wisconsin-Madison. Ghenoiu received an MA in the History of Art and Architecture and a PhD in Architecture from Harvard, a MS in Geography from the University of Wisconsin-Madison, and a BA in Geography from Clark University.
John Cooper is History + Theory faculty at SCI-Arc. Cooper's work crosses investigative research, publication, performance, event design, and curating. 'The Dancing Image' (RES, 2020) analyzes the history of images of the body in states of extraordinary metamorphosis as prefigurations of anticolonial violence in 18th and 19th century India, England, and the Caribbean. 'Curly Crown' (with Mira Henry, Log, 2020) presents a deep history of LA street architecture through a conversation in movement. 'Spirit Level' (Party Planner, 2022), investigates the prefigurative power of model architecture in Jamaican street carnival of the 1830s. Cooper is currently working on histories of anarchism and architecture, and the future of expropriation and redistribution of architectural resources as part of the Getty Pacific Standard Time Planet City project.