SCI-Arc Unveils New Robot Annex Pioneering AI Research for Affordable Housing
Early this week, SCI-Arc was proud to unveil the latest addition to its robot family with an event that celebrated the opening of the Robot Annex, home to the school's new ABB 6700 robot. The robot, funded by grants from the Ralph M. Parsons Foundation and Ahmanson Foundation, will be deployed to execute research led by SCI-Arc Architectural Technologies (AT) Coordinator and faculty M. Casey Rehm into the utilization of automatic fabrication techniques and Machine Learning (ML), to create highly customized cross-laminated timber (CLT). Supported by a grant from the United States Forest Service's Wood Innovations grant program, the project's goal is to make affordable housing less expensive to build.
The robot had been in storage patiently awaiting the construction of its new home since April 20, 2020, when it arrived from Switzerland to Southern California. After many permitting delays due to the pandemic and other factors—it took 584 days from submission to permit—the Robot Annex, an industrial tent in the SCI-Arc campus parking lot, finished construction last October. The robot and track were installed successfully in January 2022.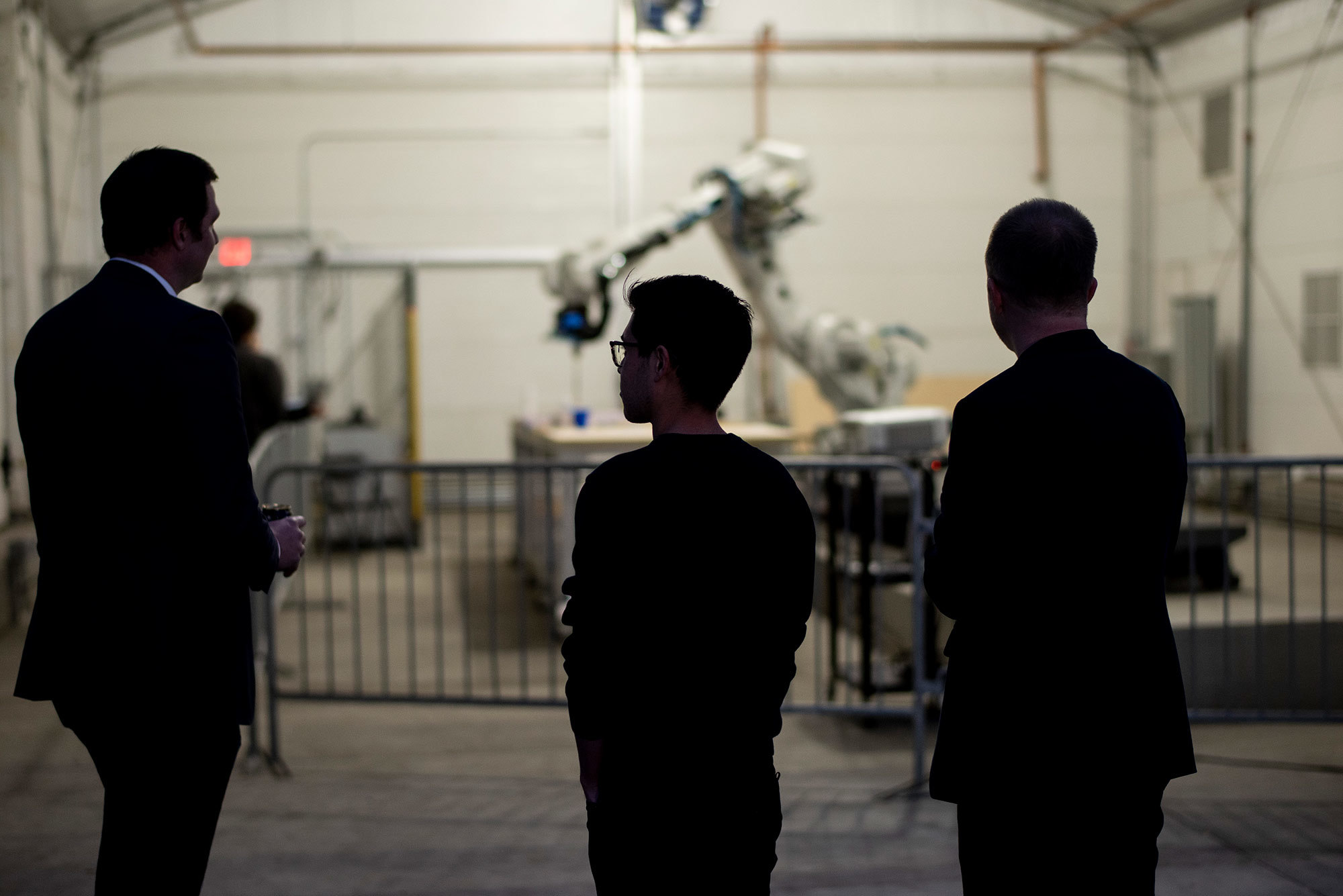 In the coming months, Rehm and his team of AT students, Carolina Garcia and Andrew DePew, will be experimenting with robotic fabrication for the CLT project led by Rehm. This project seeks to accelerate the market for engineered wood by developing a new process of automated design and production of highly customized CLT panels. The use of robotic fabrication ML will allow the prototyping of custom panels from low-grade lumber by strategically placing it in the panel layup without structural compromise, lowering costs and speeding production. Rehm and his research team will be using the Deep Learning Dev Box for training an artificial Neural Network capable of generating individual layup schedules according to programmatic and structural requirements.
"Not only have we advanced SCI-Arc's capacity to ensure that our students have opportunities to gain experience with state-of-the-art advanced technologies," said SCI-Arc Grants Manager Pamela Miller, "but we have started building a pool of government, corporate, and foundation partners for research addressing such critical issues as climate change and the affordable housing crisis, which have the potential for impact far beyond the institute's walls."
Parsons Foundation President and CEO Wendy Garen and Ahmanson Foundation President Bill Ahmanson spoke at the event, alongside Rehm, Garcia, and DePew. "Given everything happening throughout the world right now, it is so important to continue to have optimism for our future—and to support both the innovations that hold the key to creative solutions and possibilities, and the emerging young leaders who are up for taking on these challenges and making positive change," Garen said. "We are so glad to see how SCI-Arc is mixing technology with attention to environmental conservation as we look toward our future."
"Los Angeles is such a leader when it comes to the arts, to architecture, and to our universities and colleges—this project at SCI-Arc is yet another example of that excellence," added Ahmanson.
"We look forward to hearing about the advancements that you make, the positive effects it's going to have not just on architecture, but some of the other big issues like homelessness and solving those crises," he concluded. "We're so pleased to be part of it."