Alum Jackson Lukas on Working at DreamWorks, Embracing Skillsets, and Hairy Futures
Jackson Lukas was born in Manhattan, NY. He holds a degree in philosophy and a Master of Architecture from SCI-Arc. In his work since graduation, Lukas explores a range of visualizations in the medium of CG Hair. He has worked for a number of studios in LA, including ETC, Framestore, Prologue, and DreamWorks, as well as studios specializing in emerging mediums in CGI, like Insperience and dotdotdash.
We spoke to Jackson to learn more about his experience at SCI-Arc, current teaching practice, and thoughts on developing skills as a practical designer versus identifying as an artist.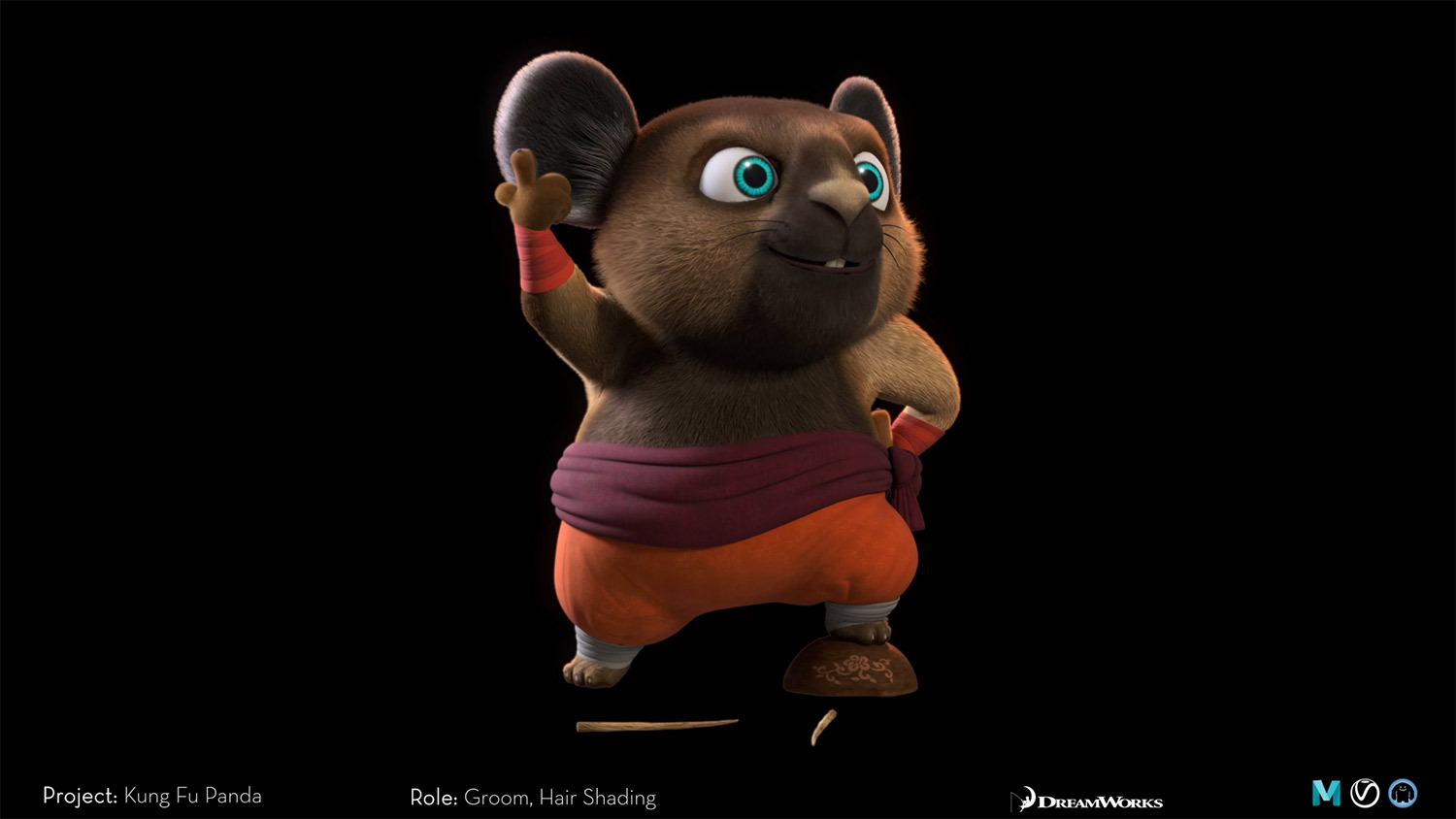 Hi Jackson, thank you for speaking with us. First of all, how did you first develop your interest in design and architecture?

I went to Italy when I was 10, and I grew up as a child in rural Pennsylvania. It completely blew my mind. We went to Florence and I remember being terrified of Vasari's frescos on the ceiling of the Duomo. When I came back to America, I remember feeling like things looked so shabby, and I started to try to make sense of it. I would ask my dad, "why do buildings look so bad here but so nice in Italy?" I became critical. I also grew up around artistic parents and we would travel every once in a while, so I was always exposed to design or the art world. But it's mostly from travel; I lived in Japan for a few years. I lived in India for a bit. The world is really fascinating—that really influenced me to want to build or create buildings.

How did you transition from that initial interest into going to SCI-Arc to pursue your M.Arch?

Because I wanted to start making things and SCI-Arc was the most exciting out of the places that I was researching. I studied philosophy, and then I wanted to do something more hands-on and creative.

Can you describe your work as a groomer and how you developed your skillsets into what you're doing now?

Well, it started in SCI-Arc where I had a lot of classes in 3D. I had a vertical with Hernán, and I was interested in hair, so I was making hairy building projects. I wanted to continue to do that, because hair is a fascinating process to make on a computer. It's also really challenging, and you need to know a little bit of everything in terms of a CG pipeline, so it fascinated me. Over two and a half years I built up my skills, made a proper grooming reel, and that's all I do now.

What first interested you in hair?

I think the simulation part, because I had absolutely no idea how to do it. There are some skills you can watch a tutorial for, for instance to see how someone sculpts a character in Zbrush. Or take surfacing; You may not know how someone has textured this thing or groomed that thing, so you make a guess based on what you know about Look-Dev, "Oh, I know how they modeled that, or I know how they did it." But for hair, I had no clue how anyone did it. It really invigorated me to try to figure it out.

What made you decide that CG was more the track you wanted to follow than building or designing buildings?

I think it's simple. I really liked movies. I like Pixar movies and 3D Disney movies. And I had always wanted to work on them. I just didn't know how. I didn't know what software they used, and I didn't think it was possible to learn when I was a kid. I mean, I never even thought of it. When I went to SCI-Arc, we learned Maya. So then I thought, "Oh, wow, maybe I actually can do this."

How would you say your time or your studies at SCI-Arc informed specifically your design process and workflow? As an educator now, how did your time at SCI-Arc influence the way that you teach?

I run my class similarly to the way SCI-Arc daily studios run. The students have a brief, I teach them some basic tools for hair, and then they make their own project. If a student wants to do a bird and they have to groom feathers, they can do that. [When I was at SCI-Arc] they were really big on producing, you had to produce every class. I'm the same way.

I'm also really big on the critique, and so were classes at SCI-Arc. You sit down and you talk about a project for half an hour. In SCI-Arc you have a conceptual and abstract conversation about the ideas behind the project as well as talking about ways to improve the project. Like, "do this here or do that there," kind of thing. My class at Gnomon is less conceptual and much more about how to execute the project and how to make something look right. For example, if someone's trying to create a bear, it's more, "Study this reference. Why does yours look different? Why does the fur not match? Okay." And then we talk about strategies to perfect it. It's much more technically driven.

It seems that SCI-Arc is a place where students can take so many different directions when they leave. Did you feel that way when you were there, that you wanted to expand what you were working on or working with?

No, not at first. Well, when I first came in, all I wanted to do was build. I love the architecture of Not Vital. He's a Swiss artist who makes small projects around the world with local people. I wanted to do that. I was looking forward to a really intensive class where you take a project and make drawings to explain how to make it. But then halfway through Maya was too fun. Visual effects were just too fun.

When I graduated, I felt like I could apply anywhere and I wanted to just get out there and start working in studios but I was totally deficient in my skillsets. I didn't understand how CG pipelines worked or what each role was called in a studio.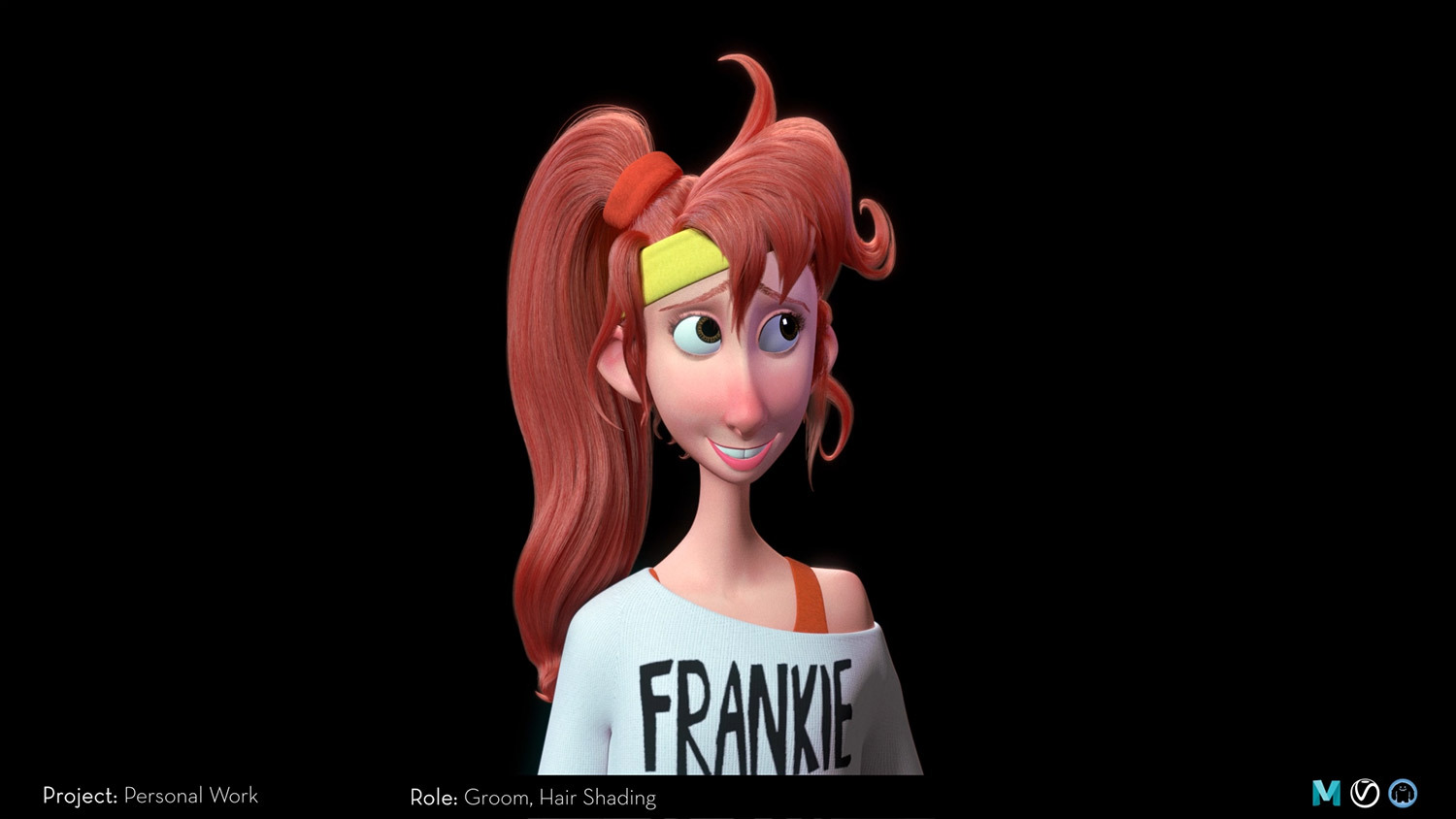 What was your trajectory like once you graduated and figured out what you wanted to do?

The idea was to get to a big studio one day. I tried to just pick up as much experience as I could. I was working in visual effects and went up to Portland to work for a friend, and then there I met someone who was working at Pixar for a while. He had his own little studio at the time, so he put me on some projects. And then he introduced me to someone here in LA at Framestore. Framestore is maybe the biggest visual effects studio in the world. They work on Marvel movies and Harry Potter movies; they work on everything. I would do three weeks at one studio, four weeks at another place, six months in another studio, and then eventually I just built up a reel and started to apply to grooming gigs.

As an educator yourself, what would you impart to the younger student version of yourself in terms of, like, the process of figuring out where you fit in in the industry that you're in?

I'd advise taking more classes in CG. In the summers, I was happy with the internships that I did, but I wish I would've taken some classes at Gnomon just to learn Surfacing or Houdini or Hair. Every once in a while, a SCI-Arc student will reach out to me, and they'll say, "Oh, you graduated from SCI-Arc, but you're working in CG and VFX. How did you do it?" And they'll be trying to get an internship in CG or VFX with their SCI-Arc skills, which is a bit incongruous with the software and skills the CG industry demands. I had to learn this the hard way because I'm naive.

At SCI-Arc we learn design techniques, but in the movie business I think it's important to know more specific skill sets like how to paint skin, or properly rig a dragon. There are just techniques and ways of doing things in CG that you don't learn in SCI-Arc because it's not the curriculum, because SCI-Arc is an architecture school. It's not a visual effects school. With the exception of Liam's program and Alexey's classes, we don't have that much exposure to CG processes like making explosions and compositions in Nuke, so it's hard to get those gigs out of school. If you're a third-year or fourth-year undergrad in SCI-Arc, trying to just get a basic internship in CG, try taking a few basic CG classes in what you like. There're so many classes online, and they're cheap. And then you have these incredible skills under your belt that you can take to SCI-Arc and blow everyone's minds or get the CG internship you want. So, I would've made myself take some classes.

What would you say are the most exciting projects that you're working on that you are able to share at this moment?

I really like the Kung Fu Panda project that I'm working on because we have a lot of hair. Almost all the characters have hair. We have a few new shows I don't think I can talk about that are from really weird angles. I do a few other freelance jobs, like with an artist [James Nares] back in New York that I've been working with to make large sculptures.

What are some goals that you would like to shoot for in the next five years, 10 years? Do you see your career evolving to a different place than it's in now?

I would like to be a groom supervisor, or I would just like to be a senior artist at Disney or Pixar or even DreamWorks. In order to get there, there's just a certain set of skills that I need to learn. I need to learn how to write in Python so I can write tools. I need to learn Houdini, because grooming is most powerful in Houdini, and that's what other studios use. Learning how to write pipeline. Not so much developing ideas about design or developing pedagogy as an artist. It's more about how I can be as useful as possible and innovative with my skills. After that I'm not sure.

How would you define yourself as an artist?

I'm a technical and commercial artist. I'm not an artist. When you graduate from SCI-Arc, I think kids have an incredible education. They have a lot of skills and great ideas. When you're at SCI-Arc you can incubate your own artistry and feel like an artist. SCI-Arc is a really special place because everyone's well educated, talented and you can immerse yourself in this nurturing world. When I came out, I felt like an artist because I had a vision for my own projects, like the one I made for thesis, and I only wanted to see this vision come to life.

But, I've been forced to develop a certain set of skills that allow me to work successfully in my role. I guess I've become what we call a technical artist and I'm very happy about that. I think that's not a way that artists usually like to put themselves because it sounds so reductive. But, to work in big studios you have to have real skills. You have to actually be able to execute stuff quickly and accurately, and that's just the trajectory that I've chosen for now.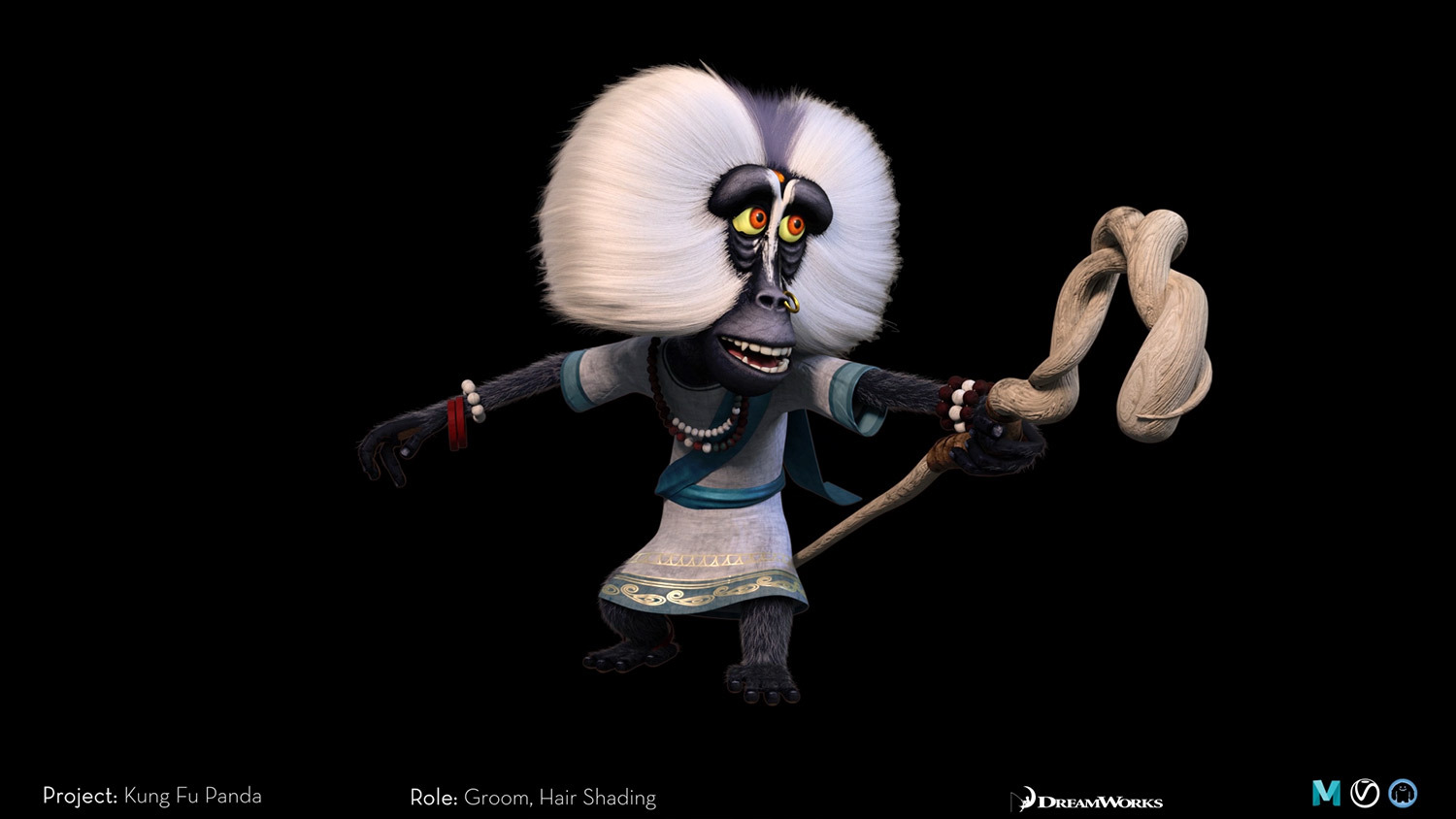 As someone who is focused on those skills and how those can be actually applied to real projects, what is the value, or what has the value been for you, or what value do you see in skillsets for the students at SCI-Arc?

Good question. I guess there are a few things I value. First, I like having an idea of a creature I want to see made, animated, rendered, whatever, and then being able to do all those things myself. Being able to create a proper asset is hugely underrated.

For students, what I would say is: wherever you go, especially in these big studios like DreamWorks, they need people who can push boundaries a lot. They need people to write new renderers. For example, today DreamWorks just made available their renderer, MoonRay, for the public. I'm guessing one reason they did this is because they want people to start iterating and innovating with it so they can grow the tool. They need people who can write tools, who are really good with Python, really good at other things, dreaming up how things can be better in the studio like, "Oh, it can be so much faster if you do it this way."

So, there, it's important to be innovative and that relies on having a great idea first, I guess. And then, you either have to be able to execute your idea or get someone else to execute it for you. To me, I'd want both. I'd want to be dreamy and tech-y and I'd think that has value for the students as well.

So, there is some value in innovating the medium as many people at SCI-Arc like to say?

Oh my god, of course. And having some technical skillsets helps a lot.

What is something that you took away from SCI-Arc that's of the most importance to you now as a commercial artist?

Work ethic and knowing one's scope of work. Especially because some of the most exciting projects I've been on have been freelance, but just an absolute insane amount of work. And to know how to handle yourself and protect yourself. To be able to say, "No, I can't do that because there's just not enough time, or it's not in the scope of work that I'm responsible for, or you're not paying me enough," is important. Being faced with a client note that will keep you up all night and saying, "Okay, I'll do it," is actually irresponsible. As students we say, "yes," most of the time in a critique and then we just stay up all night working. But the industry is different. If you don't learn to say no, you'll be taken advantage of and you won't learn this valuable skill of saying no.

I would really stress this to kids who want to freelance. But if you're working at a big company, you don't have to fuss with that because you have producers who are kind of protecting you against overworking. They're parsing out tasks like, "Do this asset by the end of this week, or you have four weeks to complete this hairstyle" And then you get your work done, and 5:30, 6:00 you're out, and you're hitting the beach, or whatever it is you want to do. Whereas if you're freelancing, you have to be that person to sometimes tell the client, "No," which I've gotten good at doing creatively by now. Some clients are kind. But some will over-ask for things on a project for as long as you're willing to let them.

Is that something that you talk to your students at Gnomon about?

No, because most of the time, those students or artists are just going right into big studios. I try to keep my classes technical and non-preachy. Kids graduate with excellent sets of skills. They're already super talented and they get hired. I don't think too many students are seeking their own clients and hunting and scrounging for odd projects and stuff like that.

But working in VFX and CG is really fun. I wish there were more kids who found their passion for that at SCI-Arc and who weren't afraid to explore it because it's a wonderful world to work in. SCI-Arc is a conceptual architecture, architecture discipline school. SCI-Arc is living and breathing architecture. And if someone is interested in VFX, and they want to work in the industry or do a bit of both, they should just take a more direct path, just taking CG classes.

When I was doing my thesis, I knew that I didn't want to work in architecture. I didn't want to go work in an office, and I didn't really care that much if my thesis was perceived as being not "architectural enough," because I was exploring something that I cared about anyway and I knew I was going to use it as my first reel to go get a job. This is a bad way of saying it, but I kind of did what I thought would be most conducive to my future. And I think it worked out.

Is there anything else that you think is worthwhile to share about your time at SCI-Arc to anybody who's there now or anyone that's going to be there in the future?

When you're at SCI-Arc, it's a very inspiring place. You get wrapped up in everything that is happening around the school, which is really fantastic. It's kind of lame to say, "Just enjoy the experience of being a SCI-Arc student." I've heard people say this many times, and now here I am saying the same thing. Todd Gannon said, and I didn't believe it at the time, but he said some of the best work you'll ever make is at SCI-Arc. I feel like I can understand why just because you'll never have the environment, opportunity, or the energy to make that kind of work again. You graduate from school in a few years, you get married, you get comfortable, and you're trying to buy a house and thinking about having kids. Done. It takes tremendous energy to keep making work.

I'd say you really have to enjoy being at school. And I'd say if you want to learn other skills, if you want to flirt with visual effects or CG or characters or stuff like that, the summers are such an amazing opportunity to take classes. And it will help you. I would've taken classes, it would've helped so much in anything, compositing, modeling, it doesn't matter. I know everyone says, "Just enjoy it." But goddamn, it's really true.