SCI-Arc Announces Spring 2023 Public Programs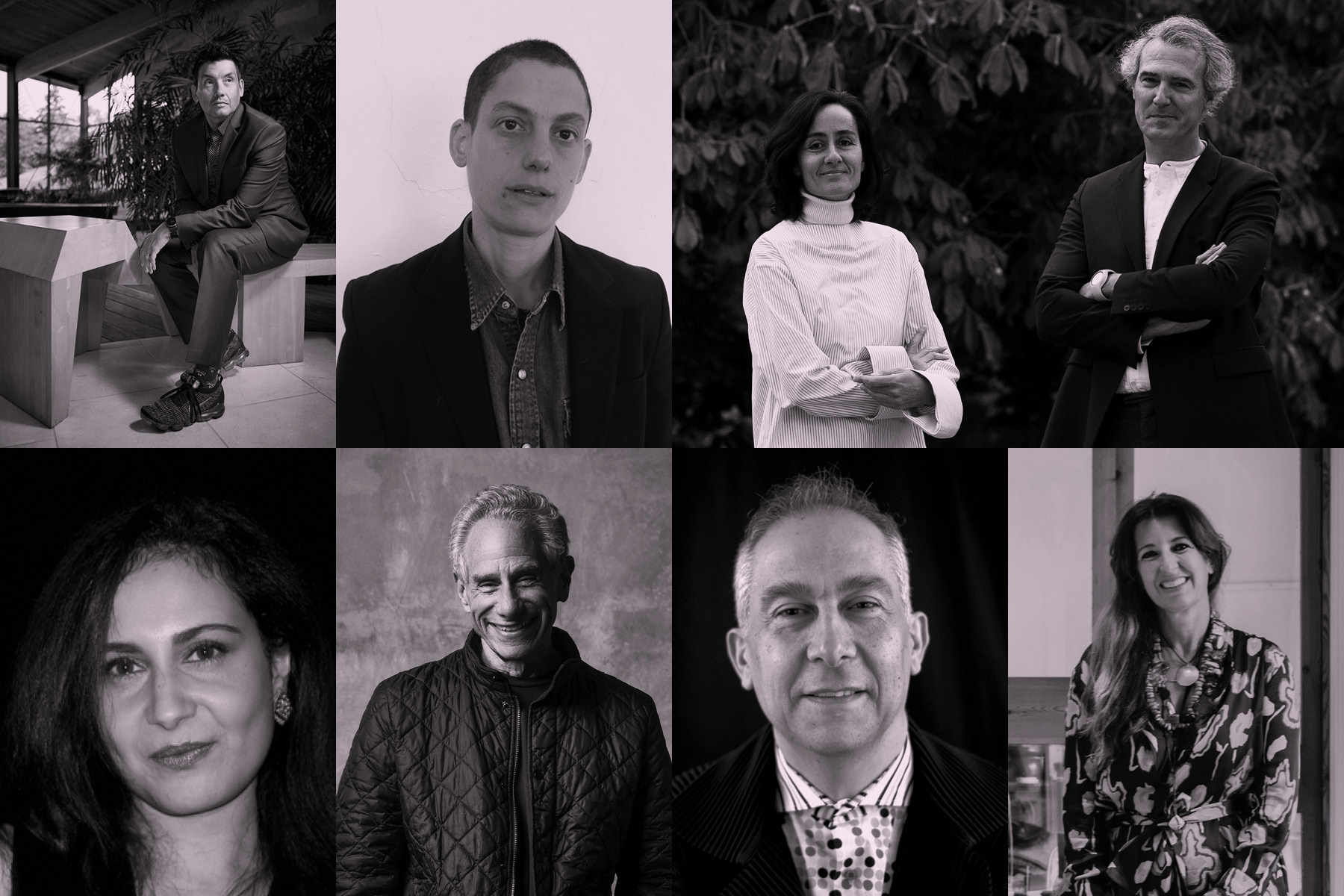 SCI-Arc is proud to continue its commitment to maintaining a robust platform for interdisciplinary discourse with its spring 2023 series of public programs. SCI-Arc's spring 2023 program will include talks, book releases, and exhibitions featuring influential figures from a wide range of cultural practices including upcoming lecturers Benedetta Tagliabue, Enric Ruiz-Geli, Sarah Oppenheimer, Chris Cornelius, and more.
On February 3, Thom Mayne/Morphosis will celebrate the release of their monograph M3: modeled works [archive] 1972-2022, which publishes models never before documented, as well as outside commentary from architecture historians, critics, and practicing architects, such as Kenneth Frampton, Steven Holl, and Wolf Prix. Architect, educator, and theorist Hina Jamelle will also launch her book UNDER PRESSURE. Essays on Urban Housing on March 24.
SCI-Arc design faculty Jennifer Chen will also present a new exhibition, entitled No Evil, opening in the SCI-Arc Gallery on February 10. No Evil explores an imagined, long-distant future after planetary climate redemption, as well as the geoengineering systems and machines that will have become new creation stories for surviving generations.
Visit https://sciarc.edu/events/ for more information about upcoming lectures. All events are listed in Pacific Standard Time and are broadcast live online on SCI-Arc's Livestream and Facebook page.
With the health and safety of our community in mind, all visitors will be required to show either proof of vaccination for COVID-19 or must wear a well-fitting mask while indoors at SCI-Arc.
February 8 Chris T. Cornelius Lecture

February 10 Jennifer Chen Exhibition
February 15 Sarah Oppenheimer Lecture
March 15 Eric Owen Moss Lecture followed by Conversation with Hernán Díaz Alonso

March 17 Morphosis + Thom Mayne Book Release

March 24 Hina Jamelle Book Release + Conversation
March 25 ACLA Design by Diversity Day Block Party
March 29 Enric Ruiz-Geli Lecture
TBD José Selgas + Lucía Cano Lecture
TBD Benedetta Tagliabue Lecture

LECTURES

February 3, 6pm PT
Chris T. Cornelius
Lecture
W.M. Keck Lecture Hall

Chris T. Cornelius is a citizen of the Oneida Nation of Wisconsin and Chair of the Department of Architecture at the University of New Mexico. He is the founding principal of studio:indigenous, a design practice serving Indigenous clients.
He served as a cultural consultant and design collaborator with Antoine Predock on the Indian Community School of Milwaukee (ICS). ICS won the AIA Design Excellence award from the Committee on Architecture for Education. Cornelius holds a Master of Architecture degree from the University of Virginia and a Bachelor of Science in Architectural Studies from the University of Wisconsin-Milwaukee. Cornelius was the Spring 2021, Louis I. Kahn Visiting Assistant Professor at Yale University. He has previously taught at the University of Wisconsin-Milwaukee and the University of Virginia.
Cornelius is the recipient of numerous awards and honors. Including the inaugural Miller Prize from Exhibit Columbus, a 2018 Architect's Newspaper Best of Design Award, and an artist residency from the National Museum of the American Indian. Cornelius has been exhibited widely including the 2018 Venice Architecture Biennale. Studio:indigenous received a 2021 Architect's Newspaper Best Of Practice Award – Best Small Practice, Midwest.
Cornelius lives and works on the ancestral lands of the Potawatomi, Ho-Chunk, and Menominee people where Wisconsin's sovereign Anishinaabe, Ho-Chunk, Menominee, Oneida, and Mohican nations remain present.

February 15, 6pm PT
Sarah Oppenheimer
STUN Lecture: FE_20230215: Circulatory Pathways
W.M. Keck Hall
Sarah Oppenheimer is an architectural manipulator. Transforming a viewer into an agent of spatial change, Oppenheimer creates a field of action within the time-based system of a living building.
Recent solo projects include Sensitive Machine (Wellin Museum of Art, 2021), N-01 (Kunstmuseum Thun 2020), S-337473 (Mass MoCA 2019), S-337473 (Wexner Center for the Arts 2017), S-281913 (Pérez Art Museum Miami 2016), S-399390 (MUDAM Luxembourg 2016), and 33-D (Kunsthaus Baselland 2014). Her work has been exhibited at such venues as ZKM, Baltimore Museum, Andy Warhol Museum, Museum of Contemporary Art San Diego, Art Unlimited at Art Basel, Mattress Factory, Drawing Center, and Sculpture Center. Oppenheimer is currently a senior critic at the Yale University School of Art.
March 15, 6pm PT
Eric Owen Moss + Hernán Díaz Alonso
Lecture: Ismael's LA
W.M. Keck Hall
Eric Owen Moss was born and raised in Los Angeles, California. He received a Bachelor of Arts from the University of California at Los Angeles and holds Master of Architecture degrees from the University of California at Berkeley, College of Environmental Design and Harvard University's Graduate School of Design, respectively. He founded Eric Owen Moss Architects in 1973, a Culver City-based office which has completed projects all over in the United States and around the world. There are 20 published monographs on the work of the office, and EOMA projects have garnered over 120 local, national, and international design awards. Moss was honored with the Academy Award in Architecture from the American Academy of Arts and Letters in 1999. He received the AIA/LA Gold Medal in 2001 and was a recipient of the Distinguished Alumni Award from the University of California, Berkeley in 2003. In 2007, he received the Arnold W. Brunner Memorial Prize, recognizing a distinguished history of architectural design. In 2011 he was awarded the Jencks Award by the Royal Institute of British Architects. In 2014 Moss was inducted into the National Academy, and in 2016 he received the Austrian Decoration of Honor for Science and Art from the Austrian President during a ceremony at Hofburg Palace. In 2017 Moss was awarded the Beidou Master Award in Ordos, China.
Moss has held teaching positions at major universities around the world including Harvard, Yale, Columbia, University of Applied Arts in Vienna, and the Royal Academy in Copenhagen. He has been a longtime professor at the Southern California Institute of Architecture (SCI-Arc) and served as its director from 2002-2015. He received the Most Admired Educator Award from the Design Futures Council in 2013, and AIA|LA Educator of the Year in 2006.
Hernán Díaz Alonso assumed the role of SCI-Arc director beginning in the 2015 academic year. He has been a distinguished faculty member since 2001, serving in several leadership roles, including coordinator of the graduate thesis program from 2007–10, and graduate programs chair from 2010–15. He is widely credited with spearheading SCI-Arc's transition to digital technologies, and he played a key role in shaping the school's graduate curriculum over the last decade.
In parallel to his role at SCI-Arc, Díaz Alonso is principal of the Los Angeles–based architecture office HDA-x (formerly Xefirotarch). His multidisciplinary practice is praised for its work at the intersection of design, animation, interactive environments, and radical architectural explorations. Over the course of his career as an architect and educator, Díaz Alonso has earned accolades for his leadership and innovation, as well as his ability to build partnerships among varied constituencies. In 2005 he was the winner of MoMA PS1's Young Architects Program (YAP) competition, and in 2012 he received the Educator of the Year award from the American Institute of Architects (AIA). He won the 2013 AR+D Award for Emerging Architecture and a 2013 Progressive Architecture Award for his design of the Thyssen-Bornemisza Pavilion/Museum in Patagonia, Argentina.
Díaz Alonso's architectural designs have been featured in exhibitions at the Venice Architecture Biennale, the London Architecture Biennale, and ArchiLab in Orleans, France, as well as included in exhibitions at such leading museums as the Museum of Modern Art, New York; the San Francisco Museum of Modern Art (SFMOMA); the Art Institute of Chicago; and MAK Centre, Vienna. The work has been widely published in magazines, journals, and books, including the Excessive monograph of Xefirotarch. The office is currently working on a new monograph to be published by Thames and Hudson. Díaz Alonso's work is in the permanent collections of the FRAC Centre, Orleans, France; SFMOMA; the Museum of Modern Art, New York; Thyssen-Bornemisza, the MAK Museum, Vienna; and the Art Institute of Chicago.
Díaz Alonso has been acknowledged throughout the years with prestigious appointments; Yale University's Louis I. Kahn Visiting Assistant Professorship of Architectural Design (2010), Visiting Design Studio Faculty at the GSAPP at Columbia University (2004–10), an ongoing appointment as architectural design professor in the Urban Strategies Postgraduate Program at the University of Applied Arts Vienna, and Distinguished Faculty at SCI-Arc. In spring 2015 he served as Yale University's Eero Saarinen Professor of Architectural Design. Díaz Alonso was named by DesignIntelligence as one of their 25 Most Admired Educators for 2018-2019 and won the American Academy of Arts and Letters Architecture Award in 2019.
March 29, 6pm PT
Enric Ruiz-Geli
Lecture
W.M. Keck Hall

Enric Ruiz-Geli is founder, principal architect, and director of the Barcelona, Spain firm Cloud 9, which works at the interface between architecture and art, digital processes, and technological material development. The architects' multifaceted projects include stage designs and buildings, installations, and patents, realized together with collaborative partners. The most important projects of Ruiz-Geli and Cloud 9 include the Villa Nurbs in Empuriabrava, an organically formed, ecological, and futuristic house; the Millennium Project in Valladolid, an urban retrofitting; elBulliFoundation for President and Founder Ferran Adrià as a living laboratory in Cap de Creus; and the Media-ICT Building, a Net Zero building with a very competitive cost of construction, in Barcelona that was named Best Building of the Year at the 2011 World Architecture Festival.


TBD, 6pm PT

José Selgas + Lucía Cano
Lecture
W.M. Keck Hall

SelgasCano is a Spanish architectural office based in Madrid and founded in 1998 by José Selgas and Lucía Cano. The atelier focuses on the use of polychromy, creative exploration of new materials, and the relationship between architecture and its surrounding landscape.
Their work includes three auditoriums and congress centers in Spain (Auditorio de Badajoz, Auditorio El Batel Cartagena, and Auditorio de Plasencia); several office buildings such as Second Home London, Second Home Lisboa, and Second Home Los Angeles; a school in Kibera, Nairobi; a vaccination center in Turkana, Kenya; and several public pavilions including the 15th annual Serpentine Pavilion 2015 in London, which was re-installed at La Brea Tar Pits in Los Angeles in 2019. SelgasCano's office in the woods in Madrid is the most visited project in the specialized architecture website Archdaily.
SelgasCano's work has been exhibited in MoMA New York, Bruges Triennial, Guggenheim New York, GA gallery in Tokyo, MOT (Contemporary Art Museum of Tokyo, the Design Museum of London, Akademie der Kunste in Berlin, Tin Sheds Gallery in Sydney, MIT in Boston, Venice Architecture Biennale, and Louisiana Museum in Copenhagen. SelgasCano was awarded with the Kunstpreis by the Akademie der Künste in Berlin in 2013, as well as the Architects of the Year prize by the German Design Council in Munich.
TBD, 6pm PT
Benedetta Tagliabue
Lecture
W.M. Keck Hall
Benedetta Tagliabue is an internationally renowned architect, with works and direct commissions all over the world, founder with Enric Miralles of the international studio Miralles Tagliabue EMBT in 1994, now Benedetta Tagliabue – EMBT, with offices in Barcelona, Shanghai, and Paris. Her most notable works include the Scottish Parliament in Edinburg, the Santa Caterina Market, the headquarters of Gas Natural Fenosa and the Diagonal Mar Park in Barcelona, and the Spanish Pavilion at the 2010 Shanghai World Expo, winner of the prestigious RIBA Best International Building 2011 Award.
Current studio projects include the Fudan University Business School in Shanghai (China), office towers in Taichung (Taiwan), HafenCity public spaces in Hamburg (Germany), the Clichy-Montfermeil metro station in Paris (France)—first prize in competition, and the central metro station in Naples (Italy), among others. In 2019, she inaugurated the Kálida Sant Pau Centre in Barcelona, part of the international network of Maggie's Centres, within the grounds of the modernist Hospital Sant Pau.
The studio has several projects under construction in China, Italy, and Germany, and participates in largest international competitions. It recently won the urban plan for Century Square in Shanghai and the Shenzhen Conservatory of Music, one of the ten cultural buildings of the city's new era. She currently combines her professional work with teaching at international schools and universities, as a visiting professor at Harvard University, Columbia University and ETSAB in Barcelona, lecturing regularly at architecture forums and universities. In 2004, she received an honorary doctorate from the Faculty of Arts and Social Sciences at Edinburgh Napier University, Scotland. Her work received the RIBA Stirling Prize in 2005, the Spanish National Prize in 2006, the National Prize of Catalonia in 2002, the City of Barcelona Prize in 2005 and 2009, the FAD awards in 2000, 2003, and 2007.
She received the RIBA Jencks Award in 2013, the Sant Jordi Cross awarded by the Generalitat de Catalunya in 2019, for the excellence of her professional practice in the field of architecture worldwide. And recently this year at the Smart City Expo World Congress in Barcelona, she received ex-aequo with Carlos Moreno, the Leadership Award, introduced this year at the World Smart City Award 2021, for their important contributions to globally disseminate sustainable and humane city models. Benedetta participates as a juror in the most prestigious international awards, such as the Pritzker Architecture Prize, the Princesa de Asturias de las Artes, the Loewe Craft Prize, RIBA Jencks Awards, RIBA Stirling Prize.
She is the founder and director of the Enric Miralles Foundation, whose aim is to promote experimental architecture in the spirit of her late husband and partner Enric Miralles. During 2021, together with Joan Roig, she curated the Homage to Miralles, exhibiting his work in Barcelona's most iconic venues: Saló del Tinell, Santa Mónica Cultural Centre, Disseny Hub, ETSAB, and the Fundació Enric Miralles itself, as well as organizing lectures at the COAC.


BOOK RELEASES + GENERAL EVENTS

March 17, 6pm PT
Morphosis and Thom Mayne
Book Launch: M3: modeled works [archive] 1972-2022
Kappe Library
M3: modeled works [archive] 1972-2022 by Morphosis and Thom Mayne
Thom Mayne founded Morphosis as an interdisciplinary and collective practice involved in experimental design and research in 1972. Mayne is co-founder of the Southern California Institute of Architecture and Distinguished Professor at UCLA Architecture and Urban Design. Mayne's distinguished honors include the Pritzker Prize (2005) and the American Institute of Architects Gold Medal (2013). He was appointed to the President's Committee on the Arts and Humanities in 2009. With Morphosis, Mayne has been the recipient of 26 Progressive Architecture Awards, over 100 American Institute of Architecture Awards and numerous other design recognitions. Morphosis works have been published extensively. The firm has been the subject of numerous exhibitions and over 33 monographs.

Mayne is a deeply theoretical and conceptual architect whose built work and that of the firm Morphosis can be seen worldwide. On the cutting edge of exploration and discovery in design, the architecture is marked by complexity, disruption, ambiguity, and power. In each case, prior to the building came the model, which may serve as a key to understanding and appreciation; models express purely the basis of Mayne's theory and intention. This volume offers, for the first time ever, an exhaustive look at the models upon which all the rest has been built, and is, as well, an essential history of the work of Mayne and Morphosis. A forty-plus-year office retrospective and a love letter to models, their process and concepts, and those that made them, the book considers at once the evolution of the model and that of the work of the firm. It features small-scale dwellings, such as the early and award-winning Sedlack Residence in Venice, California—a single room and study set atop a one-car garage—to Unicorn Island, a mixed-use master plan including a transit station, university campus, commercial, and office buildings, parks, and green space in Chengdu, China.

In addition to models never before documented, the book includes outside commentary from architecture historians, critics, and practicing architects, such as Kenneth Frampton, Steven Holl, and Wolf Prix.
March 24 at 6pm PT
Hina Jamelle
Book Launch + Conversation: UNDER PRESSURE. Essays on Urban Housing
Kappe Library
UNDER PRESSURE. Essays on Urban Housing by Hina Jamelle
Join Hina Jamelle in conversation with SCI-Arc Faculty Marcelo Spina on March 24 at 6pm in SCI-Arc's Kappe Library for a book release and conversation on UNDER PRESSURE. Essays on Urban Housing.
Hina Jamelle teaches final year Graduate Option Studios and directs the Graduate Program's Urban Housing Studios at the University of Pennsylvania Weitzman School of Design. She has held the Visiting Schaffer Practice Professorship at the University of Michigan. Jamelle is the co-director of the New York and Shanghai based architectural firm Contemporary Architecture Practice and has co-edited issues of Architectural Design AD titled IMPACT (2020) as well as Elegance (2007). Jamelle's book UNDER PRESSURE was published in 2021.
Founded in 1999, Contemporary Architecture Practice [CAP] is known for futuristic designs using digital techniques and the latest technologies for the design and manufacturing of architecture. Projects include commissions by The Museum of Modern Art [New York]; Reebok Shanghai, Lijia Smart Park, Chongqing, Wenjin Hotels, Beijing, NJCTTQ Pharmaceuticals, Nanjing, AMEC Technologies, Nanchang [China]; Samsung, Seoul [South Korea]; and IWI Orthodontics Clinic, Tokyo [Japan].
Contemporary Architecture Practice's projects have been exhibited extensively at the Museum of Modern Art, New York; the London, Beijing, and Shanghai Biennales; and the Tel Aviv Museum of Art, among others. They also have been featured in more than 250 major publications around the world. Co-Directors Rahim and Jamelle have won the Architectural Record Design Vanguard Award and were featured in Phaidon's 10x10x2 as one of the world's top 100 emerging architects. Their project, IWI Orthodontics in Tokyo, Japan was featured in Phaidon's ROOM 100 as one of the most creative interior design projects of the century. In 2015 she was recognized as 50 Under 50 Innovators of the 21st Century by a distinguished jury.
UNDER PRESSURE is about instigation and design in urban housing. Urban housing is a bellwether for economic, social, and political change. It varies widely in quality, typology, and audience and lies between the formal systems of urban infrastructure and the informal systems of daily life. Housing's complexity offers unique and exciting opportunities to architects. Its entwinement with private equity and public agencies presents important challenges amplified by urbanization. This book gathers and contextualizes relevant conversations in urban housing unfolding today across architecture through four topics: Learning from History, Changing Domesticities, Housing Finance and Policy, and Design and Material Innovation. The result is a multi-disciplinary amalgam of research and design intelligence from thought leaders in the fields of architecture, real estate, economics, policy, material design, and finance.
March 25
ACLA Design by Diversity Day 2023, presented by SCI-Arc
SCI-Arc
DxD is an ACLA-hosted, once-yearly event that connects professionals to students across many experience levels to create a "circular mentorship" platform to introduce interest in design professions at a young age and encourage retention of diverse design professionals at all stages of their career. This Block Party-style event, held at SCI-Arc's Arts District campus, will include a variety of ways to engage, from information and activity booths to mentoring sessions, exhibitions, speakers, and more.


EXHIBITIONS

February 10
Jennifer Chen: No Evil
6pm PT
SCI-Arc Gallery

Jennifer Chen, No Evil
It is believed that the world was once on the brink of collapse, saved only by the forgotten creatures of the past...
In a long distant future, after planetary scaled geoengineering systems delivered us from the sixth mass extinction, histories have turned into mythologies, planet surviving events have become new creation stories. Machines that once filled the air, sown the seeds, fertilized the ocean, and dimmed the sun have long since been decommissioned. Their memories faded, but their stories live on.
This exhibition collects the decayed data, tales passed down, and the artifacts that celebrated and revered these creatures. At this decisive moment of our time, their existence is a reminder of what future would await us all if today we turned a blind eye and covered our ears. They are relics of our future redemption. They are No Evil.