International Women's Day Celebrates SCI-Arc Women Making History
In celebration of National Women's History Month this March, SCI-Arc is proud to have honored and shared throughout the year the remarkable and extraordinary contributions of our faculty, students, alumni, staff, and guests to the discipline and profession of architecture.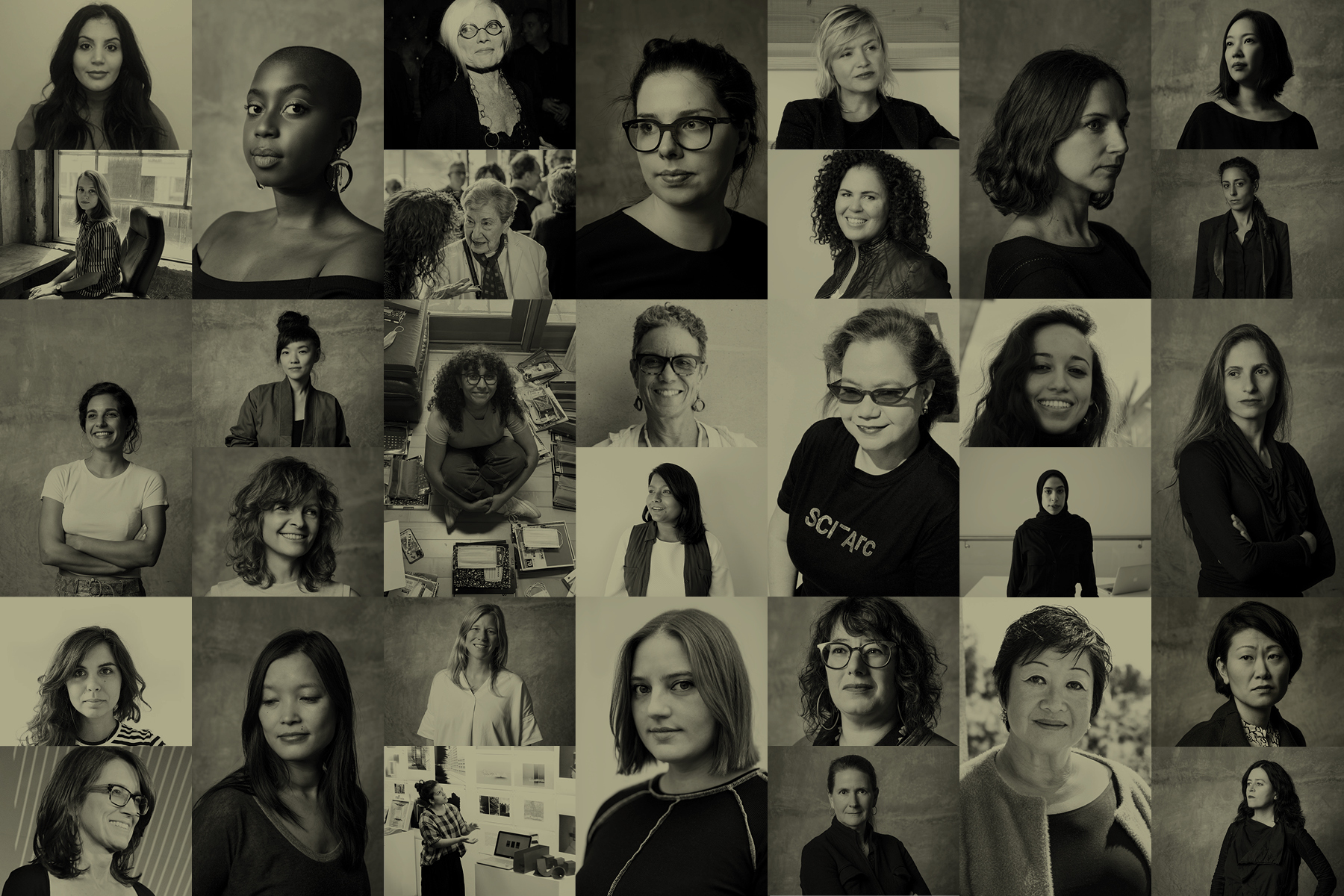 In addition to the stories and films included below, we encourage further research and reading about the historic accomplishments of the women who make SCI-Arc on the school's website, Media Archive, and social channels.
Hsinming Fung, alongside partner Craig Hodgetts, established SCI-Arc's first endowed scholarship awarded annually to students from groups underrepresented in the field of architecture, specifically those that are Black/African American, Latin American/Latinx, Indigenous, Asian American, first- or second-generation immigrant, DACA, LGBTQIA+, and individuals with disabilities, to fund their education at SCI-Arc.

Making+Meaning alum Charite Carballo discussed how "architecture is a way for me to self-actualize. It gives me the agency to explore design on my own terms. By pursuing this discipline, my perspective and ability to contextualize myself in society is continuously reformed."

Vertical Studio presentations for spring 2021, including those by Anna Neimark and Florencia Pita, considered historical craft, untidiness, and war.

SCI-Arc faculty and alumni Barbara Bestor (M.Arch 1 '92), Annie Chu (B.Arch '83), and Angela Brooks (M.Arch 1 '91) were recognized among the AIALA's prestigious 2020 Design, Millennium, and Next LA Awards for their outstanding and forward-thinking design work last year.

In August of this year, SCI-Arc hosted a research and design workshop with students attending Abaarso Tech University in Somaliland, coordinated by SCI-Arc Research Associate Masha Hupalo. Primarily focused on affordable housing in the city of Hargeisa, on the Horn of Africa, research was conducted by students and coordinated by faculty from each of four participating universities with the aim of showing how changes in planning practice, from single-family detached housing to multifamily apartment buildings can promote sustainable urban development for all of its citizens.

SCI-Arc spring 2021 public lectures and exhibitions included talks by Nathalie Frankowski, Tatiana Bilbao, Mabel O. Wilson, SCI-Arc alum Annie Chu (B.Arch '83), and SCI-Arc faculty Anna Neimark.

This year, SCI-Arc's 2020 Graduate Thesis was held virtually, culminating in a lively, immersive online Thesis Weekend in September. The 2020 SCI-Arc Selected Graduate Thesis exhibition featured the award-winning 2020 Graduate Thesis projects, including work from the recipients of the SCI-Arc Gehry Prize [2020 Gehry League] Zoe Małecki (M.Arch 1) and Justine Poulin (M.Arch 2), as well as projects by Merit Graduate Thesis Prize winners Linzi Ai (M.Arch 2) and Juicheng Hung (M.Arch 2), Christina Griggs (M.Arch 2), Wendy Guerrero (M.Arch 1), and Liu Qiao (M.Arch 2).

SCI-Arc is fortunate enough to have some incredible (and incredibly stylish) essential staff. To highlight these individuals and the important work they do, we spoke to Bursar and Accounting Coordinator Becky Cuenco to learn more about her style, position at the school, and what she appreciates most about SCI-Arc.

Fall 2020 Vertical Studios, including those by SCI-Arc faculty Lucy McRae and Mira Henry, offered architectural intervention through pedagogy.

On September 13, 2020, SCI-Arc held its annual commencement ceremony to celebrate and honor the hard work, dedication, and achievements of this year's graduating class of B.Arch, M.Arch, and EDGE postgraduate students as the culmination of their studies at the school. Delivering the commencement address was Dr. Safiya Umoja Noble, who offered poignant words of encouragement and reflection to the graduating class. Following Noble was a presentation by Deborah Garcia (B.Arch '17), which took the form of a film incorporating atmospheric sound and sweeping cinematic Los Angeles landscapes from an increasingly distant cosmic view—à la Carl Sagan's Pale Blue Dot—narrated with sincerity by Garcia herself.

Over the summer, SCI-Arc B.Arch students and STUN members Olivia Billingsly (B.Arch '24) and Allyn Viault (B.Arch '21) started Design Students for Action (DSFA), a student-led coalition organizing community-based aid for unhoused citizens of Los Angeles. We spoke to Olivia and Allyn to learn more about the organization and its founding, as well as the connection between design education and advocacy.

SCI-Arc's fall 2020 lecturers, including Elsie Owusu OBE, Ruha Benjamin, and Frida Escobedo faced scale, empire, and racial politics of architecture.

We asked SCI-Arc's illustrious Graduate Programs Chair Elena Manferdini to share a glimpse into how she spent her time this summer—what she was reading, listening to, watching, thinking about, and what actions she was taking.

Spurred by the nation's shortage of Personal Protective Equipment (PPE) for underserved hospitals and medical workers on the frontline of the COVID-19 pandemic, SCI-Arc students Asya Nur Celik (B.Arch '21 and Burak Celik (M.Arch 2 '21) formed 3D Collaborative Network and connected with "Operation Protect the Heroes" to produce and assemble thousands of urgently needed face shields.

We spoke to M.Arch 2 student Srimoyee Sinha about monumental ephemera, humility, and Indian Classical music.

SCI-Arc's Librarian Stefanie Crump curated a cross-disciplinary selection of recently published books and essays acquired by the Kappe Library. The readings featured in this list delve deeply into theoretical and historical investigations of modernity within art, design, and architecture, as contextualized through Blackness, structures of institutional power, global cultural shifts, Afrofuturism, queerness, and much more.

In 1995, architect and urban designer Michaele Pride, AIA, NOMA delivered a powerful and prescient lecture at SCI-Arc entitled "Practice What You Preach,"
in which she spoke about the impact of architecture on the Black community and discussed socially responsible projects centered around urban planning, development, and redevelopment with the aim of realizing community goals. The full lecture is available on the SCI-Arc Media Archive on SCI-Arc Channel.

We honored SCI-Arc former board member, honorary trustee, and art maven Merry Norris, who passed away in May. Norris will be remembered for her passionate devotion to SCI-Arc and its students, as well as her many contributions to the school and to the Los Angeles art world.

Majeda Alhinai is an architectural designer and educator who received her MS in Design Theory and Pedagogy (2017) as well as a Master of Architecture (2016) from SCI-Arc, where she was a recipient of the Graduate Thesis Award for her study of surface depth and digital fabrication applications. We spoke to Alhinai about the value of multidisciplinarity and transcending her comfort zone in her work.

Ainslee Alem Robson, SCI-Arc alum (MS Fiction and Entertainment '19), released her immersive film experience, Ferenj: A Graphic Memoir in VR. Since graduating from SCI-Arc and completing the film, Ferenj was accepted into the SXSW Film Festival in Austin as well as the Cleveland International Film Festival, and was accepted into the Tribeca Film Festival in New York. We spoke to Robson about what her process was like creating the film while at SCI-Arc, her personal motivations regarding the project, those involved in the making of the film, and the viewing community at large.
Selected SCI-Arc Channel Films